When you love the mountains, you inevitably love Virginia's Blue Ridge. Roanoke is nestled among the mountains with other small towns building a network of great places to eat, drink, and be entertained. These mountains though…they're iconic in every way.
 
If you're on the "Virginia is for Mountain Lovers" bandwagon, we have a treat for you. Get to know the possibly little-known Tinker Mountain in Botetourt County - elevation 2,917 feet.
Hiking - Hay Rock, Tinker Ridge, Tinker Cliffs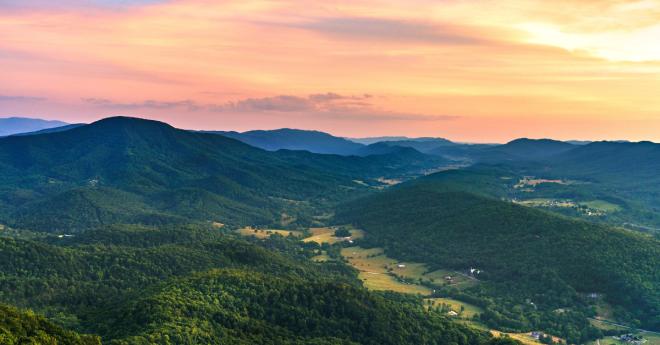 Hiking Tinker Mountain is a favorite pastime for plenty of area residents. Sometimes we choose Hay Rock for its amazing views of Carvins Cove (another of our favorite outdoor destinations), and sometimes we choose Tinker Cliffs. Both provide the opportunity to check "Hike the Appalachian Trail" off your bucket list. 
Tinker Ridge to the Hay Rock Overlook Trail includes a crossing of Tinker Creek before ascending Tinker Ridge. Begin the adventure at the park & ride lot by the Exxon station on U.S. 220 near Exit 150 off Interstate 81.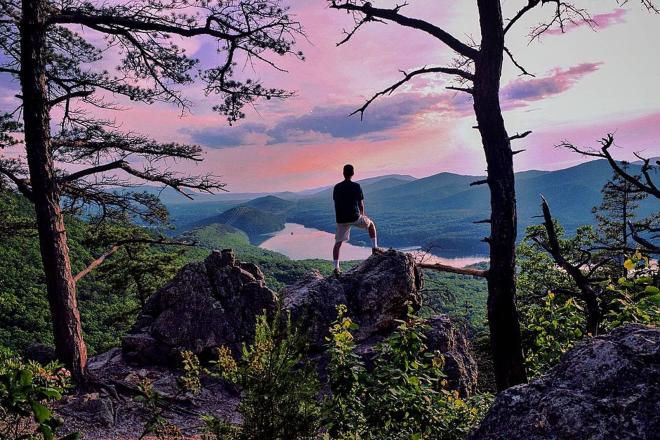 Out and back, it's almost 9 miles in length. Soak in that view and then consider Tinker Cliffs.
Reaching Tinker Cliffs requires a hike that's a shade over 6.5 miles. Hike in 3.1 miles on the Andy Layne Trail to pick up the Appalachian National Scenic Trail and complete the hike to Tinker Cliffs. Wonderful views await after you climb the 1,700 feet to reach them.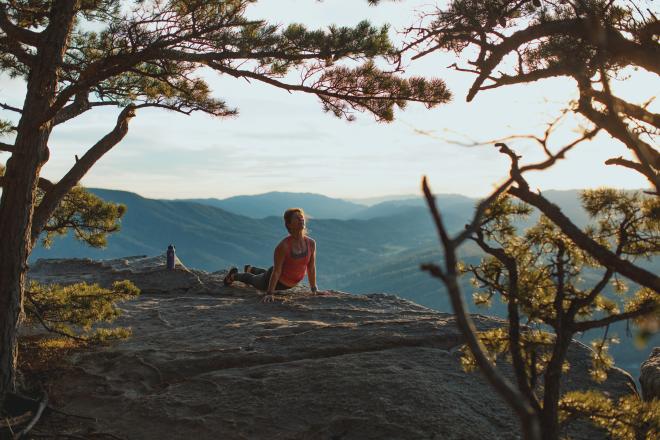 Tinker Cliffs is part of the Virginia Triple Crown, a three-studded conquest that includes McAfee Knob and Dragon's Tooth for a 30-something-mile hike along the Appalachian Trail. If you'd like to backpack it, we've written about that as well - Triple Crown Backpacking Loop >
Trail Maps: Hay Rock/Tinker Ridge > | Tinker Cliffs > 
Respect Your Surroundings
If you choose to hike either or both of these trails, please remember to do your part to protect the natural environment and respect your surroundings to help preserve the natural beauty of Tinker Mountain and its amazing trails.
See Tinker Mountain from Interstate 81
Not everyone can get out and hike our iconic mountains, so we like to tell you where and how you can appreciate them from afar. We love the view of Tinker Mountain from Interstate 81 in Roanoke & Botetourt County. 
Leonard Adkins wrote in a 2006 article for TheRoanoker.com, "Tinker Mountain is familiar, and unmistakable, to those who drive I-81 north from Roanoke into Botetourt County. With a shape resembling that of a Conestoga wagon, its steep-sided slopes are covered with gray boulders that reflect the sunlight…" Mr. Adkins gives vivid descriptions of the flora and fauna that await along the trail; do read.
Pilgrim at Tinker Creek
A book you may or may not be familiar with is rooted in its namesake and written by Annie Dillard, a Pulitzer Prize winning author and alumna of Hollins University in Roanoke County. 
Pilgrim at Tinker Creek was penned by Dillard in 1974 using her own journals as inspiration for the first-person narration of the four-season story touching on nature, religion, and awareness. The book is available from Amazon. 
If you find yourself ready to take an Annie Dillard pilgrimage of your own, consider this article by Bob Downing of the Akron Beacon Journal. He wrote, "When I got there, I did an Annie Dillard. I sat. I looked. I observed. I absorbed." We can't image a better way to begin the climb to Tinker Cliffs than to soak in the views and get a sense of place.
Tinker Creek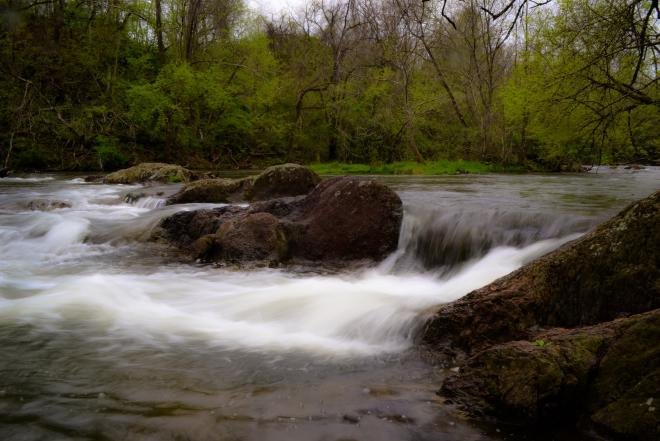 But where is Tinker Creek? The headwaters begin along Route 779 and the creek meanders through Daleville and intersects the Appalachian Trail not far from Route 220. Public places to access Tinker Creek are Mason Mill Park where a dam is a key point of interest. Nearby is East Gate Park, which Tinker Creek runs through. To walk along the creek for a nice family hike, pick up the Tinker Creek Greenway at Wise Avenue SE in Roanoke near Fallon Park. It is part of the Roanoke Valley Greenway system and a sign that Tinker Creek has almost met its convergence with the Roanoke River.
The Town of Vinton also offers the Tinker Creek Canoe Launch for getting on the water with small watercrafts such as canoes & kayaks. Tinker Creek Canoe Launch details & location >
Photo courtesy of CD Farmakis.
Tinker Day - Hollins University
A neat tid-bit: Hollins University has an annual Tinker Day tradition. On one random day each fall (it is literally a surprise) the school seems to cancel everything so that everyone can dress in costumes and hike Tinker Mountain. Food is plentiful with Krispy Kreme doughnuts, tinker cake, and fried chicken being the top picks. Tinker Day is celebrated by Hollins University alumnae around the country as well. Keep an eye on the #TinkerDay hashtag on social media for an inside look.
Tinker Mountain - What's Nearby
As you adventure up and down Tinker Mountain and along Tinker Creek, you'll no doubt work up an appetite. We enjoy the following nearby options for great food and drinks:
Angelle's Diner in Troutville offers excellent burgers, pasta dishes, and more.
Donnie D's Bagels & Deli is open for breakfast and lunch and is known for its delicious bagels & sandwiches
Town Center Tap House in Daleville is a sports-watching hot spot with wings, pints, salads, burgers, and subs.
Tizzone in Daleville is a wood-fired kitchen and wine bar that feels casual and tastes upscale.
Veranda Bistro in Roanoke is a Greek restaurant with traditional fare like spanakopita and souvlaki, but also brick oven pizzas with a Greek twist 
If you're seeking more outdoor fun, you'll want to visit Carvins Cove for their excellent multi-use trails and water paddling, or Greenfield Recreation Park for a competitive round of disc golf.
---
Tinker Mountain is just one of our iconic mountains in Virginia's Blue Ridge. Get to know the others and become a #Trailsetter.