When you only have time for a weekend trip, a 36 hour getaway to the Roanoke Valley in Virginia's Blue Ridge Mountains provides the perfect vacation.
The diverse opportunities for outdoor recreation, including over 1,000 miles of trails for hiking, biking & paddling, along with a unique arts & culture scene and rich history, give the region something for everyone.
Whether you're standing in awe of a mountaintop sunset or the work of one of the most iconic artists in American history, it's all part of a perfect Blue Ridge weekend!
To help you make the most of your time, we've created this 36-hour itinerary that can serve as a memorable weekend in Virginia's Blue Ridge.
Friday
7:00pm: Dinner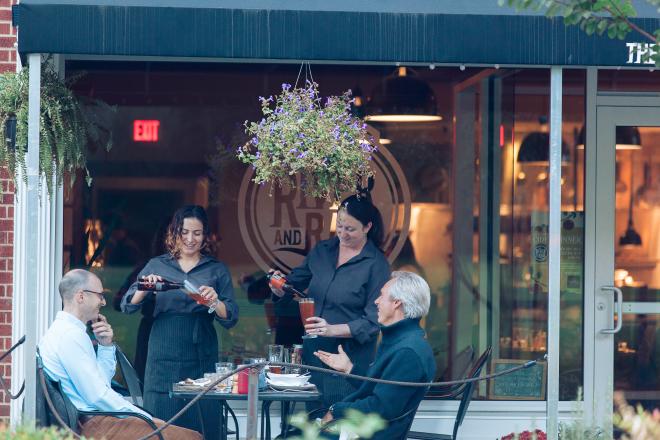 After you've checked in at one of the easily accessible hotels or B&Bs in Virginia's Blue Ridge, get ready for an amazing dinner at The River and Rail in Roanoke's charming Crystal Spring neighborhood. Award-winning chef Aaron Deal presents unique dishes made from scratch that include a variety of local and seasonal ingredients.
From the house cured meats, to the banana pudding that Food Network awarded as one of the "Best Desserts in America," The River and Rail offers an unforgettable dining experience. Reservations are strongly recommended.
9:30pm: Drinks & Live Music
After dinner, get caught up in the fun of Downtown Roanoke's nightlife scene. Have a few drinks and check out some of the stops on our Downtown Roanoke Bar Crawl. Enjoy great live music at intimate venues like Martin's Downtown Bar & Grill and The Spot on Kirk.
Saturday
8:00am: Breakfast
Get the day started with delicious, made-from-scratch biscuits at Scratch Biscuit Company, located in Roanoke's historic Grandin Village.
They offer delicious toppings and combinations for breakfast sandwiches, including traditional favorites like eggs, bacon, sausage, and more unique toppings such as PB&J, pulled pork, and fried green tomatoes.
9:30am: Historic Roanoke City Market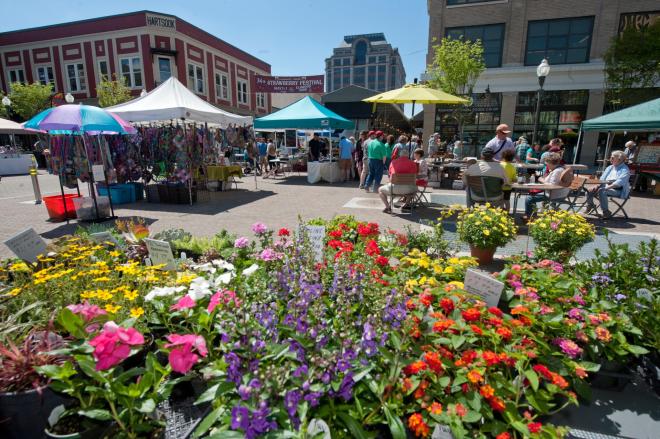 The downtown district springs to life on Saturday mornings with the Historic Roanoke City Market. As one of the oldest, continuously operating farmers markets in Virginia, this is a historic Roanoke staple where stories and laughs are traded just as much as produce and goods. Meet the local vendors, such as Gary Goad, who make the market such a special place. Goad's unique collection of soaps or Janet Walter and her amazing variety of plants from Walter's Greenhouse may just convince you to take home some locally-sourced souvenirs.
A variety of other local shops and boutiques line Market Street and offer opportunities to find unique gifts, including kitchen products from Ladles and Linens, outdoor gear at Walkabout Outfitter, and more than 50 best-selling chocolates and truffles at chocolatepaper.
10:30am: Museums in Downtown Roanoke
Continue your Saturday morning fun in Downtown Roanoke by exploring the diverse offering of museums near the market area. Center in the Square is a seven-story arts & cultural facility in the heart of Market Square that houses four outstanding museums and a variety of local non-profits. Learn about the region's unique African American history at the Harrison Museum of African American Culture and then play a few games on the classic pinball machines at the Roanoke Pinball Museum.
Art connoisseurs will love visiting the Taubman Museum of Art.
Of course, no visit to Virginia's Blue Ridge is complete without learning about the region's unique railroad history, proudly on display at the Virginia Museum of Transportation.
12:30pm: Lunch at the City Market Building
Exploring Downtown Roanoke certainly works up an appetite, which means it's time for lunch at the City Market Building. The historic building has long stood as a food center and gathering place and it features a collection of local restaurants that serve a variety of cuisines. Whether it's the international flavors or American classics, there is truly something for everyone on the menu at the City Market Building!
2:00pm: Hiking to McAfee Knob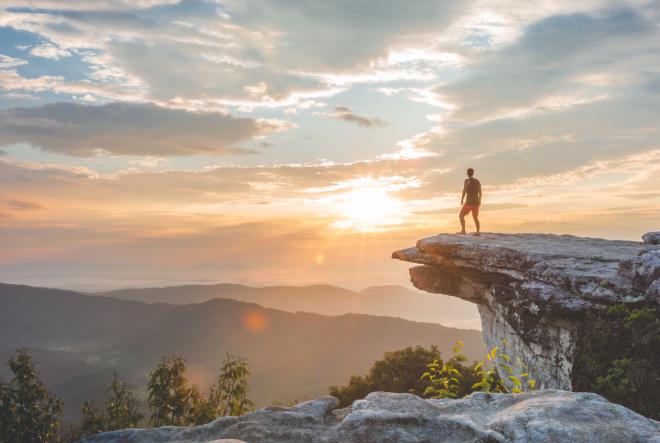 Lace up your hiking boots and take a walk to one of the most photographed overlooks on the Appalachian Trail. The hike to McAfee Knob is one of the most popular and accessible trails in Virginia's Blue Ridge. The summit features a stunning panoramic view of the surrounding valley and mountains, perfect for a #BlueRidgeDay selfie. Approximately 8.8 miles out-and-back, we recommend packing a couple bottles of water to stay hydrated during your adventure.
6:30pm: Craft Beer at Parkway Brewing Company
Nothing says hiking recovery like local craft beer! Cool down from your hike with the award-winning craft beer at Parkway Brewing Company in Salem. The Get Bent Mountain IPA or Majestic Mullet Krispy Kolch are the thirst-quenching refreshment you'll be looking for after a long afternoon hike, and Parkway features an outdoor patio, fireplace and plenty of friendly faces, creating the perfect spot to unwind.
7:30pm: Dinner in Salem
You'll find lots of great local dining options in downtown Salem - known as Virginia's Championship City for the variety of tournaments and championships they host throughout the year. You can chow down on the signature calzones at a family-friendly spot like Mac and Bob's, delicious steaks at Frankie Rowland's Steakhouse, or tasty tacos at El Jefe Taqueria. 
10:00pm: Roanoke Star & Overlook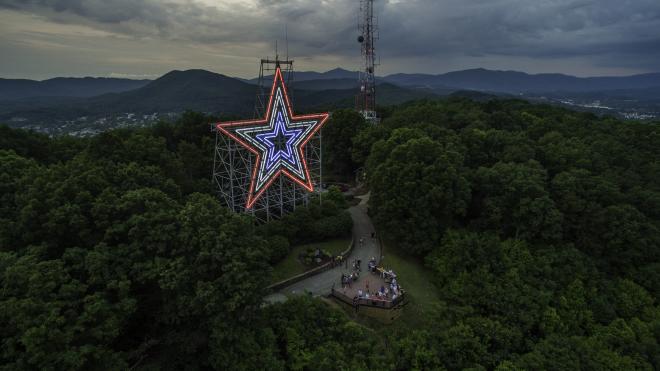 We take stargazing to a different level in Virginia's Blue Ridge! Make the short drive up Mill Mountain to the iconic Roanoke Star and enjoy the one-of-a-kind beautiful view of the Roanoke Valley. The lights of the city skyline dot the horizon against the breathtaking backdrop of the Blue Ridge Mountains.
Everyone else will be doing it, so don't forget to capture a star selfie with the neon-lit, 10,000 lb. star behind you. Click here to learn more about the Roanoke Star and its special place in the region's history.
11:00pm: Dancing
The night is still young, so why not dance the night away at Corned Beef & Co. in Downtown Roanoke?! With the region's best DJs and regular live entertainment that keeps the party going, this downtown hotspot is the place to be on Saturday nights. If you're not on the dance floor, make a wager on who buys the next round of drinks by playing a couple games of pool.
1:00am: Late Night at Texas Tavern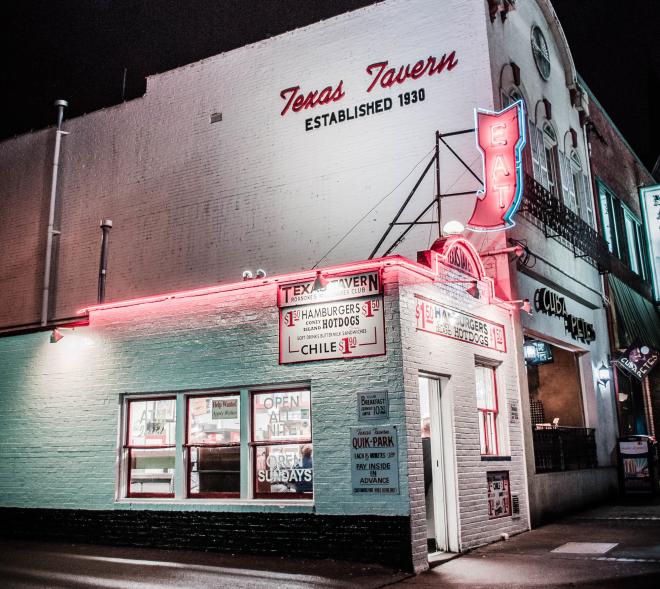 Join the Roanoke Millionaires Club with a late-night visit to Texas Tavern. This downtown Roanoke institution has served its world-famous "chile" and burgers to customers since 1930 and it's a great place to meet some of the city's most interesting characters. Open 24 hours a day, the Tavern always provides a fun story.
Sunday
11:30am: Sunday Brunch Tour
Enjoy a late Sunday wakeup call and get ready to learn about Roanoke's history, culture and great food with the Sunday Brunch Tour. This 3-hour walking tour includes six food tastings at some of Downtown Roanoke's best brunch spots and highlights the area's vibrant food scene. Please purchase tour tickets in advance through Tour Roanoke.
As you head out of town, make your way home on the Blue Ridge Parkway. The stunning scenic overlooks will make it easy to understand why it's "America's Favorite Drive," and have you planning your return trip to Virginia's Blue Ridge.
---
Looking for more ways to spend your time in Virginia's Blue Ridge? Check out our complete section of Sample Itineraries and remember to subscribe to our monthly e-newsletter! You can also connect with us on Twitter and Instagram at @visitvbr.