If you haven't caught on, we sure do love our mountains in Virginia's Blue Ridge. So far we've introduced you to Cahas, Catawba, and Peaks of Otter. Now, please meet Read Mountain, our 243-acre preservation with one of the area's best look-outs. Let's hike!
Header photo courtesy of C.D. Farmakis.
Read Mountain is named for David Read who settled in the area in the mid-1840s. The mountain is preserved by two conservation easements and offers more than five miles of moderate to strenuous hiking trails. The primary egress for the Read Mountain Preserve is an entry point that was opened to the public in October 2008. A pleasant park-like setting, the trailhead includes a picnic area, which encourages visitors to "Leave No Trace" within the preserve itself.
Of the 5+ miles of trails, 1.98 miles of blue-blazed trail leads to the summit, Buzzards Rock, one of several such popular summits in the area. At 2,180 feet in elevation, it's one of the best westward-facing vantage points around, which means it's an excellent sunset spot. It's important to note that Buzzards Rock is on private property and access is permitted to hikers who agree to stay on the trail. 
Make a loop to conquer Three Summits, the series of ranges on Read Mountain: Buzzards Rock, Boulder Point (2,220 feet; the highest point of the three), and Summit Ridge (2,060 feet). To complete the task, head south from Buzzards Rock on the CCC Trail (.82 miles). Boulder Point is about mid-way and Summit Ridge is farther south. Connect with Rocky Way Trail (1.45 miles) to go north and intercept the Buzzards Rock Trail once more.
View a Trail Map of Read Mountain Preserve >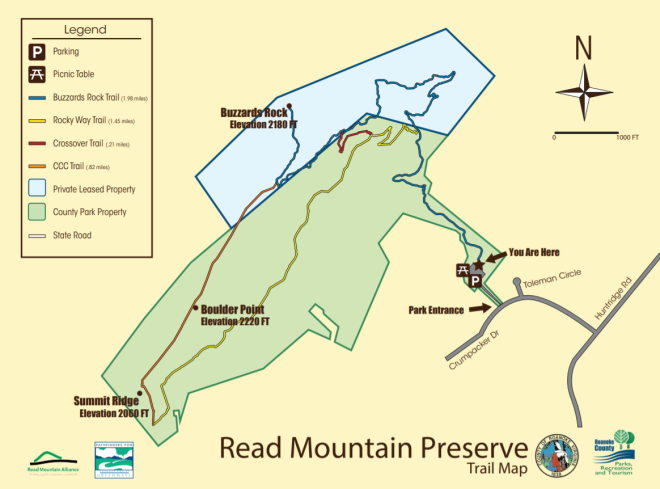 View of Read Mountain - Blue Ridge Parkway
If you're more of an appreciator of mountains from a distance, we love the view of Read Mountain from Milepost 109.8 on the Blue Ridge Parkway. Take a look for yourself via Virtual Blue Ridge, but do also make it a stop when you're out for your Sunday scenic drive.
Read Mountain - What's Nearby?
Whether it's a fill-up before you hike or a replenishment after you hike, it's important to know your nearby food options. For a bit of zest, try Thai Oudone Valley Grill. We like the pineapple fried rice, as well as the Laotian section of the menu. There's also Top Dawgs Pub & Deli where pimento cheese and fried green tomatoes are great starters before chowing down on delicious burgers and hot dogs. At Sal's Italian Restaurant, the eggplant parmesan is one of the top choices for vegetarians and the pizzas are great, too. Or, treat yourself and your crew by setting sail with the sushi boat at Café Asia.
Country Corner is convenient for nearby shopping, and they have nostalgic bits and pieces you're sure to love. It's easy to find Virginia-made foods and other items, but there are also local souvenirs and bulk candy. The kids will go wild for the bulk candy, trust us.
Let us see your view from Buzzards Rock. Be a #Trailsetter and capture a few moments and share them with us on Instagram at @visitvbr!