Franklin County's highest peak is Cahas Mountain at 3,571 feet. Whichever way you pronounce it (kay-HOSS, kuh-HAZE, kuh-HAY, etc.), it's one of the iconic mountains of Virginia's Blue Ridge, and we're pleased to boost your knowledge of this prominent feature of our area.
Cahas Mountain History 
Like most mountains in Virginia, there are historical accounts that go along with the landscape. For example, the Cahas Mountain Rural Historic District is at the base of the mountain. Four farms accounted for the 1,450 acres of the district and include important dwellings like the John and Susan Boon House, an 1820 Federal two-story brick home, and the 1821 Federal-Greek Revival Taylor-Price House. The district was along one of the main migration routes, the Carolina Road, which diverts from the Great Valley Road in Roanoke. Today's Route 220 primarily follows the original Carolina Road, but a trace of the road can be observed in front of the Washington and Rinda Boon House (ca. 1889).
The hills of Franklin County (the Wettest County in the World) were abuzz with illegal distilling in the early 20th century. Therefore, it's no stretch to speculate that Cahas Mountain was likely a promising place to make moonshine. While we don't have an "in" about an old still site, we do know that Cahas did deliver on agriculture. Enduring apple orchards still rise with the elevation of Cahas while Ginseng flourishes on the forest floor. At higher elevations, lumber was the biggest commodity. In fact, old logging roads can still be found meandering ever upward on Cahas.
Best View of Cahas Mountain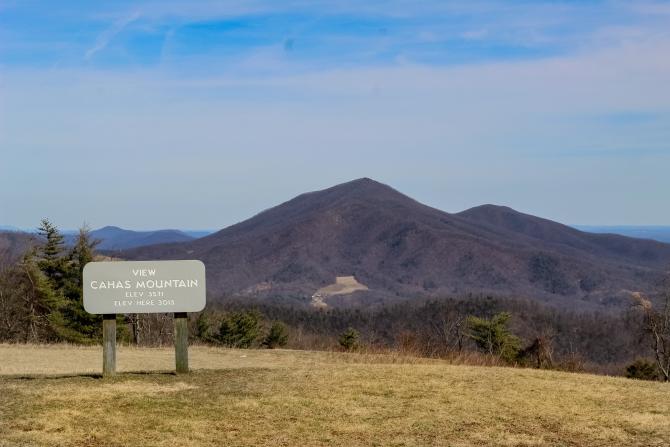 As is the case with many of the best views in Virginia's Blue Ridge, you can take in a stunning look of Cahas Mountain from the designated overlook at Milepost 139 on the Blue Ridge Parkway. The Cahas Knob Overlook is at an elevation of 3,013 feet and it offers a gorgeous view of the mountain, particularly during the peak fall season (late October & early November). It's also a great location for a picnic along the Parkway. 
Hiking & Cycling on Cahas Mountain
If you want to experience the terrain of Cahas Mountain, plan to join a group like the Blue Ridge Land Conservancy for an organized hike. For those who appreciate mountain views and grueling climbs, try cycling the Twin Peaks Loop, so named by local evening news anchor and cyclist, John Carlin. This route tackles Cahas and Bent Mountains for a total of 4,600 feet of climbing and 43 miles of pedaling and coasting.
Chaos Mountain Brewing Company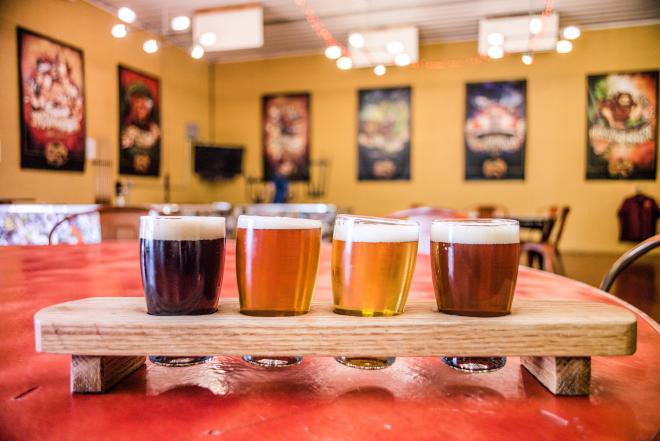 Other ways to enjoy views of the mountain and the hospitality surrounding it is to visit nearby establishments. If you pronounce Cahas kay-HOSS, then you'll get why Chaos Mountain Brewing is so named. (We love a good play on words.) We happen to think their dark beers are among the best in Virginia's Blue Ridge.
What's Nearby? Town of Boones Mill
In the town of Boones Mill (at the base of Cahas Mountain) are legal spirits at Franklin County Distilleries, more tasty craft beer at Hammer & Forge Brewing, a filling lunch at Holly Jo's Creekside Grill (you'll love the homemade chips!), and beautiful art by local artisans at Inkular Gallery. Take home a painting or other piece of art representative of Cahas Mountain.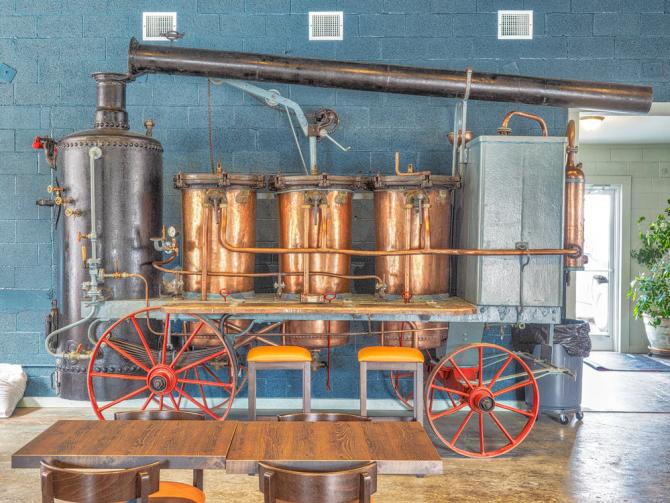 ---
As you travel through Franklin County and Virginia's Blue Ridge, take the time to really soak in the culture and heritage of the area. Not only is this area part of the Wilderness Road: Virginia's Heritage Migration Route, but it's also on the 'Round the Mountain White Lightning Artisan Trail and The Crooked Road: Virginia's Heritage Music Trail. Be sure to chronicle your journey on Instagram and tag #BlueRidgeDay. Spread the love!