There are avid hikers among us who can claim Virginia's Triple Crown among their outdoor adventure conquests, and it's not the easiest task.
 
Dragon's Tooth, McAfee Knob, and Tinker Cliffs are treasures of Virginia's Blue Ridge. We cordially invite you to not only complete the hike, but to backpack it as an overnight loop as well. 
McAfee Knob
Begin from the Appalachian Trail head on Route 311 and head north for your first gem of the Crown: McAfee Knob. This excellent map from the Roanoke Appalachian Trail Club will be your best friend for this adventure.
McAfee Knob is a well-known hike and look-out thanks to its shelf-like presence over the Catawba Valley. It's so popular a destination that it's called the most photographed site on the Appalachian Trail.
Indeed, the white blaze of the East Coast ushers day- and thru-hikers along the crest of Catawba Mountain to one of the most rewarding views Virginia has to offer. The 270-degree viewshed is the highlight and certainly cause for USA Today Travel to proclaim it one of the most spectacular hikes in the United States.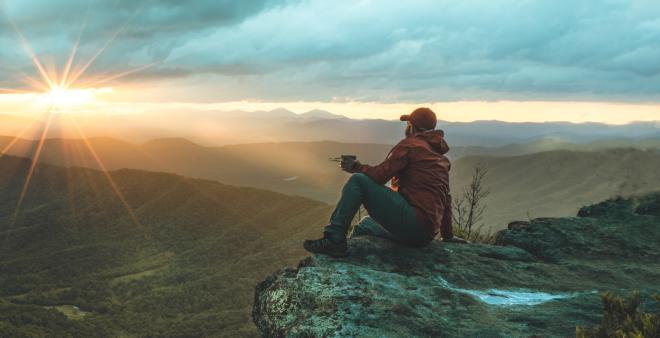 Plan for a gradual uphill climb for 4.4 miles from the trailhead to the main destination. 
Note that camping and campfires are prohibited anywhere on this loop except for the designated campsites and shelters. Your first overnight options come quickly with the John's Spring shelter and Catawba Mountain shelter before reaching McAfee Knob. Just beyond the Knob is the Campbell shelter on the way to Tinker Cliffs.
Refer to this map for information about where you can camp along the route.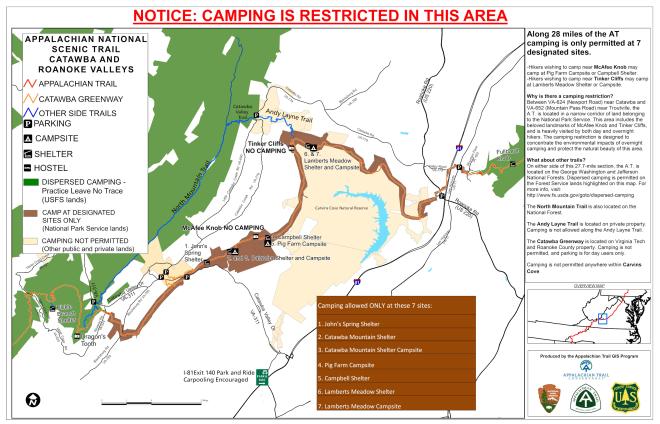 Tinker Cliffs
Tinker Cliffs on Tinker Mountain offers a view of McAfee Knob that you'll certainly appreciate. If you loved the view from the Knob, you'll love looking back at it, too. Portions of the trail are rather steep as you descend from Tinker Cliffs. Due to the steep climb and length of this hike, it's considered by many to be the most difficult of the Triple Crown.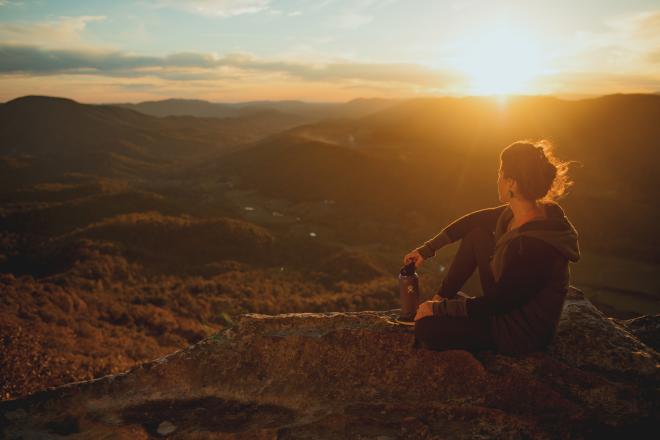 Pick up the westward-leading Andy Layne Trail to cross Catawba Creek Road (VA-600) and pick up the North Mountain Trail to hike south. This is considered Dragon's Back and it's a rather simple hike along the "spine" of the mountain, as well as a popular trail for mountain biking.
There are no designated shelters or campsites along this stretch of the hike, but it is National Forest, so primitive camping is allowed. If you wish to camp closer to Tinker Cliffs before making the trek south on North Mountain, the closest campsite near Tinker Cliffs is at the Lamberts Meadow Shelter & Campsite. 
Dragon's Tooth
As you descend toward VA-311, Dragon's Tooth is rises to the south. Dragon's Tooth is a rugged rock outcrop with Tuscarora quartzite spires on Cove Mountain near Catawba. The highest spire – or tooth - is 35-feet tall and is the inspiration for the "Dragon's Tooth" name. 
It is not a feature you're likely to miss. Though the hike from the trailhead is short in distance (about 2.5 miles), it is arduous as you near the top.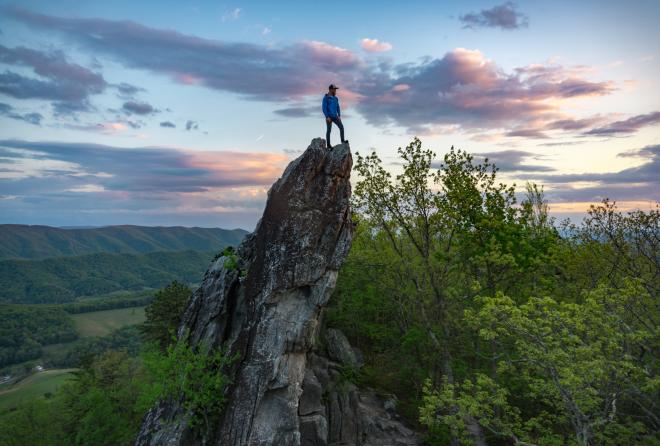 ---
Before you set off on this adventure, decide where your trip will end. Back to VA-311 at the Dragon's Tooth trailhead is one option or you can continue along the Appalachian Trail to the McAfee Knob Trailhead. If you choose the latter, read on …
Backtrack a little way and pick up the Appalachian Trail headed northeast to Catawba Mountain and ultimately back to your starting point on Route 311. Without going too far, you'll climb a short peak to a place called Devil's Seat, then continue onward for a zig-zag descent to Newport Road and McAfee Run. A hostel is pinned on the trail map as a potential overnight stay. 
Open areas of pasture await in the Catawba Valley and as you cross Catawba Creek. Your final major ascent features more switchbacks before leading you along the ridge of Catawba Mountain and back toward your starting point.
---

Tips & Resources
Roanoke Outside recommends the following supplies, which you'll want to multiply for the backpacking trip.
•    Water
•    Food
•    Camera
•    Sturdy shoes
•    Hat/sunglasses/sunscreen
•    Rain jacket
•    Flashlight and/or headlamp
•    Warm layers of clothing
Keep in mind that the Triple Crown is made up of three of the most popular hikes in Virginia's Blue Ridge and plan accordingly. If possible, consider parking your vehicles at the Park & Ride lot at Exit 140 for Interstate 81 and carpooling to whichever trailhead where you'll be beginning your adventure. There are also local shuttle services available.
Other recommendations from the Roanoke Appalachian Trail Club should be noted and can be read on its page about McAfee Knob & the Triple Crown. Of special interest is the use of drones; please adhere to all guidelines and be respectful of restrictions.
For a two-day, point-to-point backpacking example of the Virginia Triple Crown, read the account by The Outbound Collective. Their excursion totaled 29.26 miles and started at Dragon's Tooth with Tinker Cliffs as their last major point of interest. Check out their map >
---
There are many ways to slice and dice the Virginia Triple Crown. Let us know how you choose to approach it. Shoot us a message through our Facebook page or DM us on Instagram or Twitter.
We look forward to seeing your awesome photos and hearing your trail stories. Now go. Be a #Trailsetter!