It's not often you hear about Smith Mountain without hearing "Lake" attached to the end. And for locals or those who visit often, Smith Mountain Lake is shortened to "SML." Without a doubt, Smith Mountain would be an even lesser known gem without the glistening man-made lake bearing its name.
It's time to learn more about the gorgeous mountain that's helped the Smith Mountain Lake area become such a popular part of Virginia's Blue Ridge! 
History of the Smith Mountain Dam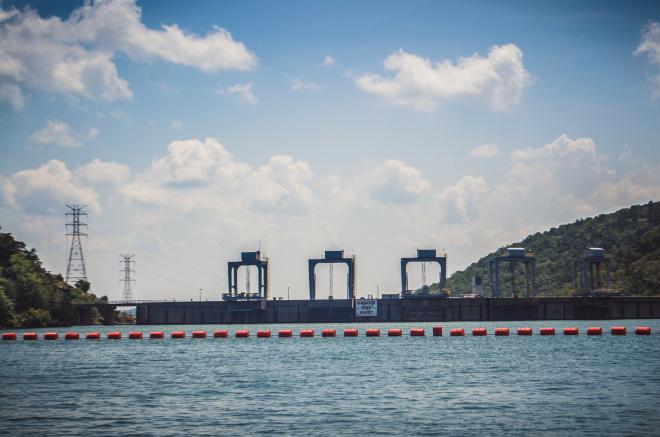 A hydroelectric dam was constructed by Appalachian Power Co. at Smith Mountain Gap in 1960. Its purpose was to hold back the Roanoke River and create electricity, and on March 7, 1966 at 5:03 a.m., the new Smith Mountain Lake reached "full pond" with 200,000 acres beneath its surface.
According to a 2006 article in Smith Mountain Laker Magazine, the dam is "245 feet tall and 30 feet thick at the base." The same article details how power is produced at the dam, pump-storage facility: 
"Water that's been used to generate power at Smith Mountain is retained in Leesville reservoir and, when power is relatively cheap due to excess capacity in a mid-Atlantic grid that reaches west and north into Michigan, is pumped back up into SML for use during subsequent power generation cycles. Thus, electricity produced at Smith Mountain is a renewable resource, just like solar and wind-generated power."
Visit the dam and explore the exhibits at the Smith Mountain Dam Visitors Center. Be sure to take a good look at the dam from the overlook.
SEE archival photos of the dam's construction from The Roanoke Times.
Scenic Views of the Mountain from the Lake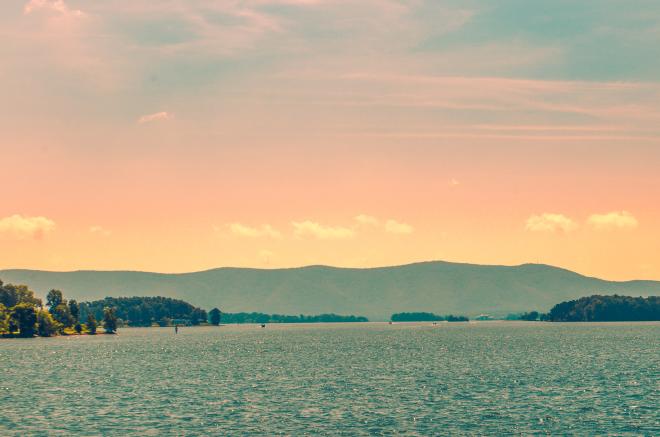 The best way to appreciate Smith Mountain is from none other than by boat on Smith Mountain Lake. The recreational opportunities created by damming the Roanoke River are plentiful. Marinas and outfitters offer a variety of vessels, kayaks, paddleboards, and other aquatic toys for rent. Skiing, wake boarding, swimming, and fishing are popular ways to love the lake and enjoy the views of the surrounding mountains. 
Guide to Boat Rentals at Smith Mountain Lake >
Hiking on Smith Mountain and to the Top 
For those hikers among us who want to take to the trails of Smith Mountain, come on! The Smith Mountain Cooperative Wildlife Management Area is nearly 5,000 acres of recreation, but that recreation includes hunting for deer, turkey, squirrels, bear, and raccoon. Be mindful of this and be sure to wear blaze orange while hiking during hunting seasons.
Bank fishing is permitted from the wildlife management area as is primitive camping; there are no facilities on Smith Mountain.
Download: Map of Smith Mountain Cooperative WMA 
What's Nearby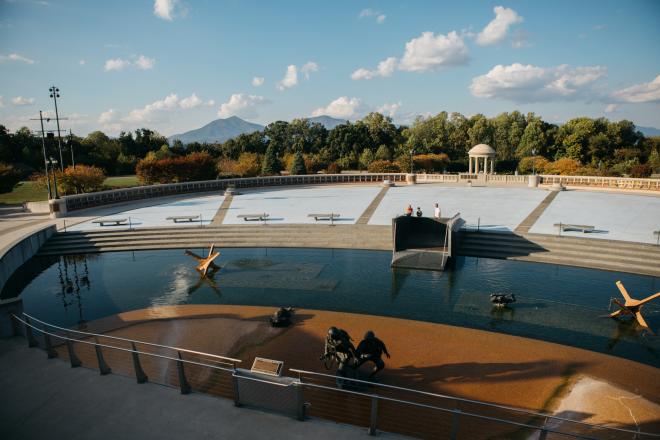 However you choose to take in and admire Smith Mountain, be sure to also explore the surrounding area. Bridgewater Plaza is a lakefront destination in Moneta with shopping, dining, miniature golf, and entertainment. 
The National D-Day Memorial in Bedford is a must-see. It's dedicated to our own armed forces and the allied forces who lost their lives during the D-Day invasion of Normandy on June 6, 1944. 
The Booker T. Washington National Monument in Hardy is the birthplace of the boy who was born into slavery but would go on to become an educator, presidential advisor, and the first president of the Tuskegee Institute (now Tuskegee University), Booker T. Washington.
---
Set out to become a #Trailsetter on Smith Mountain. See it by boat or hike it to the top and be sure to capture great photos along the way. We'd love to see your experiences, and you can show us when you tag your social pics #BlueRidgeDay.