North Mountain rises west of downtown Roanoke reaching 3,062 feet in elevation, but it is more plateau than peak.
In fact, one of the more difficult mountain biking trails runs along the ridge of North Mountain, just one of our collection of iconic mountains in Virginia's Blue Ridge.
Camping
North Mountain is part of the George Washington & Jefferson National Forest, which means dispersed camping is A-OK. Better yet, it's free! Choose a spot along the Wildlife Road and get cozy, though be aware you will be primitive and self-sufficient. There aren't any facilities on North Mountain.
If you'd prefer a campground, the Pines Campground on the northern side of North Mountain is available from late April through early December. There are vault toilets but no drinking water.
For camping or any other adventures, remember to respect your surroundings and take steps to make sure your experience is fun & safe. Helpful tips >

Mountain Biking - Dragon's Back & North Mountain Trail System
A grueling 13.7-mile point-to-point single track, the North Mountain Trail (a.k.a. - "Dragon's Back") reaches a max grade of 31% and fluctuates from 1,705 to 3,051 feet. The initial climb is the hardest, and "Trail Boss" Jeff Lenosky warns that the descent is just as adrenaline inducing. "I've often said the most blissful experience on a bike is riding a trail for the first time, particularly a downhill trail where you're going off nothing but instinct," Lenosky narrates in his "Earning Turns on North Mountain" video.
He suggests ways to approach a trail for the first time, with one idea being to "climb up, check out the trail, see what's sketchy, and then bomb it. You'll lose yourself but you won't be going fully blind."
MTB Project recommends parking at the Dragon's Tooth trailhead to get started. The terrain is rocky and technical; this is not a beginner's mountain bike trail. The Blue Ridge Off-Road Cyclists (our local IMBA chapter) call it "real deal, expert level, back country riding."
In his story about mountain biking in Virginia's Blue Ridge as part of a Local Flavors feature for Pinkbike, professional mountain biker Brice Shirbach described North Mountain as being "home to some of the Southeast's most revered backcountry."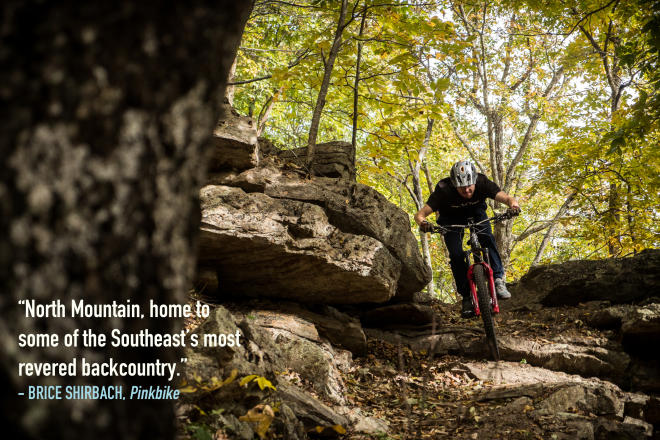 Other trails enable riders to create loops to add variety to the main attraction. One such trail is the 11-mile lollipop of North Mountain Trail, Deer Trail, and Grouse Trail. A total of 28.3 miles of trails are available.
Download: U.S. Forest Service - North Mountain Trail System Map >
Recall that mountain bikers should yield the trail to hikers.
Hiking on North Mountain
If you pack it in, pack it back out. You'll want to be well prepared for a hike on North Mountain, and you'll want to keep an eye peeled for mountain bikers. 
HikingUpward.com has great tips and way points for those who wish to tackle the 12.2 miles they've laid out for you. Of note is that you'll want to watch the clock and pace yourself. It's estimated that seven hours is required to complete the out-and-back if you include a 30-minute break.
Contributor Jeff Monroe cautions that mile one (north to south; opposite of the mountain biking suggested start) is your last chance to obtain stream water for your journey. Read tips form the American Hiking Society on water purification > 
It's easy to extend your hike from North Mountain. In fact, it's a key part of completing the Triple Crown – Dragon's Tooth, McAfee Knob, and Tinker Cliffs – each of which can be hiked on its own, of course. The North Mountain Trail is also part of the Triple Crown Backpacking Loop >
Look but Don't Touch - Scenic Routes
If North Mountain sounds a bit intimidating, then perhaps its best to stick to admiring it from afar. We like driving Route 311 for all of its scenic qualities, including the views of North Mountain as you cross it to enter the Catawba Valley. A drive along Route 311 will also include the opportunity to see unique Coffee Cup Tree just outside New Castle.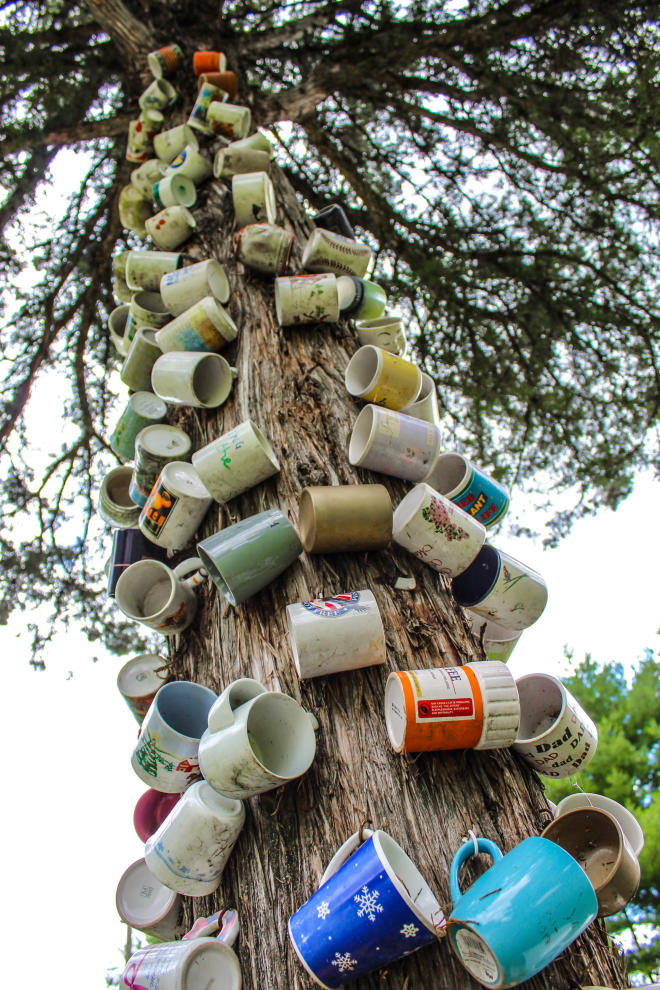 By bicycle, we like Route 779 (Catawba Road). Not only is it an excellent road cycling route, but the views of North Mountain are quite rewarding. 
Nearby Fun
Located a few miles east of North Mountain, Carvins Cove Nature Reserve is an excellent add-on for hiking or mountain biking (among the best trails in the Southeast). At 12,700 acres, there are miles of trails to conquer, not to mention the vast reservoir for paddling.
Nearby Food & Drink
Toast your accomplishments at Parkway Brewing Company in Salem. Their patio is just off the Roanoke Valley Greenway, in case you still have some energy to burn. You've worked up an appetite, so check out one of the local restaurants in Salem, such as Mac & Bob's or Allsports Cafe.
---
Now is the time to be a #Trailsetter in Virginia's Blue Ridge. Explore and make your own discoveries in our great outdoors.