Wine with views. Wine with medals. Wine with food pairings. In Virginia's Blue Ridge, we have all of those and more. In fact, Virginia's Blue Ridge is a supreme destination for wine lovers tasting their way across our vast Commonwealth of vineyards. 
But don't stop at winery visits; there's a meadery, restaurants, bars, shops, and festivals to attend.
1. Scenic Views & Wine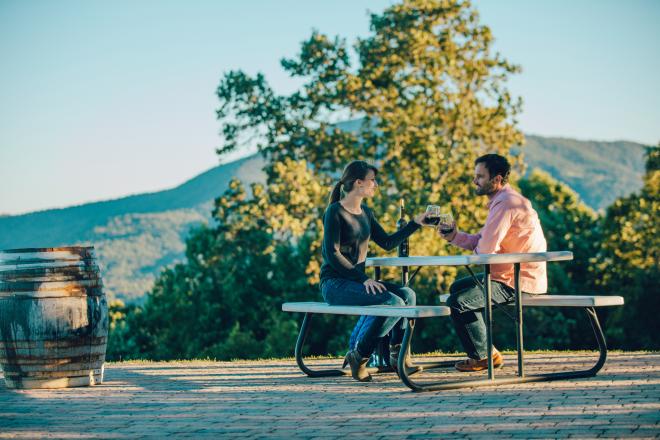 Roanoke's Valhalla Vineyards (pictured above) is a mountaintop wine destination you won't want to miss. Bask in the sun on the deck or retreat to the beautiful timber frame patio; the view is incredible whichever you choose. Do take time to see the wine cave dug 60 feet below ground. Tours are offered Tuesday, Wednesday, and Thursday at noon and 6 p.m. Reservations are required.
The views unroll before the tasting room at Blue Ridge Vineyard in Eagle Rock, bowing to the gorgeous mountains in the distance. It's the perfect backdrop for their special events and for impromptu photo sessions with your besties.
Wines by Blue Ridge Vineyard >
2. Food & Wine 
Acclaimed as the "Best Downtown Restaurant" in local voting and a two-time honoree on the "Top 100 Restaurants in the U.S." list by OpenTable, Alexander's in downtown Roanoke is an upscale option for a special night out. Excellent seafood, fowl, and Virginia meats are a filling foundation for the delicate sides, salads, and small plates that round out the menu. Wait staff can help you choose the perfect wine to pair with each course of your meal; just ask!
Frankie Rowland's Steakhouse offers all the buzz words one might look for on a menu: Maine lobster, Certified Angus beef, Yukon Gold mashed potatoes…and that makes Frankie's one of the finest steakhouses in Roanoke and Virginia's Blue Ridge. More than 120 wines are available to accompany your choice of entrée. Frankie's is a great place to celebrate a special occasion.
If there's such a thing as a fancy pizza place, Fortunato in downtown Roanoke is it. Not only is the pizza fancy, but so are the pasta and salad options. Therefore, it should come as no surprise that the extensive wine list is a robust display of predominantly Italian wine. Go all out with a bottle of 2013 Terra di Lavoro Aglianico-Piedirosso from Campania. At $180 plus a $20 cork fee, your anniversary (or even a proposal) is worth it.
For tapas and wine, there's no other place to consider than Rockfish Food & Wine. A strong emphasis is placed on wine at Rockfish (as the name implies). Their library includes more than 270 labels, and a 5:30 to 7:00 p.m. happy hour is offered daily. If you're in Roanoke on Wednesday, score 20% off your choice of an in-house bottle. Want to try something new? Thursday's are for wine tastings and special savings on Olivia's bottle of the week. Snack on fried oysters, a delightful charcuterie, beet bruschetta, house chorizo, or she crab bisque. For the main meal, a beautiful blackened trout, pan seared scallops, and heritage pork loin are among your options.
Tasty Adventures: Drinks & Dinner Date Night Ideas in Virginia's Blue Ridge >
3. Hiking & Wine
 
There's nothing like a great glass of crisp, refreshing wine after a hike. And you won't want to travel far, or else you might decide to skip it altogether. Don't. Don't skip the wine. We've made it easy for you! 
Some of our top hike-and-wine pairings are Peaks of Otter with nearby Peaks of Otter Winery, Roaring Run with nearby Blue Ridge Vineyard, and Bottom Creek Gorge with nearby AmRhein's Wine Cellars. Need more suggestions? We have a blog post for that.
Full List: Hiking Trails Near Wineries in Virginia's Blue Ridge >
4. Annual Wine Festivals & Events 
Taste a wide variety of wines when you attend a wine festival in Virginia's Blue Ridge. Indeed, the wineries come to you and offer their best and newest bottles for wine lovers. Among our favorites is the annual Horse & Hound Wine Festival hosted each July by Peaks of Otter Winery at Johnson's Orchard in Bedford. It's a family (including your pups!) friendly event with sprinklers, a foam machine, and other entertainment for the kiddos. Ages 12 and younger are free. There are typically seven Virginia wineries present and pouring alongside food, craft, and artisan vendors. Proceeds from the festival benefit Commonwealth Search & Rescue, Roanoke Valley Horse Rescue, Inc., and All-American Mutt Rescue.
Each September nearly 30 wineries converge on Crazy Horse Marina in Moneta for the two-day Smith Mountain Lake Wine Festival. Artisans, crafters, and food vendors provide plenty of things to peruse while live music keeps things fun and enjoyable. The festival is rain or shine, and you can arrive by boat, if you wish. Blankets and lawn chairs are welcome, and chalets (tents with tables, chairs) for parties of 12 to 25 can be reserved.
Sample something worldly at the International Wine Festival in January. Hosted by the Taubman Museum of Art in downtown Roanoke, you'll be delighted to find more than 30 international wines and a few craft beers, too. The festival is a 21 and older event featuring hors d'oeuvres, desserts, and entertainment. The galleries of the Taubman Museum of Art will be open for your perusal.
Daleville Town Center Pavilion is a hot spot for seasonal concerts, but it's also the venue for the annual Virginia Beer & Wine Festival each June. Eight to 10 wineries are in attendance with nearly 30 breweries and cideries, a few food trucks, musical guests, and vendors. A souvenir tasting glass and 20 samples are included with your ticket. In 2019, VIP tickets provided unlimited samples, a stainless-steel pint glass, free food in the covered VIP seating area, and a VIPs only restroom…and that was just for the festival. VIPs also received two free tickets to Friday Fridays at 5, Party at the Pavilion, and the Daleville Summer Concert Series. Game plan for 2020? Be among the 75 VIP ticket holders to score big.
Check the Calendar: Beer, Wine & Spirits Events in Virginia's Blue Ridge >
5. Stay at a Winery
Beliveau Farm Winery in Blacksburg is a beautiful property that makes wine and beer, in addition to operating a Manor House B&B for an overnight stay. Enjoy the delicious wine and take in the beautiful views, all in the same location where you can spend the night!
6. Wine Shopping 
Perhaps there's not much time to taste, or maybe you know exactly what you want...That's when knowing where to buy great wine comes in handy, and we can point the way.
Mr. Bill's Wine Cellar is located on Brambleton Avenue in Roanoke and has one of the largest wine and craft beer selections in the Star City. Wine Gourmet can be found in the Promenade Park Shopping Center on Electric Road. Their offerings include gourmet foods, gifts, and plenty of wine (about 250 labels) and beer to choose from. Barrel Chest Wine & Beer is also located on Electric Road in Roanoke, and they not only offer a vast array of international and domestic wine and craft beer, but they're also a nano brewery.
Full List: Beer & Wine Shops in Virginia's Blue Ridge > 
7. Bring Your Pups - Pet-Friendly Wineries 
Traveling with your pooch is smooth sailing as long as you know who loves pups as much as you do. Fortunately, we do! Sip your wine at a pet-friendly winery in Virginia's Blue Ridge, like AmRhein's Wine Cellars in Roanoke, Beliveau Estate Winery in Blacksburg, Blue Ridge Vineyard in Eagle Rock, Peaks of Otter Winery in Bedford, and Virginia Mountain Vineyards in Fincastle. 
For details on the inside vs. outside specifics of these wineries and others, check out this Dog-Friendly Wineries list on BringMyDogs.com, a tremendous resource full of info on pet-friendly spots in the region.
8. Tasting at Peaks of Otter Winery 
There's an amazing explosion of flavors happening at Peaks of Otter Winery. So much so that we feel the need to give them their own section on our list of 10 Wine Experiences. I was a skeptic the first time I visited Peaks of Otter Winery. I couldn't imagine some of these wine flavors (so I overthought it and nearly gagged), but then I gave in and sipped my way to finding delightful blends. So...tag, you're it. 
You're hereby challenged to try Blueberry Muffin and Cherry Cheesecake (the easy ones), and then go on to conquer a sip of Chili Dawg, Kiss the Devil, and Salty Frog. Check out the Peaks Wine List for more nifty names and concoctions.
9. Wine Flights 
A wine bar and wood-fired kitchen, Tizzone in Daleville is also a great place to enjoy a wine flight. Choose any three house wines and set sail. The house wines include whites and reds, sweet and dry, from Spain, California, Argentina, Italy, and Washington. Check out their vast Drink Menu before you go.
Tizzone Wine Bar Facebook Page >
10. Live Music 
Wine can be enjoyed in any number of settings. Quiet and alone with a book, giggly with a friend, with dinner, or even under the stars while a band plays. We rather enjoy them all, but there's something about live music with friends and a great bottle of wine that can't be beat.
Wineries that feature (occasionally seasonal) live music: 
---
What do you love in a wine experience? With any luck, a great view, an excellent meal, and lively entertainment are among the top. Truly, however you choose to taste your way through the wine offerings of Virginia's Blue Ridge will be perfect. 
Do check out the Cheers Trail Passport (text 'CHEERS' TO (540) 253-4311 to download) as one more way to guide you through all our wine, beer, cider, and spirit destinations, as well as score savings as you go. Five check-ins will earn you a nifty t-shirt, too! So sip that wine, snap a pic, and tag it #VBRCheers. Friends back home will definitely experience FOMO.