Attention craft beer lovers. This is your chance to be a #Trailsetter with a little flair. Meet Virginia's Blue Ridge Cheers Trail, a self-guided collection of craft beverages complete with a passport (Text 'Cheers' to (540) 253-4311 to download) and incentive to conquer as many destinations as you can. 
The best way to do that (short of living in Virginia's Blue Ridge) is to make it a weekend excursion. Use this suggested itinerary as an idea starter and then hit the road.
The only way to start any adventure is with a full stomach of homemade goodness. Among our favorite breakfast spots are Scratch Biscuit Company in Roanoke, Donnie D's Bagels in Daleville, and Ruth's Place in Rocky Mount.
Cheers & Outdoor Adventures
In Botetourt County…
Set off for a hike on the Roaring Run and Hoop Hole Trails where you'll find the historic iron furnace and waterfalls. Or, paddle the Upper James River Water Trail, a designated scenic river and favorite spot for fishermen and nature enthusiasts.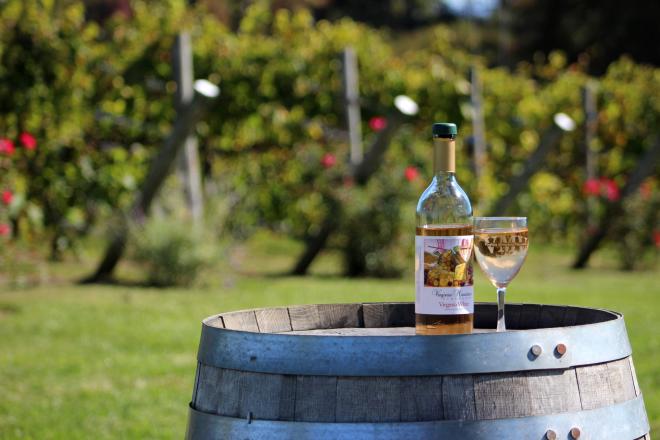 Toast your day at nearby Blue Ridge Vineyard in Eagle Rock, Stoney Brook Vineyards & Winery in Troutville, or Virginia Mountain Vineyards (pictured above) in Fincastle! Be sure to check in on your passport! While you may not want to leave the wonderful views at the wineries, enjoying a meal will eventually cross your mind. Foot of the Mountain Café in Arcadia and Tizzone Wood-Fired Kitchen and Wine Bar in Daleville are great local options.
Along the Blue Ridge Parkway South…
Scenic drives on the Blue Ridge Parkway are not cheating. After all, a hike to Bottom Creek Gorge awaits! You'll especially love the waterfall at Bottom Creek. It's the second highest waterfall in Virginia.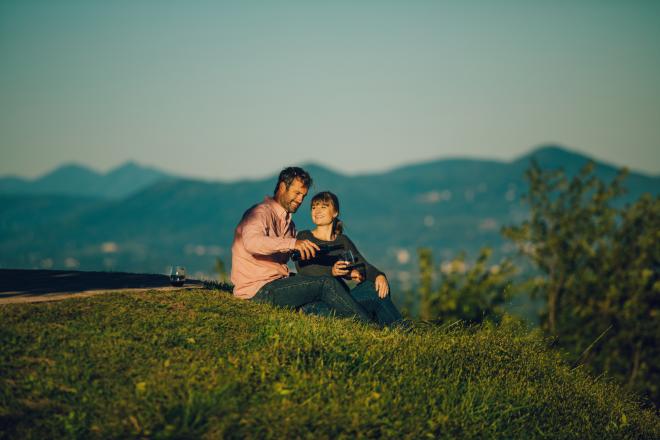 Enjoy wine tastings at your choice of Valhalla Vineyards in Roanoke or AmRhein's Wine Cellars in Bent Mountain. If you're all business with your tastings, you can probably squeeze in all three before dinner at 419 West!
The Cove…
Have bike, will travel? Boy, oh, boy are you going to LOVE the singletrack trails at Carvins Cove Natural Reserve. It's the crown jewel of our two-wheeled adventures and so much more in America's East Coast Mountain Biking Capital. Try paddling the reservoir for glorious views on the water if you have time.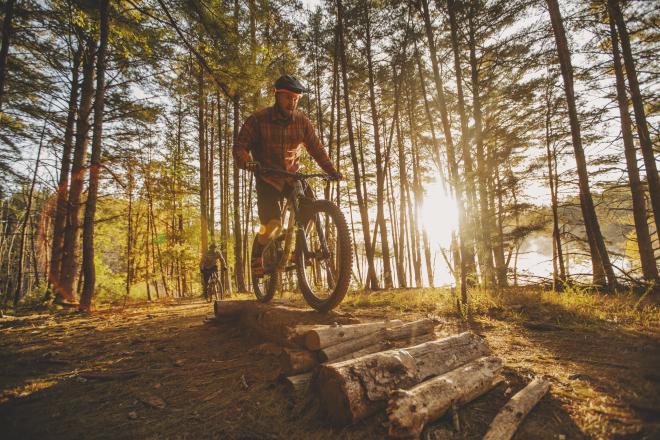 Nothing's sweeter than a post-ride beer, and Parkway Brewing Company in Salem has great options. Tree Sitter witbier is "light and thirst quenching," which you'll undoubtedly want to do after a day at the Cove. For supper, we love the calzones, extensive beer list, and vibes on the patio at Mac & Bob's Restaurant in Salem.
Along the Blue Ridge Parkway North…
The Peaks of Otter are three mountains – Sharp Top, Flat Top, and Harkening Hill – with lovely Lake Abbott between them. Trails from short and level to long and steep are among your choices. Following your hike, visit nearby Peaks of Otter Winery for a flight of their famed fruit wines. Try the pear!
In Downtown Roanoke…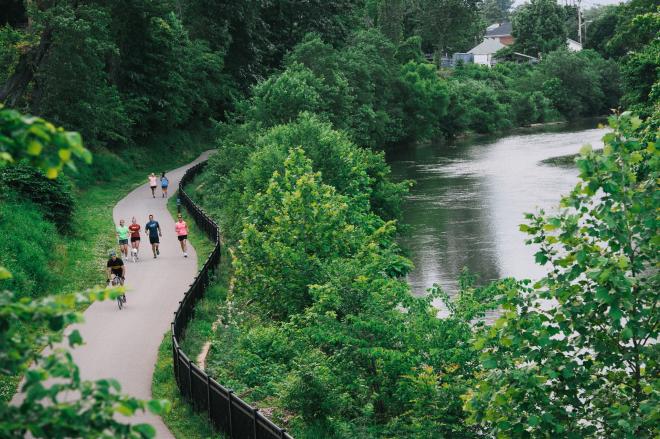 Hop on the Roanoke River Greenway, a paved path that parallels the Roanoke River. Walk, jog, or bike the greenway at your leisure. Be sure to visit Black Dog Salvage, our very own "as seen on TV" destination thanks to the hit television show "Salvage Dawgs."
You could also enjoy a great meal at Wasena City Tap Room (yes! More beer!) is the way to go, and then hit up Blue Cow Ice Cream for dessert. Near the greenway on the other side of the river is Starr Hill Pilot Brewery & Side Stage, one of our favorite places for live music and craft beer.
Greenway Bike Rentals: Roanoke Mountain Adventures >
Cheers & Attractions
In Downtown Roanoke…
Museum hop! The Taubman Museum of Art is a free spot unless you pay to see an exclusive exhibition. Then it's on to the Virginia Museum of Transportation to climb aboard a steam locomotive and see artifacts of air and space explorations. Finally, Center in the Square is several museums in one. You'll love the Mid-Atlantic's largest living reef aquarium of its kind as you make your way from the Roanoke Pinball Museum to the Harrison Museum of African American Culture and more.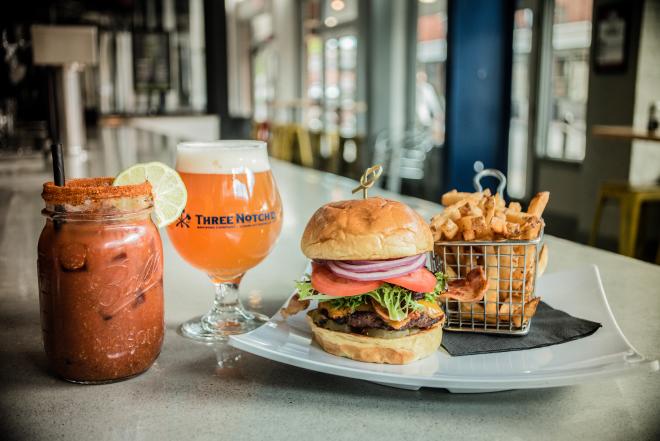 Nearby breweries to taste and check in to are Twisted Track Brewpub, A Few Old Goats, and Three Notch'd (pictured above). While we don't recommend trying to hit them all in one shot, perhaps a flight at half of them is doable. 
In Bedford County…
The National D-Day Memorial is a moving tribute to all U.S. and allied forces who died on Omaha Beach in Normandy, France on June 6, 1944. Beautiful gardens, names etched in marble, and incredible statues portraying the grueling effort to reach shore while bullets whizzed past them leave most visitors in awe.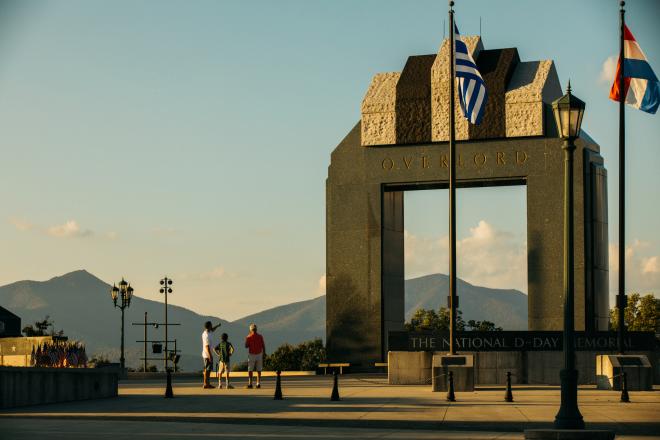 See the past unearthed at Thomas Jefferson's Poplar Forest, his post-presidential retreat and an active archaeological dig site. Discovery and restoration are on-going, making each visit a new experience. 
After you've walked through history, enjoy a fine BBQ meal and craft beer at Beale's Brewery.
Spirit-Filled Shopping, Dining, and Beverages 
Dive into more tastings or splurge on additional beverages to take home when you make stops at Barrel Chest and Wine Gourmet in Roanoke.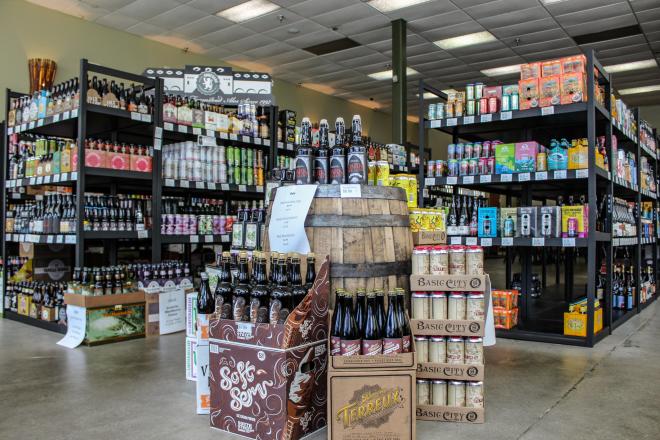 To pair great drinks with nearby dining, we like these options.
In downtown Roanoke hit Big Lick Brewing & Golden Cactus Brewing and follow it up with dinner at Beamer's 25 or Tuco's. In Rocky Mount, try some local spirits at Twin Creeks Distillery (pictured below) and learn how Franklin County became the Moonshine Capital of the World before indulging at Rocky Mount Burger Co.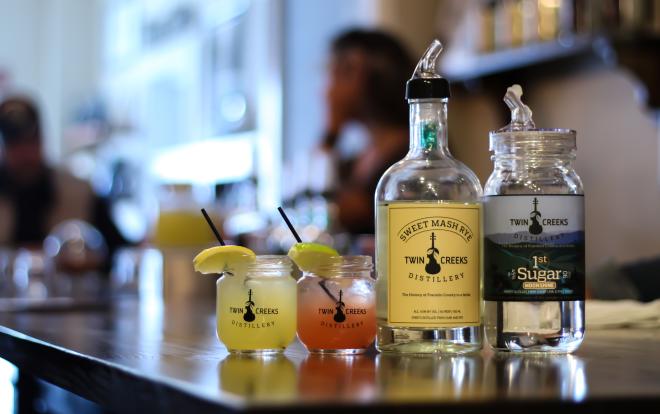 In Boones Mill, more spirits await at Franklin County Distilleries and Holly Jo's is a local favorite right next door. Find Olde Salem Brewing in Salem, of course, and you won't go wrong with dinner at either Brood Restaurant & Bar, El Jefe or Allsports Cafe. In Vinton, Twin Creeks Brewing often has live music. Try something new at Twin Creeks and feast on delicious burgers at nearby FarmBurguesa. 
While away the evening while a band plays and you sip excellent drinks. We like Martin's for their nightlife and great live music. If a craft cocktail and chill vibe is what you're after, some of the best are at Sidecar, Bloom, Local Roots, and River & Rail. 
When Sunday rolls around, brunch options abound. Enjoy brunch in downtown Roanoke at Three Notch'd (which also offers a Saturday brunch, FYI), a Sunday brunch in the courtyard at Billy's, or go all out with the luxurious Sunday Brunch Buffet at The Regency Room at The Hotel Roanoke. Or perhaps you'd like Rockfish Food & Wine in the Grandin Village neighborhood of Roanoke.
---
A weekend that includes even half of this kind of fun will certainly earn you a coveted VBR Cheers t-shirt. Just check in on your passport as you go! This is the kind of trailsetting nearly anyone can get behind. A hearty #VBRCheers to your best #BlueRidgeDay ever!
Please remember to always drink responsibly.