Visitors and locals alike can benefit from great date night ideas, and we have more than a few of those in Virginia's Blue Ridge. 
Those who are long-time married, just getting to know each other, or parents in desperate need of an evening alone will find this list to be of value. In fact, you can spin these suggestions to experience them again in reverse, because the food and beverages are that good at all of them. 
It takes away the guess work and the age-old back and forth of "What do you want to do?" "I don't know. What do you want to do?"
Stellina and Fortunato are two peas in a pod. The former is a hidden bar – a speakeasy, if you will – beside the latter. It makes perfect sense to enjoy a craft cocktail in the hideaway of Stellina before indulging in a traditional Italian dinner and authentic Neapolitan pizza at Fortunato.
Learn More: Fortunato Menu >
Guests of The Hotel Roanoke will not need to travel far for drinks and dinner if they don't want to. Inside our most historic and well-known accommodation is The Pine Room Pub, previously a World War II Officer's Club. You'll find it warm and inviting with a fireplace in cooler months, billiards, and plenty of top-shelf action to take the edge off the day. For dinner, enjoy the fine dining of The Regency Room. It's an award-winning restaurant offering tastes representative of the area and beyond, such as the iconic Peanut Soup & Spoonbread.
Learn More: Pine Room Pub Menu > | The Regency Room Dinner Menu >
There's so much craft beer in Virginia's Blue Ridge that you could plan many, many dates just taking it all in. For this date, try Olde Salem Brewing Co., located in a beautiful historic building on Main Street in Salem. Blue Apron Restaurant is just steps away from the brewery and offers a bit of intimacy with its relatively small space. Make a reservation and cozy up with your sweet thing while you dine on fresh, seasonal fare.
Learn More: On Tap at Olde Salem Brewing Company > | Blue Apron Restaurant & Red Rooster Bar Menus >
There's a little bit of everything to drink at Town Center Tap House: 40 taps, 40 bottles and cans, and nearly 40 wines. It's an excellent place to begin your evening, and Tizzone is a great place to grab dinner afterward. Share a wood-fired pizza with your fave human, or check out the two twofer nights (Tuesdays and Thursdays) when the menu is all about two!
Learn More: Town Center Tap House Beer Menu > | Tizzone Menu >
When martinis are your go-to, there's nowhere else to go but Frankie Rowland's. They offer 70 distinct martinis with their claim-to-fame being a fresh pineapple martini. Delicious! Don't knock back too many drinks, however, as dinner at Alexander's is not something you want to miss. It's a favorite fine dining option and was voted the "Best Downtown Restaurant" for 2018.
Learn More: Frankie Rowland's Menu > | Alexander's Sample Menu >
In the spirit of a "Georgetown pub," Billy's is an elegant destination for a drink before dinner. Beer, wine, liquor…whatever your poison, enjoy it at their warm, comfortable bar, or in the beautiful courtyard. For dinner, Crescent City Bourbon & BBQ is the place to enjoy some of the best BBQ in Virginia's Blue Ridge. When the weather is nice, snag a table on the outdoor patio.
Learn More: Billy's Courtyard Menu > | Crescent City Menu >
Flip-flop these two popular Grandin Village restaurants and experience them twice! Both offer robust wine lists and excellent food, so it doesn't matter in which order you enjoy them. Local Roots is a repeat Wine Spectator award winner with nearly 100 wines from around the world and Rockfish offers more than 270 wines. Win-win!
Learn More: Local Roots Menus > | Rockfish Food & Wine Menu >
Drinks on the patio is an awesome way to start a date, and one of our favorite patios is Fork in the Alley Brick Oven Pub. Bottles, cans, and 16 taps ensure you have a nice array of craft beer to choose from before you head over to the award-winning River and Rail for dinner. At R&R, you'll experience wonderful dining with an expertly crafted menu. They also serve excellent craft cocktails.
Learn More: Fork in the Alley Beer List > | The River and Rail Menus >
Your evening will have a neighborhood feel when you visit these two spots along the western edge of Downtown Roanoke. A Few Old Goats Brewing is a fun spot to start your evening with a few beers to enjoy their beautiful patio, and then you can head over a few blocks to Food Fanatics Kitchen, which features a bacon on bacon appetizer. Need we say more?
Learn More: A Few Old Goats Untappd Menu > | Food Fanatics Menu >
If you've never experienced a whiskey flight, now's the time to do so in the "wettest county in the world," Franklin County, Virginia. Franklin County Distilleries' tasting room is pouring history with every drop of White Label Corn Whiskey. Your tasting is limited to three ounces per person per day, so it won't be long before you're off to Holly Jo's for a downhome comfort food style of dinner and fantastic burgers. Try the pimento cheese!
Learn More: Franklin County Distilleries Tasting Room > | Holly Jo's Creekside Grill Menu >
Craft beer lovers will enjoy the beer garden at Big Lick Brewing Company prior to dinner at Beamer's 25, the restaurant named after Virginia Tech Hokies football coach Frank Beamer. The casual menu features burgers and pizza, so this date is great for a laid back couple just looking to chill.
Learn More: On Tap at Big Lick Brewing Company > | Beamer's 25 Menus >
The folks at Twin Creeks Brewing can't help but shout, "WE LOVE BEER!" so if that's your mantra, too, you'll be in the right place for drinks with your darlin'. Nine large batch brews and two experimental brews are currently on tap. Afterward, Red Jasmine Thai brings the heat with their sweet, hot, spicy, authentic Thai food.
Learn More: On Tap at Twin Creeks Brewing Company > | Red Jasmine Menus >
It doesn't get much easier than drinks at Golden Cactus Brewing and dinner from Tuco's Taqueria Garaje, considering the two spots basically share a parking lot in Downtown Roanoke's funky West Station District! Be sure to snap some pics of the awesome art painted on the sides of the buildings in the area.
Learn More: Golden Cactus Beer > | Tuco's Menus >
For a waterside date, we suggest Mexico Viejo on Smith Mountain Lake. Order up a margarita served in a pineapple – how cool! – and let the breeze blow through your hair. If you can make yourself leave this piece of the #lakelife, try another at The Landing. Choose from their upscale dining room or the more casual pub, depending on your mood and attire.
Learn More: Mexico Viejo Menu > | The Landing Restaurant Menu >
A robust craft cocktail menu accompanies a nice list of craft beer and wine at Lucky, "a Lower-Eastside Manhattan dining experience in our very own Roanoke, Virginia." If you manage to make it to dinner at Bernard's, you'll be treated to tasty American fare that includes salads, burgers, of course, but also entrée delights along the lines of salmon, chicken picatta, shrimp and grits, and sirloin.
Learn More: Lucky Cocktail Menu > | Bernard's Menu >
A drinks & dinner combo at Twin Creeks Distillery and Rocky Mount Burger Co. could also be paired with catching a concert at the Harvester Performance Center, with all three locations located next to each other in Rocky Mount. Twin Creeks Distillery is a wonderful spot to learn about Franklin County's rich history and heritage of moonshine and craft liquor production.
Learn More: Twin Creeks Distillery Spirits > | Rocky Mount Burger Co. Menu >
The pub atmosphere at 419 West lends itself to pre-dinner drinks. Adult beverages of all kinds are available, but perhaps something with international flair will set the tone for dinner at Carlos Brazilian? Carlos serves up not only Brazilian delights, but also French, Spanish, and Italian, as well as gorgeous views. Mix and match your meal to sample a bit of the world during date night.
Learn More: 419 West Menus > | Carlos Dinner Menu > 
If the magic happens in the back of the house, then 202 Social House's speakeasy is one magical place. Wander back there and treat yourself before partaking in delicious Indian cuisine at Nawab. Nawab specializes in authentic dishes that highlight the culture and flavors of northern India.
Learn More: 202 Social House Menus > | Nawab Restaurant Menus >
Check out two of the newest local spots in downtown Salem with the drinks & dinner duo of  El Jefe Taqueria and West Salem Barbecue. You could kick the night off with margaritas at El Jefe or some delicious bourbon based cocktails at West Salem Barbecue. Chow down on a variety of tacos at El Jefe or feast on slow cooked BBQ, including pulled pork, smoked chicken, and brisket, at West Salem.
Learn More: El Jefe Menus > | West Salem Barbecue Menus >
Wine, mixed drinks, and craft beer and cider get you started along the greenway at The Green Goat in Wasena. Enjoy the drinks at the bar or on the deck, then head to Wasena City Tap Room for casual dining among friends. The menu includes burgers, dogs, pizza, burritos, tacos…the eats chill evenings are made of.
Learn More: The Green Goat Menu > | Wasena City Tap Room Menu >
These two spots may have become popular with other Virginia locations (Cabo Fish Taco in Blacksburg & Three Notch'd in Charlottesville), but both have opened up locations right beside each other, making for a fun drinks & dinner combination that can be enjoyed in either order. Both venues offer full food and drink lists, though Three Notch'd is more known for its beer while Cabo Fish Taco is a go-to spot for great tacos.
Learn More: Cabo Fish Taco Menu > | Three Notch'd Brewing Company Menu >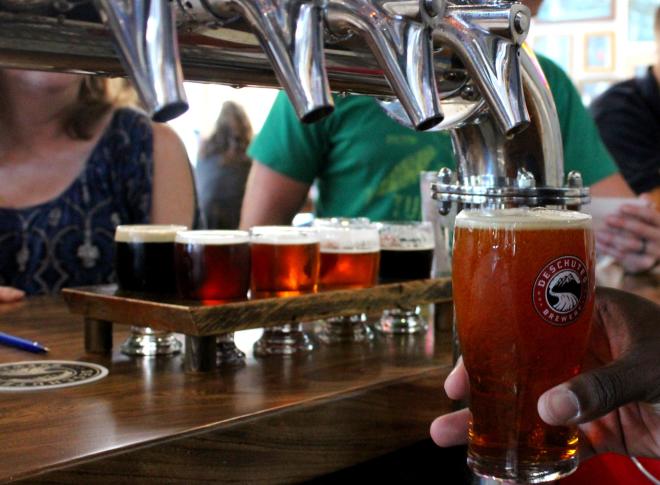 Fifteen taps of Deschutes craft beer is cold on tap. If you've yet to try this west-coast-comes-eastward brewery, you're missing out. For dinner, sample the amazing flavors of the fusion of the Caribbean & soul food with dishes like jerk chicken & waffles at Caribbica Soul.
Learn More: On Tap at Deschutes Brewery > | Caribbica Soul Menu >
The awards at Martin's include "best bar," so you won't go wrong bellying up to theirs. Eight taps, 75 bottles or cans, and plenty of the hard stuff means you won't go thirsty. We're headed right next door for dinner to enjoy the old-world, European style plates and drinks at Sidecar!
Learn More: Martin's Menu > | Sidecar Menu >
---
Now that there's no excuse for a date night (except a babysitter, maybe), it's high time you make those reservations and celebrate coupledom. Cheers to love and laughter!
Many of the spots mentioned in this list are part of the Virginia's Blue Ridge Cheers Trail. Check out the Cheers Trail Passport Program to find out how you can receive exclusive specials and fun swag as you visit these locations! Learn more >
Get more ideas for your next adventure by signing up to receive our monthly e-newsletter and give us a follow on social media!