When you're looking for some extra space to relax and feel refreshed, a getaway to Virginia's Blue Ridge Mountains is the perfect option for a metro mountain vacation. These 10 luxury suites are incredible for honeymooners, those celebrating an anniversary, or any couple who simply needs to reconnect. 
Any of these reprieves will be a stunning backdrop for the memories you'll make on your next romantic getaway.
---
This post was last updated in November 2020.
1. The Tree House at Primland | Meadows of Dan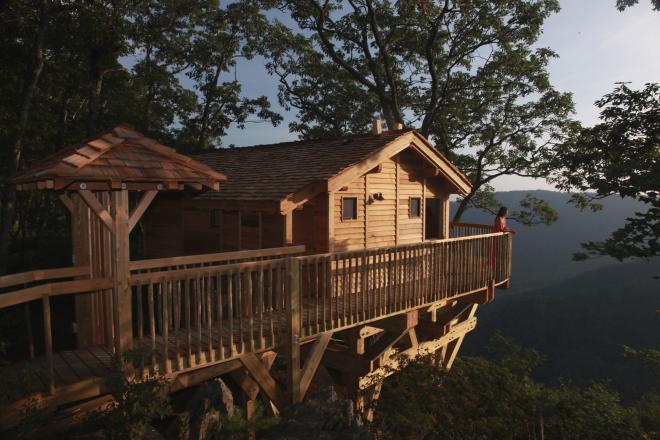 Rejoice! There is more than one tree house at Primland, and each is an unforgettable experience. Perched high above the Dan River and surrounded by mature trees, you're in your own paradise. The setting is such that some have referred to the tree houses as "glamping." That is, glamorous camping. We see it as sitting pretty in the lap of rustic luxury.
The tree houses are pet-, child-, and smoke-free havens for couples. The amenities include luxury linens, robes, and slippers, as well as a soaking tub, nightly turn-down, and access to a four-wheel drive vehicle.
Book Your Stay: Primland Tree Houses >
Part of the Curio Collection by Hilton, The Hotel Roanoke & Conference Center is the crown jewel of downtown Roanoke. The Governor Suite (pictured at the top of this post) is essentially the penthouse and is quite spacious at nearly 1,700 square feet. Depending on the season, you may find yourself in front of the fireplace or out on the private, spacious, rooftop terrace. It's an ideal place for drinks and Roanoke Star gazing.
The Governor Suite is well appointed with fine bedding, slippers, and bathrobes.
Book Your Stay: Suites at The Hotel Roanoke & Conference Center >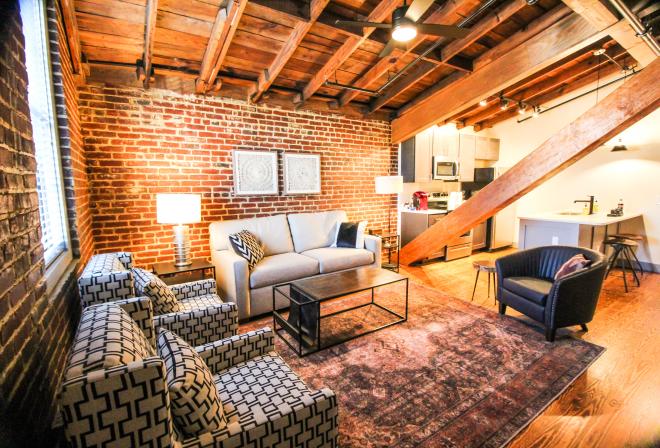 Book a stay in the heart of the City of Salem at The Lofts at Downtown Salem, an urban boutique hotel located in the Salem Motor Lofts, a recently renovated historic property. The hotel features multiple suites, but we especially think you'll love the King Suite and its beautiful design, featuring a kitchen, full size living area, and king size bed.
You're also a short walk from great restaurants and bars in Downtown Salem, as well as many unique shops and nearby outdoor adventures.
Book Your Stay: The Lofts at Downtown Salem >
Treat yourself with a stay in the Magnolia Suite at Early Inn at The Grove. It's an aptly named, grand room that brings to mind summers in the south. Floral wallpaper, hardwood floors, a beautiful transom above the door, a stately fireplace with stone hearth, and large windows are a picture of simpler times.
The en suite is gracious with a large two-head shower for you and yours, as well as soaking tub that might just suit two. Try out the locally-made organic soaps. If you love them, find out how to take some home.
Book Your Stay: Reservations for Early Inn at The Grove > 
Roanoke Boutique Hotel is all about connecting its guests to the best of the outdoor scene in Virginia's Blue Ridge, while also getting to experience the best of Downtown Roanoke. For a luxurious stay, consider booking The Beverley Suite, which once served as "the original owner's private summer quarters with private entrance, ensuite bathroom, twice the living space, king bed, and an additional sleeping area."
Book Your Stay: Roanoke Boutique Hotel Rooms >
The Inn at Riverbend is an annual favorite among many publications and with one visit, you will realize why. Sweeping views of the New River and surrounding area make this Select Registry bed and breakfast an ideal choice for a romantic getaway in any season.
The best views, finest appointments, and most ideal privacy is found in the Wind Rocks room. It's a ground-level, private, corner room with grand views from the French doors leading to Adirondacks on the deck. Soak in the oversized whirlpool tub with the aromatherapy bath products, and then slip into the plush bathrobes for a relaxing evening.
Book Your Stay: Availability at the Inn at Riverbend >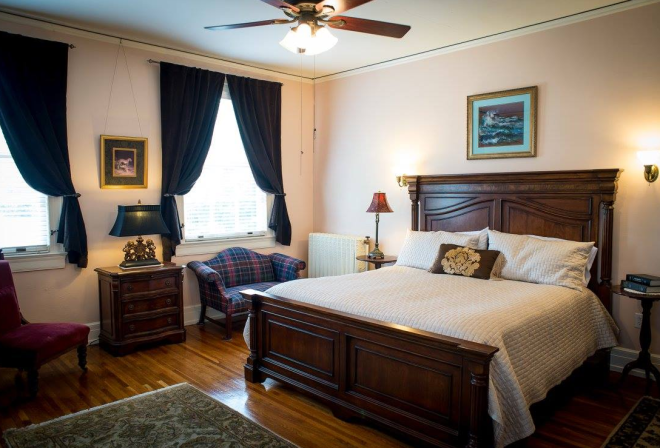 A comfortable king bed awaits you in the King George Room at King George Inn. The luxury linens, vintage soaking tub, and fireplace in this stately suite ensure romance is never absent. Locate the "Royal Treasure" box. The Virginia-made soap found within is an exclusive just for you!
Book Your Stay: Rooms at the King George Inn >
8. The Pinnacle Suite at Primland Resort | Meadows of Dan

In all likelihood, you can't imagine how romantic a silo can be, but that's because you're not familiar with the Pinnacles Suite at Primland Resort. It's a two-story, 1,800-square-foot magical space in the resort's Observatory Tower.
A wall of windows high and low give panoramic views without losing an ounce of privacy. Lie in bed and appreciate the nature that surrounds you or take a seat on the balcony. It's a great place to enjoy a libation or cup of coffee.
Book Your Stay: Primland's Pinnacle Suite >
Shirley's Bed & Breakfast is a sprawling log home with immense views and a huge helpin' of hospitality. The Lavista Room is a main level suite with a private entrance and plenty of space, not to mention a level of make-yourself-at-home comfort not found in many other accommodations.
The oversized tub and walk-in shower are your indoor relaxation, but a nice pool for summer floating awaits outside.
Book Your Stay: Lavista Room at Shirley's Bed & Breakfast >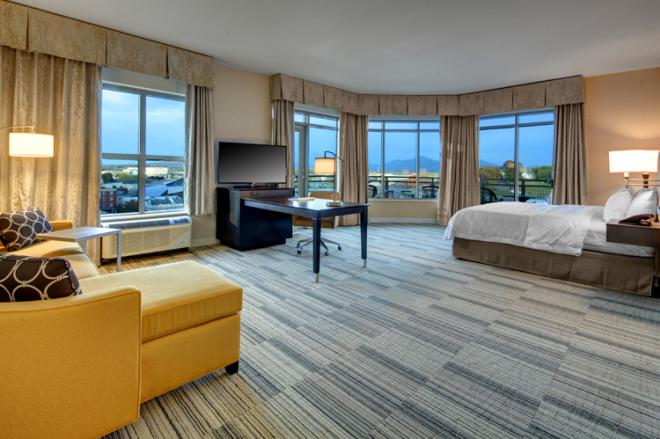 The Hampton Inn & Suites Roanoke Downtown is perfectly situated near Market Street & Elmwood Park in downtown Roanoke and offers Corner Studio Suites with balconies soaked in mountain views. You're not limited to the balcony to take in the breadth of downtown, however. These corner rooms are rounded off with a trio of windows washing the room in sunlight.
Book Your Stay: Rooms at the Hampton Inn & Suites Roanoke Downtown >
---
Time is the one thing we never have enough of and will one day run out of. Delight in the moments you spend together, and make sweet memories in Virginia's Blue Ridge.
More Ideas for a Romantic Getaway