Celebrate love in Virginia's Blue Ridge with an extra special anniversary getaway. Plan to be spoiled with luxury accommodations, excellent dining, and special moments dashed in every so often.
Your memorable anniversary celebration starts with a plan, and we have options to help you create yours. Cheers to love in Virginia's Blue Ridge!
Friday
Arrive to the Roanoke Valley in time for lunch, but don't skimp. Make every anniversary meal a memorable one.
We suggest The River and Rail, a Southern bistro where the locally-sourced menu changes daily. If you don't mind a day drink, their cocktails are something special, plus they'll help you get into relaxation mode for your couples massages at Belle Sante' Cosmetic Day Spa. Choose from 30-, 60-, or 90-minute sessions.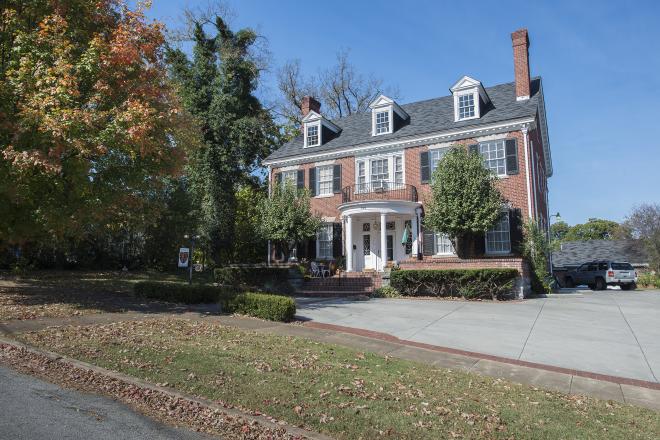 After your spa visit, check into your accommodation, be it the iconic Hotel Roanoke & Conference Center, or a cozy bed and breakfast like Black Lantern Inn or King George Inn. All three are convenient to downtown Roanoke.
Get refreshed and stroll through the Taubman Museum of Art before dinner. Revolving and permanent exhibits are spread through 11 galleries. You'll find the 77-foot-tall glass atrium to be quite impressive.
Dinner at Frankie Rowland's Steakhouse is an excellent choice for steak lovers, while those who love a very fine upscale pizza will be in heaven at Fortunato. Both establishments have extensive wine lists.
After you have your fill, catch a show at the Jefferson Center, The Spot on Kirk, or 5 Points Music Sanctuary. Opera Roanoke and Southwest Virginia Ballet are excellent to catch if your anniversary coincides with their performance calendar.
If you feel like a night cap, Stellina, Lucky, or Billy's are great options for nightlife.
Saturday
Breakfast in bed is always a lovely choice, or try The Regency Room at The Hotel Roanoke. You'll want to fuel up for a fun day of exploration and winery hopping.
Choose One!
North: Begin with a drive to see the iconic Natural Bridge at Natural Bridge State Park. Did you know the limestone arch was once owned by Thomas Jefferson?
After you've captured a dozen or more photos and walked the trail, head up to the Blue Ridge Parkway by way of Route 130, then travel the Parkway north to Peaks of Otter Restaurant for lunch. Enjoy your meal inside overlooking Abbott Lake, or ask to have your meal boxed to take outside and enjoy as a picnic.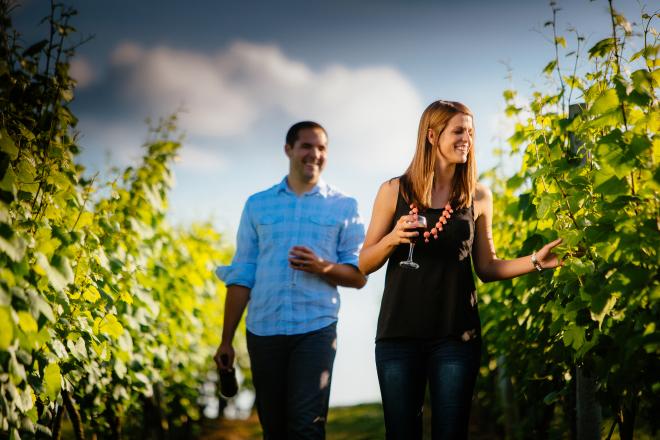 Enjoy the company of the one you love the most and don't feel rushed to move on, though there is a great wine ahead in your afternoon! Drive Route 43 west from Peaks to Buchanan to pick up the wineries of Botetourt County - Blue Ridge Vineyard and Virginia Mountain Vineyards.
Both offer palate-pleasing, award-winning wines with a side of incredible views.
When you arrive back to your accommodation, freshen up and enjoy dinner at Table 50 or Alexander's, both very tasty downtown Roanoke establishments.
South: Hit the Blue Ridge Parkway for a beautiful drive down to Chateau Morrisette, a destination winery in Floyd. Not only does award-winning wine await, but a fantastic lunch does, too!
The drive will take about an hour and 20 minutes, and there are scenic areas you'll want to check out as you go.
Onward to Valhalla Vineyards, about an hour back toward Roanoke along the Parkway and Route 221. If you've managed your time and want one more winery stop, head on westward to Beliveau Estate Winery near Blacksburg, another 50 miles.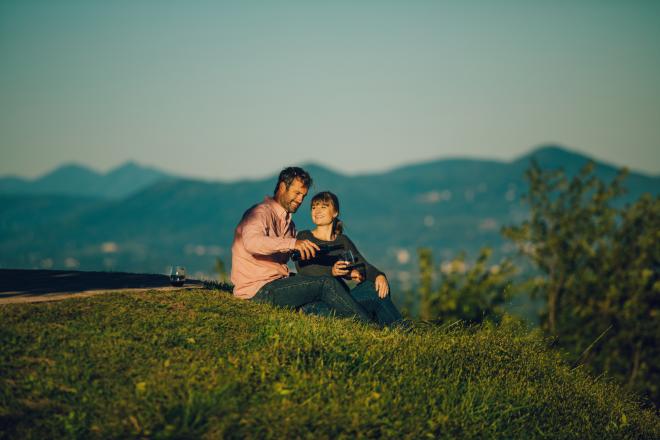 Regardless of which direction you chose, are you up for a sunset hike? It's a quick, painless one, we promise. Head to Carvins Cove, a reservoir offering kayaking and hiking trails. Enjoy the walk (or the paddle) and the stunning sunset colors that reflect on the water.
Other favorite sunset hikes include Read Mountain and Hay Rock, though you do have to put forth a little more effort for those. You could also skip the hike and simply drive to the top of Mill Mountain to take in the stunning sunset view while standing beneath the Roanoke Star.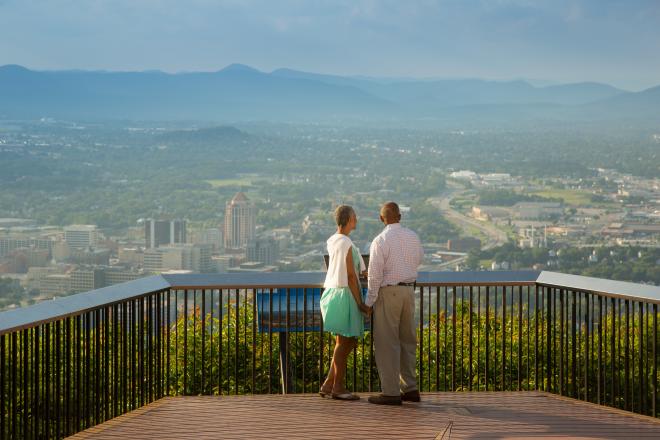 Sunday
SLEEP IN! You've certainly covered a lot of ground on your anniversary excursion in Virginia's Blue Ridge, so relax a few extra hours and then have brunch at Local Roots or one of our other favorites. 
---
An excellent luxurious splurge is Primland in Meadows of Dan. While not inclusive, there are many things to do, dining options, and an indulgent spa to keep you busy and pampered.
---
More Ideas & Resources