Beautiful seasons call for a road trip, and wine is an attractive lure. Let us virtually escort you around Virginia's Blue Ridge to take in our views, tour our wineries and vineyards, and sip our finest vintages.
This guide can help you plan a romantic weekend getaway that features the wineries of Virginia's Blue Ridge Mountains. 
We have much in store - let's go!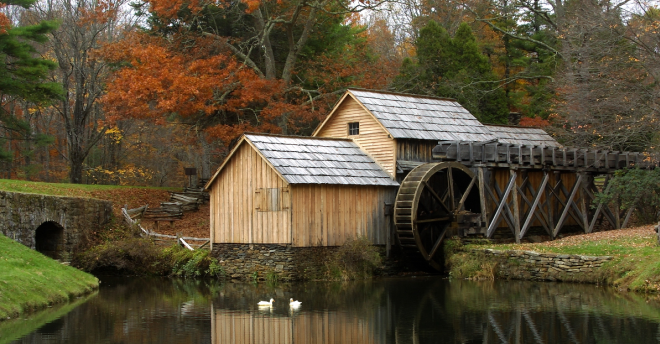 "America's Favorite Drive" courses above the Roanoke Valley in Virginia's Blue Ridge, snaking along ridges and sharing glimpses of the area below. The overlooks are always worth a stop, especially on a crisp, clear, blue sky day.
A point of interest that should be on your list is Mabry Mill, one of the most photographed sites on the Blue Ridge Parkway. You'll find the Mill, restaurant, and historic interpretations at milepost 176. Plan to capture this beauty during each season!
Learn the History of Mabry Mill >
On to Rocky Knob! At milepost 169 you'll find the Rocky Knob Visitor Center and parking area. The Picnic Loop Trail is one mile long and does, indeed, include a picnic area as well as restrooms. Don't miss the two overlooks across the road for easy glances down and out. 
If it's serious hiking you're looking for, consider the hike up to Rocky Knob itself, elevation 3,572 feet. It's a narrow hike up, but it's not far from the parking area.
Trail Information: Rocky Knob Hiking Trails >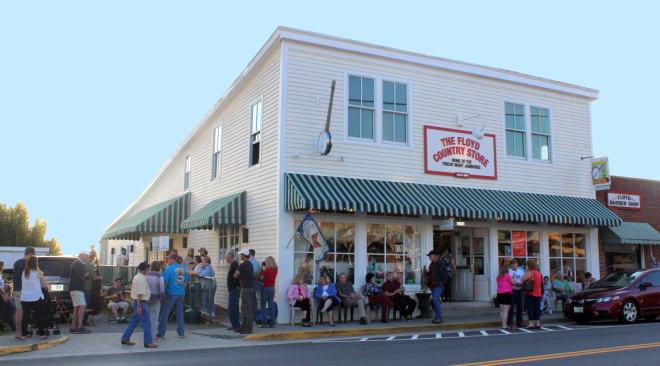 An ideal destination for the evening is the town of Floyd, an artsy area where musicians and creative types thrive, and one of the South's Best Small Towns, according to Southern Living. If you're fortunate enough to be making this trip on a Friday night, then you're just in time for the Friday Night Jamboree at the Floyd Country Store. Rest well at the Virginia Green certified Hotel Floyd.
Learn More: The Famous Friday Night Jamboree >
Hop back on the Parkway and drive north with Roanoke as your first destination. The area boasts a variety of local shops that are perfect for the wine-connoisseur. Along the way, consider making stops at AmRhein's Wine Cellars and Valhalla Vineyards, two wineries south of Roanoke that offer a beautiful setting.
AmRhein's Tasting Room & Tours > | Events at Valhalla > 
Pick up a great bottle of wine, gifts, or a tasty treat from Wine Gourmet, Chocolatepaper, or our go-to kitchen store, Ladles and Linens.
In the afternoon, pick up the Parkway again and travel north to see the Peaks of Otter and taste a few fruit wines at Peaks of Otter Winery and consider an overnight stay at Elmo's Rest on property.
Wine List: Peaks of Otter Winery >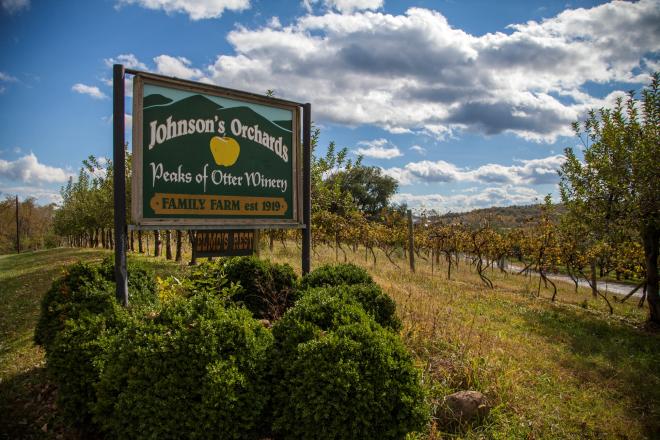 Sunday calls for a back-track to Roanoke for brunch at Rockfish Food & Wine, a restaurant known for creative dishes and an eclectic wine list that includes more than 270 labels.
See the Menu: Rockfish Food & Wine >
Following brunch, take a stroll around the adorable Grandin Village and then make your way over to the popular Black Dog Salvage, which you may recognize from its Salvage Dawgs TV show.
Finish the weekend in style at the amazing bloom restaurant & wine bar, part of Roanoke's trendy Wasena neighborhood. bloom specializes in seasonal small plates and libations in an intimate setting. Cheers to that!
See the Menu: bloom restaurant & wine bar >
---
Too much wine time and not enough shopping? Spread this suggested weekend over two trips to Virginia's Blue Ridge! If you're looking for more wine inspiration, check out our full list of wineries and vineyards.