Fall in Virginia offers many fun activity combinations, but one of our favorites is hiking and wine.
October is Virginia Wine Month, which makes it the perfect time to sample fine vintages during the grape harvest and also experience the colorful canopies shading some of our favorite hiking trails. 
In Virginia's Blue Ridge, we have a number of wineries that are close to great hiking trails, and we've done the research for you identify the best matches. Grab a partner, put on your sturdy shoes, and set off for a day of spectacular views and tasty wine.
---
Before You Go: Please remember to enjoy the trails responsibly and be respectful of your surroundings. Let's all do our part to minimize our impact on the environment and keep these hikes beautiful for years to come!
Familiarize yourself with the Leave No Trace 7 Principles and adhere to this helpful set of guidelines to help protect the trails.
---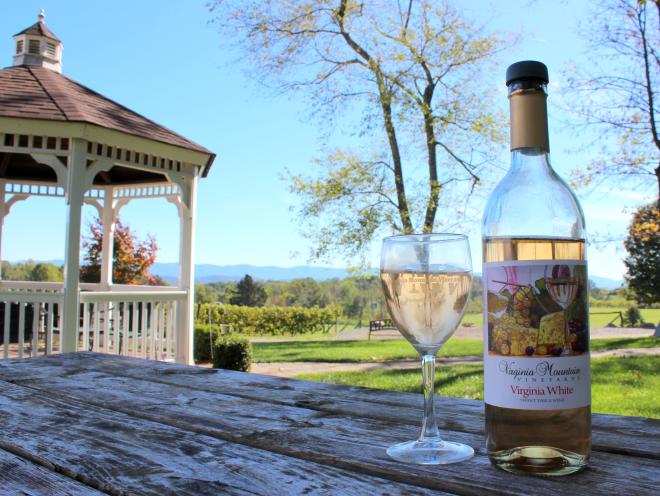 In Eagle Rock is Hoop Hole, a figure-eight trail nearly 10 miles long near Roaring Run Recreation Area in the Jefferson National Forest. The upper and lower loops are popular with mountain bikers, but hikers love it, too.
Virginia Mountain Vineyards is less than 30 minutes away in Fincastle, and their views are among our favorite.
Learn More: Hoop Hole Trail Info > | Virginia Mountain Vineyards Facebook Page >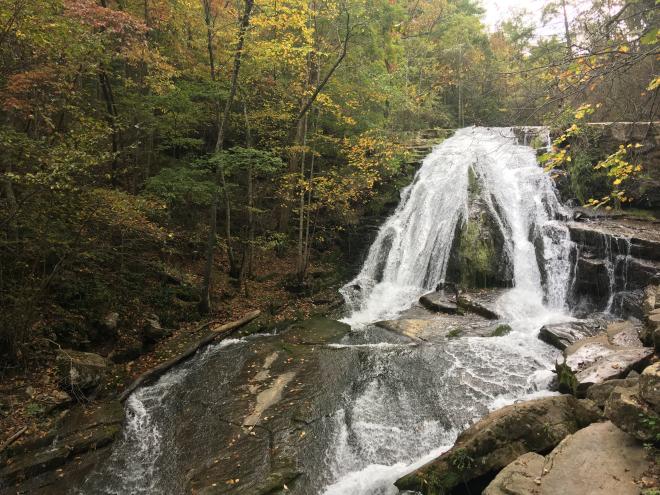 One of the most popular trails in Virginia's Blue Ridge is Roaring Run Trail through the Roaring Run Recreation Area in Eagle Rock. The Roaring Run Furnace and a series of cascading waterfalls are the draw.
About 20 minutes away is Blue Ridge Vineyard. Their sweeping views include fields and mountains, which will surely put on a show this season. Sundays are for live music and wine, so plan your hike for the morning.
PRO TIP – Roaring Run and Hoop Hole as well as Blue Ridge Vineyard and Virginia Mountain Vineyards are all close to each other and can be interchanged for a different experience.
Learn More: Roaring Run Trail Info > | Blue Ridge Vineyard Website >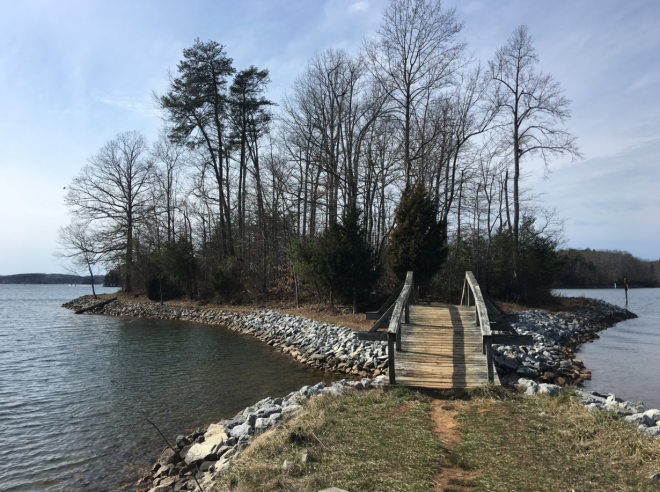 Choose from 13 hiking trails at Smith Mountain Lake State Park. Some offer views of the sparkling water while others take advantage of the foliage and remaining shade of the woods.
In about 10 minutes you can be from the park to Hickory Hill Vineyards & Winery in Moneta. Heads up! Enjoy live music and a picnic on Sunday evenings as part of the Sunset Sunday Concert Series. Bring a blanket or chair to be comfortable while you sip.
Learn More: Smith Mountain Lake State Park Trails > | Hickory Hill Vineyards & Winery Website >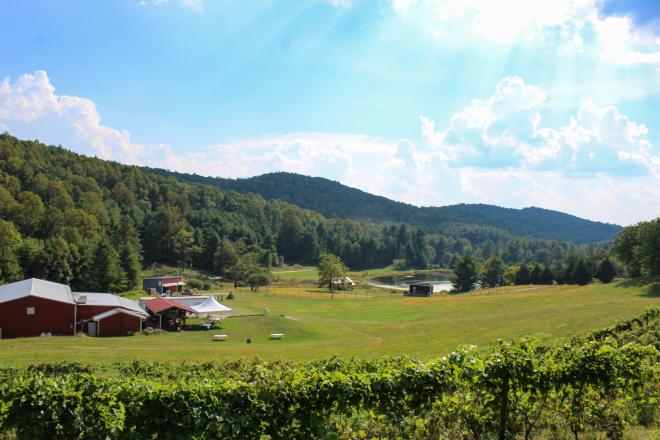 Virginia's second highest waterfall (200 feet) is accessible by the Bottom Creek Gorge Trail on Bent Mountain. Linger a while and definitely bring a camera to capture this beautiful slice of nature.
Less than three miles away is AmRhein's Wine Cellars and their award-winning German-inspired wines.
Learn More: Bottom Creek Gorge Preserve Website > | AmRhein's Wine Cellars Website >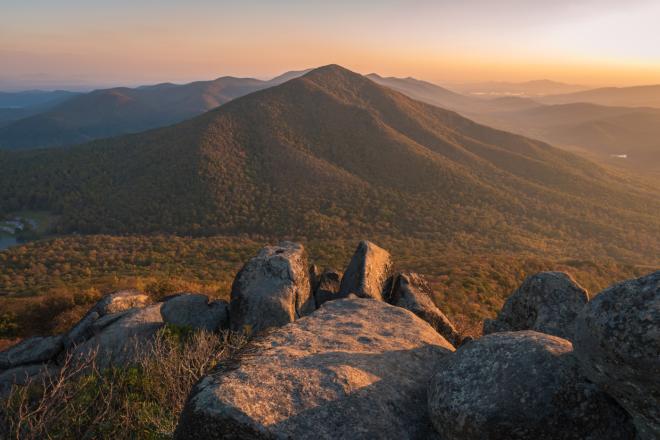 The three peaks of Peaks of Otter are among the most notable in Virginia's Blue Ridge. From Sharp Top you can see for miles (Pictured above: Sharp Top Overlook), and it's the most accessible of the three with a shuttle to the top for those who are less able to hike.
Whichever trail you choose, follow it up with a visit to Peaks of Otter Winery and Johnson's Orchard less than 20 minutes away. Facing opposite the Peaks of Otter, the farm winery is a great place to look back at the foliage you just enjoyed.
Learn More: Peaks of Otter Hiking Trails > | Peaks of Otter Winery Website >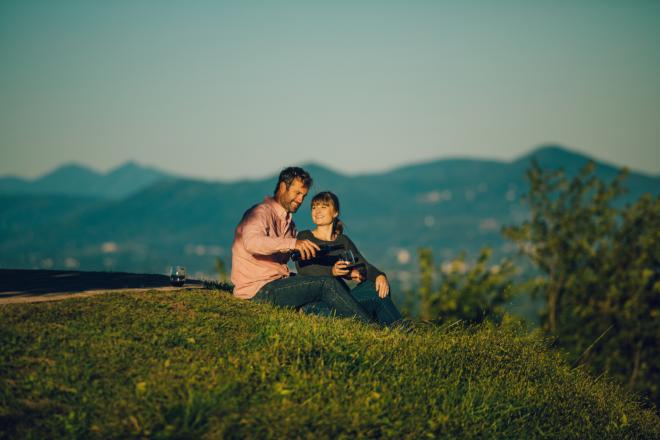 The Poor Mountain Trail in the Poor Mountain Natural Area Preserve is a moderate 3.4-mile loop with switchbacks and nice views when the leaves begin to fall from the trees. Allow two to three hours for the hike, then rest with the 20-minute drive to Valhalla Vineyards.
Their wines are French but their view is 100% Virginia's Blue Ridge. Soak it all and don't miss seeing their wine cave!
Learn More: Poor Mountain Natural Area Preserve > | Valhalla Vineyards Website >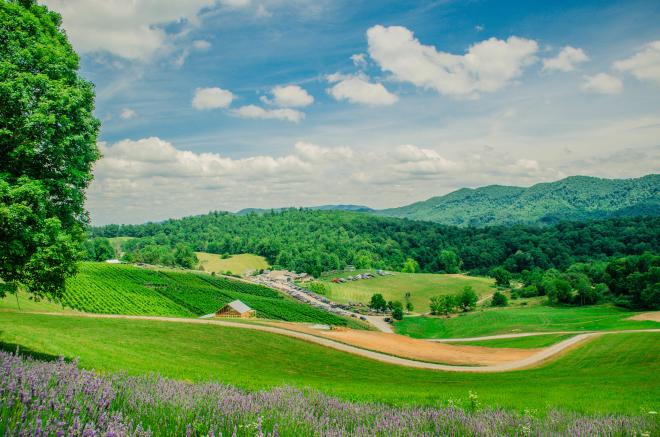 As part of the Virginia Triple Crown along the Appalachian Trail, Dragon's Tooth is one of the most iconic hikes in Virginia's Blue Ridge. It's a challenging trek that puts your climbing and bouldering skills to the test, but you'll be amazed at the 35-foot tall quartzite rock that points toward the sky as the "tooth."
Get a taste of the truly wild and then make a beeline for Beliveau Farm Winery. Their acreage is less wild and their wine feels like a personal award. Tip back a glass of Trailblazer Merlot, you trailblazer, you.
Learn More: Dragon's Tooth Trail Info > | Beliveau Farm Winery Website >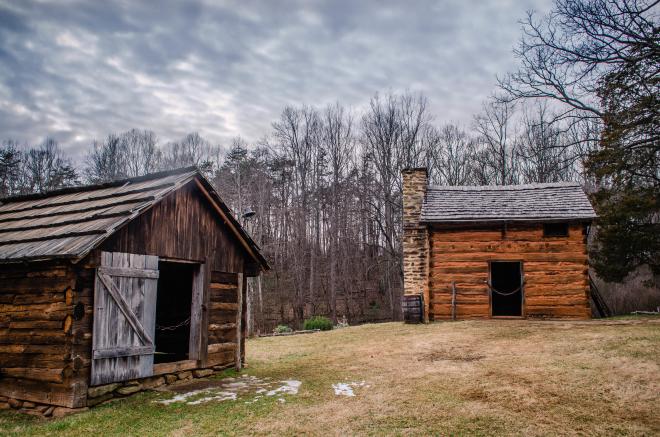 Managed by the National Park Service, Booker T. Washington National Monument interprets the birthplace of a boy born into slavery who became one of the great educators of his time. Explore the park by way of the two main trails – Plantation Trail and Jack-O-Lantern Branch Heritage Trail.
You'll encounter the historic sites of the Burroughs family home, the Booker T. Washington birthplace, the reconstructed kitchen cabin, the tobacco barn, and two cemeteries.
Five miles away is Brooks Mill Winery, a small, family-owned winery that's perfect for unwinding. Their fruit wines are a delight. We especially enjoy the Sangria.
Learn More: Booker T. Washington National Monument Website > | Brooks Mill Winery Website >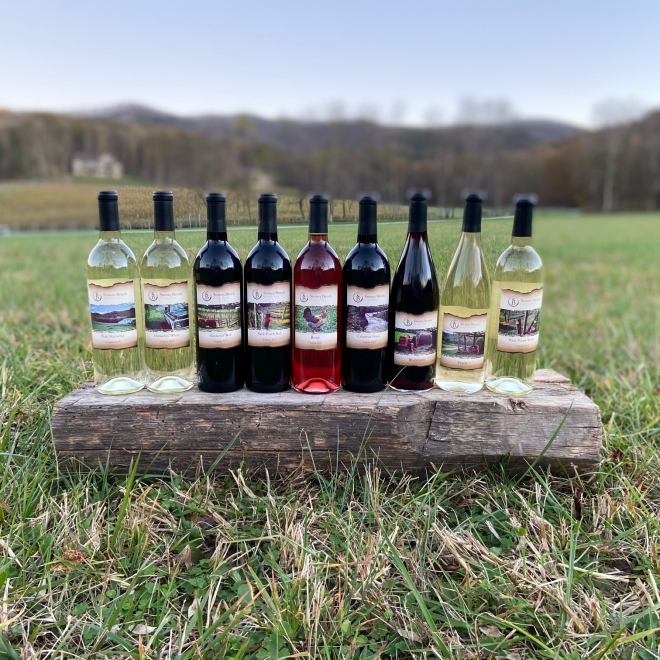 If you're looking for a hike and trail experience that can offer plenty of solitude and the opportunity to wander through the forest, the section of the Appalachian Trail from Route 11 that leads up Fullhardt Knob is a great option. This 7.6 mile out-and-back hike leads to the Fullhardt Knob Shelter along the A.T. and is moderately difficult.
From the parking area for this hike, you're less than 2 miles from Stoney Brook Vineyards and Winery in Troutville. The family owned farm winery offers a beautiful setting that is both kid-friendly and pet-friendly and the planted grapes in the vineyard include Petit Manseng, Petit Verdot, Viognier, and Cabernet France.
Learn More: Fullhardt Knob Trail Info > | Stoney Brook Vineyards Website >
---
Virginia's Blue Ridge Cheers Trail
The wineries in the region are part of the Virginia's Blue Ridge Cheers Trail! Before you go, register for our Cheers Trail Passport Program and then check-in at each location you visit for exclusive special offers. Once you check in at five spots, we'll send you a free Cheers Trail t-shirt! Learn more >
---
Show us what you're sippin' and how you're hikin'. Chronicle your adventures on Instagram and tag #Trailsetter and #VBRCheers.
Header photo of Sharp Top Mountain courtesy of Sarah Hauser - Virginia Tourism Corporation