The leaves will soon begin turning in Virginia's Blue Ridge. Indeed, peak fall foliage color is on its way! 
It's the perfect weekend to get outside, and we have 10 fantastic hikes that will deliver the very best of our autumn views.
After all, with over 1,000 miles of trails in the region for hiking, biking, & paddling, the Roanoke Valley in Virginia's Blue Ridge is the ideal hub for adventure.
Lace up and get going!
NOTE: Please remember to enjoy the trails responsibly and be respectful of your surroundings. Let's all do our part to minimize our impact on the environment and keep these hikes beautiful for years to come!
Please familiarize yourself with the Leave No Trace 7 Principles and adhere to this helpful set of guidelines to help protect the trails.


If you're looking for the pinnacle of the Appalachian Trail, McAfee Knob on Catawba Mountain is it. It's hugely popular (avoid crowds by hiking early in the morning or on weekdays), and the most photographed site on the A.T. thanks to its sweeping 270° views.
To take it all in, hike the 8.5 miles out and back from a parking lot on Route 311.
You can also avoid the challenges of finding a parking spot and reduce congestion in the parking lot by taking advantage of the new McAfee Knob Trailhead Shuttle Service, which operates on weekends through November.
Learn More: McAfee Knob Trail Info >
Photo by Rochelle Masudal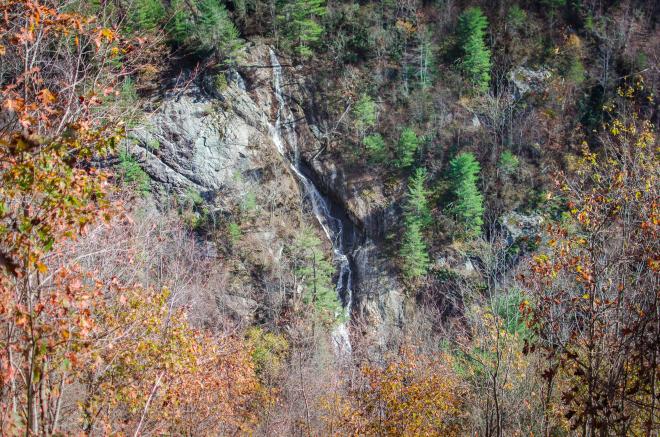 The fall colors provide a stunning backdrop as you hike down Bottom Creek Gorge, which offers a view Bent Mountain Falls, one of Virginia's tallest waterfalls.
The Bottom Creek Gorge Preserve features nearly 5 miles of moderately difficult hiking trails, with the best view of the waterfall being along the Johnston Trail. [Trail Map]
Learn More: Bottom Creek Gorge Preserve >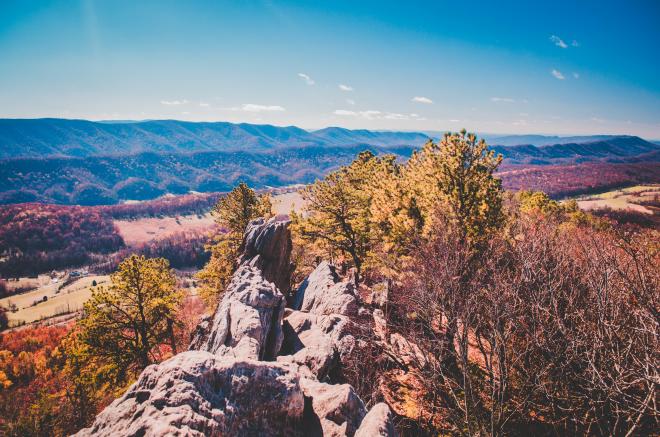 Cove Mountain features many quartzite outcrops, but Dragon's Tooth is easily identifiable, as it's the 35-foot spire atop the rest.
Experienced hikers will appreciate the challenge and the payoff of the 4.5-mile round trip. Access the rugged trail from the parking lot near Catawba Grocery on Route 311.
Dragon's Tooth is also part of the Appalachian Trail.
Learn More: Dragon's Tooth Trail >


At milepost 86 on the Blue Ridge Parkway are the Peaks of Otter, of which Sharp Top is the most popular. The ascent is rather steep, but wow, when you get to the top!
The views are panoramic - 360° - and breathtaking. On a clear day, hikers can see for an untold number of miles.
Learn More: Peaks of Otter Hiking Trails >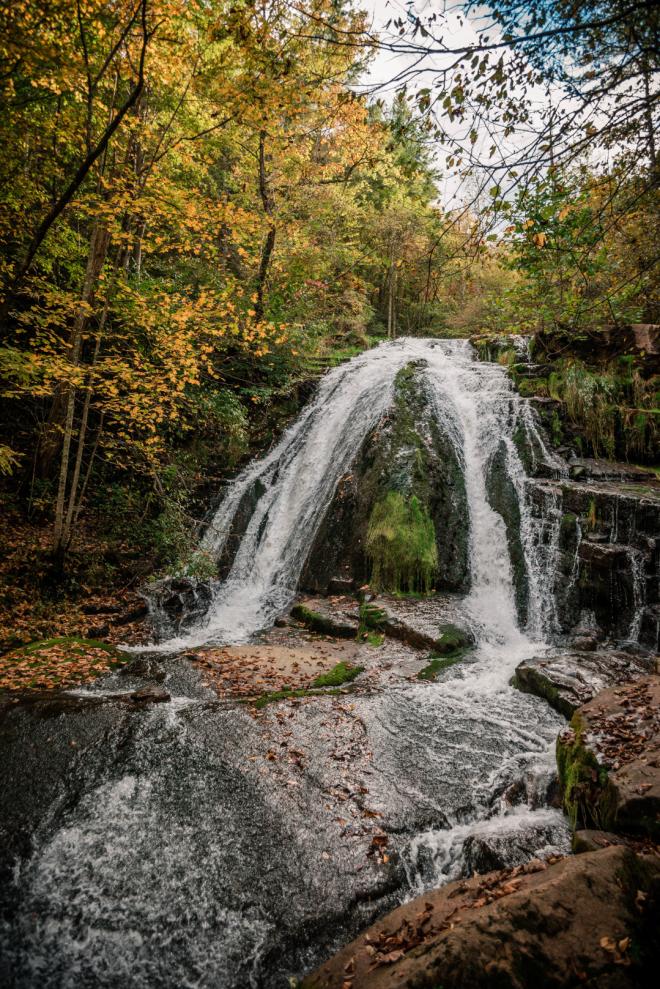 The air is crisp by the stream on the way to Roaring Run Falls, and soon, the orange and gold leaves will crunch beneath your feet.
The water is cold and mighty as it courses past the old Roaring Run furnace, a 19th century iron ore furnace on the National Register of Historic Places.
Learn More: Roaring Run Recreation Area >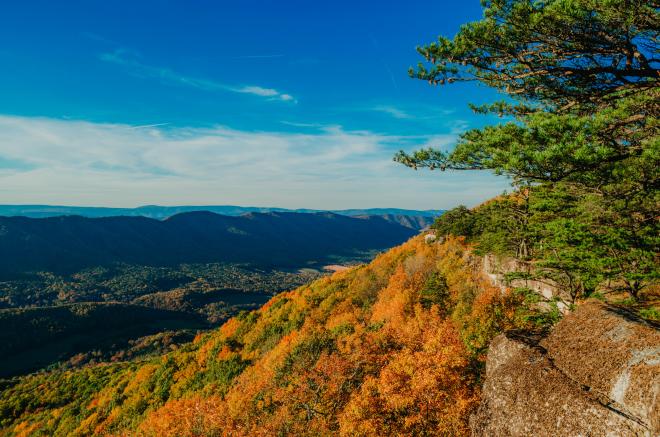 Tinker Cliffs is another segment of the Appalachian Trail, accessed by the Andy Layne Trail from Route 779. It's not an easy hike, as those who give it a go will hike over 7.5 miles and experience nearly 2,000 feet of elevation change.
For a unique challenge, hikers can also take on the Triple Crown, which includes making the trek to McAfee Knob, Dragon's Tooth, and Tinker Cliffs.
Learn More: Tinker Cliffs via Andy Layne Trail >
One of our favorite views is of fall foliage surrounding Carvins Cove. Get that vantage point and that photo from Hay Rock Overlook Trail / Appalachian Trail.
Considered moderately difficult, this trail is 8.5 miles round trip from Routes 220 and 816.
Learn More: Hike to Hay Rock >
8. Explore Park | Roanoke - Blue Ridge Parkway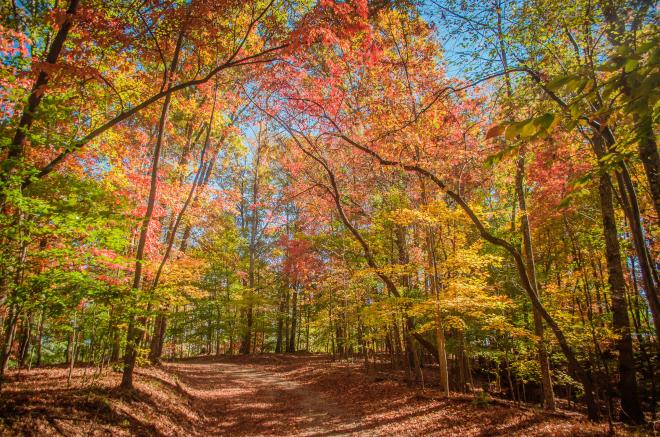 More than 1,000 acres are at your disposal at Explore Park, located at milepost 115 on the Blue Ridge Parkway. Take it all in by way of the 14+ miles of trails.
Spend time along the River Walk Trail to enjoy the colors of fall reflecting off the Roanoke River.
Learn More: Explore Park Trail Maps >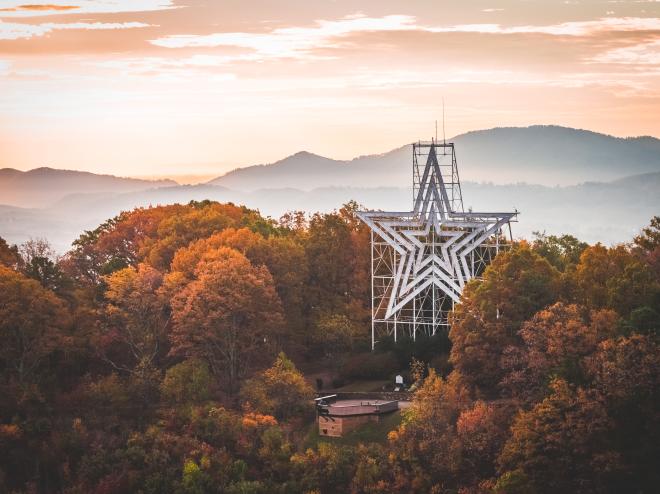 Have you ever heard of the Roanoke Star? You'll find that beautiful beacon on Mill Mountain, overlooking Roanoke.
The trails are easy and include overlooks that you'll surely spend time oogling from. Or selfie-ing. We don't blame you; the views from there are iconic.
Learn More: Mill Mountain Park >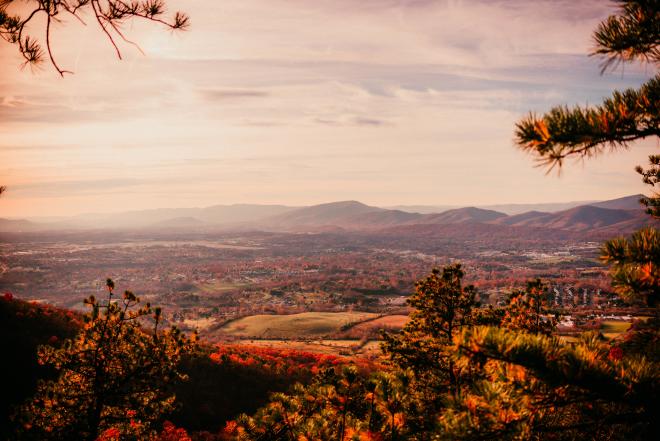 Head to Read Mountain and hike the Read Mountain Trail. It's a short little route of five miles, but it is considered to be moderately difficult. Take the two-mile spur up to Buzzards Rock for a different, more expansive vantage point.
Learn More: Read Mountain Preserve >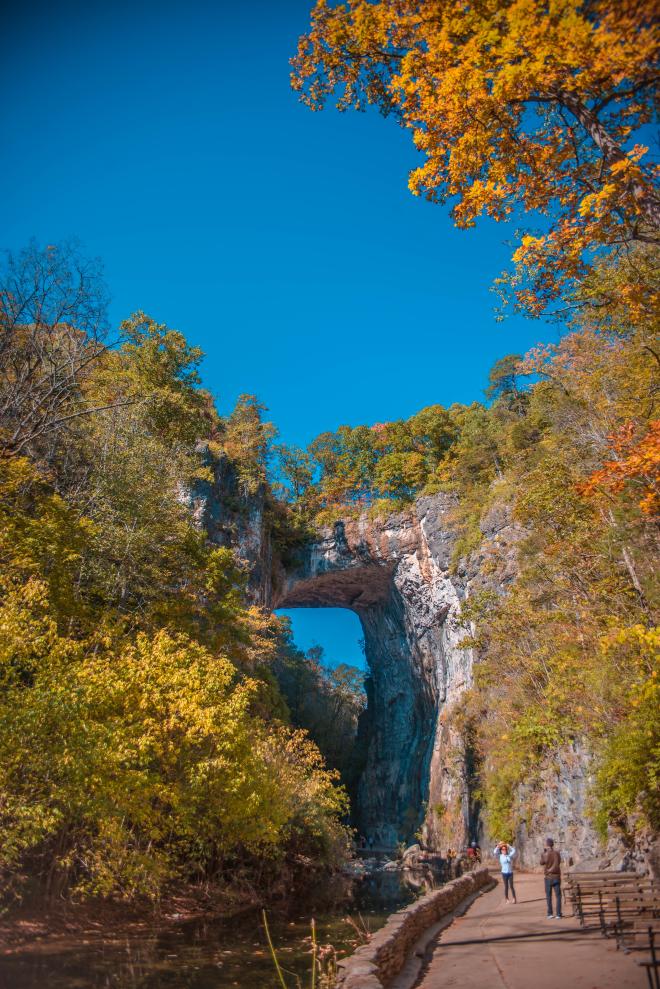 For a great collection of trails that feature fall colors, check out the Virginia State Parks in Virginia's Blue Ridge.
Smith Mountain Lake State Park, Fairy Stone State Park, Douthat State Park, Claytor Lake State Park, and Natural Bridge State Park (pictured above) are all located within the region and offer a variety of opportunities for leisurely hiking through the woods.
Learn More: Virginia State Parks in VBR >