You set out on a hike for glory – the longest, highest, hardest…whatever it is…and then you raise a glass to celebrate a job well done. That sounds like a great day. 
Coincidentally, those days occur every day in Virginia's Blue Ridge.
As Virginia's premier outdoor recreation destination, Virginia's Blue Ridge offers excellent adventures of all kinds. This is where you can paddle 60 miles of designated scenic river, hike for waterfalls or sunsets, or shred the sickest singletrack the Commonwealth has to offer. 
It's time to hit the trails on two feet. And bring your dog, if you want, just be sure to show us pics as you go (#Trailsetter).
Here some options for adventures that include going for a hike and then checking out a nearby brewery for a post-hike beer.
---
Before You Go: Let's all do our part to recreate responsibly and help keep the trails beautiful and enjoyable for everyone. Please familiarize yourself with the Leave No Trace 7 Principles - a set of guidelines to ensure you protect nature while you spend time outside.
---
Near Downtown Roanoke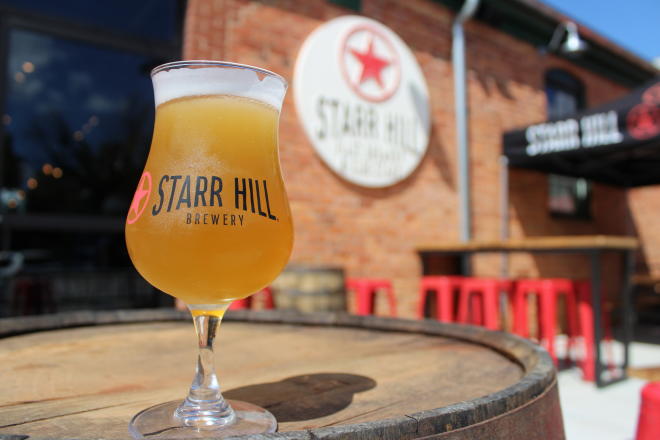 MODERATE TRAIL: Mill Mountain Park is 900 acres of wooded escape within Roanoke city limits. Peruse the trails from the top or climb from the bottom. We like the yellow blazed Star Trail at 1.38 miles long. Mill Mountain Park Trail Map >
MODERATE TRAIL: Chestnut Ridge is near Mill Mountain and just off the Blue Ridge Parkway. Popular among locals, the trail is a moderate figure eight. Chestnut Ridge Trail Map >
EASY TRAIL: The Roanoker River Greenway is a paved trail paralleling the Roanoke River through Roanoke. It's an attractor of families, cyclists, and hikers/walkers like yourself. Roanoke River Greenway Map >
BREWERIES: Take a mini brewery tour, if you like, or choose one of our amazing downtown breweries to close out your big adventure. A Few Old Goats is located in the West End of Downtown Roanoke and operates as a 2-barrel nanobrewery that typically has about 12-16 beers on tap. Grab a Low Ride golden ale for some easy drinking and enjoy it on the patio. A Few Old Goats Beer Menu >
Big Lick Brewing Company has an exceptional lineup of craft brews and an amazing beer garden that is one of our favorite outdoor patios in Virginia's Blue Ridge. Big Lick Brewing Company Beer Menu >
Starr Hill Pilot Brewery & Side Stage has 23 taps to choose from and live music every Friday and Saturday on their Side Stage. We recommend trying the Time in the Saddle - a light Kolsch that's a tribute to our love of the outdoors and was launched to coincide with the recent Carilion Clinic IRONMAN 70.3 Virginia's Blue Ridge Triathlon that was hosted in Roanoke earlier this summer. Starr Hill Beer Menu >
Three Notch'd Brewing Company features a Craft Kitchen to serve a nice meal along with your choice of beer. If you have kids along, plan your trip to coincide with a Kids Happy Hour & Ice Cream Release Party. Yes, an ice cream release…as in, they also craft their own ice cream at Three Notch'd. Three Notch'd Beers >
The design and decor at Golden Cactus will have you feeling like you've stumbled into a hip, art gallery that also happens to serve great beer. Go all in with the western, desert vibes and try the Rick Rita - a margarita gose. Golden Cactus Beer Menu >
It doesn't get much better than enjoying Sunday brunch and craft brews on the patio at Twisted Track Brewpub. Not into beer? They also have a great lineup of customizable hard seltzers! Twisted Track Menu >
Southwest Roanoke County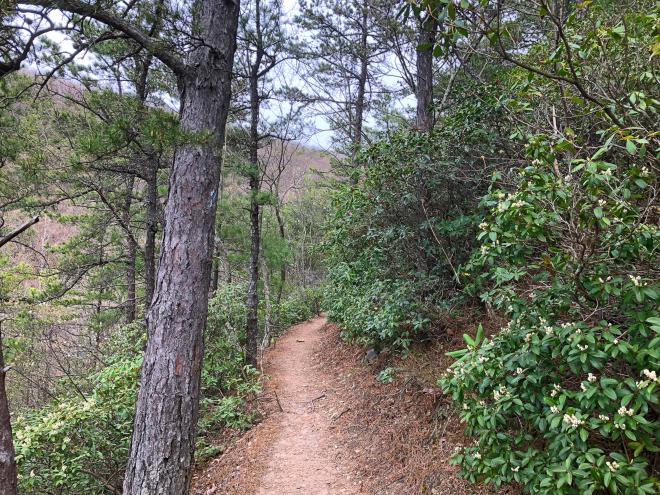 MODERATE / HARD TRAIL: Reaching 3,928 feet, Poor Mountain is one of the tallest mountains in the area. It also has multiple claims to fame. First, it's most readily recognized for its antenna farm. Second, it's a preserve of the world's largest number of piratebush (Buckleya distichophylla), an endangered shrub. To see the piratebush, take the one-mile loop where the greatest concentration can be admired. From there, four miles of steep climbing await. Poor Mountain Trail Map >
EASY TRAIL: Happy Hollow Gardens is a public park with five trails to choose from. For a rather easy excursion, choose the gentle White Pine Trail or the wheelchair accessible Azalea Trail. Happy Hollow Trail Map >
EASY TRAIL: South County Wetland Trails usher visitors into a natural wetland via 900-foot long boardwalk and also includes traditional land trails of dirt and gravel. The boardwalk is accessible to all. 
BREWERY: Barrel Chest Wine & Beer focuses on small batch brewing their own beers while also offering other beers and wines to choose from. Small plates are available as well.
(Note: The Barrel Chest Tasting Room is currently closed to the public as they move to their new location at 2601 Franklin Road, but they are still offering online ordering and curbside pickup.)
Near Bedford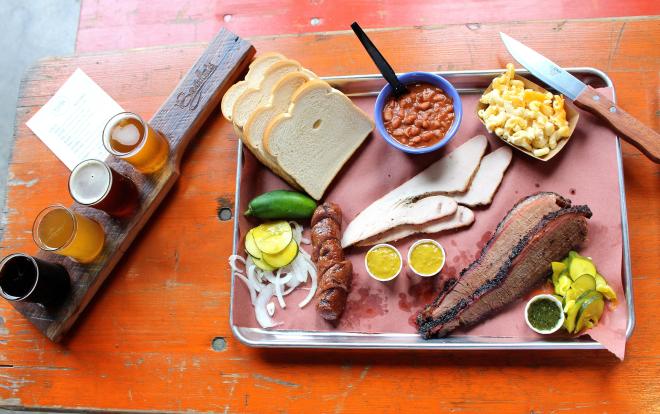 HARD TRAIL: Peaks of Otter is one of the most popular spots on the Blue Ridge Parkway with its glistening Abbott Lake, lodge and restaurant, and of course, the three peaks once believed to be the highest in Virginia. Try the most challenging among the hikes on the peaks: Sharp Top. Allow yourself about three hours to climb the 1,540 feet to the top. We promise it's worth the effort. Peaks of Otter Trail Map >
EASY TRAIL: Montvale Park trails are beautiful, winding through the trees and leading to foot bridges and abundant wildlife. More than seven miles of multi-use trails are available, including Easy Street, Yellow Drum, and Creekside – the easiest of the nine named tracks. Montvale Park Trail Map > 
BREWERY: Beale's Brewery in Bedford is a restaurant and brewery. Settle in and then raise a glass of Purple Mountain Pilsner, their nod to the beautiful Peaks of Otter. We hope you worked up an appetite during your hike, because Beale's also has some of the best BBQ in Virginia. Beale's Menus: Beer | Food
Near Rocky Mount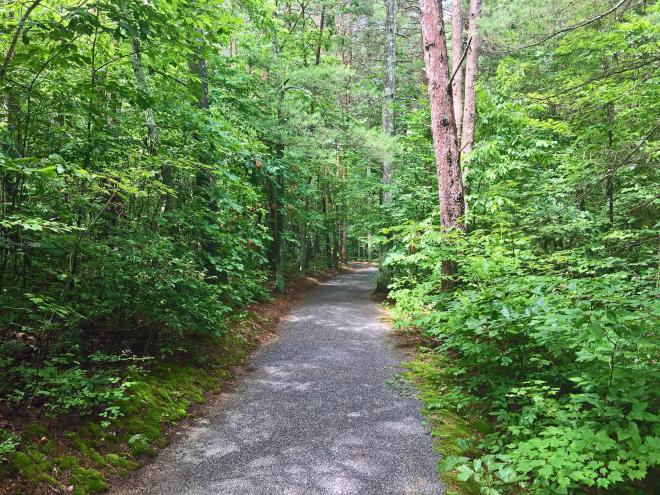 EASY: Waid Recreation Park is quickly establishing itself as one of the premier parks for mountain biking in Virginia's Blue Ridge. The trail network is also great for hiking & trail running, and you can get on the water with access to the Pigg River Blueway. Waid Park Trail Map >
MODERATE: Grassy Hill Natural Area Preserve is traversed by way of more than six miles of trails. Start with the Slope Trail from the parking lot and then work your way through the East Loop, Connector, and West Loop Trails to create a figure eight totaling five miles of hiking. Grassy Hill Trail Map >
BREWERIES: Both Chaos Mountain Brewing Co. and Living Proof Beer Co. are excellent options for a post-hike toast. We like the limited Edge of the Sun Mexican-style golden lager at Chaos for a summer wind-down.
Chaos Mountain Beer Menu > | Living Proof Beer List >
Near Salem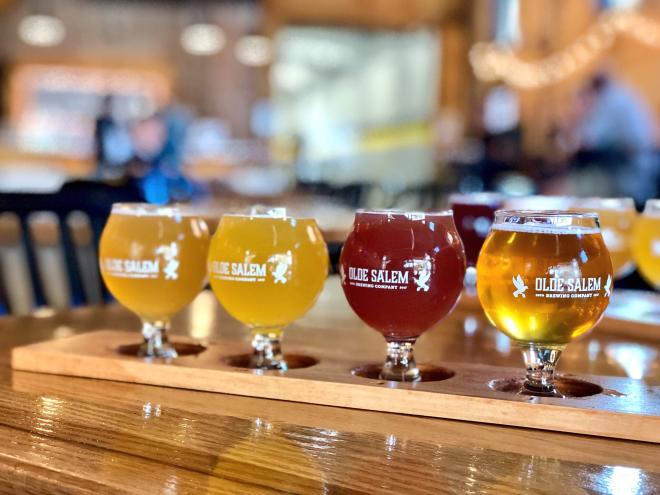 EASY TRAIL: Hanging Rock Battlefield Trail is a point-to-point rail trail from Salem City into Roanoke County by way of the Norfolk and Southern Catawba Spur. Those who traverse this path will find interpretive signs along the way sharing a bit of Civil War history and that of the Battle of Hanging Rock. Hanging Rock Battlefield Trail Map >
EASY TRAIL: Green Hill Park is part of the Roanoke River Greenway and includes river frontage with stocked trout, and also features a trail network that is regularly used for cross country races. Green Hill Park Trail Map >
HARD TRAILS: Go for the gusto! McAfee Knob is one of the shimmering jewels in Virginia's Triple Crown and one of the most photographed spots along the Appalachian Trail. The 8.8 miles out and back are a little more strenuous than you're probably expected, so pack water and take breaks. McAfee Knob Trail Map >
HARD TRAIL: Dragon's Tooth is yet another piece of the Crown and features jagged, rugged outcrops that challenge those who pass. The Dragon's Tooth itself is a 35-foot spire that you won't easily miss. Dragon's Tooth Trail Info >
HARD TRAIL: Ft. Lewis Mountain - Havens Wildlife Management Area is managed by the Virginia Department of Game & Inland Fisheries and is fast becoming a destination for mountain bikers. Also, this is a WMA, so hunting is permitted. Depending on the season, it's best to wear vibrant colors while in the woods. Havens WMA Info >
BREWERIES: Parkway Brewing Company in Salem has concocted a sour ale that includes blueberry puré and they've called it Mama Tired, stating it's the "perfect beer…at the end of a long hard day." You'll want to be counted among the tired and try this one after these hikes. Parkway Brewing Beers >
Olde Salem Brewing Company is located in the heart of downtown Salem in a beautiful historic building and the Work Hard Play Hard Kölsch is well deserved after your time on the trails. Olde Salem Beer Menu >
Near Daleville in Botetourt County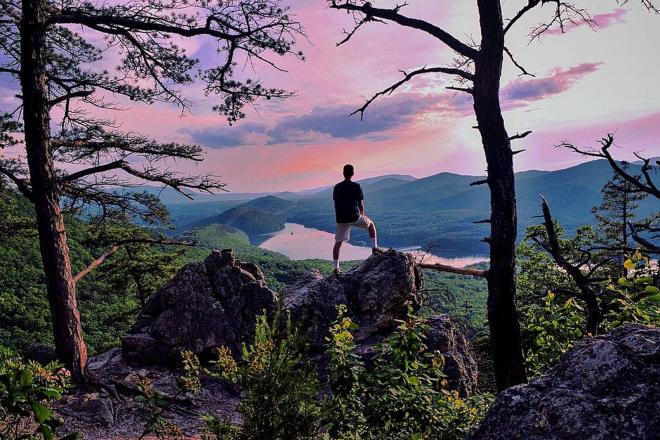 HARD TRAILS: Hay Rock & Tinker Cliffs – Soak in the beauty of Carvins Cove Natural Reserve from a higher elevation. We assure you the reservoir is larger than you imagine it is; get a bird's eye view. It's also pictured at the top of this post. Hay Rock Trail Map > | Tinker Cliffs Trail Map >
EASY TRAIL: Greenfield Recreation Park basically surrounds the Greenfield Center, Greenfield Elementary, and the Botetourt Sports Complex. Varied terrain elevation offers trails from nearly a mile to more than three miles long. All said, there are more than nine miles of trails to peruse at your leisure. Greenfield Recreation Park Trail Map >
EASY TRAIL: Roaring Run is one of the easiest waterfall hikes around, making it among the most rewarding for those seeking a milder adventure. A plus to a great hike and waterfall is seeing a bit of history along the way. The 19th century iron ore furnace for which the trail is named pre-dates the Civil War and is on the National Register of Historic Places. Roaring Run Trail Map >
TAP HOUSE: It isn't a brewery, but the craft beer selection at Town Center Tap House in Daleville will certainly quench your thirst. They have more than 40 types of beer on tap, as well as 40 kinds of cans and bottles to choose from. Town Center Tap House Beer Menu >
Near Vinton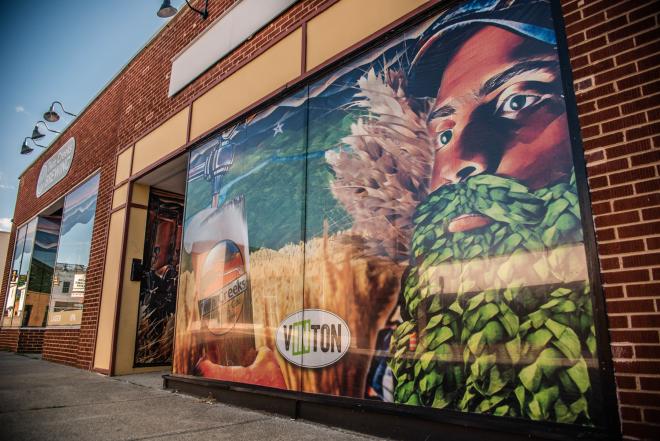 EASY TRAILS: The Wolf Creek Greenway and the Roanoke River Trail provide two lesser-known, relaxing hikes. Wolf Creek Greenway is accessible via Goode Park off Route 24 in Vinton and provides a leisurely walk through the woods with its gravel surface. The Roanoke River Trail is located at Milepost 114.9 on the Blue Ridge Parkway and is a  .7-mile trail that includes stairs. The river is the focal point of this trail, and you'll also get a nice view of the Niagara Dam. Wolf Creek Greenway Trail Map > | Roanoke River Trail Info >
MODERATE TRAILS: Explore Park is 1,100 acres of outdoor recreation, history, and more. You can even stay the night, if you want to! Fourteen miles of trails for hiking and biking zig-zag through the park and along the Roanoke River. Explore Park Trail Maps >
MODERATE TRAIL: Read Mountain Trail is part of the 243-acre preservation of Read Mountain. You'll work a little for the view from Buzzards Rock, but the two-mile trek will be worth it for the sunset alone. Read Mountain Trail Map >
BREWERY: Twin Creeks Brewing Company is Vinton's first craft brewery and it also features a dock. The dock isn't what you think, however. It's actually their stage where live music is offered every Friday and Saturday night. Grab one of their craft seltzers or experimental brews if you're feeling open to more adventure. Or you could stick to a tried-and-true Summerfield Blonde Blonde Ale. By way of Untappd, Stuart M. raves it's "still one of my favorite blonde ales in Roanoke." Twin Creeks Beer Menu >
If you're on the trails at Explore Park, you can also enjoy a craft beverage and food at the Twin Creeks Brewpub, which operates in the Historic Brugh Tavern space within the park! Their patio space is an awesome outdoor setting and it's within walking distance of the park's trails. Twin Creeks Brewpub Menu >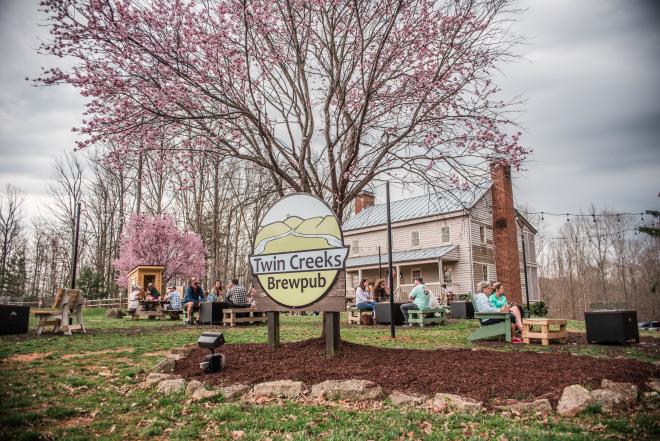 ---
If you're going to work up a sweat and plan to knock off at a brewery, you might as well earn something for your efforts. Why not check out the VBR Cheers Trail Passport? Check in and unlock deals at area breweries until you reach five, at which point you're eligible for a free Cheers Trail t-shirt. 
*Raises a glass* To being a #Trailsetter!
---
NOTE: This post was originally published in July 2019 but has been updated and republished to include information about new breweries and things to do.