Just a drive down any road through Virginia's Blue Ridge is an easy way to see fall colors, but what's the fun in that? Let us help you be intentional this fall. 
Travel our most scenic routes and soak in our most glorious foliage-filled destinations. There's so much to love about our area and this season makes us really shine.
Cheers to all things fall in Virginia!
---
Scenic Drives and Beautiful Destinations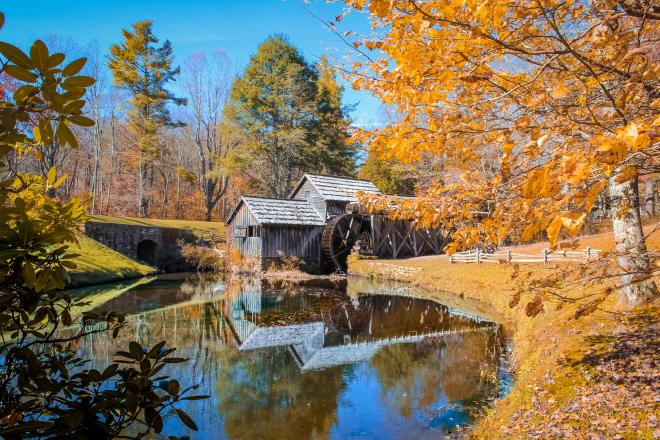 Known as "America's Favorite Drive," the Blue Ridge Parkway is one of the easiest and best ways to take a scenic drive just for the heck of it. Plus, there are excellent stops along the way, like Mabry Mill (pictured above) and Peaks of Otter…not to mention the beautiful overlooks and picnic areas.
Route 311 from Salem to New Castle is a beautiful valley drive that climbs over Catawba Mountain where you can pull over and take the Appalachian Trail to McAfee Knob, if you feel like it. Other great fall color hikes along the route include Dragon's Tooth and Potts Mountain.
Windy Gap Mountain is just one highlight of Route 116 from Roanoke to Burnt Chimney. Another is what's waiting on the other end: incredible ice cream at the Homestead Creamery. The 16 mile drive is full of vibrant foliage and views as you make your way over the mountain and interesting stops like Boone's Country Store.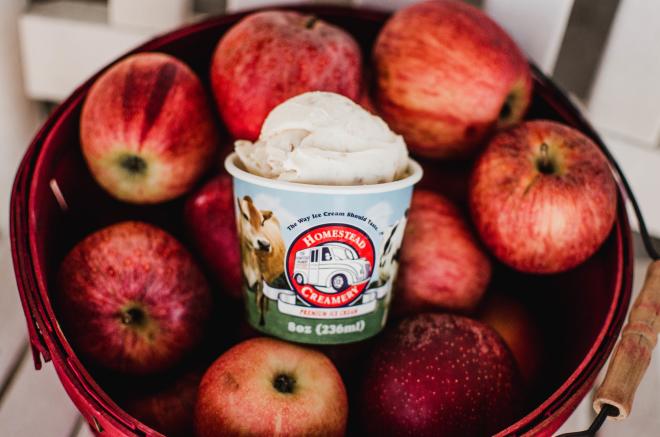 From Eagle Rock to Bedford, Route 43 is the way to go. At just under 40 miles, the drive will take you about an hour, but we're sure there are places you're going to want to stop along the way.
We like a meal at Maw & Paw's Diner in Eagle Rock. That's a great place to start so you'll be ready for the day ahead.
From there, head east. When you approach Buchanan, you'll parallel the James River. Turn right onto Route 11, cross the bridge, and swing into the parking lot on the right to stop and take a walk across the Swinging Bridge.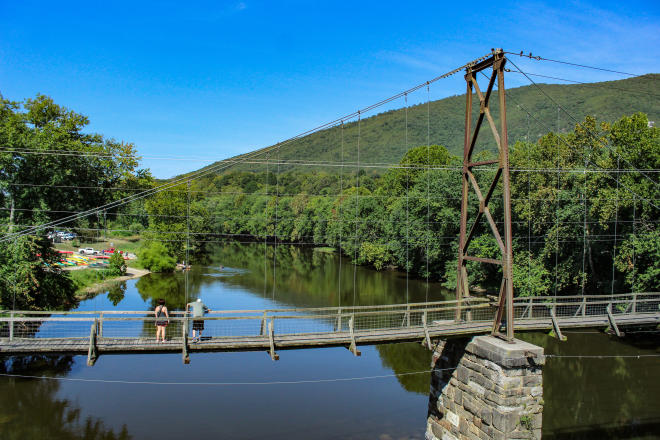 Then shoot across Route 11 to pick up Route 43 once more and begin the steep, windy climb up toward the Blue Ridge Parkway.
Take the Parkway toward Peaks of Otter, which is an excellent place to stay, dine, and hike. Walk around Abbott Lake (pictured below) for beautiful fall reflections, then hop onto Route 43 to continue toward Bedford where your destination is the National D-Day Memorial.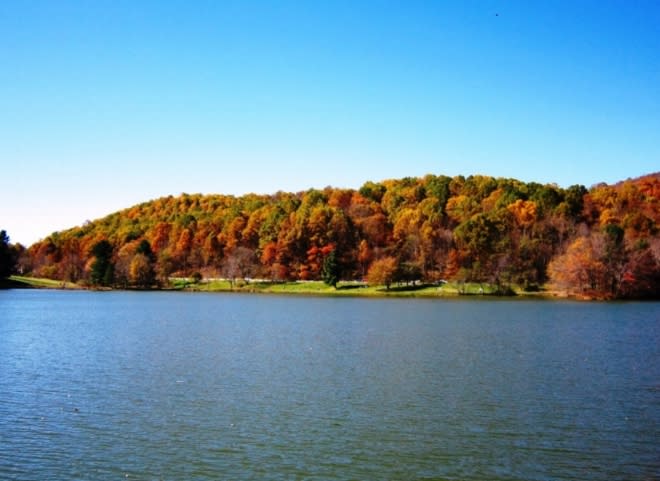 The National D-Day Memorial is in Bedford because the town suffered the greatest loss per capita on D-Day (June 6, 1944). The walk through the memorial brings many emotions to those who visit. It's somber but beautiful, woeful but breathtaking.
If you can pry your eyes from the larger-than-life invasion tableau, you'll recognize the orderly English garden and autumn's hues on the horizon.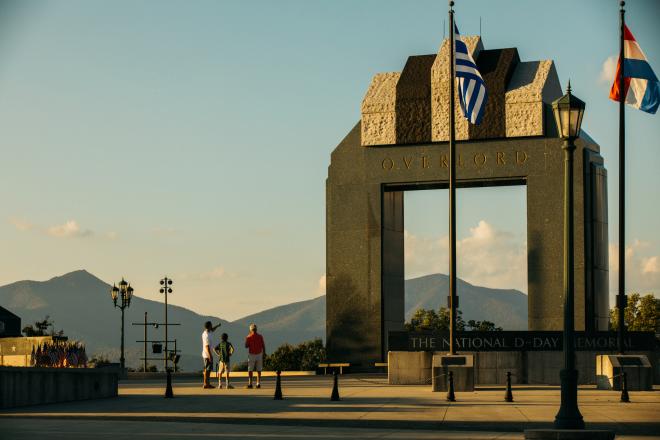 >> Scenic Mountain Drives in Virginia's Blue Ridge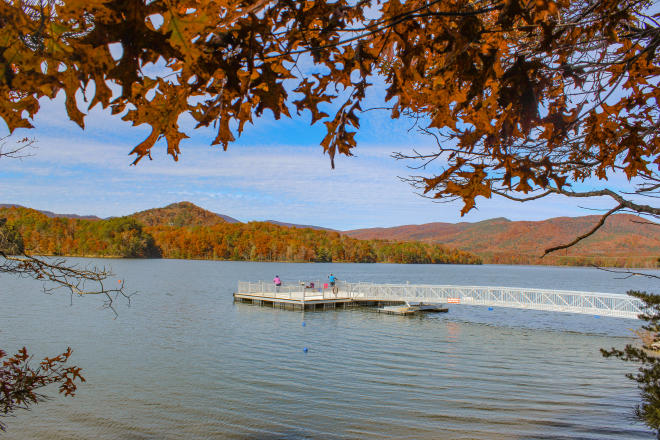 The nation's second largest municipal park is Carvins Cove Natural Reserve. The shimmering reservoir is the centerpiece of the 12,600-acre destination, and kayaking on the water is one of the best ways to enjoy the foliage around you.
If you're a mountain biking enthusiast, you likely already know the 60+ miles of trails at Carvins Cove are considered some of the premier singletrack on the East Coast. Multi-use in nature, the trails are also popular with runners and hikers.
>> Carvins Cove – Your Adventure Playground in Virginia's Blue Ridge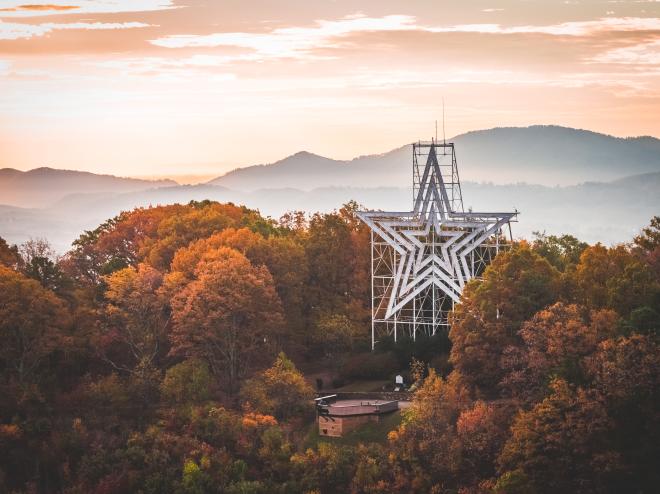 This stunning overlook within city limits is iconic. Travel up Mill Mountain via car, bike, or your own two legs to sneak a peek at the leaves from the Roanoke Star.
The trails are lovely and well-traversed by hikers and mountain bikers. Meander the trail to the Mill Mountain Discovery Center to live life below the foliage and don't miss a chance to see the animals at the Mill Mountain Zoo.
>> 10 Fun Things to Do on Mill Mountain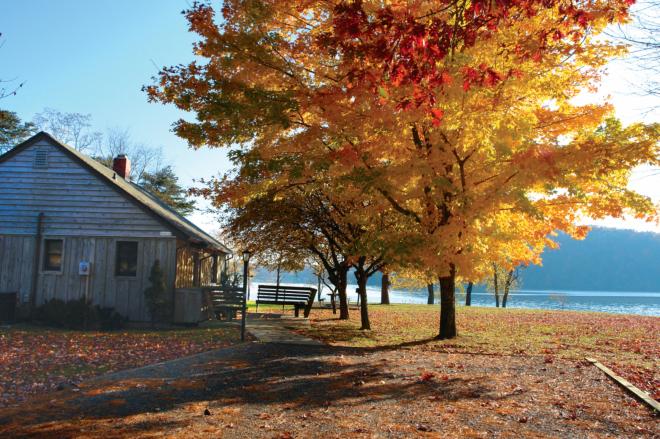 Throughout Virginia's Blue Ridge are Virginia State Parks, with all of but one offering glimmering lakes and plenty of foliage to admire.
Choose on-the-water fun, hiking, biking, camping, or cabin stays and you won't go wrong. Consider Smith Mountain Lake State Park in Huddleston, Claytor Lake State Park in Dublin or Fairy Stone State Park in Stuart for weekend stays.
For a fun day trip of epic proportions, Natural Bridge State Park in Natural Bridge is the place to be.
>> 10 Best Hikes for Fall Colors in Virginia's Blue Ridge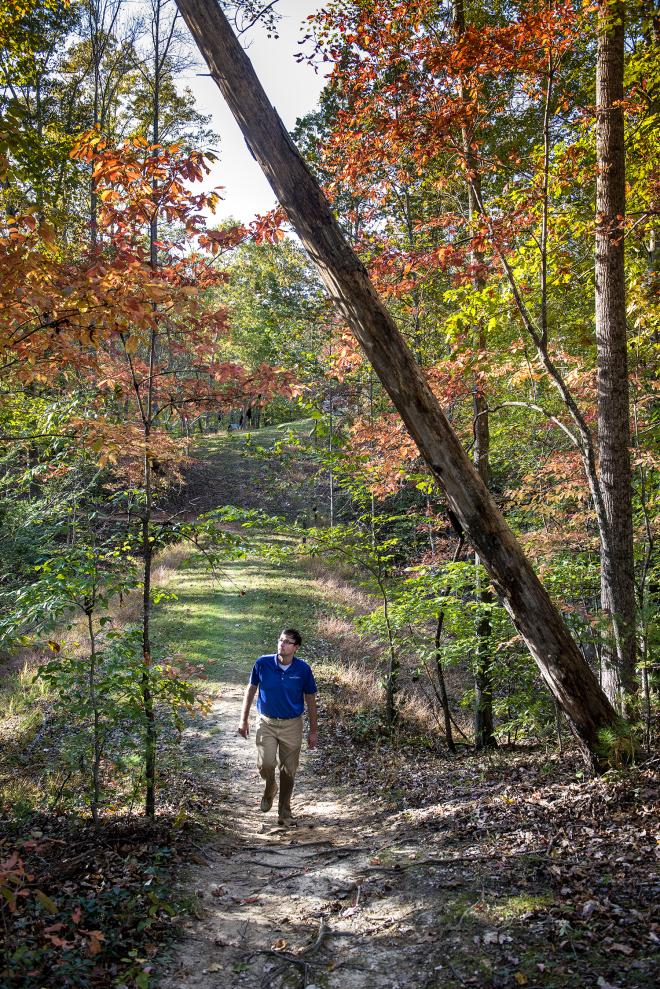 Explore Park has grown in regard to the amenities available. It's a popular place for hiking and mountain biking for 14 miles of trails, but it's also a great stop during a drive on the Blue Ridge Parkway and is home to the regional Blue Ridge Parkway Visitor Center.
The park fronts the Roanoke River making fishing and kayaking easily accessible. In fact, getting on the water here means you're on the Roanoke River Blueway.
Those into camping will appreciate the canvas tents on platforms. They're several notches above the ol' pup tent and makes "roughing it" not so rough at all. The tents are available year 'round. Booking is also available for cabins, yurts, and RV camping sites!
>> 8 Spots for Mountain Biking & Beer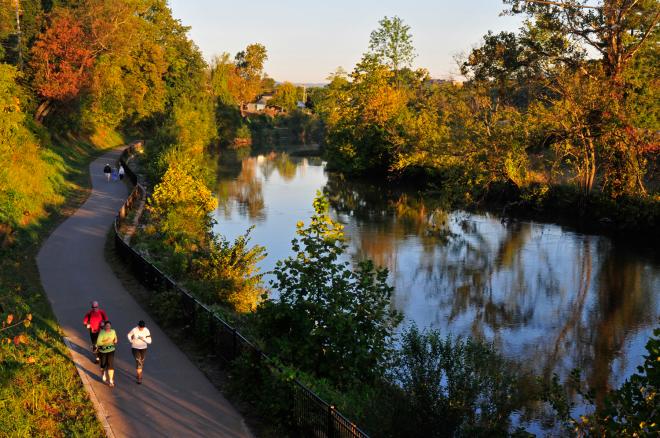 30 miles of greenways wind through the Roanoke Valley and serve as great options for walking, running and cycling.
Stretches of the greenway provide beautiful views of seeing fall colors on the water as you make your way along portions of the Roanoke River, while others offer canopy views as you wander through the woods, such as along the Wolf Creek Greenway or in Fishburn Park.
You can also take advantage of bicycle rentals available at Roanoke Mountain Adventures, located along the Roanoke River Greenway.
>> 10 Easy Bike Routes in Virginia's Blue Ridge
---
What are you waiting for? There's no excuse not to plan your fall trip to Virginia's Blue Ridge. We love admiring the foliage, too, so maybe we'll see you out there!