Biking and craft beer are two awesome parts of the local culture in the Roanoke Valley in Virginia's Blue Ridge.
With over 400 miles of trails for world-class mountain biking and a selection of breweries that continues to grow, your next adventure in America's East Coast Mountain Biking Capital should definitely include bikes & beer!
Be a #Trailsetter and put your skills to the test with some epic mountain biking on these trail networks and then quench your thirst by visiting a nearby brewery.
Here are eight options for mountain biking and local beer in the Blue Ridge Mountains.
​Before You Ride: Familiarize yourself with the Leave No Trace Outdoor Ethics for Mountain Biking - a set of guidelines to help you enjoy the trails responsibly and minimize your impact on the natural environment.
Take in an awesome urban mountain biking experience at Roanoke's Mill Mountain Park. Not only is the park home to the iconic Roanoke Star and stunning views of the downtown skyline, it also features nearly 10 miles of trails. Make the climb from the base of the mountain by pedaling up the Woodthrush Trail or Monument Trail. If you're headed down the mountain, check out the Understory Trail for some serious challenges and great views.
Learn more: Download a trail map of Mill Mountain Park >
With Mill Mountain Park's close proximity to Downtown Roanoke, you have multiple nearby options for delicious beer! Enjoy a few of the specialty microbrews on tap at Big Lick Brewing Company and hang out on the beautiful outdoor patio. You can also get acquainted with the tasting rooms featuring beers you may have seen at your own local beer shop - the Three Notch'd Craft Kitchen & Brewery on Campbell Avenue and the Starr Hill Pilot Brewery & Side Stage at The Bridges complex at the base of Mill Mountain.
Beer Lists: Big Lick > | Three Notch'd > | Starr Hill >
Cheers: Download Virginia's Blue Ridge Cheers Trail Passport to receive special offers at local breweries >
If you're looking for a few easy trails for biking, Waid Park in Franklin County is a wonderful option as it features multiple ADA compliant trails. For something a little more difficult, take advantage of the trails that wind along the Pigg River, which is also a popular option for tubing and paddling. You'll also want to check out Old Buzzard - the park's fantastic jump line trail. The park contains over 15 miles of trails for hiking & biking.
Download: Waid Park Trail Map >
After a day of riding in Waid Park, check out the new Living Proof Beer Company in nearby Downtown Rocky Mount. The microbrewery opened in the summer of 2022 and features beautiful views and a great selection of flagship ales & lagers, as well as seasonal beers and seltzers.
Beer List: Living Proof Beer Company >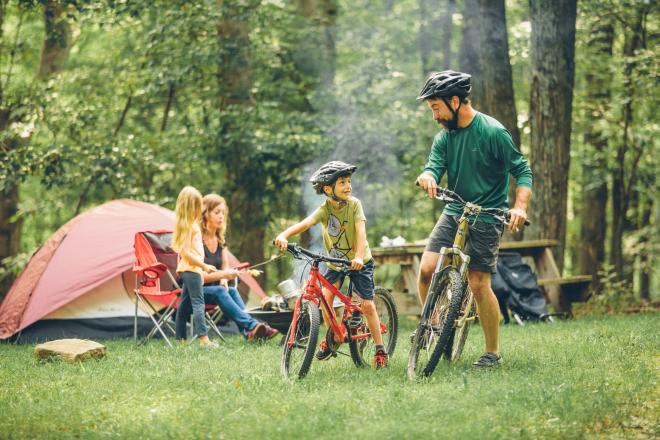 Bring your bikes during your next road trip on the Blue Ridge Parkway and spend some time exploring the trails at Explore Park, which is located at Milepost 115 on the Parkway. The park offers over 14 miles of trails that wind through lush forest and along the bank of the Roanoke River. There have also been some really cool new features added to the offerings at Explore Park, including cabins and campsites for overnight lodging, tubing rentals offered on weekends, and an aerial adventure course that incorporates ziplining. 
Download: Explore Park Trail Map >
The Town of Vinton is easily accessible from Explore Park and the Blue Ridge Parkway, meaning you're only a few miles away from Twin Creeks Brewing Company, Vinton's first microbrewery. Take the Parkway exit to Route 24 at Milepost 112 and head toward Downtown Vinton. In addition to regularly rotating what's available on tap, Twin Creeks also frequently hosts food trucks and live music, providing an atmosphere for a full evening of fun.
UPDATE: Twin Creeks Brewing Company now has a 2nd location in Explore Park! The brewpub features a full menu for food & craft beer. It's located inside the Historic Brugh Tavern and is a fun spot for a post-ride beverage.
More Info: Twin Creeks Beer List > | Brewpub Info > 
If you want to experience some of the best backcountry riding in Virginia's Blue Ridge, head to North Mountain. Referred to by locals as "Dragon's Back" because of its curvy ridgeline, North Mountain features a trail system with some grueling mountain biking, headlined by the 13.7 mile North Mountain Trail.
MTB Project: North Mountain Trail System > 
Well done slaying the dragon, Khaleesi. You deserve a few pints at Olde Salem Brewing Company in Downtown Salem. For something a little tart, we recommend checking out the options available in the Mother Pucker Sours section of the menu.
Beer List: Olde Salem Brewing Company >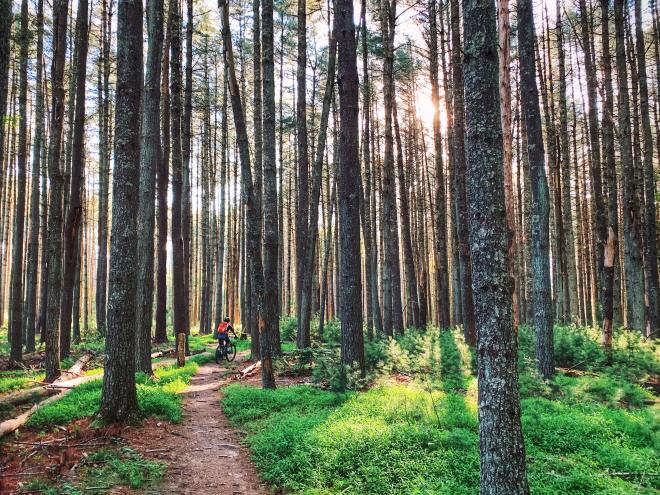 Carvins Cove has a reputation of being a mountain biking paradise and is known for offering some of the finest singletrack on the East Coast. With over 60 miles of multi-use trails that range from easy fire roads to double black diamond trails like Rattlin' Run, Carvins Cove is a spot for riders of all skill levels to spend multiple days. The park is a 12,700 acre natural preserve that is also home to a 600 acre reservoir that's popular for fishing and paddling.
Learn more: Download a trail map of Carvins Cove. 
Recount your biking adventures and rest your legs at the beautiful outdoor patio and beer garden at Parkway Brewing Company. Founded in 2012, the brewery known by many locals simply as "Parkway" has become a favorite spot of many craft beer lovers in Virginia's Blue Ridge. Popular flagship brews that are great after a day of biking include the Get Bent Mountain IPA, Bridge Builder Blonde, and Majestic Mullet Krispy Kolsch.
Beer List: Parkway Brewing Company >
As a new park in Franklin County, Jamison Mill Park on Philpott Lake boasts over six miles of trails that are waiting to be explored by bike! The moderately-difficult trails incorporate waterfront views of the lake, while also including interpretive stops that introduce riders to the history of the park, as well as the history of the surrounding area.
MTB Project: Jamison Mill Trail System > 
It's a bit of a drive from Jamison Mill Park, but Chaos Mountain Brewing is an award-winning craft brewery in Franklin County that's a good halfway point between the park and Roanoke. The brewery is known for its flagship brews like the Cheeky Monkey Belgian Blonde and Mad Hopper IPA, as well as great seasonal options such as the Edge of the Sun Lime Lager or Legless Horseman Pumpkin Ale.
Beer List: Chaos Mountain Brewing > 
Falling Creek Park presents a family-friendly biking experience that every type of rider will love. Whether you want to take on the advanced singletrack trails, hit the pumptrack, take a leisurely ride, or perfect your technique and jumps in the skills area, the park has it all. Falling Creek contains over 10 miles of trails, as well as picnic areas, a disc golf course, playground, and skate park.
Download: Falling Creek Park Trail Map >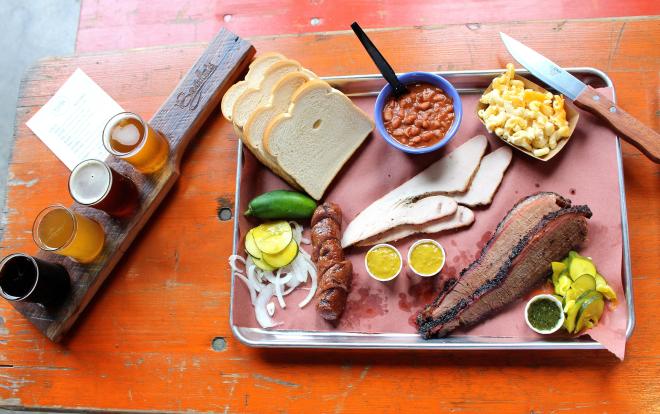 We hope you worked up an appetite for delicious beer and BBQ when you visit Beale's! This awesome spot in the Town of Bedford specializes in German-style beer and pit-smoked BBQ, including pulled pork, smoked sausage, and brisket. Beale's also offers a great outdoor patio space that's pet-friendly.
Learn More: Beale's Food Menu > | Beale's Beer List >
Ready for some thrilling backcountry rides? The Price & Patterson Mountain Trail system is a hidden gem and primitive network of trails that gets you deep into the woods. Price Mountain and Patterson Mountain have ridgelines that run parallel to each other, and you can combine the two routes with trails that make their way down the valley between the two ridges, meaning there will also be a couple "hike your bike" situations as you make the climb. You're going to earn your beer here!
MTB Project: Price Mountain Trail System > 
While it isn't technically a brewery, with more than 40 beers on tap and just as many types of cans and bottles, Town Center Tap House in Daleville is a great location for some post-ride beers in Botetourt County. The Tap House has a relaxed atmosphere and tons of TVs for watching live sports, as well as a kitchen that serves great food, including an impressive selection of burgers.
Learn More: Town Center Tap House Food Menu > | Beer List >
---
Visit our Mountain Biking section to learn more about what makes Virginia's Blue Ridge America's East Coast Mountain Biking Capital, including a list of Trail Maps! You can also check out more of our craft Breweries in the region.