Virginia is truly a four-season destination and each is wonderful in its own right. However, spring and fall make for the most beautiful scenic drives you've possibly ever taken. 
Virginia's Blue Ridge has six excellent routes for your scenic Sunday slow drive. With the redbuds popping in spring and golden foliage in fall, these are keepers you'll want to save for a repeat gallivant.
Route 311 | Catawba Mountain and Potts Mountain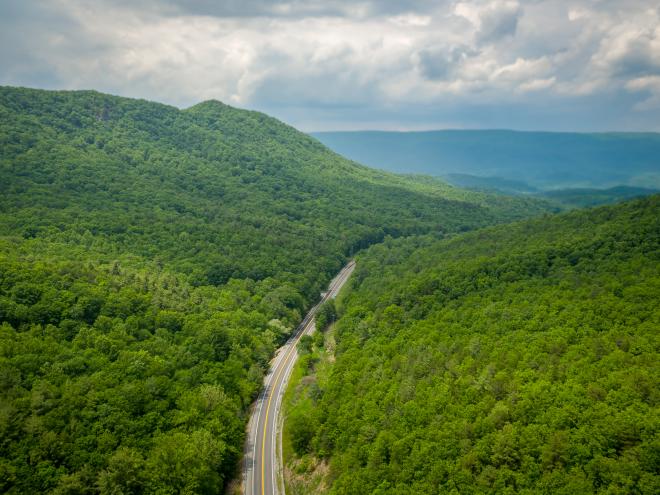 This drive has its share of ups and downs, all while passing the trailhead of a classic Appalachian Trail look-out point (McAfee Knob) and lush fields along mountain creeks. 
Start in Salem with breakfast at Mill Mountain Coffee and Tea. When you're fueled up, head west along Route 311 past Roanoke College. The tree-lined median on your way out of the city offers a flavor of the beauty that awaits.
As soon as you pass below Interstate 81, you feel like you're in another place. Welcome to Virginia's Blue Ridge! As you approach the top of Catawba Mountain, the trailhead for McAfee Knob will be on your right and the parking area will be on your left. If you're well equipped for the eight miles out and back, it's a must-see.
The descent into the Catawba Valley is breathtaking. Before you know it, you're ascending toward the mountains again. In short order, you'll pass the parking lot for another popular Appalachian Trail point of interest: Dragon's Tooth. 
Clear the mountain pass and find another fertile sweep of valley awaits. At the end is New Castle, a quiet little town with interesting Main Street architecture. Beyond New Castle, Route 311 carves its way through another mountain pass with a few more lush fields just beyond. Finally, the climb up Potts Mountain shows off rocky outcrops and offers a tight hairpin switchback motorcyclists love. 
When you reach The Swinging Bridge Restaurant and Paint Bank General Store, "you have arrived." Enjoy the menu, the upstairs gift shop, and the indoor swinging bridge. We'd bet a bison you'll be back.
Route 116 | Windy Gap Mountain – 16 Miles
This lovely drive begins in Roanoke. Enjoy a hearty breakfast before you take off. R.T. Smith's Deli is a tasty option! Follow Jefferson Street south from downtown and take a left onto Walnut Avenue SE. Turn left onto Piedmont Street SE and then right onto Riverland Road SE, which is Route 116. Parallel the Roanoke River and Greenway and keep right when you approach the roundabout. Ascend through neighborhoods as you approach Windy Gap Mountain.
Fun, tight turns will have motorcycles swinging as the road winds up and up, and then the coast down the mountain offers great views into the valley below. Watch for Boone's Country Store on the right just past the Red Valley Rescue Squad. They have homemade goodies and artisan wares as well. Just a mile past that is Pacabella Farm Alpacas and Boutique. 
In two miles, you'll be right where you want to be. Turn left onto Route 122 and find your destination on the right: Homestead Creamery. This farm market of delights has wonderful homemade ice cream, sandwiches, salads, and more. If you plan in advance, you can schedule a farm tour to see where all these fresh eats are raised.
Route 221 | Bent Mountain – 41.8 Miles
If you're starting this scenic trek from downtown Roanoke (perhaps you stayed overnight?), you'll want to take Elm Avenue south. It turns into Main Street SW as it crosses the Roanoke River into the Wasena neighborhood. Continue onto Brandon Avenue, but then take the first left onto Brambleton Avenue SW. Keep an eye out for Mr. Bill's Wine Cellar. It's a great place to snag a bottle of vino for a picnic or to enjoy at home.
As you pass through Cave Spring, Brambleton Avenue turns into Bent Mountain Road. That's when you know you're in for a lovely rural drive and eventual climb along Bent Mountain itself.  Mature hardwoods and rolling fields and farmlands are the highlight of this drive.
As you roll into Floyd on Main Street (Route 221), you're greeted by shops, restaurants, and friendly front porches. A left onto Locust Street will lead you right to the gem of Floyd: The Floyd Country Store. Care to stay the night? Hotel Floyd is on Rick Lewis Way, a left Locust Street onto Baker Street, followed by an immediate left.
Route 43 | Cove Mountain - 10.3 Miles
"Steep" and "winding" are adjectives frequently used to describe Route 43 over Cove Mountain. Tractor trailers and motorcoaches are not advised on this route, if that tells you anything. If you have a motorcycle, this is a ride you're going to love.
Get started on your excursion from Buchanan. Rather than crossing the James River heading north out of Buchanan, follow the river around to the right and onto Route 43. 
Somewhat serpentine shaped, your view is forest, forest, and forest as you climb ever higher towards the Blue Ridge Parkway, accessible at Bearwallow Gap.
When you enter the Parkway, take a left and head north for about five miles until you reach shimmering Abbott Lake and the towering Peaks of Otter. The Lodge and Restaurant are destinations unto themselves. You'll want to dine and maybe even stay the night here. If you're feeling adventurous, hike or take the shuttle up to Sharp Top, the second highest but most popular of the Peaks.
If you'd like to explore a little farther, continue on Route 43 around Abbott Lake into Bedford and visit the National D-Day Memorial and other points of interest. Bedford is another 11 miles.
You could also opt to head north on Route 43 from Buchanan and make your way to Eagle Rock, which is home to Maw & Paw's Diner and its popular burgers. Eagle Rock is 22 miles from Buchanan.
Fishburn Parkway | Mill Mountain
This short jaunt off of Walnut Avenue SE (from Route 116 above) is a fun hill-climb for cyclists and motorists alike. Round Mill Mountain to locate the Mill Mountain Spur, where our famed Roanoke Star awaits at the end. Check out the Discovery Center, Mill Mountain Zoo, and hike or bike the numerous trails that zig-zag the mountaintop. 
When you're ready to descend Mill Mountain, continue back the way you came or head up the Mill Mountain Parkway to pick up the Blue Ridge Parkway. Turn left onto the Parkway and head 5.4 miles for the Roanoke River Overlook on the left. Be sure to stop for a selfie. Parkway exits are available at Route 24, Route 460, and Route 43 (see the previous scenic drive for details).
Enjoy a sweet treat at the base of Mill Mountain at Blue Cow Ice Cream Company.
Blue Ridge Parkway 
The greatest scenic drive – "America's Favorite Drive" – is the Blue Ridge Parkway and regardless of your direction north or south, great things and great beauty await.
You can make the BRP an add-on to the Route 221 drive mentioned above. It's a great option for getting back to Roanoke from Floyd. To do so, take Route 8 east out of Floyd and pick up the Parkway. Head south seven miles and find Chateau Morrisette Winery and Restaurant just off the Parkway at Route 726. The trip from Chateau Morrisette to the Roanoke exit for Route 220 is 51.4 miles.
Another Parkway experience is to use the Parkway to circle back to Roanoke from the Route 43 scenic drive mentioned above.
Motorcycle Rides - Blue Ridge Parkway & Routes
With easy access to the Blue Ridge Parkway and numerous other country roads and scenic routes, the Roanoke Region in Virginia's Blue Ridge is also a fantastic destination for motorcycle riding. Take advantage of roads that offer gorgeous views of the mountains and countryside and avoid large crowds or traffic by planning your next motorcycle ride in the Blue Ridge Mountains.
Visit our Motorcycle Routes page for a list of ride options and places of interest along the way.
---
Map of Routes
Read More