Casting a morning shadow toward downtown Roanoke, Mill Mountain is a great place to spend the day. The mountain is located within the City of Roanoke and boasts one of the best urban trail systems in the country for hiking & biking. It's the home of the Mill Mountain Star, also known as the Roanoke Star, but there's much more than that.
Whether you're up for an easy day with the kids, a challenging mountain attack, or a romantic day-date, we believe you'll find ways to put these 10 options to use.
A beacon for families in Virginia's Blue Ridge, the Mill Mountain Zoo is home to more than 170 mammals, reptiles, and fowl. An early morning event like Breakfast with the Animals is a great way to kick off your day. No visit to the zoo is complete without a ride on the Zoo Choo, a miniature G-16 train that rolls around the park to give riders a different perspective of the critters.
Check the calendar to plan out your perfect Mill Mountain Zoo visit.
Beat the heat with an early climb of Mill Mountain along the Star Trail. The trailhead will be found at a parking lot on the right just off of Riverland Road SE past 9th Street SE. At 3.7 miles long, the Star Trail is considered a moderate out-and-back with elevation gain of 843 feet. 
If two wheels are more your speed than two feet, rent a bike at Roanoke Mountain Adventures on the Roanoke River Greenway and pedal your way to peak glory. When you rent a bike from RMA, you can ride along the Greenway and enjoy the views of the Roanoke River to get warmed up before you make the climb up Mill Mountain.
Perhaps the steep road was just a warm-up? Or maybe you're a little more rugged than that? Circuit bike the single tracks up, down, and around Mill Mountain for more than 10 miles of dusty fun. Keep an eye out for hikers and their dogs. 
Whether you've conquered the mountain as a family or as an athlete, a picnic in the park sounds like a divine idea for rest and re-fueling. Re-charge with a locally-sourced basket of protein and fresh flavors before taking on the rest of the fun of Mill Mountain.
The Discovery Center is the place to … you guessed it … discover stuff. Classes and workshops are offered to introduce you to new, outdoorsy things. For example, an Orienteering class teaches compass and topographic map usage, while "Batty for Bats" is an evening program that offers a chance to spot Little Brown Bats darting through the sky on Mill Mountain.
Two and one-half acres of gorgeous wildflowers draw in butterflies and humans alike. Managed by the Mill Mountain Garden Club, the wildflower garden is a treasured space featuring mature trees, ferns, gorgeous flower varieties, and an amphitheater to sit and enjoy the surroundings.
Birders love Mill Mountain. Winged visitors include vibrant Scarlet Tangers, Cerulean Warblers, and a once-spotted Olive-sided Flycatcher. The Roanoke Valley Bird Club recommends the wildflower garden and the lower road that leads to the star to be good places to start your birding adventure.    
9. Wave to Your Friends on the Starcam
Finally, the STAR beckons. It's a prime spot for selfies, group photos, and even proposals. After a day of fun with your sweetheart, you may be compelled to land on a knee and ask for forever. We wouldn't blame you. Just make sure you do it in view of the Starcam, a livestream from the base of the star to the world.
10. Watch the Sunset from the Star Overlook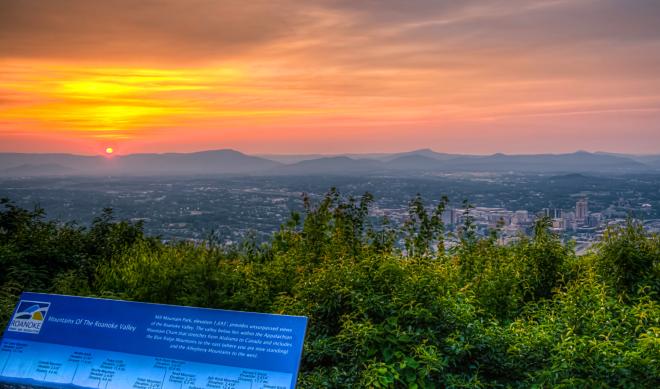 If your little ones are still up after their day on Mill Mountain, the Star Overlook is an excellent place to say, "Goodnight, Moon." It's also a great place to cool off with an evening breeze, watch the lights of downtown twinkle below, and get in more quality time with the ones you love. Plus, our famous star shines its light onto the Roanoke Valley with its 2,000 feet of neon. We can already envision of a side-by-side Instagram shot: daytime star | nighttime star. Do it and tag it #BlueRidgeDay for all to see.
---
How do you do Mill Mountain? Share these ideas and tweet yours to @visitvbr with the hashtag #BlueRidgeDay.
Following your adventure, head down the mountain and enjoy a sweet treat at Blue Cow Ice Cream Co., the new craft ice cream shop at the base of Mill Mountain!