Fall weekends in Virginia's Blue Ridge are incredible. Truly. Yes, we understand that most all destinations will claim to be stunning in autumn, and yes, they probably are.
But in Virginia's Blue Ridge, you're always surrounded by or on top of the mountains, and they're the perfect backdrop for a crisp, foliage-filled weekend. Some might even say it's the most beautiful place to experience fall in Virginia. We would concur.
---
First things first. If you're a wine or craft beer enthusiast, arm yourself with a Virginia's Blue Ridge Cheers Trail passport, as you're certain to encounter plenty of places to stop, taste, and enjoy the scenery as you make your way through our region.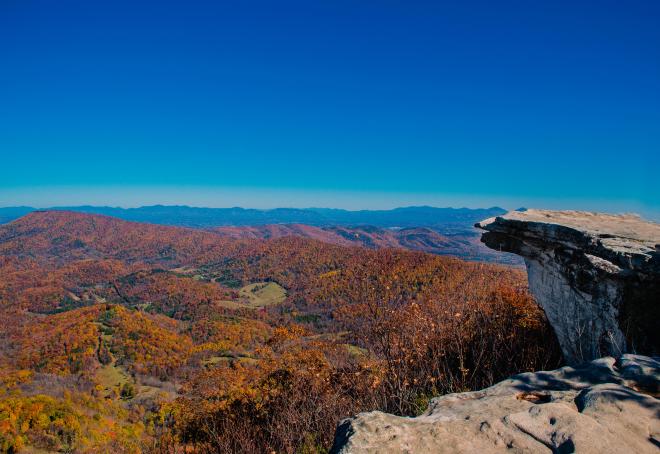 All great fall weekends include scenic mountain drives, and wouldn't you know it? We have plenty in Virginia's Blue Ridge! Get started with a ride on Route 311 over Catawba Mountain. Hikers will want to plan their day around two of our favorite fall trails – McAfee Knob (pictured above) and Dragon's Tooth (pictured below).
One heads north and the other is south of Route 311. For the advantageous, make it a full weekend of hiking by conquering the Triple Crown. All others, onward!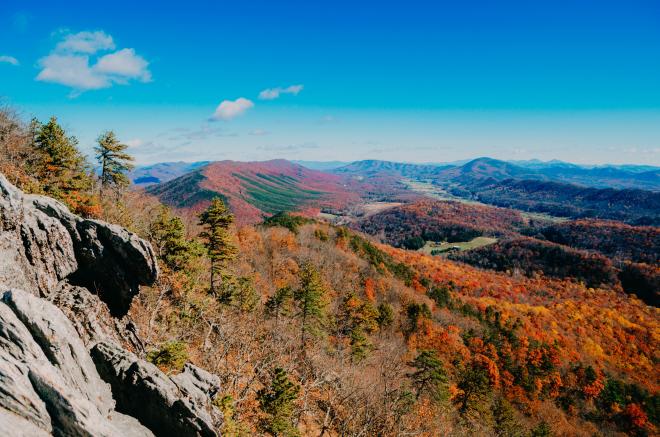 Note: These hikes are some of the most popular trails in Virginia's Blue Ridge. Whether you're visiting these areas or any other trails in the region, we encourage you to familiarize yourself with the Leave No Trace 7 Principles and learn what you can do to recreate responsibly and help keep our local trails beautiful.
If you're planning to hike McAfee Knob on a weekend, we encourage you to take advantage of the McAfee Knob Trailhead Shuttle (operates Friday-Sunday through November) to help reduce traffic and overcrowding at the popular trailhead parking lot.
Atop Potts Mountain (still on Route 311) is the Potts Mountain Jeep Trail. If you happen to be cruising in a supped up off-road machine, feel free to hit the dirt. Seriously, you will need plenty of ground clearance to tackle this rutted mountainside road. Potts Mountain is also an excellent spot for a fall hike or mountain bike ride!
Afterwards, an excellent bison burger and sweet potato fries await at The Swinging Bridge Restaurant in Paint Bank. On a cold day, opt for a bowl of brown beans and cornbread. Make it an overnight adventure and consider a stay at the various unique lodging options, including glamping, at The Depot Lodge.
Backtrack Route 311 into the Roanoke Valley and then head to Starr Hill Pilot Brewery & Side Stage in Roanoke for some fall-inspired craft beer. You can enjoy seasonal brews like the Last Leaf Maple Brown Ale, Festie Oktoberfest Lager and the Little Red RooStarr Coffee Cream Stout.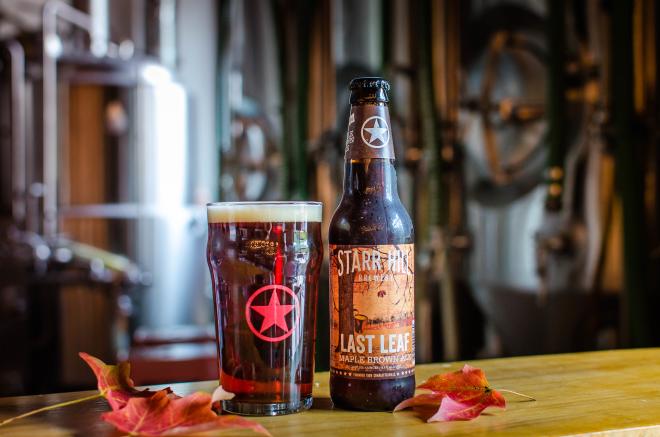 Looking for more fall flavors? Check out this list of fall-inspired beers you have to try!
Day two should include more foliage, of course. Take scenic Route 220 to Rocky Mount where there's plenty of great comfort food waiting. Try the biscuits and gravy at Ruth's Place or The Hub Restaurant. We'll let you decide which makes it better, but don't fill up! The next stop is mandatory for any sweet tooth! 
Take Route 122 north out of Rocky Mount and keep an eye peeled for The Homestead Creamery. They offer a special pumpkin ice cream this time of year, but of course, you can get the much adored chocolate, vanilla, or strawberry, too. Be sure to meet the moos while you're there.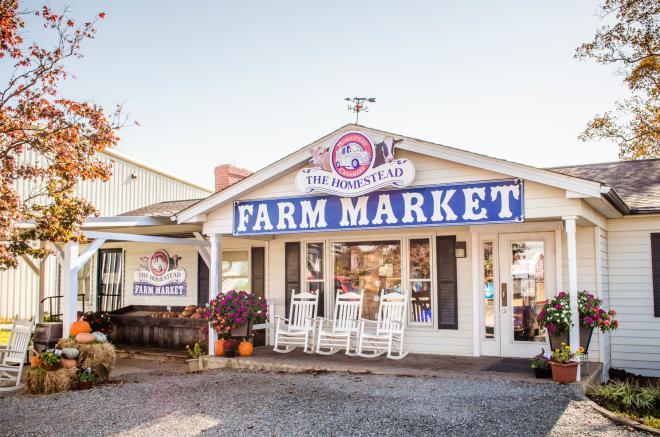 Finally, on to Smith Mountain Lake, one of our favorite places to see fall colors reflect off the water. Take advantage of the various options for boat rentals to create your own sightseeing cruise around the lake. You could also check out the fun trail systems and water access at Smith Mountain Lake State Park and Smith Mountain Lake Community Park (pictured below).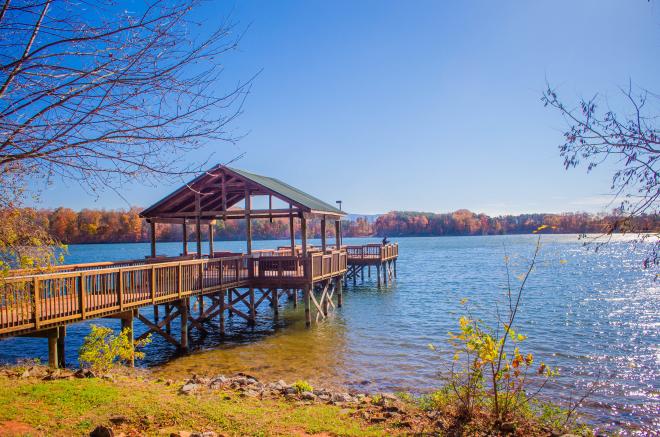 Wrap up the day with a memorable meal on the water at Mango's Bar & Grill, Mexico Viejo, or The Landing. Route 24 west leads back to Roanoke and your comfortable bed.
Make the last day a great day. Grab a biscuit from Scratch Biscuit Company – one of the best biscuits around - and then take off. We know that any road home is going to be a beautiful drive.
North? Take 220 for a relaxing, family-friendly hike at Roaring Run. For those traveling east on Route 460, don't miss the pumpkin picking, corn mazes, and great fall activities at Jeter Farm.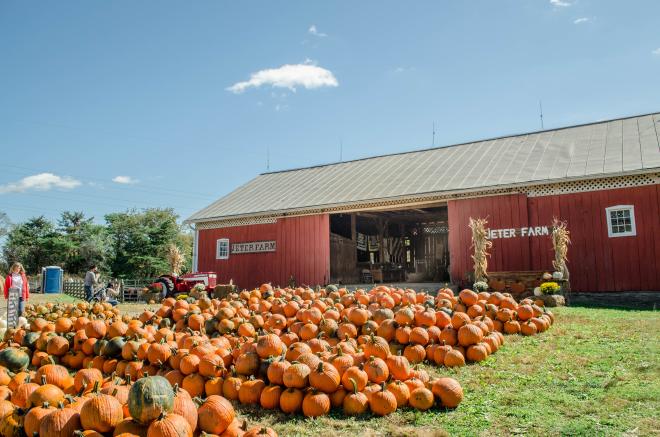 ---
Need a few more grand ideas for enjoying the shades of autumn in Virginia's Blue Ridge? Check out our Best Fall Color Spots. They're a sure bet for great photography, special moments, picnics, and more.
Don't forget to also take a look at our Guide to Fall Festivals & Events for more information about fun things to do during your visit.