If we're being honest, there isn't a bad place to enjoy fall foliage in Virginia's Blue Ridge. In equal honesty, enjoying it on the water may be the pinnacle leaf-peeping experience. 
Sure, climbing to peaks and taking in the breadth of it all from an overlook delivers a punch, but seeing those same colors dance on the water is a two-for-one you can't miss.
Bundle up to beat the autumn chill and head out onto the water for a memorable and picturesque fall in Virginia's Blue Ridge.
---
Before You Go: Please remember to recreate responsibly and respect your surroundings while enjoying the beautiful waters of the region. Familiarize yourself with the Leave No Trace 7 Principles and learn how you can protect the natural beauty of these areas.
---
For a nice, fairly easily paddle that affords plenty of mountain views and perhaps some nice fishing, try the Upper James River Water Trail [pictured at the top of this post].
Launch from Buchanan (Twin River Outfitter can set you up with equipment), and make your way around three nice bends to Arcadia, about 1.3 miles downstream.
For fishing gear and options for guided trips, check out Dead Drift Outfitters.
Learn More: Upper James River Water Trail Suggested Itineraries >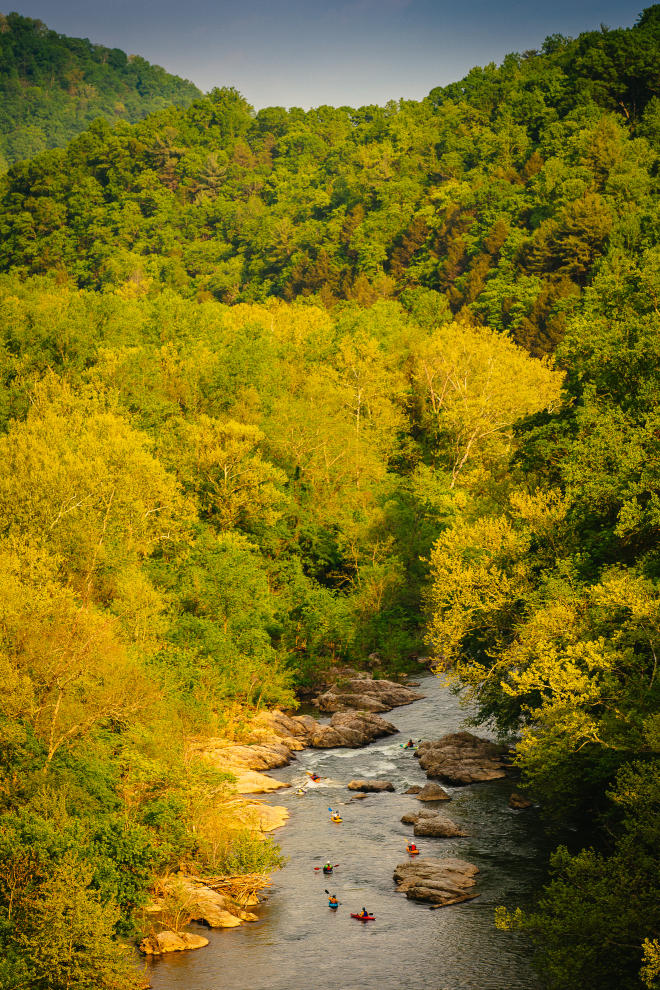 The Roanoke River Blueway through the Roanoke River Gorge is one of the loveliest stretches of water and ripe with fish. Either paddle your way through or cast a fly to see what you can get to bite.
Put in at the base of the Niagara Dam and take out in 1.3 miles at Explore Park or in nearly seven miles at Smith Mountain Lake/Hardy Ford. Another great option on the Roanoke River is putting in at Green Hill Park and paddling to Salem's Rotary Park.  [MAP]
Learn More: Explore Park Riverfront Area >
Photo courtesy of Sam Dean Photography - Roanoke Regional Partnership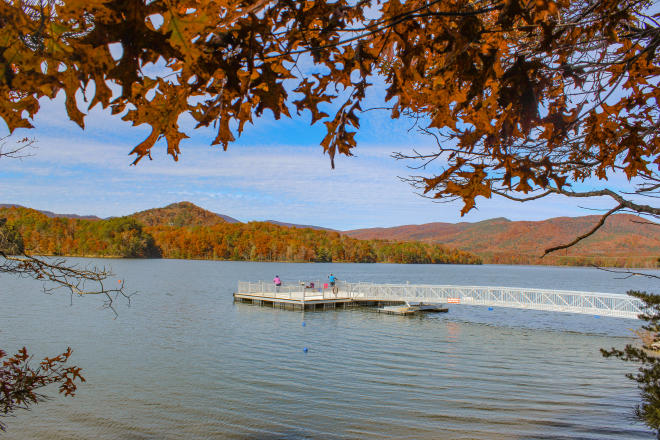 Carvins Cove Natural Reserve is the second largest municipal park in the country. The treasured reservoir is more than 600 acres and casts some of the most stunning reflections of the surrounding mountains.
Take a kayak or canoe onto the water to capture great photos, fish a bit, or just for the sake of being on the water and enjoying the view.
Learn More: Carvins Cove Water Access >
Put in your kayak or canoe at Brubaker Park and paddle eight miles of the Upper Blackwater River Blueway to Blue Bend Road. This stretch is fairly serene, offering a tranquil day of leaf-peeping.
Check the water levels before heading out.
Learn More: Franklin County Blueway Access Maps & Points >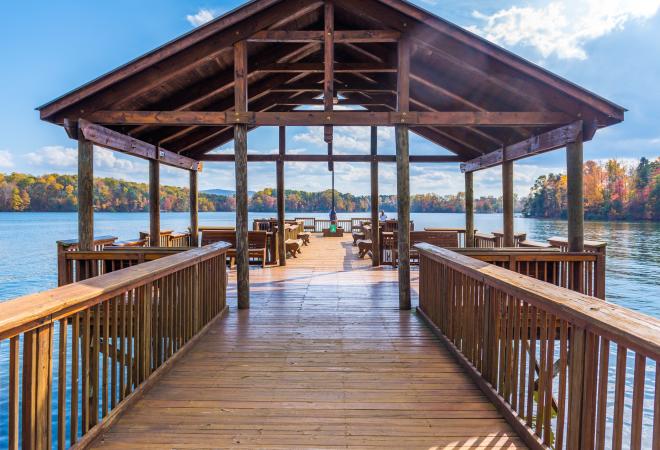 The Jewel of the Blue Ridge Mountains is Smith Mountain Lake, and oh, how the colors dance off her surface. From sunsets to the bold orange and red hues of autumn, there may be no better place in all of Virginia to find yourself breathless from beauty.
Rent a boat at a SML marina and paddle along the shore in a kayak, or see the sun rise or set as you fish the coves. The early morning fog combined with fall's colors is an amazing sight.
Public Access: Smith Mountain Lake Community Park (pictured above) > | Smith Mountain Lake State Park >
Photo courtesy of Matt Ross - Franklin County Parks & Recreation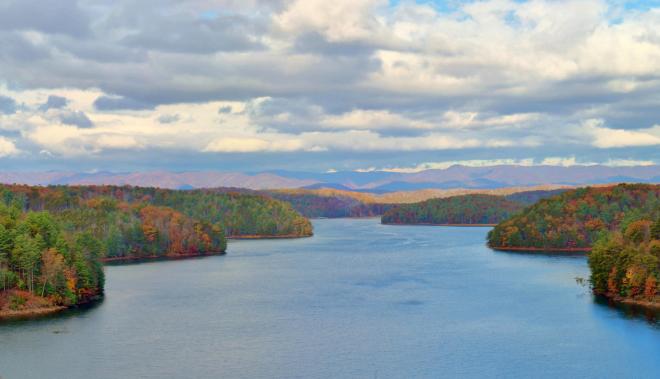 Some of the best lake fishing in Virginia is found at Philpott Lake in Franklin County. Take the boat out for large catches like smallmouth bass and trout. Kayaking is fun here, too.
Philpott spans two counties and encompasses 3,000 acres, so you have plenty to explore during your time on the lake.
Learn More: Philpott Lake >
Photo courtesy of Brian Stewart
Pigg River Blueway - Waid Recreation Park to Lynch Riverside Park
Tote your boat to the Pigg River Blueway, specifically Waid Recreation Park. Paddle your way eight miles to Lynch Riverside Park.
We're sure you'll enjoy the day and all of the things to see along the way through Franklin County.
Learn More: Franklin County Blueway Access Maps & Points >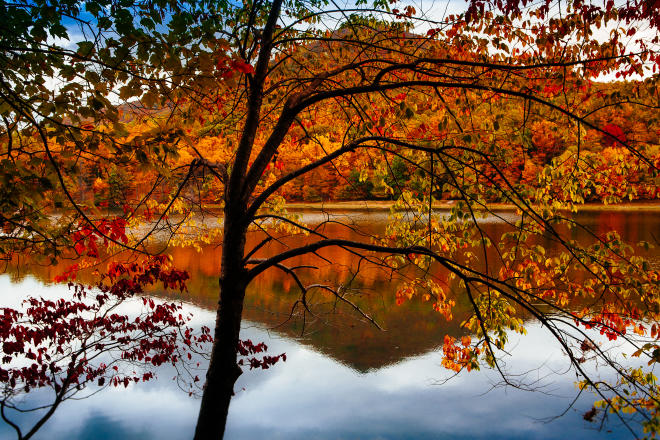 Plan a picnic and take a stroll around the peaceful Abbott Lake at the Peaks of Otter, located at Milepost 86 on the Blue Ridge Parkway.
You'll enjoy the beautiful reflections of fall colors on the water and a view of the stunning Sharp Top Mountain. You can even book a room with a waterfront view at the Peaks of Otter Lodge!
Learn More: Peaks of Otter >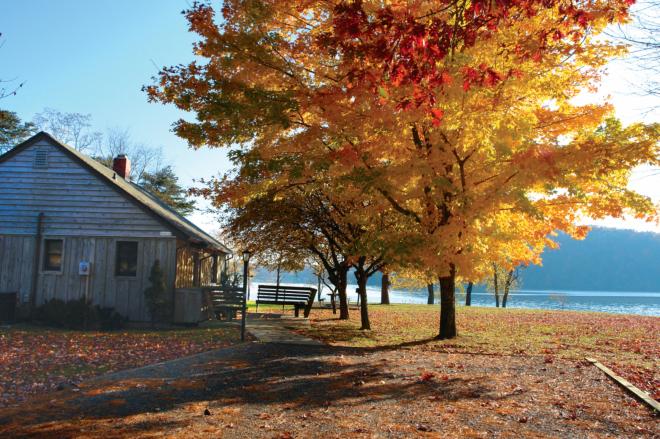 In Virginia's Blue Ridge there are several Virginia State Parks that feature lakes. Smith Mountain Lake State Park includes the Smith Mountain Lake, of course, and both Claytor Lake State Park (pictured above) and Fairy Stone State Park include lakes reflecting their names as well.
Don't forget to look for the fairy stones when you're hiking!
Check with each park for seasonal boat rental availability.
Learn More: Virginia State Parks in VBR >
Photo courtesy of Virginia Department of Conservation & Recreation
When the water's right, there are Class II and III rapids on Jennings Creek in Botetourt County. Before and after you slide your way through those, look to the sky for colorful canopies overhead.
These are stocked trout waters, so if you have your Virginia fishing license handy, you're likely to pull in a nice rainbow or brownie.
Learn More: Fishing in Botetourt County >
Shallow and steady after a nice rain, Craig Creek in New Castle is shaded with gorgeous trees donning their best shades of autumn.
Like Jennings, Craig is stocked with an array of fish, making it a fun destination for fly-fishermen.
>> Best Local Fishing Spots in Virginia's Blue Ridge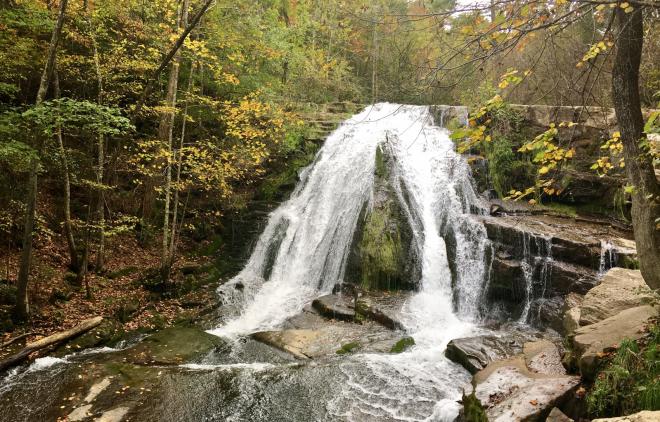 While we do not recommend getting on the water to get these awesome foliage views, we'd be remiss to not include the stunning waterfalls of Virginia's Blue Ridge.
Most impressive after a good rain fall, Roaring Run (pictured above) in Eagle Rock, Cascade Falls in Pembroke, and Apple Orchard Falls in Buchanan are all accessed by fairly short trails.
They're well worth your time and effort, and their surrounding forest should deliver quite a show of color as a reward.
---
As with all of your travels in Virginia's Blue Ridge, remember to tag your photos with #Trailsetter to show off what you're seeing and doing!