Attention #Trailsetters: We have an essential list for your outdoor explorations in Virginia's Blue Ridge. These 20 experiences for hiking lovers are a mix of our most well-known trails, lesser-known trails, and exciting points of interest along the way.
From endurance testers to easy paths for families and slow-pace wanderers, these are our favorite hiking trails and experiences to soak in the best of what's around.
Before you go: Familiar yourself with the Leave No Trace Seven Principles and do your part to help protect and preserve our natural assets in Virginia's Blue Ridge. 
Comprised of three of Virginia's most iconic peaks – Dragon's Tooth, McAfee Knob, and Tinker Cliffs - Virginia's Triple Crown sounds cool to accomplish. It's a wink and a deep, wide notch in your walking stick. Get started at whichever point you like, but to conquer them all, you're facing 32 miles and overnights in Appalachian Trail shelters.
However, your effort is rewarded with impressive views, interesting geologic formations you can climb, and a story to share of the time you spent on the Appalachian Trail.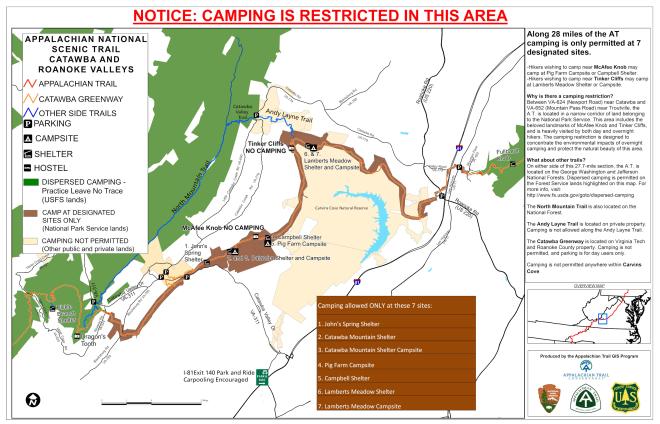 Learn more about the Triple Crown from the Roanoke Appalachian Trail Club >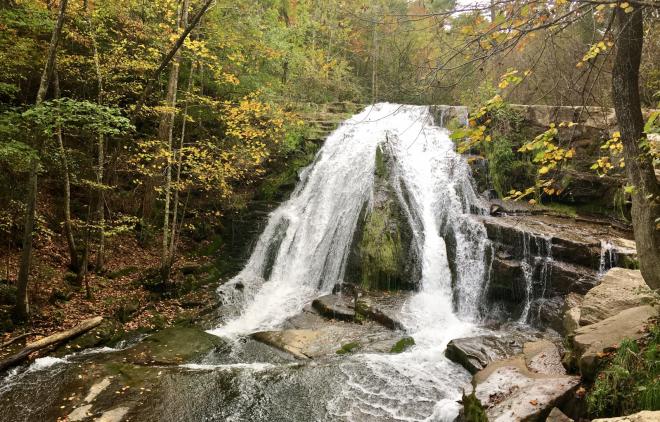 We've never met anyone who didn't love a waterfall, and to our pleasure, Virginia's Blue Ridge offers several waterfall hikes. Some are easier to reach than others, but all of them are excellent backdrops for memorable moments with the people you love. Give these four a go:
Roaring Run Falls (pictured above) in Eagle Rock is accessed through the Roaring Run Recreation Area. Find the Roaring Run Furnace, a 19th-century iron ore furnace that's listed on the National Register of Historic Places. Roaring Run is a popular swimming hole and fishing area. 
Apple Orchard Falls can be reached from the Blue Ridge Parkway at milepost 78.4 at Sunset Field. The hike down to the falls is approximately 1.5 miles and steep. Watch for wildflowers as you go. Trillium, bleeding heart, mountain fetterbush, and rhododendron are common finds. View the falls from the platform and beware of slippery surfaces.
Another Parkway-accessible waterfall hike is Bottom Creek Gorge on Bent Mountain. The falls rolling off the mountain are the second highest in Virginia at 200 feet. The loop trail is nearly five miles long and begins at a parking area for Bottom Creek Gorge Preserve on Route 669. Dogs are not allowed in the preserve and fishing is not allowed in the streams. According to The Nature Conservancy, Bottom Creek is "a hotbed for rare aquatic species, providing critical habitat for four native species of fish: the orangefin madtom, the bigeye jumprock, the riverweed darter, and the Roanoke darter."
Stiles Falls can be found at Camp Alta Mons in Shawsville. As long as there aren't any camps in session (especially during summer months), the trail is open to the public. The falls are the obvious focal point, and at 40-feet high, you understand why. Be prepared for some rock-hopping and creek-crossing along the three miles that it takes to see the falls and get back to your car. Dogs are allowed as long as they remain leashed and cleaned up after.
3. Get Your Hiking Gear
Make sure you're well equipped for the hikes you plan to pursue. Our area experts will not only outfit you well, but they have experience in our wilderness. Ask them about certain trails of interest while you're picking out the best pair of boots for the job. We recommend either of the Walkabout Outfitter locations – Downtown Roanoke or Valley View Mall – or Outdoor Trails located in Daleville.
Sometimes a hike needs motivation. If wine is your motivation, try taking a hike and then making a winery stop your reward for an awesome day in the woods. For example… 
Add Hoop Hole to your Roaring Run hike. It's a second trail within the Roaring Run Recreation Area. Two wineries await your visit after a day on the trails: Blue Ridge Vineyard is less than 20 minutes away and Virginia Mountain Vineyards is less than 30 minutes away.
See other options for hiking trails near wineries > 
5. Hiking at Virginia State Parks
Short, long, easy, hard…there are trails for all hikers within Virginia State Parks. Some of our favorites are Claytor Lake Trail at Claytor Lake in Dublin, Little Mountain Falls Trail with its wet-weather waterfall at Fairy Stone in Stuart, Turtle Island Trail that leads to an actual island at Smith Mountain Lake in Huddleston, and Cedar Creek Trail at Natural Bridge State Park in Natural Bridge.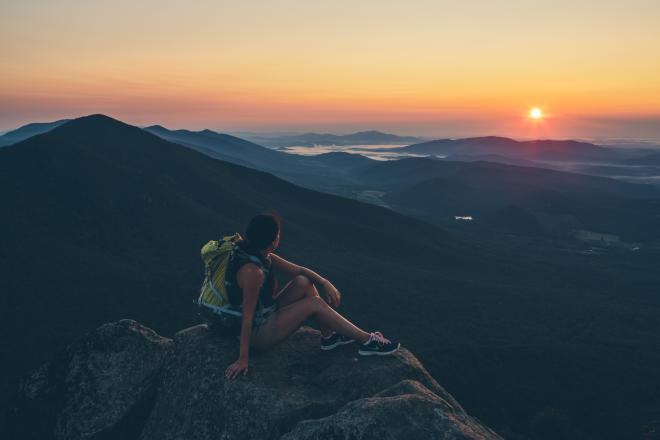 Virginia's most famous peaks are the Peaks of Otter near Bedford along the Blue Ridge Parkway at milepost 86. The trio – Flat Top, Sharp Top, and Harkening Hill – are beauties to behold on the horizon, but the views from atop them are even more impressive. Tackling these way finders deserves a reward; luckily for you, Lake View Dining Room at Peaks of Otter Lodge is a delicious and beautiful place to catch your breath and fill your tummy.
Sharp Top (pictured above) is the most popular of the hiking trails at the Peaks of Otter, and the lodge also offers an option to purchase tickets for a Sharp Top Shuttle service that helps shorten the hike.
Wind your way along four miles of trails on Poor Mountain within the Poor Mountain Natural Area Preserve. Some stretches are steep, so plan for several hours of exploration. Keep an eye peeled for piratebush (Buckleya distichophylla) if you're hiking in the fall. The globally rare species is identified by its bright yellow foliage. Poor Mountain is the largest population of piratebush in the world.
Poor Mountain Fact Sheet & Trail Map >
If you've never truly "roughed it," you can get that authentic wilderness experience within Jefferson National Forest. Called "dispersed camping," it's camping outside of designated campgrounds. Essentially, it's what everyone did before much of the land was privately owned or protected. Be a real #trailsetter when you get primitive, but do check a few guidelines before you pitch a tent all willy-nilly.
Maps of the Jefferson National Forest >
The Appalachian Trail is the only established trail on Brush Mountain in Craig County. The Brush Mountain East Wilderness is 3,700 acres of mostly steep mountain ridge that's riddled with streams and features a cool rock outcrop toward the top. That's where you'll find the Audie Murphy Monument, a chiseled stone marker courtesy of Veterans of Foreign Wars to honor the most decorated veteran of World War II who died in an airplane crash on Brush Mountain on May 28, 1971. His decorations include the Medal of Honor, three Purple Hearts, Legion of Merit, and Distinguished Service Cross.
Brush Mountain East Trail Map >
10. Hike Mill Mountain to the Roanoke Star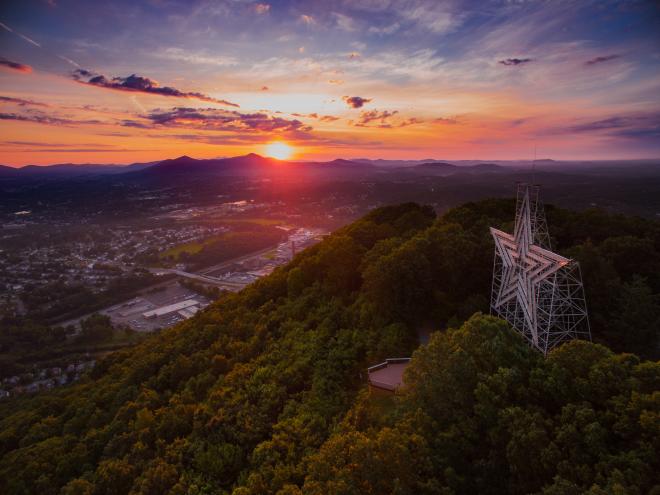 When you want to see the Roanoke Star on Mill Mountain, try taking the Star Trail by parking in the lot off Riverland Avenue at the base of the mountain and hiking to the top. It's approximately 3.25 miles round-trip with an elevation gain of nearly 800 feet. The view from the Star is quite impressive, especially on a clear day.
Mill Mountain Park Trail Map >
The early morning hike up Catawba Mountain isn't for the faint of heart, but the view of the sunrise at McAfee Knob is well worth the effort. Hiking the trail before dawn is also one of the best ways to enjoy McAfee Knob while avoiding the crowds that you'll find on the trail and at the summit during the day. If you're hiking with a group, please do your part to limit crowding on the trail and carpool - parking is limited at the trailhead.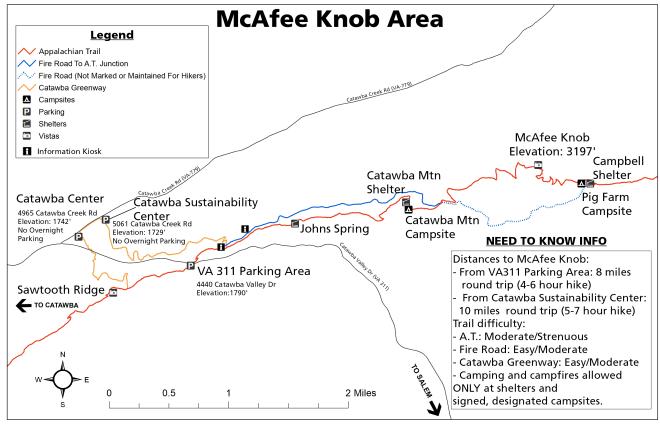 Here's your chance to enjoy a trail on your own. The little-used trails within the Smith Mountain Cooperative Wildlife Management Area (WMA) are short jaunts connected to WMA roads. The WMA borders the Roanoke River at the dam that creates Smith Mountain Lake. Do not enter the Safety Zone above the dam. Note that hunting is permitted within the WMA.
Smith Mountain Cooperative WMA Trail Map >
More than 1,400 acres in Franklin County make up the Grassy Hill Natural Area Preserve. Within the preserve are 6.6 miles of trails complete with a kiosk and signage. It's important to call before visiting this preserve as it could be closed at any time for prescribed burns, deer population management, or resource protection.
Grassy Hill Natural Area Preserve Hiking Trail Guide & Map >
14. Hiking & Outdoor Events
Hikers love a great outdoor festival and there are three to make note of for planning purposes. 
Troutville Trail Days is held in June each year in Troutville, an AT Trail Town since 2012. The festival is free and features many local vendors, artisans, tubing trips, food, music, and guided hikes on the AT for those who have yet to take the leap. Camping is free all weekend. 
GO Outside Festival is held every October in Roanoke. More than 125 outdoor activities and events are scheduled each year, including the exciting Air Dogs show, BMX stunt bikes, a lumberjack show, slacklining stunts, and more. Learn to fly fish, try out the latest models of mountain bikes … there's tons to do, great music, and plenty of craft beer to go 'round.
The Seven Summits Series is an annual challenge to climb seven peaks in seven weeks. You could certainly do that on your own, but if you want to join a local group to participate, the guided hikes are offered Thursdays and Saturdays in the fall.
Encompassing 243 acres, Read Mountain Preserve offers five miles of trails from moderate to strenuous difficulty. Take the two-mile trail to Buzzards Rock at 2,180 feet for one of the area's best views of the Roanoke Valley.
Read Mountain Area Preserve Trail Map >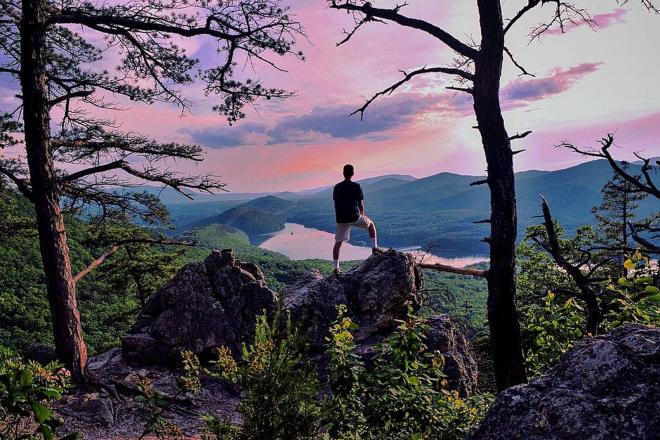 One of our favorite views of Carvins Cove Natural Preserve is from Hay Rock. Panoramic views and look-outs are available along the two-mile trail before and once you arrive at Hay Rock.
The Triple Crown may feature the three most popular Appalachian Trail hikes in Virginia's Blue Ridge, but Hay Rock is another favorite among many locals and visitors.
The Outbound: Hike to Hay Rock >
Novice hikers and seasoned hikers alike enjoy the occasional easy hike, and we've identified six such trails to enjoy. Some have already been mentioned in this list and others are awaiting your discovery within our Six Easy Hiking Trails article >
A great trail that will get your heart pumping while also serving up nice views is the Dogwood Glen Trail around a portion of Philpott Lake. At 4.5 miles, you'll want to bring plenty of water and maybe a snack for your out-and-back adventure. Or, park a car on either end for shuttling. Access the trail from Salthouse Branch Park or from Philpott Dam.
Along the Blue Ridge Parkway at milepost 169 is Rocky Knob Recreation Area and its 10.8-mile Rock Castle Gorge Trail. A challenging path, the trail is a rollercoaster varying in elevation from 3,572 feet to 1,700 feet. When you climbed back to the trailhead, rest. There are picnic tables and plenty of space to relax.
Like nothing you're ever seen, probably, are the huge Antietam Quartzite boulders that make up Devil's Marbleyard. Truly, some of them are the size of a van…as in vehicle, not shoe.
Start this journey from the blue-blazed Belfast Trail to access the 'yard. After you enjoy bouldering and snagging a few cool #selfies, continue upward to connect to the white-blazed Appalachian Trail. That dogleg off the primary journey rewards you with a wonderful 360° panoramic view. Retrace your steps back along the AT to pick up Gunter Ridge Trail to the right and continue back down to the trailhead, zig-zagging your way through 14 switchbacks.
All said, you will have conquered 11.3 miles.
Hiking Upward: Devil's Marbleyard >
---
Get outside and be a #trailsetter in Virginia's Blue Ridge. Whether its hiking our favorite trails or hitting them on two wheels (we are America's East Coast Mountain Biking Capital, after all), we know you'll love what awaits.