Virginia's Blue Ridge is a hot spot for those who love to hit the dirt on two wheels. Whether you're a novice or a pro, the variety of our mountain trails are perfect for ripping it up and cutting loose. 
Don't believe us? Check out these top seven reasons Virginia's Blue Ridge is your next spot for mountain biking.
​Before You Ride: Familiarize yourself with the Leave No Trace Outdoor Ethics for Mountain Biking - a set of guidelines to help you enjoy the trails responsibly and minimize your impact on the natural environment.
Virginia's Blue Ridge has been designated as a Silver-Level Ride Center by the International Mountain Bicycling Association. It's the first destination in the eastern half of the country to earn Silver-Level Ride Center status, as Virginia's Blue Ridge emerges as America's East Coast Mountain Biking Capital.
The Ride Center designation is awarded based on a region's collection of trail offerings, accessibility and connectivity of trails, bike-friendly amenities, and local biking infrastructure & culture.
Learn more about our Ride Center status > 
2. Guided Adventures & Group Rides
When you're unfamiliar with a trail, know that a guide is nearby and willing to show you the ropes, as well as warn you of any tricky surprises. These services are also awesome for connecting you with like-minded adventurers when you want company for the excursion.
Check out Roanoke Mountain Adventures, the Blue Ridge Off-Road Cyclists (BROC), UnderDog Bikes, and Ride Solutions to choose the best option for you and/or your group.
See our List of Guides & Resources >
Many cities boast about close proximity to the mountains, but Roanoke is one of the only cities in the U.S. featuring a mountain within the city limits – and it's a fantastic spot for mountain biking! Located less than three miles from Downtown Roanoke, Mill Mountain Park offers nearly 10 miles of trails across 650 acres of mountaintop space. The Mill Mountain Full Pull is a great route for riding every mountain biking trail in the park, and you'll get to check out the awesome view of the city from the Roanoke Star & Overlook.
Trail Map of Mill Mountain Park >
4. People Are Talking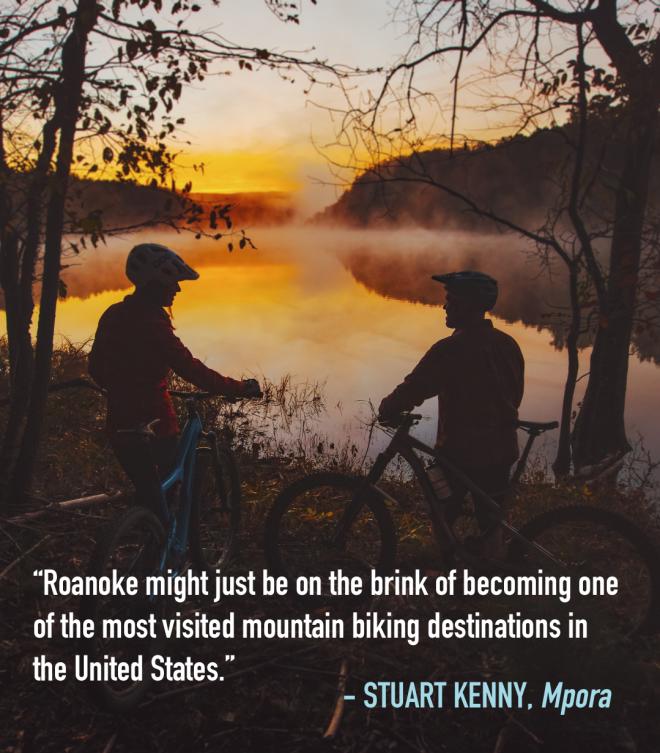 When there's so much buzz about the excellent mountain biking in Virginia's Blue Ridge, how could you not want to see what all the fuss is about? Singletracks placed Roanoke at number 6 on their "10 Best US Mountain Bike Towns with the Lowest Cost of Living" list, stating, "Roanoke offers great food, beer, plenty of bike shop options, and with a median home price of $144,900, the COL is very attractive." 
Furthermore, a Singletracks podcast included Carvins Cove among "The Best Mountain Bike Trails in the Southeast," with Greg Heil commenting, "it's an extremely diverse trail system, in my opinion. Like, easy trails down low and some pretty serious descents if you go all the way to the top of the mountain and come busting down … When you think of a trail system and you think of Carvins Cove, it's like 'Yes. This is a good trail system.'" 
Angela Haupt penned an article for The Washington Post titled "Roanoke, Va. is fit for whatever kind of vacation you have in mind." She wrote, "You know those towns that boast about having something for everyone? And usually it's a gimmick because, come on. But Roanoke, nestled in southwestern Virginia's Blue Ridge Mountains, actually delivers. There's the outdoorsy side with more than 600 miles of trails, and a sophisticated downtown flush with museums, history and good food."
The mountain biking in Virginia's Blue Ridge was also the subject of an extensive feature by European based adventure sport website Mpora - "Stars and Bikes | Riding the New Capital for Mountain Biking on America's East Coast."
5. Accessible Trails for All Skill Levels
Up top we told you you'd love our trails regardless of your experience level, and it's true. If you're green and you need a "green" trail, head for easy spots like Greenfield Recreation Park, the Roanoke Valley Greenways, or the trails of our nearby state parks – Smith Mountain Lake, Claytor Lake, and Fairy Stone.
Those who are ready for intermediate trails will love the challenges Mill Mountain's trails throw out, or the zig-zags of Explore Park.
For the hardcore, advanced riders, various segments of the Glenwood Horse Trail around Arcadia and North Mountain in the George Washington & Jefferson National Forest serve up technical obstacles and steep terrain.
Check out our Trail Maps to help you get ready for your next ride!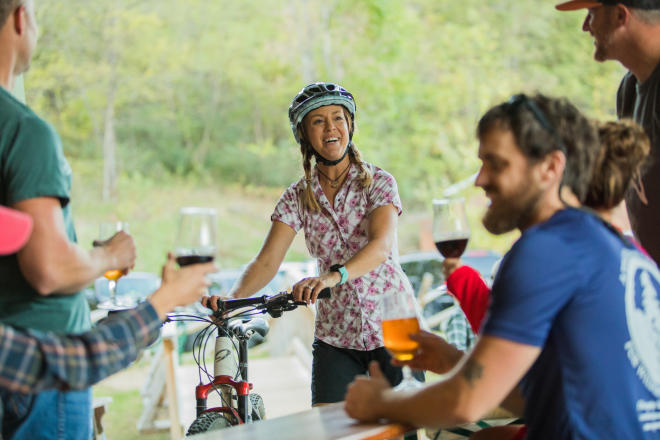 There's a vibe in Virginia's Blue Ridge in general that pairs the great outdoors with craft beer. The two are embraced as "go have a blast and then unwind with local suds," and we have eight excellent trail systems paired with breweries for the enthusiasts who love to do both:
1. Mill Mountain Park with Big Lick, Golden Cactus, or Starr Hill
2. Waid Recreation Park with Living Proof Beer Co.
3. Explore Park with Twin Creeks Brewing
See 4-8!
Brag a little when you conquer some of the most epic, hardest, grandest trails in Virginia's Blue Ridge. We challenge you, advanced rider, to dig in and roll over the technical trails of North Mountain (Dragon's Back), Patterson Creek, Fort Lewis Mountain in the Havens Wildlife Management Area, and of course, Carvins Cove Natural Reserve.  
Thirsty for a few more? See our list of 10 Epic Mountain Biking Trails in Virginia's Blue Ridge
---
Come fly through the forest and glide by the streams. It's an excellent weekend escape, and you know you deserve the fresh air and freedom that Virginia's Blue Ridge affords. We'll see you soon in America's East Coast Mountain Biking Capital.