The Roanoke Valley in Virginia's Blue Ridge is establishing itself on the map of the best places in the world for mountain biking with its new designation as a Silver-Level Ride Center™ by the International Mountain Bicycling Association (IMBA).
The "Virginia's Blue Ridge Ride Center" designation was announced after an extensive evaluation process and trail review by officials from the Colorado-based IMBA organization.
Criteria was based on a broad range of factors, including trail offerings, connectivity and accessibility of trails, bike-friendly amenities, and local biking infrastructure.
This new recognition will enhance the region's reputation as a bucket-list destination for mountain biking.
Virginia's Blue Ridge is the only East Coast destination to earn the Silver-Level Ride Center designation from IMBA!
There are also bronze and gold level ride centers around the world, including Harrisonburg and Richmond, Va., both bronze level ride centers.
Virginia's Blue Ridge is now one of 39 IMBA Ride Centers in the world, and one of only 15 Silver-Level Ride Centers.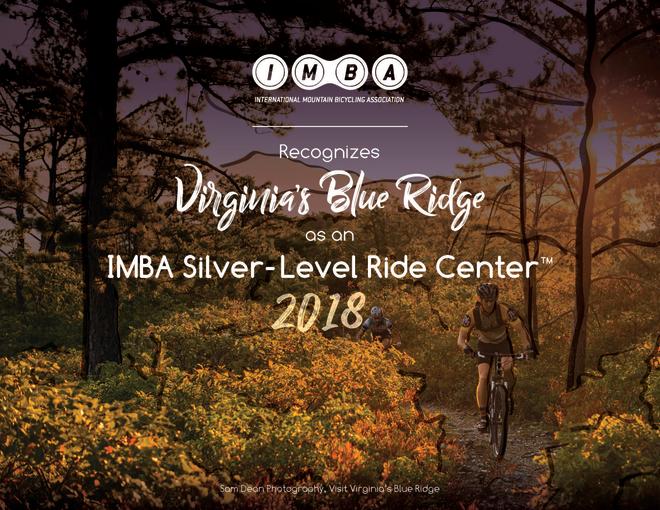 According to the International Mountain Bicycling Association website, a Ride Center is described as the following:
"Ride Centers feature extensive trail networks, masterfully designed for mountain bikers of every skill level and built by professional trailbuilders and local volunteers. Bring your full arsenal of bikes to these destination-worthy areas. From backcountry adventures to shuttle-served gravity trails, and from expert-only to family-friendly, you'll encounter the best the sport has to offer."
With over 320 miles of trails for riders of all skill levels, mountain biking is a huge part of the outdoor recreation experience in Virginia's Blue Ridge, both for locals and visitors.
Whether it's a relaxing ride through Waid Recreation Park in Franklin County, a thrilling pedal along Dragon's Back in Roanoke County, or a challenging climb to the top of Mill Mountain for a stunning view of Downtown Roanoke, you'll love exploring our local trails.
Virginia's Blue Ridge is rich with biking opportunities and amenities, ranging from incredible trail networks like Carvins Cove to annual cycling events such as the Go Cross Cyclocross series. There is a passionate local biking community supported by organizations like Roanoke IMBA, and unique bike shops and outfitters such as Cardinal Bicycle and Roanoke Mountain Adventures.
There are also many future mountain biking projects underway in the region, including the development of a bike skills park at Explore Park, additional trails at Carvins Cove, and more annual events.
As a newly-designated IMBA Ride Center, Virginia's Blue Ridge will now be able to increase its exposure and marketing opportunities to attract visitors and biking enthusiasts from around the world.
Visit our Mountain Biking section to learn more about our local trails and biking resources in Virginia's Blue Ridge.
We invite you to come experience America's East Coast Mountain Biking Capital!
Enjoy the ride!