As America's East Coast Mountain Biking Capital, Virginia's Blue Ridge boasts more than enough challenging trails to fill a weekend and then some. Our outfitters can help you choose a ride if you don't feel like lugging your own, or they can at least give you pointers for tackling the trails.
Plan your next two-wheel adrenaline adventure with this, our weekend mountain biking itinerary. Connect with Roanoke Mountain Adventures (RMA) for guided trail excursions.
You're going to love the views and the unwind that comes afterward. Choose your trail experience!
​Before You Ride: Familiarize yourself with the Leave No Trace Outdoor Ethics for Mountain Biking - a set of guidelines to help you enjoy the trails responsibly and minimize your impact on the natural environment.
Roanoke Mountain Adventures offers both a half-day and full day trip to Carvins Cove, one of the top trail systems in Virginia's Blue Ridge. The per-person fee for the guided trip includes bike, helmet, pack, water, and snacks. The full day trip includes lunch as well, and is best suited for those with proven skill and endurance.
There are 60 miles of trails at Carvins Cove, and RMA will choose the trails based on ability.
Your post-ride unwind will be both earned and deserved. We like Parkway Brewing Company and Olde Salem Brewing Company for kicking your feet up and knocking down a cold craft beer. For dinner, Mac & Bob's and Allsports Cafe are both local favorites. All four spots are casual and comfortable locales in Salem, and we're certain you'll feel right at home.
Ten miles of trails await at Mill Mountain Park. This is a great trail choice for those who could benefit from a little bit of professional instruction. RMA offers everything you need to get going on a great first mountain biking ride. [Download: Mill Mountain Park Trail Map]
Here's an MTB Project route that incorporates every mountain biking trail in the park: Mill Mountain Full Pull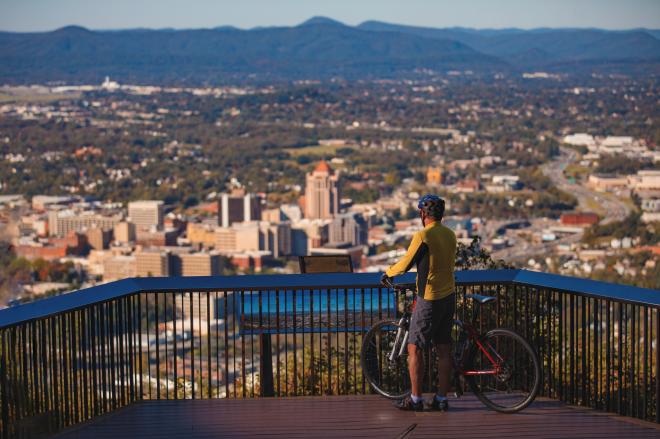 For those who are anything but first-timers, the system at Mill Mountain still offers an exhilarating circuit of rides. You can spend as much or as little time pedaling here as you like, and you're within city limits! Why not rip through the gears and then zip back down the mountain for a mini brewery tour?
We like the Starr Hill Pilot Brewery at The Bridges, followed by A Few Old Goats Brewing and Big Lick Brewing Company, all located in downtown Roanoke. If you're on your own ride, you can easily hit these spots consecutively as you come down the mountain.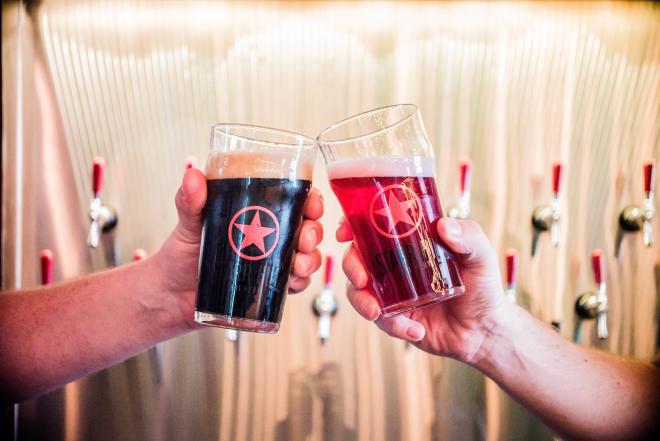 If you want to clean up then head back out for dinner, we have a few suggestions for laid back, casual dining. Jack Brown's is a cozy burger and beer bar serving 100% Wagyu beef and offering more than 100 craft beers.
Martin's has garnered local acclaim as the "Best Place to Unwind After Work," so why not also be the best place to unwind after a strenuous mountain biking ride? We know you'll agree that it must be in contention, especially with the musicians who keep things light and lively.
You might also consider Beamer's 25, especially if you're a Virginia Tech Hokies and Frank Beamer fan. Excellent burgers and pizzas are accompanied by a wide range of beverages; you'll like the vibe at Beamer's 25.
>> 8 Spots for Mountain Biking & Beer
 
Nine miles course across 1,100 acres at Explore Park, another great trail system in Virginia's Blue Ridge with onsite options for overnight lodging (tiny cabins & camping). These trails are also available for mountain biking lessons by RMA, though they're enjoyed by bikers of all ages and abilities. [Download: Explore Park Trail Map]
When you exhaust the trails at Explore Park, take the time to enjoy the nature and history around you. The Roanoke River is right at hand, as are historic interpretive sites and an aerial adventure course.
Once you've done it all, head to Twin Creeks Brewing Company in Vinton for a cold craft beer flight, and then flip a coin for dinner. Will you choose one of our fave pizza joints, New York Pizza? Or perhaps you'll feast on a delicious burger at FarmBurguesa?! 
>> Cabins & Camping Options at Explore Park
Zig-zag your way through the George Washington and Jefferson National Forests on trails and fire roads, including some fantastic riding on Cove Mountain. Remember to seek assistance from Roanoke Mountain Adventures if you require supplies, tools, or guidance.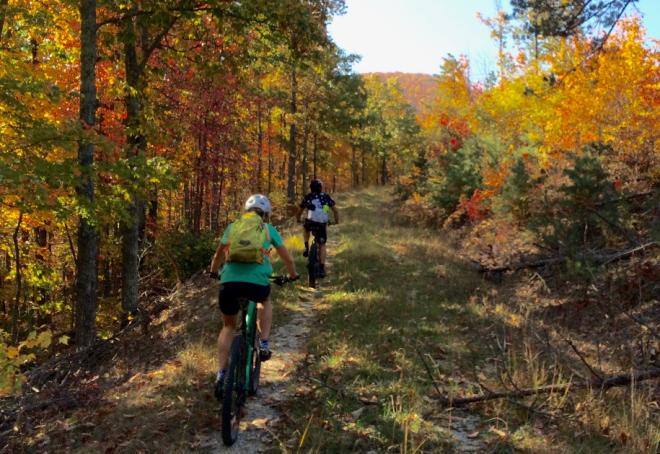 Nearby eats include Town Center Tap House with excellent entrees and taps; Tizzone, a wood-fired pizza destination and wine bar; and Angelle's Diner, a comfort food-serving family restaurant.
Plan the Ride: MTB Project Route: Arcadia Loop >
---
Ride a few of our trails and we know you'll be ready to conquer to rest (or re-loop the ones you've already tested!). Take a look at our Trail Maps for more riding inspiration. Plan ahead and see our Mountain Biking resource page.
---
Map of Locations