Welcome to the Roanoke Region in Virginia's Blue Ridge – your gateway to outdoor adventures and unforgettable camping experiences. Nestled in the heart of the Blue Ridge Mountains, Roanoke offers a breathtaking backdrop for your next camping getaway.
Whether you're a seasoned outdoors enthusiast or just looking to reconnect with nature, the Roanoke Region's diverse camping options have something for everyone.
Finding Your Campground
Glamping in the Blue Ridge Mountains
Tent Camping
Cabins & More
Camping at Explore Park
Camping at State Parks
Camping on the Blue Ridge Parkway
Camping at Smith Mountain Lake
Camping in the Jefferson National Forest
Camping on the James River
Camping on the Appalachian Trail
Camping at Philpott Lake
Camping Tips & Essentials
Finding Your Campground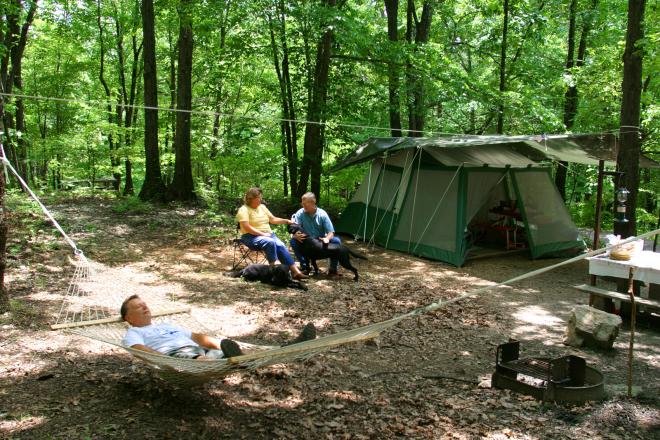 Choosing the right campground is essential for a successful camping trip. The Blue Ridge Mountains offer various options to suit your style. From family-friendly sites to backcountry hideaways, you'll find a place to pitch your tent or park your RV.
Camping in Virginia's Blue Ridge > 
Glamping in the Blue Ridge Mountains
If you want to add a touch of luxury to your camping experience, glamping in the Blue Ridge Mountains is the perfect choice. You can enjoy the beauty of the outdoors while staying in well-appointed cabins, yurts, or safari tents equipped with comfortable beds, private bathrooms, and even hot tubs.
Glamping sites in the Blue Ridge Mountains provide a seamless blend of rustic charm and modern comfort, allowing you to relax and unwind in style amidst the stunning mountain scenery.
Tent Camping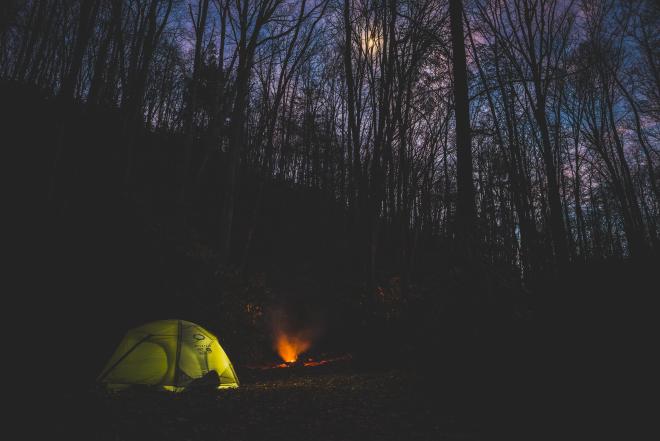 Embrace the true essence of camping by pitching your tent amidst Roanoke's picturesque landscapes. Whether you're a seasoned camper or new to the adventure, our tent sites cater to all levels of outdoor expertise.
Choose from a range of campgrounds near Roanoke, from open meadows to secluded woodlands, and immerse yourself in the rhythms of nature.
Photo courtesy of Matt Ross - Franklin County Parks & Recreation
Cabins & More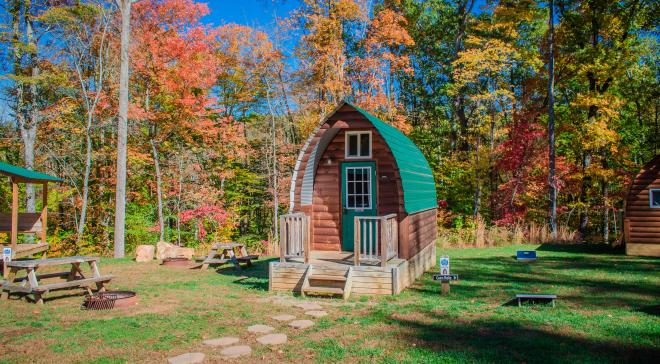 Experience the perfect blend of comfort and nature in cozy cabins or well-equipped campsites. Find your home away from home in the beautiful Blue Ridge Mountains.
From outfitters like Don's Cab-Inns at Explore Park to an organized family retreat at Wilderness Adventure at Eagle Landing, everyone can enjoy a camping experience in Virginia's Blue Ridge.
Cabins in Virginia's Blue Ridge > 
Camping at Explore Park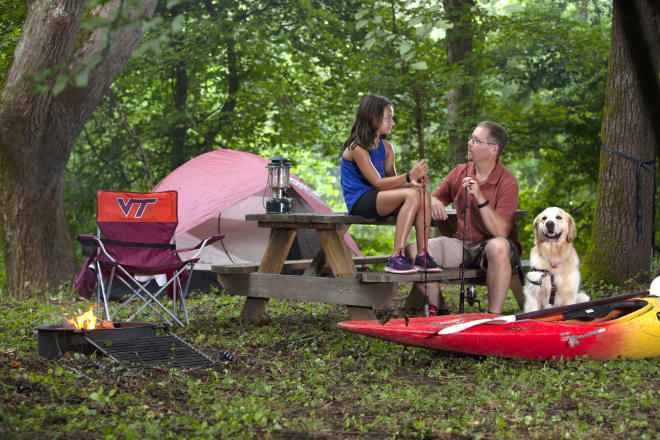 Located at Milepost 114, Roanoke County's Explore Park is perfect for a camping adventure along the Blue Ridge Parkway. The park features cabins and campsites for an overnight stay, a network of hiking and mountain biking trails, access to the Roanoke River for fishing and paddling, an aerial adventure obstacle course, disc golf, and food and drink at Twin Creeks Brewpub.
Explore Park is less than 15 minutes from fun things to do in nearby downtown areas, including Downtown Roanoke and the Town of Vinton.
Camping options include cabins, yurts, RV sites, primitive sites, raised platforms, and group sites.
Camping & Cabins at Explore Park >
Camping at State Parks in Virginia's Blue Ridge Mountains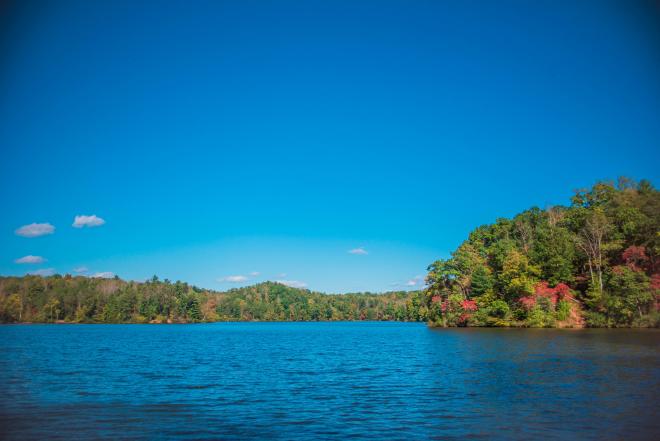 Immerse yourself in Roanoke's natural splendor within its meticulously preserved state parks. Each park boasts a unique charm, from the breathtaking terrain of Claytor Lake State Park to the tranquil shores of Smith Mountain Lake State Park.
State parks offer various lodging options, including tents and cabins, making it easy to tailor your experience to your style and preferences.
Camping on the Blue Ridge Parkway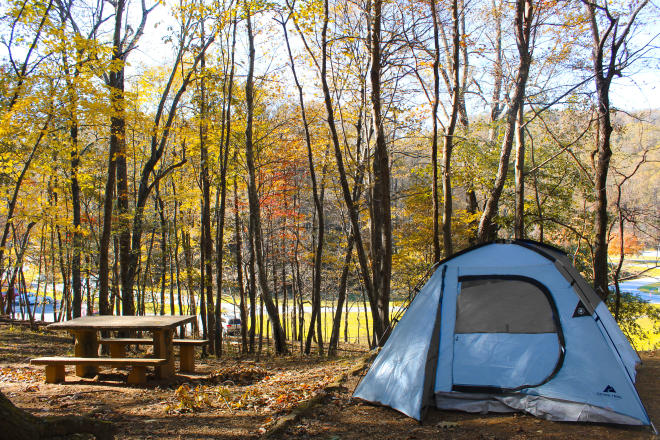 Camping in Virginia's Blue Ridge Mountains along the scenic Blue Ridge Parkway offers an unforgettable outdoor experience. One of the most sought-after campsites in this region is the Peaks of Otter Campground, nestled amidst the lush forested landscape. Set against the iconic Peaks of Otter backdrop, this tranquil campground boasts well-maintained sites, each with a unique charm.
Located at Milepost 114, Explore Park is another excellent option for camping along the Blue Ridge Parkway. The park is home to the Blue Ridge Parkway Visitor Center in the region and offers various types of campsites and cabins.
Further down the Parkway, the Rocky Knob Campground beckons adventurers with its secluded spots and access to hiking trails leading to panoramic vistas. Campers can revel in starlit nights, scenic hikes, and the soothing sounds of mountain streams, making it an idyllic getaway for nature enthusiasts and outdoor enthusiasts alike.
Camping at Smith Mountain Lake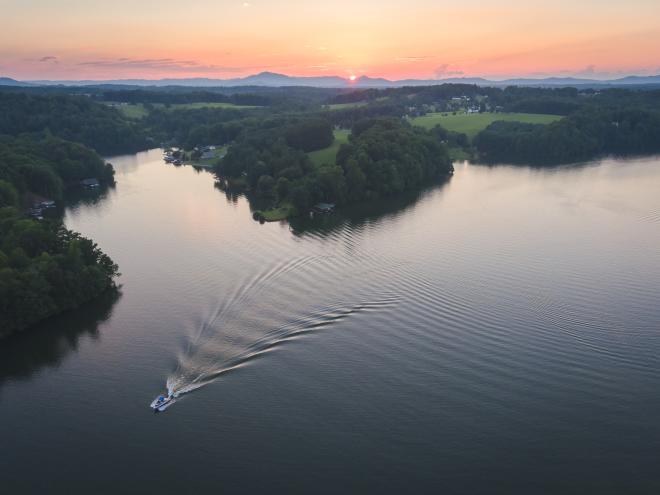 Smith Mountain Lake, nestled in the Blue Ridge Mountains, is a gorgeous location for campers and water enthusiasts. Camping here means waking up to the gentle lapping of waves and stunning lakefront sunrises.
If you seek a family-friendly atmosphere, you'll find cozy sites at Smith Mountain Lake State Park, with lush forest surroundings and access to the lake for swimming and boating. Whether you prefer fishing, hiking, or simply relaxing by the campfire under the starlit sky, Smith Mountain Lake's campgrounds provide the perfect backdrop for a memorable outdoor adventure.
Camping at Smith Mountain Lake >
Camping in the Jefferson National Forest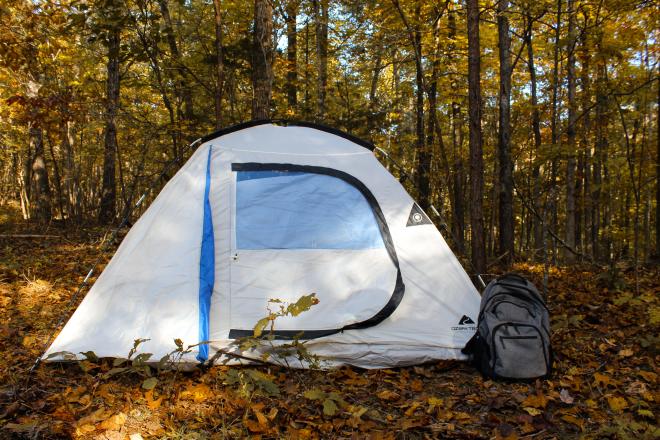 For those seeking a truly immersive outdoor experience, camping in the Jefferson National Forest is a must. Douthat State Park, nestled within the forest, offers well-maintained campsites with access to a pristine lake for swimming and fishing.
Whether you seek hiking, birdwatching, or simply the soothing sounds of a bubbling stream, camping in the Jefferson National Forest is a gateway to the natural wonders of Virginia's rugged terrain.
Camping on the Upper James River Water Trail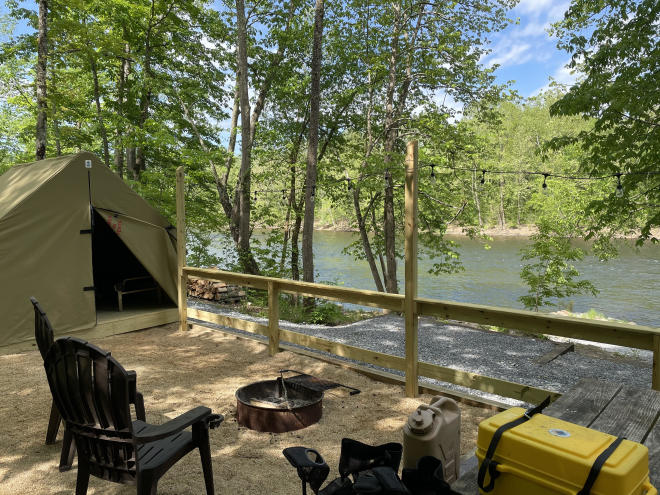 Camping on the Upper James River Water Trail uniquely combines paddling and camping in the picturesque Blue Ridge Mountains. Twin River Outfitters is located in the Town of Buchanan in Botetourt County and offers multiple campgrounds and guided excursions for overnight adventures on the river.
Canoeing or kayaking along the James River by day and camping under the canopy of stars at night is an ideal way to experience the region's natural beauty.
James River Camping & Campgrounds >
Camping on the Appalachian Trail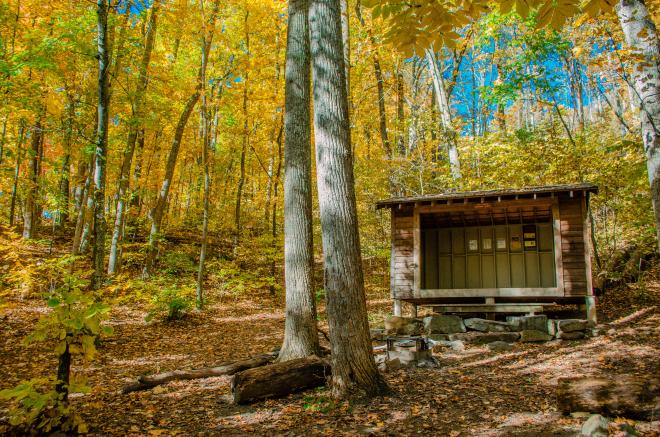 Roanoke is the largest city along the iconic Appalachian Trail, and the region features numerous picturesque summits and views, including McAfee Knob, Dragon's Tooth, and Tinker Cliffs.
Planning an overnight hike and camping at one of the designated campsites or shelters along the trail is an incredible way to experience the outdoors in Virginia's Blue Ridge.
The following is a list of campsites and shelters along the Appalachian Trail in the region.
War Spur Shelter
Laurel Creek Shelter
Sarver Hollow Shelter
Niday Shelter
Pickle Branch Shelter
John's Spring Shelter
Catawba Mountain Shelter
Campbell Shelter
Lamberts Meadow Shelter
Fullhardt Knob Shelter
Wilson Creek Shelter
Roanoke Appalachian Trail Club Shelter Information >
Camping at Philpott Lake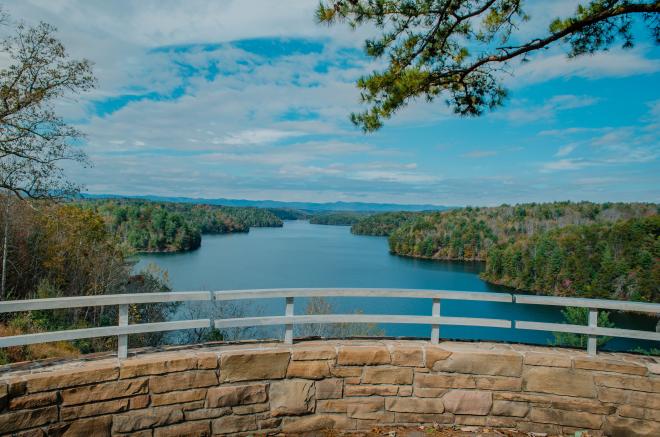 Philpott Lake is a hidden gem of scenic beauty in Franklin County. With beautiful views of the Blue Ridge Mountains, this pristine destination offers a tranquil retreat for camping on the water.
Set up your campsite under a canopy of trees, relish the serene waters, and embark on adventures like hiking, fishing, and birdwatching.
---
Camping Tips and Essentials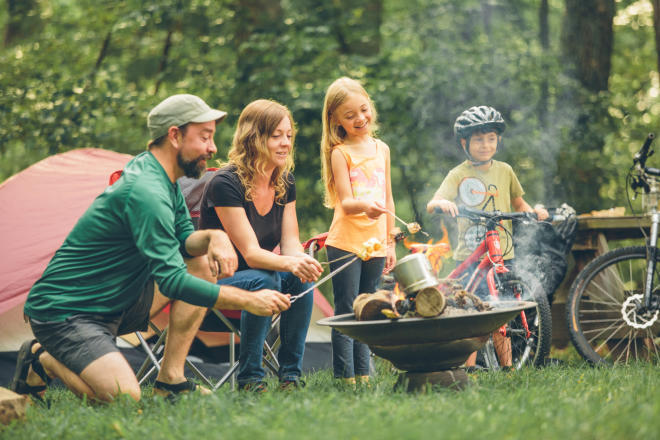 Before you set off on your camping adventure, here are a few friendly tips to ensure a smooth and enjoyable experience:
Reservations: If you plan to camp in a popular campground, making early reservations is a good idea, especially during peak summer and fall seasons.
Gear: Ensure you have all the necessary camping gear, including a sturdy tent, sleeping bags, cooking equipment, and clothing suitable for the season.
Safety: Familiarize yourself with the local wildlife and safety precautions. Keep food stored properly to avoid encounters with wildlife, and always follow the Leave No Trace principles to protect the environment.
Weather: Check the weather forecast before your trip, as mountain weather can be unpredictable. Pack accordingly and be prepared for sudden changes.
Leave No Trace: Respect the natural environment by leaving it as you found it. Dispose of trash properly, and be mindful of fire restrictions.
---
Header photo courtesy of Matt Ross - Franklin County Parks & Recreation