The rivers and lakes of Virginia's Blue Ridge and are not as intimidating as some may believe them to be. Well, there are pretty intimidating stretches, but there are also very easy opportunities, too.
Let this list be your guide about where to paddle based on your skill level, and don't miss our picks for excellent guides at the bottom.
Before You Go: Familiarize yourself with The Leave No Trace 7 Principles. These guidelines are a great way to protect nature when you spend time outside.
EASY PADDLES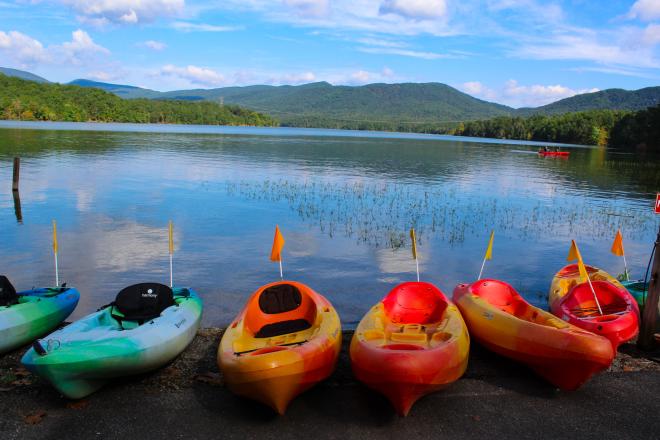 Carvins Cove is Virginia's largest land conservation easement at more than 12,000 acres, and includes a reservoir. Paddle sports are a great way to enjoy the beauty of the water and views of the surrounding mountains. Calm, Carvins Cove is an excellent body of water to get your paddles wet for the first time. Kayak and paddle boat rentals are also available at the Marina location from April through October.
Smith Mountain Lake is the "Gem of the Blue Ridge Mountains" thanks to its shimmery surface reflecting the sun's rays. Choose a cove on the lake to begin paddling and stick to the shoreline to remain clear of any boaters. Should you choose to put in at one of the marinas, rest assured that you should be able to handle any passing boats. These are areas are "no wake" zones. You could also utilize Franklin County's Smith Mountain Lake Community Park for easy water access.
The Upper James River Water Trail stretches from Iron Gate to Snowden. Choose from one of the 11 sections to paddle. The easiest of which are sections six and five.
Craig Creek is tranquil with calm currents best enjoyed after a nice rainfall. Craig feeds into the Upper James River Water Trail and can be accessed in New Castle.
The Upper Pigg River Blueway (pictured below) is an eight-mile paddle from park-to-park in Franklin County. Waid Park to Lynch Riverside Park, you can easily float and hardly paddle at all, should you so choose.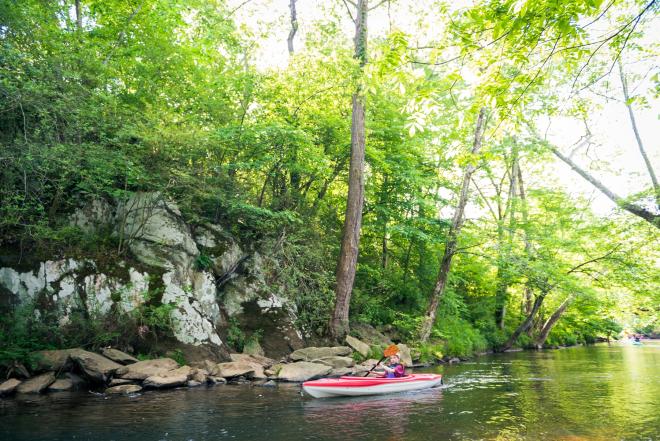 The Upper Blackwater River Blueway is a 35-mile stretch from Cahas Mountain to Smith Mountain Lake. Choose a spot and while away the day as you learn the ins and outs of your kayak or canoe.
At 3,000 acres, Philpott Lake (pictured below) has 100 miles of shoreline to kayak along and nine boat launches. If you like to fish, Philpott is considered to be the best reservoir in Virginia for smallmouth bass and trout.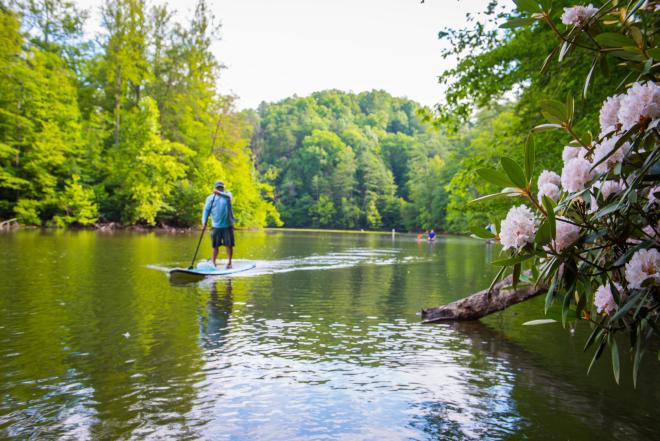 Virginia State Parks within Virginia's Blue Ridge are great places to experience calm waters for easy paddling. Consider Claytor Lake, Douthat, Fairy Stone, or Smith Mountain Lake State Park on SML.
Pigg River & Philpott Lake photos courtesy of Matt Ross - Franklin County Parks & Recreation 
MODERATE PADDLES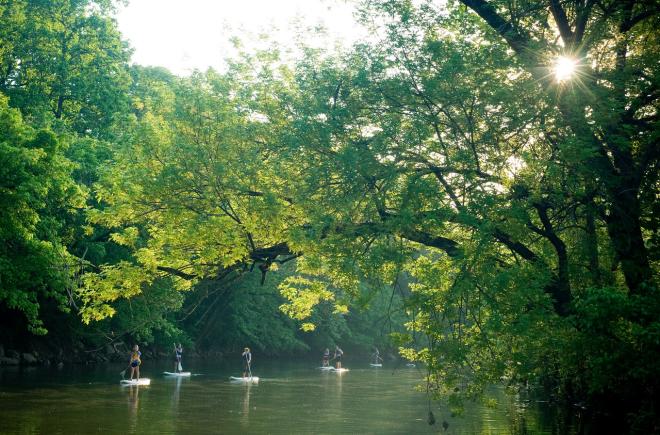 The 45-mile Roanoke River Blueway (pictured above) is a nice float and paddle for the most part, but you'll reach the gorge (off the Blue Ridge Parkway) and find Class II rapids waiting for you. Often called "Little Niagara," the gorge is a fun and accessible location to hone your skills before moving up to the bigger obstacles that await. Blueway Access Map >
You can also paddle the Roanoke River to Smith Mountain Lake by taking advantage of the Riverfront Area at Roanoke County's Explore Park. It's a 7 mile float from Back Creek to Hardy Bridge.
For another spot with easy access to the Roanoke River Blueway, check out the Tinker Creek Canoe Launch in the Town of Vinton.
As another James River feeder, Jennings Creek may look tame, but there are Class II and Class III rapids lurking. About 4.5 miles of them, actually. Have your game face on and paddle away.
In addition to Jennings Creek, the Jefferson National Forest offers a variety of other great creeks for moderate paddling. A few of our favorites include: Potts Creek, Catawba Creek, and Barbours Creek.
HARD PADDLES
After a nice, long rainfall, North Creek is another paddling option in the national forest that comes to life offering Class II-IV rapids for souls seeking an adrenaline rush.
The Cascades Recreation Area might be most well-known for its iconic waterfall hike, but Little Stony Creek that makes its way down from the falls is a an exciting adventure for advanced paddlers, featuring IV-V+ sections. 
Finally, the Class V. Bottom Creek that winds through Bottom Creek Gorge has some interesting stretches you'll want to tackle, but not alone. As you can see in the YouTube video above, be smart as this stream is extremely difficult to paddle. Find a knowledgeable guide to ride with the first time or two.
GUIDES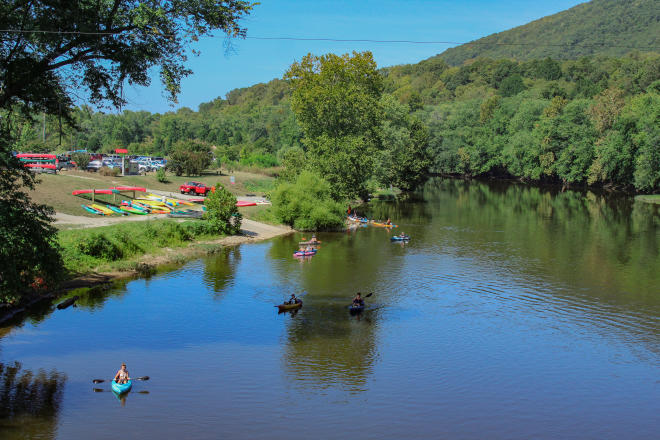 Twin River Outfitters (pictured above) is based in Buchanan and equipped with all you need to get started for your day on the water. They're also the authority on the Upper James River Water Trail.
Based in Roanoke, Roanoke Mountain Adventures can get you rolling on the Roanoke River with kayaks while also offering guide service. And our friends at Blue Mountain Adventures will help you get on the water with tubing & kayak rentals at Explore Park.
---
We love to see river adventures! Mount up with a GoPro and share your videos and pics using #Trailsetter to show off your lazy floats or incredible rapid slaloms. A bad day on the river beats a great day at work, right?
You can also get more ideas by checking out our sections on Water Sports and Fishing.