Most folks appreciate a moment in the great outdoors, but some of us are over-the-top thrill seekers. "Extreme" and "epic" are common adjectives in our daily speech. We strive to conquer the highest peaks, paddle the most wicked river runs, pedal the steepest singletracks, and do all of it faster and better than those who came before us. To you we say, welcome to Virginia's Blue Ridge.
Adrenaline junkies bent on one-upmanship will thrive on and around the mountains surrounding Roanoke, voted a Best Trail Town, Top Adventure Town, Best Mountain Town, and the U.S. East Coast Mountain Biking Capital. Come create an epic outdoor adventure.
While the Appalachian Trail is a bucket list item unto itself, Virginia's Triple Crown is another. Pair the two together for an unforgettable 32-mile loop in Virginia's Blue Ridge.
A steep and not simple 2.3 miles from Route 311 delivers willing hikers to Dragon's Tooth (pictured at the top of this post), the southernmost gem of the Triple Crown. The jagged quartzite jutting 35 feet into the air is the geologic formation you're bound for. Climb on up and enjoy the view.
On the opposite side of Route 311 is the white blazed trail to McAfee Knob, one of the most photographed locations on the Appalachian Trail. From Dragon's Tooth, it's a 7.5-mile hike to reach the McAfee Knob parking lot. Continue another 4.4 miles to reach the wide open view that awaits at the Knob. There are two shelters between Dragon's Tooth and McAfee Knob to set up camp for the night.
Tinker Cliffs is 5.5 miles on the Appalachian Trail from McAfee Knob and two additional shelters are available between the destinations. To close the loop, refer to our Triple Crown map.
More Adventures: 10 Great Hiking Trails in Virginia's Blue Ridge 
2. Carvins Cove Mountain Biking - Rattlin' Run & The Gauntlet | Roanoke
More than 60 miles of trails weave through Carvins Cove Natural Area Reserve, but thrill seekers are most interested in just under five miles of those 60: Rattlin' Run and The Gauntlet. These two trails are rated "Extremely Difficult," which means only a talented two-wheeler like yourself should speed, hop, and climb along these weaving, rocky paths. [Trail Map]
There are fairly easy, beautiful portions of the nearly 14 miles this loop covers, but don't be fooled by that statement. There are also incredibly gnarly climbs and a wicked 1,000-foot descent, plus moments where you might just hop off and go around. Bring your skills 'cause you're going to need them.
When the fish get so big you get a little excited, you know you're in good water. The Roanoke River is teeming with varieties of bass, trout and more. Some sections are delayed harvest and stocked trout waters. Bigger sport-sized fish are found closer to Smith Mountain Lake where the river widens and runs deeper. Expect to pull in catfish and striped bass in this portion of the river. The banks of the Roanoke River Gorge near Rutrough Point in Explore Park are another great spot to put in. Be sure to acquire the appropriate licenses before casting a line.
More Adventures: 13 Local Fishing Spots in Virginia's Blue Ridge
5. Paddling Bottom Creek | Bent Mountain
Bottom Creek is a rushing headwater tributary of the Roanoke River that features Virginia's second highest waterfall, the 200-foot series of falls called The Kettles. The Bottom Creek Gorge Trail is a popular hike that will lead you to see The Kettles, but it's the unexpected intensity of running the creek itself that yields the adrenaline rush you seek. 
American Whitewater (AW) says, "No other creek in Virginia compares to Bottom Creek," and they're right. Bottom is a solid Class V and you are strongly urged to take your first run with someone who has experience running Bottom Creek. "Kettles is nothing compared to the rest of the run … Bottom Creek Gorge is the real deal, and she should not be taken lightly," warns AW. Seriously, do your research on this one and seek a guide.
The TransAmerica Bicycle Trail (USBR 76) is 4,228 miles that connects the West and East Coasts of the United States. Section 12 is the most strenuous of the entire Route with regard to elevation changes. Virginia's Blue Ridge is within Section 12, spanning from Christiansburg to Botetourt County.
7. Hiking the Peaks of Otter – Sharp Top & Flat Top Mountains | Bedford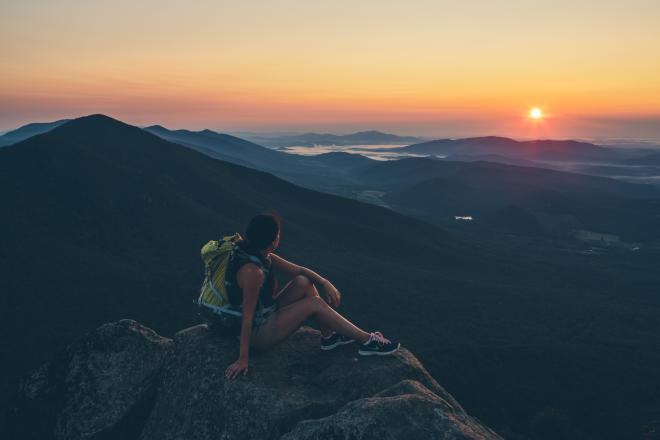 The two toughest trails at Peaks of Otter at Sharp Top and Flat Top Mountains. Located at milepost 86 on the Blue Ridge Parkway, the Peaks are known for their outstanding views, as well as their difficulty. To conquer both, allow a full day and be ready for more than 1,600 feet of elevation gain along the nearly 10 miles of trails. [Trail Map] 
A 70-mile out-and-back from Mill Mountain in Roanoke (milepost 120) to Peaks of Otter (milepost 86) is both stunning and serious. User Bill McLaughlin used MapMyRide to record his take on this challenging route. Check it out for elevation and grade details before you make the trip.
More Adventures: Must-See Spots on the Blue Ridge Parkway
The name delivers a shudder and the three-mile hike is intermediate; the challenge lies in climbing the huge boulder field that is Devil's Marbleyard. Just off the Belfast Trail in the James River Face Wilderness Area is the interesting rock-covered slope with white quartzite boulders that reach the size of a van. No joke! This may be one of the most serious rock scrambles you'll encounter in Virginia.
10. Off-Roading on Potts Mountain | New Castle
Virginia off-roading options are very few, but lucky you! Potts Mountain Jeep Trail is a prime destination. At more than 3,000 feet, the views are sick. TrailsOffRoad.com rates the trail at moderate-difficult (6-8) noting the 25-degree grades, potential 30"-deep water crossings, deep mud, and other obstacles. Only well-modified, rut-digging vehicles need apply.
---
More incredible outdoor adventure awaits. Check out our directory to find your perfect activity, and don't forget to tag your social media with #Trailsetter to show off your epic episodes.