Wrap up summer with a Labor Day Weekend vacation in Virginia's Blue Ridge Mountains. It's a great time of year to take in the beauty of the outdoors and experience the fun of a metro mountain adventure.
There are lots of unique things to do over Labor Day Weekend in Virginia's Blue Ridge, including a great selection of outdoor trails to explore, fun local museums & attractions for the entire family, an exciting arts & culture scene with special events and festivals, and delicious food & drink to quench your appetite.
Here's a guide to help you plan your Labor Day Weekend getaway to Virginia's Blue Ridge.
Things to Do on Labor Day Weekend in Virginia's Blue Ridge
Get on the Water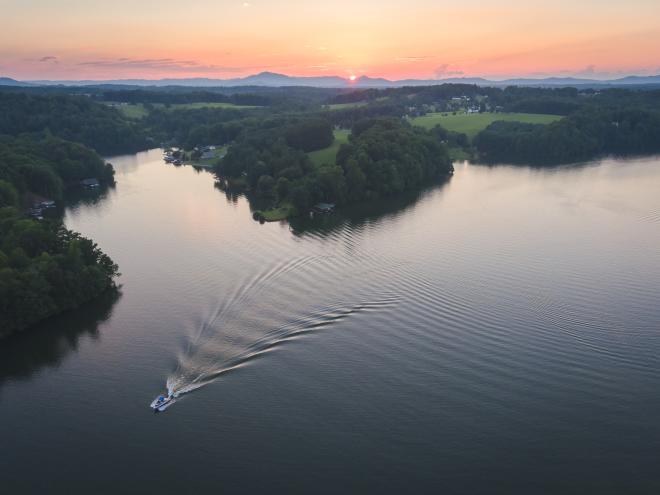 Labor Day Weekend is a popular time to get on the water in Virginia's Blue Ridge. You can head to Smith Mountain Lake Community Park in Franklin County and discover why Smith Mountain Lake (pictured above) is known as "the Jewel of the Blue Ridge" or find a more secluded adventure and see why many consider Philpott Lake in Franklin County to be a hidden gem.
For a fun paddling experience, take in the rich history and scenic beauty of the Upper James River Water Trail (pictured at the top of this page) and book a trip with Twin River Outfitters, which offers gear rentals & shuttle services for day trips or multi-day, overnight paddling trips with riverfront camping & glamping.
You can also discover why the Roanoke River Blueway was named the nation's "Best Urban Kayaking Spot," with multiple access points just minutes from Downtown Roanoke and fun options for paddling & tubing. Roanoke County's Explore Park also offers easy access to the Roanoke River and features waterfront camping sites that are perfect for a weekend in the mountains.
Learn more: Water Sports in VBR > 
Ride Your Bike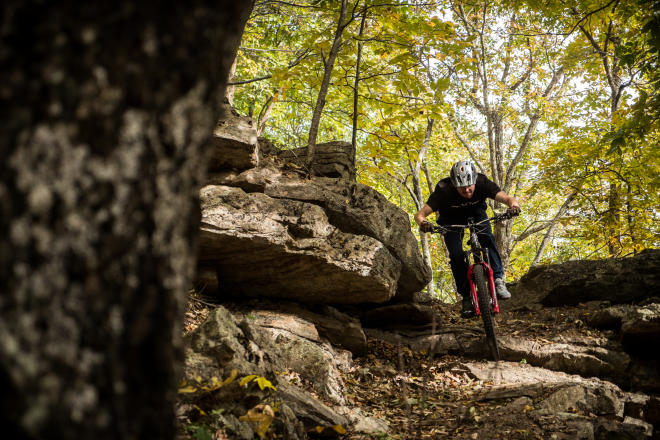 Discover why Virginia's Blue Ridge is known as America's East Coast Mountain Biking Capital and one of the premier cycling destinations in the country with a weekend full of exciting rides!
If you're interested in mountain biking, the Jefferson National Forest offers epic backcountry riding with the opportunities for long, challenging rides. See our pages about North Mountain (pictured above) and Arcadia for more information. For awesome riding that's a little more accessible, head to Franklin County's Waid Park and check out their dynamic trail system!
For those looking for options for family-friendly rides, the Roanoke Valley Greenway system features over 30 miles of trails (many paved) and they connect to local communities and places of interest. Roanoke Mountain Adventures is located along the Roanoke River Greenway and offers bike rentals that are perfect for greenway rides.
Learn more: Biking in VBR >
Waterfall Hike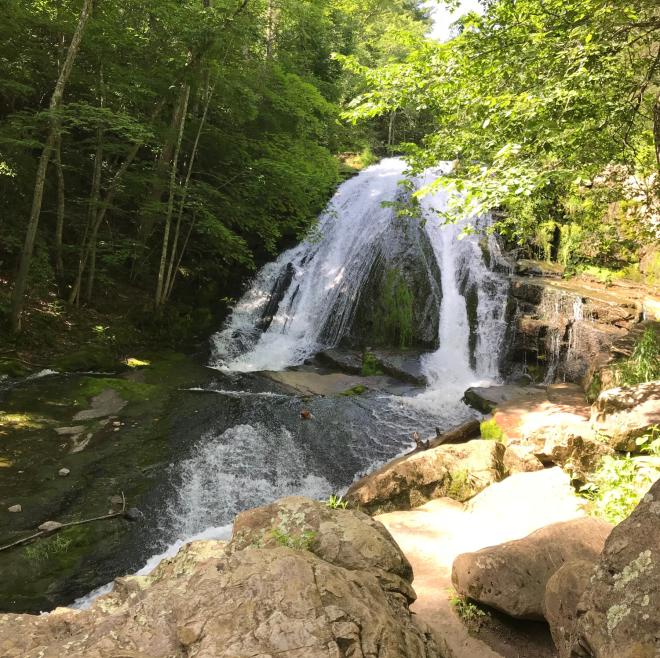 It's always a good time for a hike in Virginia's Blue Ridge, but Labor Day Weekend seems like the perfect opportunity to enjoy a waterfall hike.
Roaring Run Falls (pictured above) is located in the Jefferson National Forest in Botetourt County and is a great, family-friendly option with a relatively easy loop hike. If it's warm and you feel like getting wet to cool down, make your way down the natural waterslide that's along the trail prior to reaching the falls. 
Bottom Creek Gorge and Apple Orchard Falls are two other great waterfall hikes in VBR, though both trails would be considered more difficult to reach. Apple Orchard Falls is a fun option for those traveling along the Blue Ridge Parkway and can be accessed from the Sunset Field Overlook Parking Lot at Milepost 78.
Learn more: Waterfall Weekend Itinerary for VBR >
Local Attractions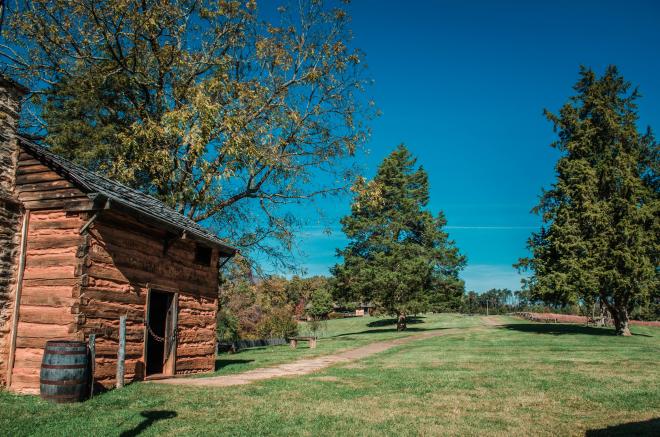 In addition to featuring over 1,000 miles of trails for outdoor adventure, Virginia's Blue Ridge is also home to a large collection of local attractions, museums, and historic sites.
During your Labor Day Weekend getaway, we recommend heading to Mill Mountain Park, where you can take a selfie at the iconic Roanoke Star, stroll through the Mill Mountain Wildflower Garden, and meet the adorable animals at the Mill Mountain Zoo.
Looking to keep the kids entertained? Everyone will love the variety of options at Downtown Roanoke's Center in the Square, which is home to the Kids Square Children's Museum, Roanoke Pinball Museum, Roanoke STARCADE, Science Museum of Western Virginia, and Harrison Museum of African American Culture.
To take the fun underground, head to Dixie Caverns in Roanoke County, one of the oldest caverns in Virginia and home to an amazing assortment of caves and geological formations.
You can also step back in time with a visit to the Booker T. Washington National Monument (pictured above) in Franklin County, the birthplace of one of the nation's most prominent African American leaders. The monument shows what life was like for Washington as he spent the early years of his life on the farm as an enslaved person.
Learn more: Attractions & Things to Do in VBR >
Explore the Arts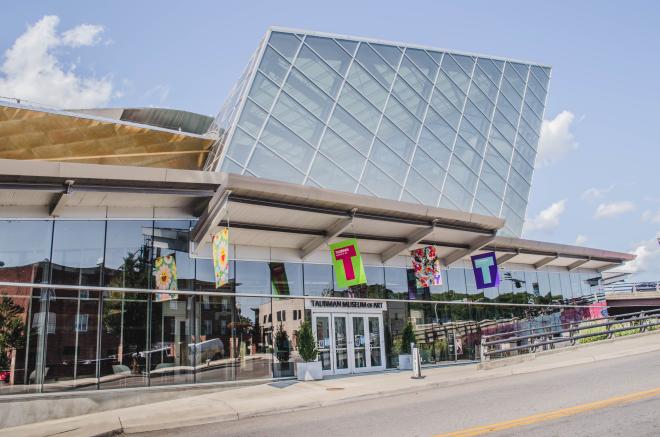 There are lots of opportunities to experience the arts in Virginia's Blue Ridge, which is on full display with lots of vibrant murals and public art displays, in addition to many local museums and galleries.
The Taubman Museum of Art (pictured above) in Downtown Roanoke is a striking symbol of the arts scene with the building's unique architecture and design, meant to reflect the landscape of the surrounding area. The museum offers free admission and showcases a great collection of special galleries and exhibits.
For a fun way to explore the many communities of the region, make your way to all the different LOVEworks art displays, which make for great photo ops and highlight lots of local businesses & things to do.
There's even an opportunity to enjoy art on two wheels in Roanoke by following the special Art by Bike route, a self-guided bicycle tour that was created by RIDE Solutions.
Learn more: Arts & Culture in VBR >
VBR Cheers Trail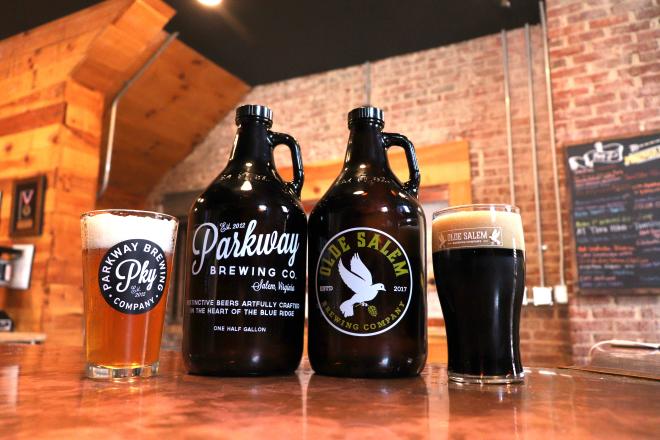 Whether it's at a local brewery, winery, distillery, or even just a local restaurant with a great selection of local brews, we love drinking local in VBR!
We invite you to sample the craft beverage industry by checking out the Virginia's Blue Ridge Cheers Trail, which is a collection of more than 25 local breweries, wineries, and distilleries. If you download the VBR Cheers Trail Passport, you'll receive access to exclusive special offers and discounts at participating locations, and we'll even send you a free Cheers Trail t-shirt after you check in at 5 different spots.
Labor Day Weekend Events in Virginia's Blue Ridge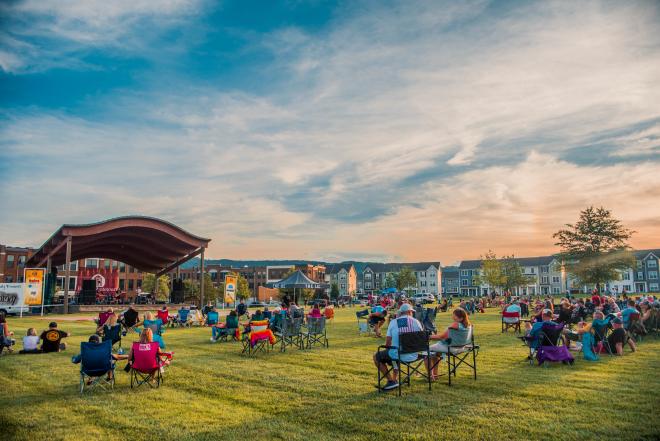 A preview of special events on the calendar over Labor Day Weekend in Virginia's Blue Ridge. 
Bee Gees Gold - Dr Pepper Park - September 2
Friday Night Jamboree - Floyd Country Store - September 2
Friday Nights at Beliveau Farm - September 2
Glow Cross - Fallon Park Cyclocross Course - September 2
Live Music on the Platform - Twisted Tracks Brewpub - September 2 & 3
The King of Mars - Big Lick Brewing Company - September 2
Smith Mountain Lake Live Music Festival - The Coves at SML - September 3
35th Annual Roanoke Valley Mopar Car Show - Salem Civic Center - September 3
Cruisin' Rocky Mount - Rocky Mount Farmers Market - September 3
Daleville Summer Concert Series: The Bogeys - Daleville Town Center (pictured above) - September 3
Camp Bethel Pep! 5K Run/Walk - Camp Bethel - September 3
Roanoke Disc Golf Circuit Challenge - Salem Memorial Ballpark - September 3
Sunset Saturday Music Series - Hickory Hill Vineyards & Winery - September 3
Sam Gyllenhall Band - Big Lick Brewing Company - September 3
VBR Sports Roanoke College Men's Soccer Invitational - Kerr Stadium - September 3-5
Learn more: Calendar of Events in VBR >
---
Book Your Stay
Virginia's Blue Ridge offers a variety of lodging options for an overnight stay, including historic bed & breakfasts, boutique hotels, and rustic cabins & campgrounds. Visit the following pages to learn more about different types of accommodations:
---
Looking for more information about what's going on in Virginia's Blue Ridge? Check out our Events Calendar for a complete list of events and give us a follow on Social Media, where we regularly post about special events and other exciting things happening in the region.
You can also subscribe to our monthly e-newsletter to receive updates about unique things to do and experiences in Virginia's Blue Ridge.