Whether you're living on a budget or simply strive to be frugal, these amazing outdoor recreational activities in Virginia's Blue Ridge won't cost you a dime; just the gas to get where you're going.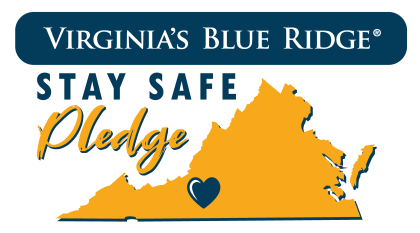 Pack a picnic, plenty of water, and sun protection for a sweet day outside.
You'll find adventures that are fun for the entire family or for the #Trailsetter who's opting to explore solo.
This list can serve as a great resource for those looking for free things to do in Virginia's Blue Ridge.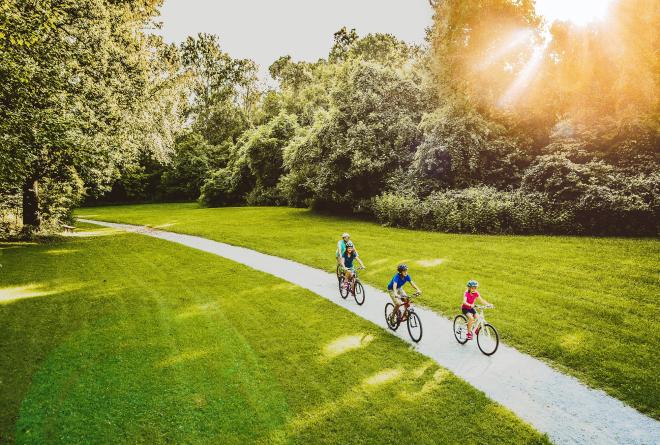 Park-like settings are connected by paths looping and winding through communities in Roanoke, Salem, and Vinton, taking in water, mountain, and city views along the way. Not all of these paths are connected, but all make for great walks and pretty easy biking.
Learn More: Greenway Maps > 
Are you up for a challenge? Devil's Marbleyard is a sprawling mountainside field of Antietam Quartzite boulders in the Jefferson National Forest. Access it near the James River from the Belfast Trail in Natural Bridge Station. Climbing will require sturdy shoes and the boulders are quite hot under the summer sun, but reaching the top (or anywhere near the top) will feel like quite a reward as you gaze into the valley below.
Trail Info: Devil's Marbleyard & Belfast Trail >
Natural Preserves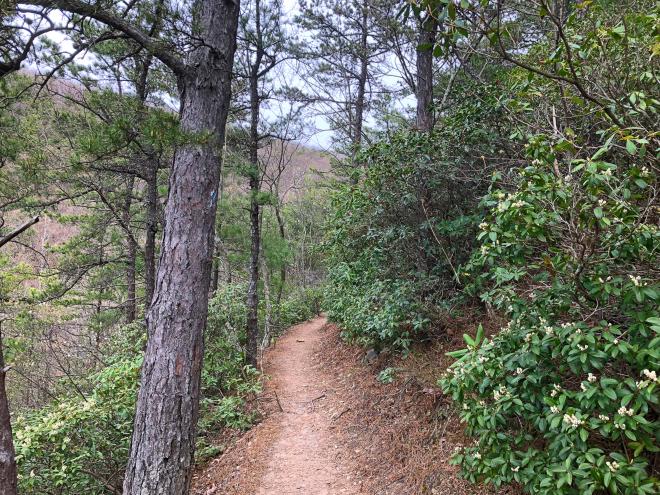 Seek the latest blooms, add a few more species to your bird count, or simply enjoy the views and experiences when you hike the trails of the natural area preserves in Virginia's Blue Ridge. 
Poor Mountain (3,928 feet; 933 acres) is known for its population of rare piratebush – the largest population in the world.
Grassy Hill (1,440 acres) used to be a more prairie-like setting than what you'll find today, which is a hardwood forest of oak and hickory varieties. Look up to the sprawling canopy to see the wide reach of some trees, which is indicative of the growing space a less forested area would allow.
Read Mountain (243 acres) is a mostly forested area with a 5 mile network of trails. Many visitors choose to conquer the 2 mile trail to the mountain's summit, known as Buzzards Rock, which offers one of the best views of the Roanoke Valley.
Trail Maps: Poor Mountain > | Grassy Hill > | Read Mountain >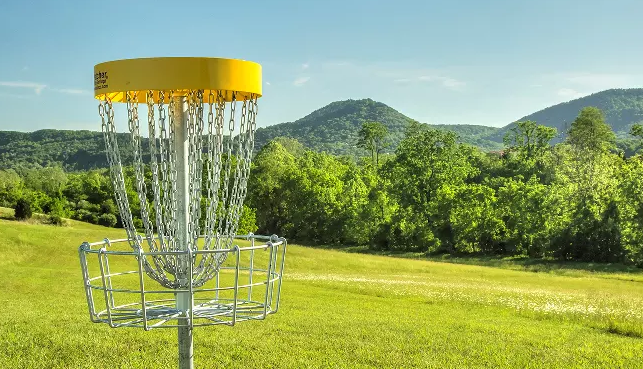 Frisbee is a fun game, but disc golf is big league. In fact, the discs used for disc golf are smaller and a bit heavier than a frisbee, which means it will fly farther. Oh, and the discs have names like golf clubs. It's a marriage of frisbee and golf in the coolest way: tee off to hit a basket in as few tries as possible, but with a disc you throw rather than a ball you hit. 
Try disc golf at Highland Park in Roanoke (9 holes), Greenfield in Troutville (18 holes), or Falling Creek Park in Bedford (36 holes).
Learn More: Disc Golf Courses >
Public Parks
A day at the park is what you make of it. Push the kids on a swing? Do it. Hike or bike a bit? Have at it. Throw out a blanket and read a book? I do, too! Parks are great for families, friends, and solo recreation. Stick in the air pods and rock on.
Learn More: Public Parks in VBR >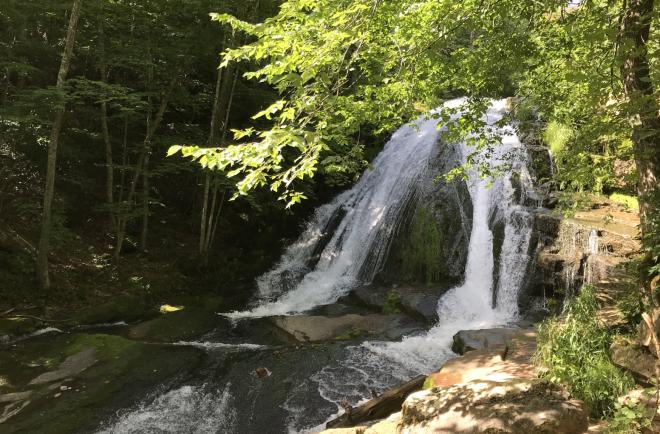 After a soaking rain, the waterfalls of Virginia's Blue Ridge show off. You'll want to watch your step and use caution if the streams are up, but we love these three waterfall hikes and think you might as well.
Roaring Run Trail in Eagle Rock leads to Roaring Run Falls, a picturesque spot good for splashing. 
Apple Orchard Falls is the highlight of Apple Orchard Mountain in Buchanan, and one of Virginia's tallest waterfalls. 
Bottom Creek Gorge in Bent Mountain is where you'll find Virginia's second highest waterfall at 200 feet. It's also the headwaters of the Roanoke River.
Learn More: Waterfall Hikes in VBR >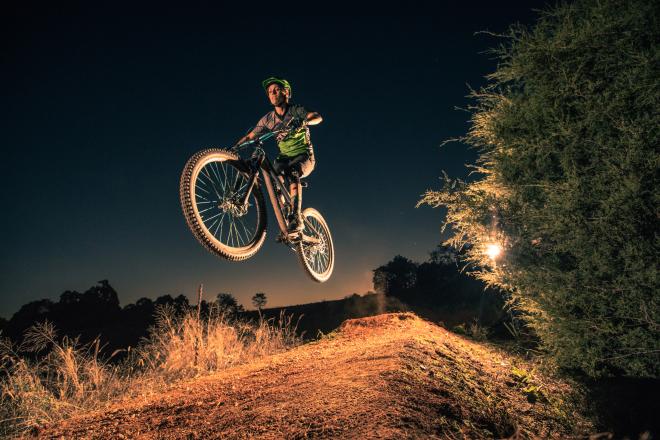 There are so many great mountain biking trails in Virginia's Blue Ridge (we're kind of known for it), so consider these two just the beginning. For an easy to moderate ride, check out Falling Creek Park in Bedford. There are 10 miles of trails and a skills course to brush up on your skillz. For a more difficult ride, consider North Mountain and North Mountain Trail, aka Dragon's Back. You'll tackle 31% grades if you pursue this 13.7-mile point-to-point beast.
Learn More: Mountain Biking in VBR >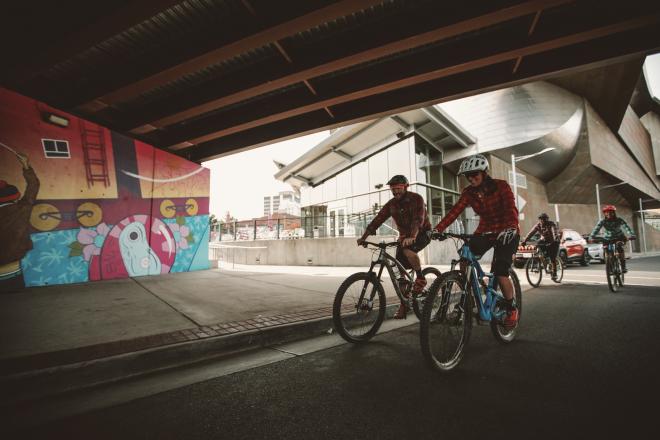 Road cycling is both great exercise and a great way to see and explore the communities of Virginia's Blue Ridge. Find a route using RIDE Solutions Self-Guided Routes. They're themed to introduce you to art, Flood of '85 sites, haunts, historic and endangered sites, and much more.
Learn More: Road Cycling in VBR >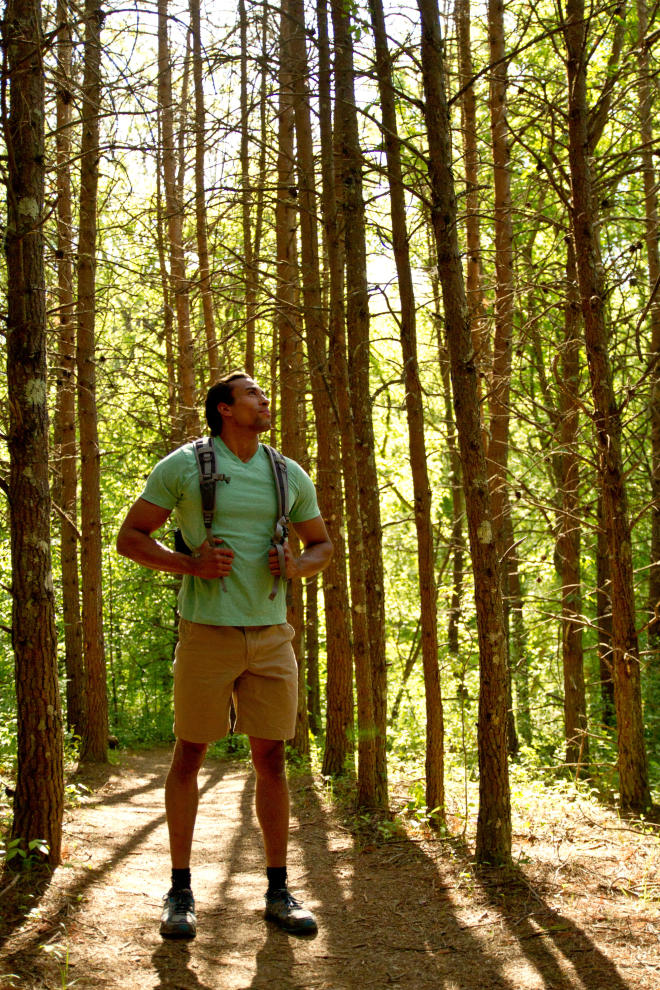 Supportive shoes, a walking stick, a water bottle, and a protein snack are the essentials for hiking a portion of the Appalachian Trail, which winds through Virginia's Blue Ridge. Consider picking up the AT from the AT kiosk in Troutville along Route 11 or perhaps you'd like to see our famous McAfee Knob? Part of Virginia's Triple Crown, McAfee Knob is one of the most popular hikes in our area. Take good care of it for us.
Learn More: Appalachian Trail Day Hikes >
 
Who said the outdoors need to be strenuous? Certainly not us. We love a good scenic drive. Meander our favorite – the Blue Ridge Parkway – and then interact however you choose to with places like Peaks of Otter and Mabry Mill, as well as scenic overlooks. History, trails, and even great meals await.
Note that portions of the Blue Ridge Parkway are closed for repairs due to recent weather events which have caused slides and roadway damage. See the real time road map for information.
Learn More: Scenic Mountain Drives in VBR >
---
Enjoy Responsibly
We encourage you to explore the outdoors of Virginia's Blue Ridge, but please be respectful of the environment and of other explorers. If trailhead parking is full, please seek another trail or come back another day.
Also, whatever you take on the trail MUST come back out with you. Remain on the trails. Hiking off-trail leads to soil erosion and is detrimental to the parks and natural preserves.