The combination of outdoor adventures and outdoor patios is the perfect way to be a #Trailsetter in the Blue Ridge Mountains.
We have over 1,000 miles of trails for incredible hiking, biking, and paddling, as well as awesome local restaurants and craft beverage businesses for a relaxing al-fresco experience.
Enjoy this special time of year with us in Virginia's Blue Ridge as you explore our great outdoors and cap your day with a drink and dinner on a patio.
---
Before You Go: As you explore the outdoors in Virginia's Blue Ridge, please remember to recreate responsibly. We recommend checking out The 7 Principles of Leave No Trace for more info on what you can do to help protect our public spaces and lands. 
---
Roanoke River Blueway and Roanoke River Greenway | The Green Goat and Wasena City Tap Room
Are you aware of how much outdoor rec there is to conquer within Roanoke city limits? As a start, consider renting a kayak from Roanoke Mountain Adventures and then set off for a few hours on the Roanoke River Blueway, a network of urban and country watershed. Or tackle the Roanoke River Greenway, a mostly level trail system perfect for walking, jogging, biking, and simply spending time in the outdoors. Bike rentals are available.
Toast the fun from the patio of The Green Goat or Wasena City Tap Room, both conveniently located along the Roanoke River and accessible from the Greenway. You can also enjoy a dole whip or Hawaiian shave ice at the newly opened Hang 10 Hawaiian Ice & Cream (open seasonally).
Resources - Blueway Map > | Greenway Map > | Green Goat Menu > | Wasena City Menu > | Hang 10 Menu >
Hanging Rock Battlefield Trail | Parkway Brewing Company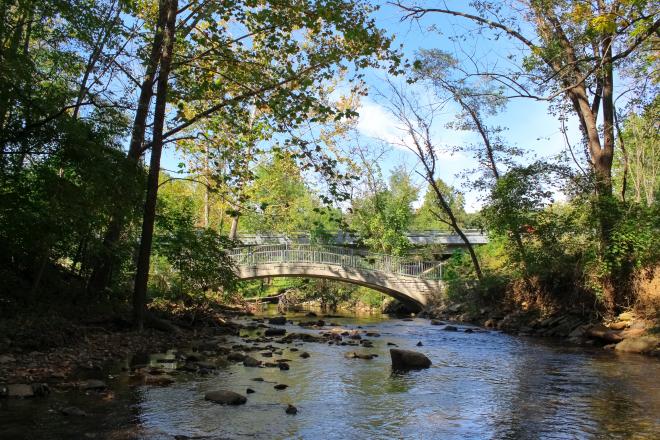 The Hanging Rock Battlefield Trail is narrow. It's a path, really, and you'll find it in Salem and Roanoke County with historical markers to educate you on the Civil War Battle of Hanging Rock as you go. Walk, run, or bike this 1.7 mile stretch along Masons Creek and then tip back a Majestic Mullet Kölsch or Get Bent IPA at Parkway Brewing Company (patio pictured at the top of this post). Local food trucks are often available and live music is, too.
Resources - Hanging Rock Trail Map > | Parkway Brewing Beer List >
Falling Creek Park | Beale's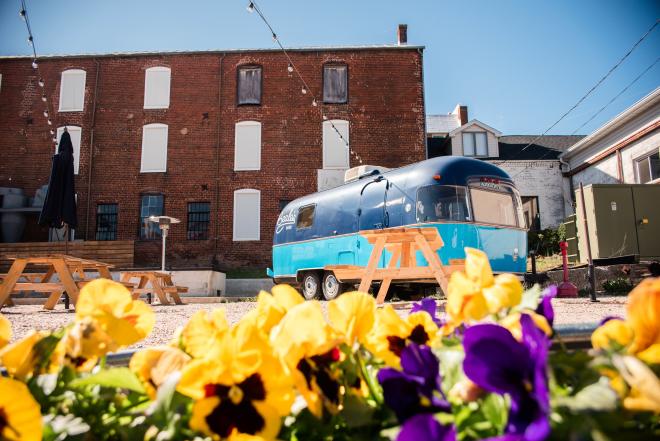 Bedford's primary place to play is Falling Creek Park, and you're invited to enjoy it yourself. Try a challenging round of 36 holes of disc golf or show off your stunts at the BMX course. Kids love a playground, of course, and there are trails for hiking and biking.
Nosh on brisket nachos at Beale's but save room for The Mac Attack – a burger loaded with mac and cheese, American cheese, and hot sauce. It's overload but it's worth it. Pair it all with a pint of Gold, the Beale's version of a Munich Helles Lager.
Resources - Falling Creek Park Trail Info > | Beale's Menu >
Hay Rock | Three Li'L Pigs BBQ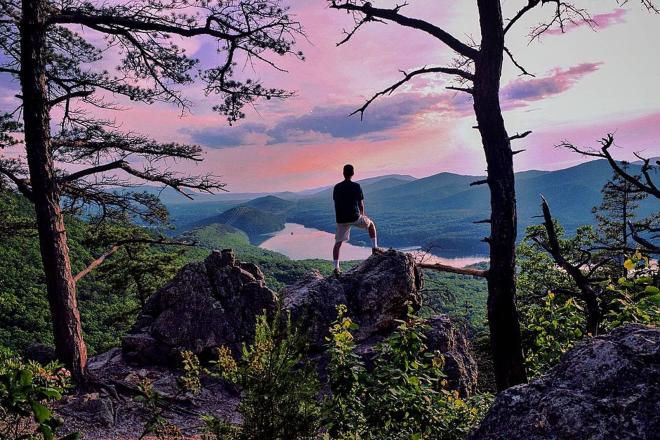 Hay Rock Overlook Trail is also known as Tinker Ridge, and it's the best aerial view of Carvins Cove Reservoir one could hope to get. The hike to Hay Rock is considered moderate and is an 8-mile round trip on the Appalachian Trail.
This one is sure to work up an appetite, so a trip to Three Li'L Pigs BBQ for a rack of ribs is definitely in order. Their patio and deck are spacious to allow for plenty of distance while you dine.
Resources - Hay Rock Trail Info > | Three Li'L Pigs BBQ Menu >
Roaring Run & Hoop Hole | Blue Ridge Vineyard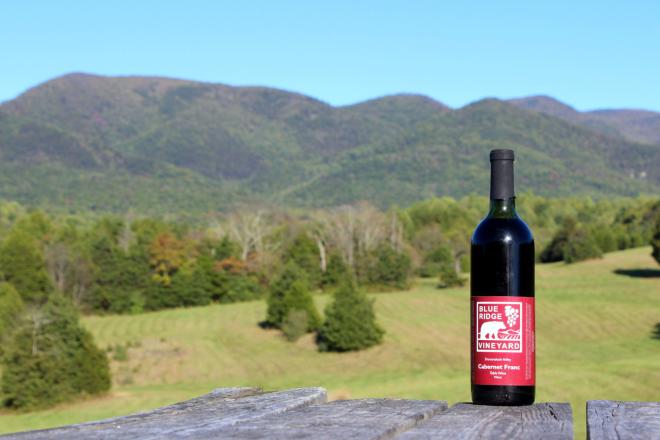 If you love waterfall adventures, Roaring Run is one for your list. It's a family friendly hike and you're likely to find a fisherman and certainly a leashed dog or two. Take time to check out the old iron ore furnace along the route.
If you prefer exploring on two wheels, hit the Hoop Hole Trails, a hidden gem for mountain biking in the Jefferson National Forest. Warning: Combining the Upper and Lower trails at Hoop Hole will create for a very challenging ride that will likely include a few hike-a-bike sections.  
Afterward, reward yourself with a stop at Blue Ridge Vineyard where there is plenty of space to spread out and enjoy a picnic with a bottle of their wine. Their mountain views are among the best around.
Resources - Roaring Run Recreation Area > | Hoop Hole Mountain Biking > | Blue Ridge Vineyard Wines >
Bridgewater Marina | Mango's | Ice Cream Cottage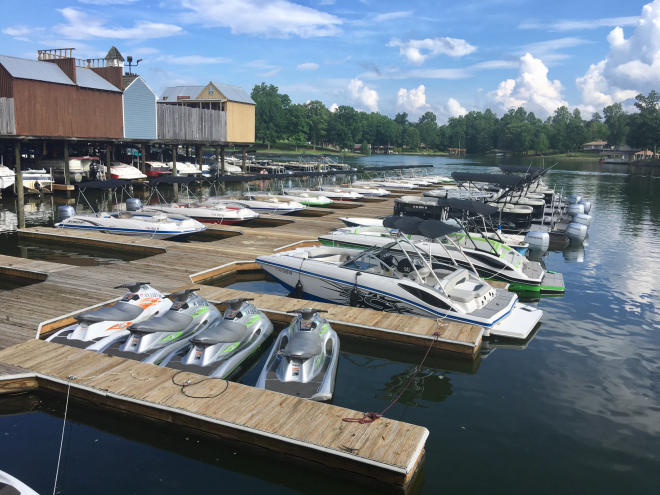 Launch a day of water fun from Bridgewater Marina. Rent a pontoon or jet skis and don't forget your sunblock. Cruise the coves, fish, or simply soak up the sun at Smith Mountain Lake for the day.
Lunch or dinner on the water is an obvious choice, and it just comes down to what you have in mind. Mango's Bar & Grill at Bridgewater Marina is an easy choice and has live evening music most weekends. For a sweet treat, go grab a scoop at the Ice Cream Cottage and then find a spot on one of the nearby outdoor tables.
Resources - Bridgewater Marina Boat Rentals > | Mango's Menu > | Bridgewater Plaza >
Mill Mountain Park | Sweet Donkey Coffee | Fork in the Alley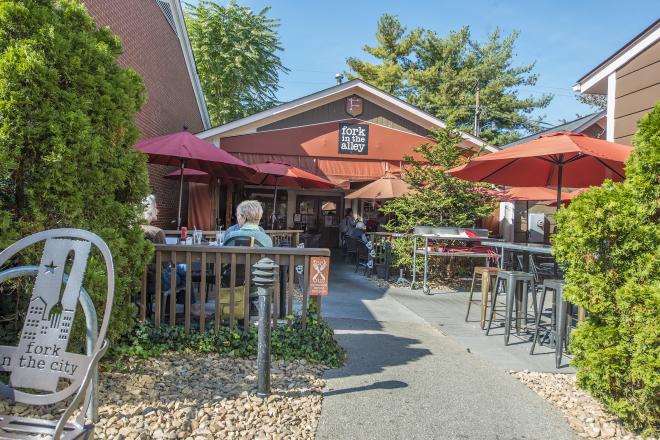 What's your pleasure? Mountain biking, hiking, or simple nature explorations with the kids are all possible at Mill Mountain Park. Do take time to check out the Roanoke Star if you have never done so. Looking into downtown Roanoke from the top of the mountain is something you won't forget. You can also go meet our furry friends at Mill Mountain Zoo, including the adorable red panda and family of red wolves.
Sweet Donkey Coffee is the place to go for house-made yogurt, buttermilk waffles, soups, quiche, and lighter fare, not to mention the ahhmazing coffee. Enjoy it on the porch or in the yard; Sweet Donkey is found inside a 1920s home, so keep an eye peeled when looking for it.
Fork in the Alley is an old carriage house-turned-wood-fired-pizza-joint everyone will love. Don't worry, there's more than pizza to choose from the ambiance of the patio is like none other. The Southern Fried Chef salad is no joke awesome, especially with the avocado lime vinaigrette.
Resources - Mill Mountain Park Info > | Mill Mountain Zoo > | Sweet Donkey Menu > | Fork in the Alley Menu >
Carvins Cove | Lews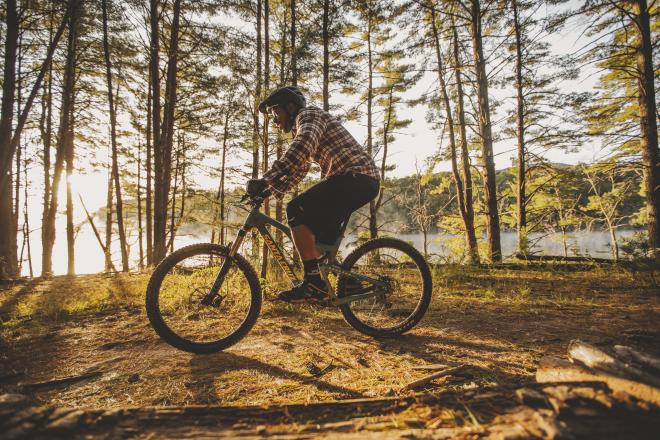 Carvins Cove Natural Reserve is Roanoke's gem of an outdoor playground. At 12,700 acres with a 630-acre reservoir, it's the perfect place to play. Mountain biking is serious at the Cove with nearly 60 miles of trails, but you can also fish or paddle the reservoir, just don't swim; that's a no-no.
Whichever activity draws you to Carvins Cove, we feel sure the patio at Lews will draw you back out. Lews is a laid-back place to enjoy a sub, burger, or pizza, though they did win "Best Wings" at the 2019 Wingfest. We like the boneless buffalo with ranch. How do you take yours?
Resources - Carvins Cove Info > | Lews Menu >
Bottom Creek Gorge | AmRhein's Wine Cellars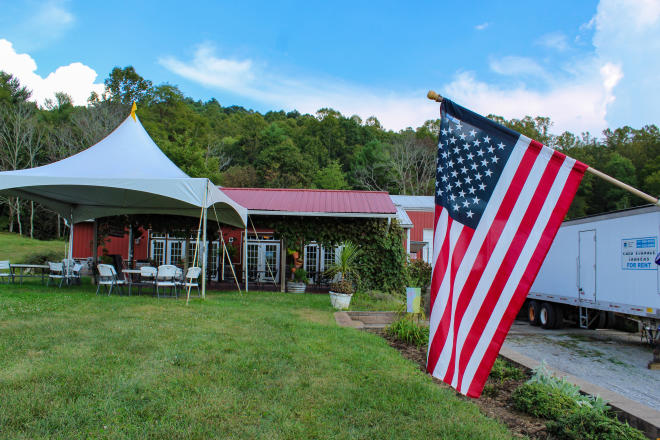 Stay on the path and seek out Virginia's second highest waterfall at Bottom Creek Gorge. Tread lightly and observe only. These headwaters of the South Fork of the Roanoke River are teeming with several rare fish species. Fishing and dogs are prohibited from this natural preserve. 
Discuss your observations over a wine flight at AmRhein's Wine Cellars. If you find one you like, purchase a bottle to enjoy outside on the veranda. Picnics are welcome.
Resources - Bottom Creek Gorge Trail Info > | AmRhein's Wine Cellars >
Explore Park | Twin Creeks Brewpub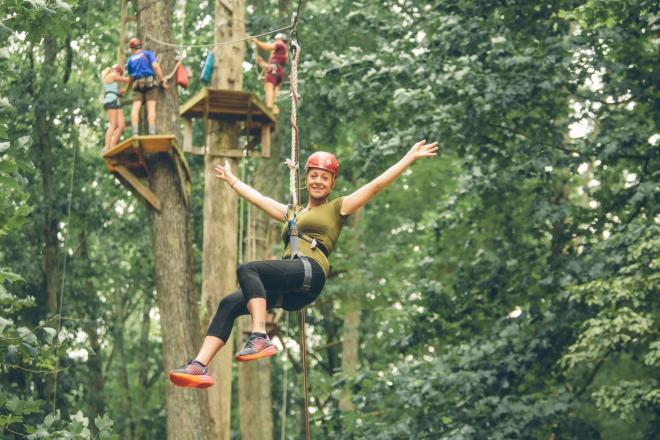 Roanoke County's Explore Park is full of outdoor adventures for the entire family. Zip-line through the forest at Treetop Quest and its aerial adventure course, access the Roanoke River, spend the night at one of the campsites or cabins, and have your camera ready for spotting birds and wildlife along the network of trails.
You won't even have to leave the park for delicious food & craft beer as the Twin Creeks Brewpub is located within the park and is open on weekends!
Resources - Explore Park > | Treetop Quest > | Overnight Lodging > | Twin Creeks Brewpub >
Waid Park | Twin Creeks Distillery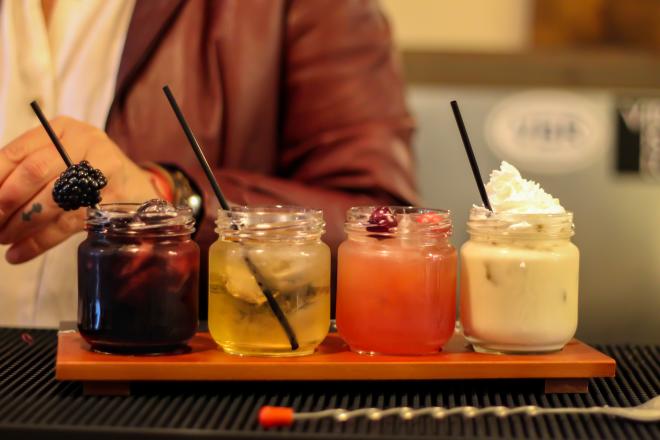 Waid Park is quickly becoming one of the must-ride spots in America's East Coast Mountain Biking Capital and they're constantly adding to their impressive network of trails. There's also water access to the Pigg River Blueway for fishing and paddling.
A visit to Franklin County should absolutely include an introduction to how it became known as The Moonshine Capital of the World, and there's no better place to do that than with a stop in the Town of Rocky Mount at Twin Creeks Distillery, where craft spirits production has been a family legacy for generations.
Resources - Waid Park Trail Map > | Twin Creeks Distillery >
---
Map of Locations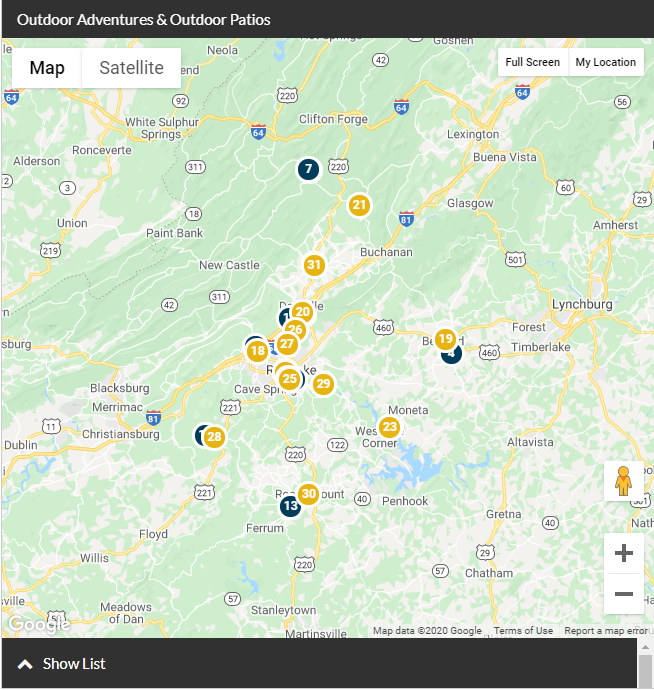 ---
Tolkien was on to something when he said, "not all those who wander are lost," and we'd like to think wandering is perhaps a way of finding oneself.
We invite you to wander with us in a quest we call WanderLOVE. Reconnect, discover, and seek meaningful moments with those closest to heart in Virginia's Blue Ridge.