One of the great treasures of Virginia's Blue Ridge is Explore Park, an 1,100-acre destination at Milepost 115 of the Blue Ridge Parkway and situated along the Roanoke River in Roanoke County.
Many people enjoy mountain biking (even with kids), some enjoy a stroll along one of the trails, and still others visit for the historic buildings. For other outdoor adventures, you can take advantage of access to the Roanoke River Blueway and the Treetop Quest aerial obstacle course, which includes zip-lines! 
Shucks, some are so smitten with the park that they discover it's the perfect setting for a wedding.
A relatively recent addition to Explore Park is camping and overnight lodging, and there are now more opportunities than ever to get outside and be one with nature.
From the usual RV and primitive tent sites to amenities like pod cabins, and riverside platforms, it's highly likely your ideal camping experience can be had at Explore Park in Roanoke.
Camping at Explore Park is available all year with December through March considered "off season" for the rate schedule.
Pod Cabins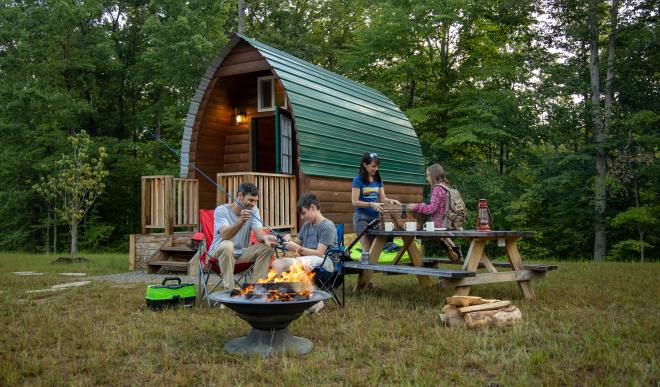 Arch shaped and reminiscent of a Hobbit house (just not in the side of a hill), the pod cabins (pictured at the top of this post) are more spacious than you might imagine. Heat and air are provided for the four-person shelter, and there's also a microwave, refrigerator, and coffee maker inside. Linens are not included but can be rented.
Reserve Your Spot >
Yurts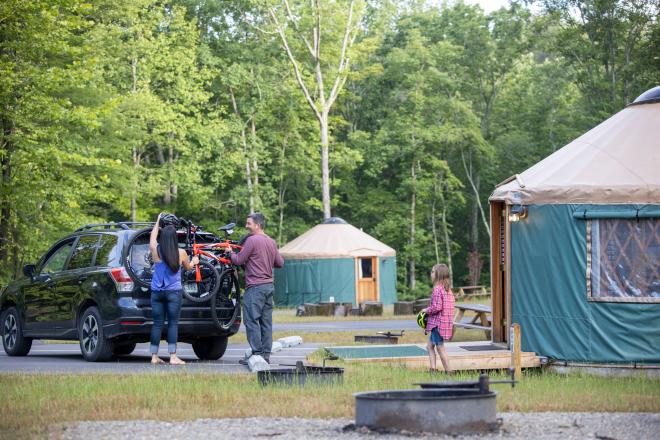 Yurts have grown in popularity and are perhaps the finest accommodation at Explore Park. Complete with a bathroom, each yurt sleeps up to six people thanks to a queen bed and a three-level double bunk bed. You'll feel fine in the summer with air conditioner provided, and there's a kitchenette with coffee maker, refrigerator, and microwave. Linens are not provided but may be rented.
Reserve Your Spot >
Primitive Camping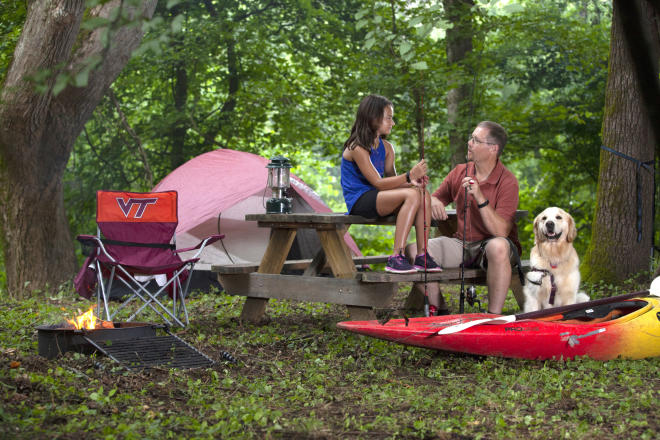 Go ahead and pitch a tent for yourself or a group at one of the primitive camp sites. A picnic table and fire pit are available at each one.
Reserve Your Spot >
Treetop Platform Camping
The treetop platform sites are an excellent way to elevate your camping experience in Virginia's Blue Ridge! Set up your tent for a treehouse style feel and enjoy the sounds of the nearby Roanoke River.
Reserve Your Spot >
RV Sites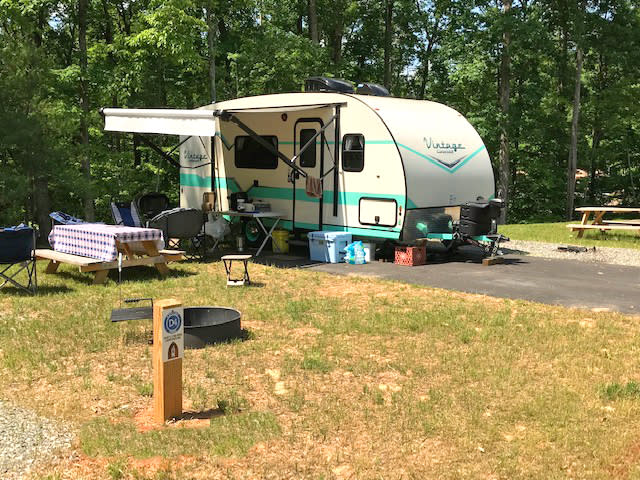 The RV sites at Explore Park are 12-foot by 35-foot and have 50 amp electric. None of the sites offer water or sewer but there is a nearby spigot that you can tap to fill a pot for cooking or brushing your teeth.
Reserve Your Spot >
On-Site Activities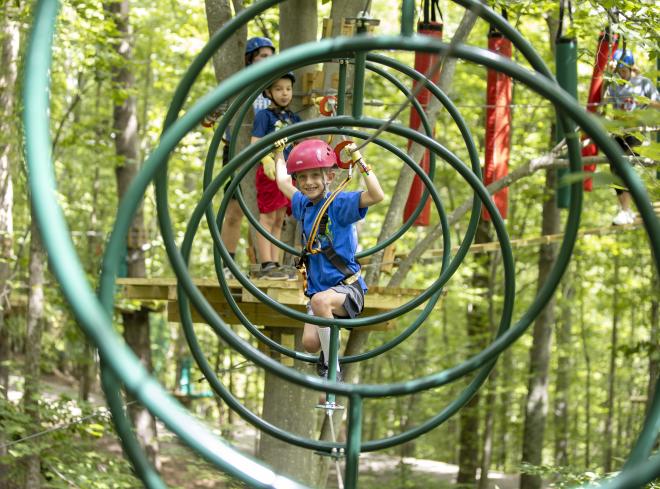 Make the most of your visit at Explore Park by utilizing park amenities and taking advantage of local partnerships.
Are you ready to book your camping date at Explore Park? Proceed to registration to secure your site.