Our Must See Main Street series has circled around and finally landed in Roanoke, the Star City of the South and bustling hub of Virginia's Blue Ridge.
Roanoke is known for the star shining bright from Mill Mountain, railroad history, and the historic city market, which is nearly as old as the city itself. Get to know the city once called "Big Lick," and enjoy all the entertainment, craft beer and food that Downtown Roanoke has to offer.
A vital center of commerce from its inception through today, the Historic Roanoke City Market is where you'll find the best fresh produce, cheeses, meats, and other agricultural wares Virginia's Blue Ridge has to offer, not to mention beautiful art, fiber goods, flowers, and plants. 
Approximately 40 vendors are eligible to sell on the Market and at least 10 are present on any given day. The Market operates daily all year, with the exception of Christmas and New Year's.
If there's one stop to make in Roanoke to get the most out of a visit, Center in the Square might be it. This is where you'll find multiple museums, the Mid Atlantic's largest coral reef aquarium, theatre, and a killer view from the rooftop. Even families who live in the area love Center in the Square for the special events and hands-on activities for kids.
Catch a fun show at Mill Mountain Theater's Trinkle Mainstage, or spend an hour or two challenging each other at the Roanoke Pinball Museum. Both are inside Center in the Square.
This architectural highlight hosts some of the most renowned artistry of our time or any time, bringing in exhibits of works by Tsukioka Yoshitoshi, Sally Mann, and Norman Rockwell. Upcoming exhibits include American Impressionism in the Garden with pieces by William Merritt Chase, Childe Hassam, and John Singer Sargent. Taubman's permanent collection is comprised of 19th and 20th century American art. 
Bringing the kids? Great! They'll love Art Venture, an interactive space to get hands-on with art. It's for ages 2 to 12. And the best part of all? General admission for Taubman is free!
Roanoke is often called the Festival City, and Elmwood Park is one of the main reasons why. Many of our popular festivals are held here, as are concerts at the amphitheater. In the winter, Roanoke residents and visitors love Elmwood on Ice, a skating rink. Visit any time of the year and you'll find some fun at Elmwood Park.
Shops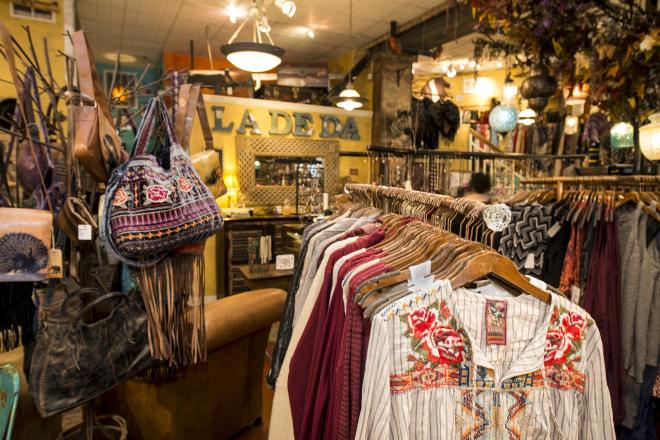 Sweet boutiques are nestled here and there in downtown Roanoke. The vast majority are independently-owned small businesses, which means their customer service is always top-notch. Browse through and find something you love!
Bars & Nightlife
Roanoke's nightlife is renowned. Without a doubt, there's not another city in western Virginia with as much entertainment and late night food and drink options as Roanoke.
International Cuisine
Don't be fooled by the beautiful mountains that surround Roanoke; we're not an isolated city that only slings comfort food, though we certainly do have some of the best. Your palate will be pleased with our international food scene.
---
What are you waiting for? Go ahead and book your room for a weekend in Roanoke in Virginia's Blue Ridge. We have more than enough to keep you busy and plenty of reasons to return…often.
Subscribe to receive updates from our blog and you'll quickly gather a long list of things to see and do. You're going to love it here!