Roanoke's architecture is varied and somewhat unexpected for those traveling past downtown via Interstate 581. In fact, my young children recently began asking questions about the buildings they see, like the striking sharp, sweeping angles of the Taubman Museum of Art, the commanding Gothic presence of St. Andrew's Roman Catholic Church (which I believed was Cinderella's Castle when I was a little girl), and of course, the sprawling Tudor-style Hotel Roanoke.
Called "The Grand Old Lady," the Hotel Roanoke was an 1880s endeavor by the Norfolk and Western Railway (now Norfolk Southern Corporation) and was more Queen Anne style than the Tudor style you see today. The 34-room accommodation opened its doors Christmas Day 1882. 
According to the history section of the hotel's website, Norfolk & Western invested in the property as a key part of the city's growth:
Built in a wheat field on a little hill, the Hotel Roanoke began as a rambling wooden structure of less than three dozen rooms. As the city grew, the railroad consistently provided resources for hotel additions, remodeling and furnishings to maintain the Hotel's reputation for excellence. Even in the Depression year of 1931, the railroad spent $225,000 for a wing with 75 rooms, a 60-car garage and such "modern" amenities as circulating ice water, movable telephones and electric fans.
Mountain Highs & Valley Lows
What would a historic gem like the Hotel Roanoke be without a series of tales to tell? The first tragedy was a July 1898 kitchen fire that not only shuttered the doors but prompted a "Phoenix" moment with restoration and additions completed in seven short months. The hotel reopened in January 1899.
According to the Virginia Department of Historic Resources (DHR), "the original hotel, rebuilt in 1899 following a fire, was demolished for the present structure"…a surprising fact for most. What DHR calls "the dominant portion" dates to 1938 with the wings dating to 1931, 1946, and 1954. The doors were shuttered once more in 1989 and Virginia Tech Real Estate Foundation assumed ownership from Norfolk Southern Corporation for $65,000. 
After a six-week 1992 "Renew Roanoke" campaign to reopen the hotel raised more than $5,000,000, N&W donated $2,000,000 to give the project a hyper boost. Extensive restoration and fresh vision breathed life into the hotel, and the addition of a conference center and over-the-rail pedestrian bridge made it a "new" destination for meeting planners in Virginia's Blue Ridge.
With that, the Historic Roanoke Hotel & Conference Center reopened in 1995 under the management of DoubleTree and was added to the Virginia Landmarks Register the same year. The following year found the property recognized as a National Historic Landmark. Visitors can find the historical marker in the circle drive of the main entrance.
>> Peruse a Gallery of Historic Photos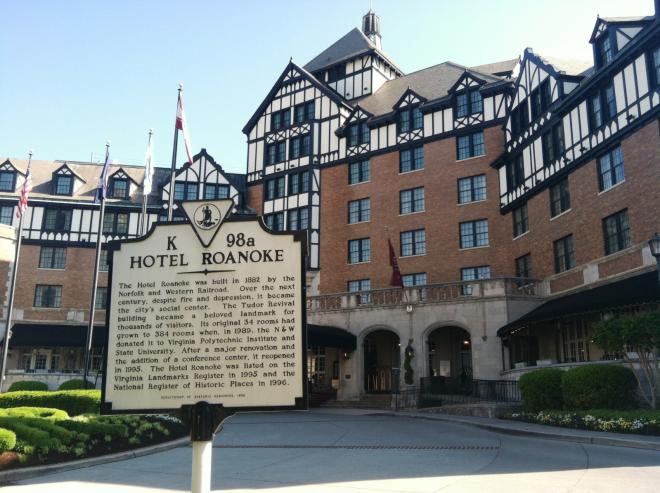 Curio – A Collection by Hilton 
The Hotel Roanoke & Conference Center is part of the Curio Collection by Hilton, its first Virginia property. At the hotel's unveiling as part of Curio, Dianna Vaughan, global head of Curio – A Collection by Hilton, remarked, "As a landmark with deep roots in the Roanoke community, this magnificent hotel perfectly embodies the Curio spirit of individuality and authenticity."
From Hilton's United States Securities and Exchange Commission annual report for the fiscal year ending December 31, 2018, Curio Collection by Hilton is described as a brand "created for travelers who seek local discovery and one-of-a-kind experiences. The collection is made up of hand-picked hotels that retain their unique identity or story, featuring elevated food and beverage experiences…" 
>> 10 Luxury Suites for a Romantic Getaway to Virginia's Blue Ridge

Okay, but Who's Stayed There?
Funny you should ask, as it's a list worth sharing. Political figures, entertainers, and influential minds have rested their heads at The Hotel Roanoke. To name a few…
Presidents
Dwight D. Eisenhower (34)
Richard M. Nixon (37)
Gerald R. Ford, Jr. (38)
James E. Carter, Jr. (39)
Ronald W. Reagan (40)
George H. W. Bush (41)
Entertainers
Aerosmith
Mahalia Jackson
Jerry Seinfeld
George Takei
Kevin Hart
Wayne Newton
Influential Minds
Henry Ford
Thomas Edison

Awards and Accolades
The Hotel Roanoke and The Regency Room restaurant have been awarded the AAA Four Diamond Award. The hotel is also a member of Historic Hotels Worldwide®, "a prestigious collection of more than 360 of the finest historic treasures," and a member of the International Association of Conference Centers. The Regency Room has also been named one of The 100 Best Brunch Restaurants in America by OpenTable.
Learn more about The Hotel Roanoke & Conference Center or order a copy of Peanut Soup and Spoonbread: An Informal History of Hotel Roanoke by Donlan Piedmont.
---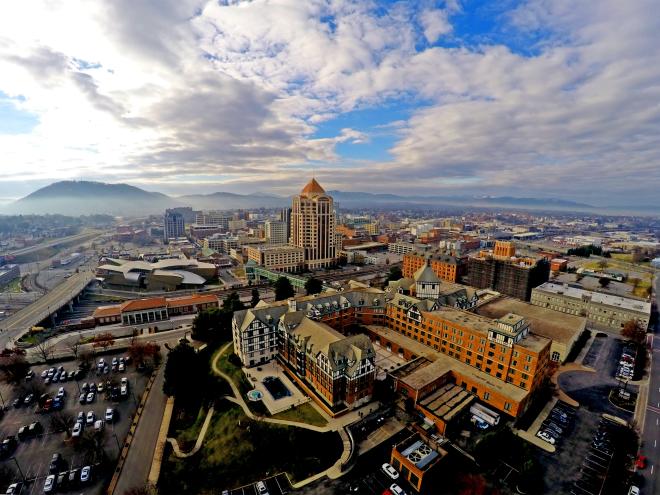 Roanoke's existence is in part thanks to its rail history, and The Hotel Roanoke & Conference Center is a foundational piece of the story. From Sunday Brunch to halls of glorious Christmas trees, The Hotel Roanoke is not only a destination for visitors, but a crown jewel for residents of Roanoke and Virginia's Blue Ridge. 
Be sure to share your Hotel Roanoke experience with us by tagging us on social media and adding #Trailsetter to your posts.
Next Step: Book Your Stay with a Vacation Package at The Hotel Roanoke & Conference Center >