Every city has a hidden gem or two, and Grandin Village happens to be one of Roanoke's prized treasures. Bursting with lively culture and creative spaces, it also boasts historic Grandin Theatre, an iconic centerpiece of the historic district.
A Bit About Grandin Village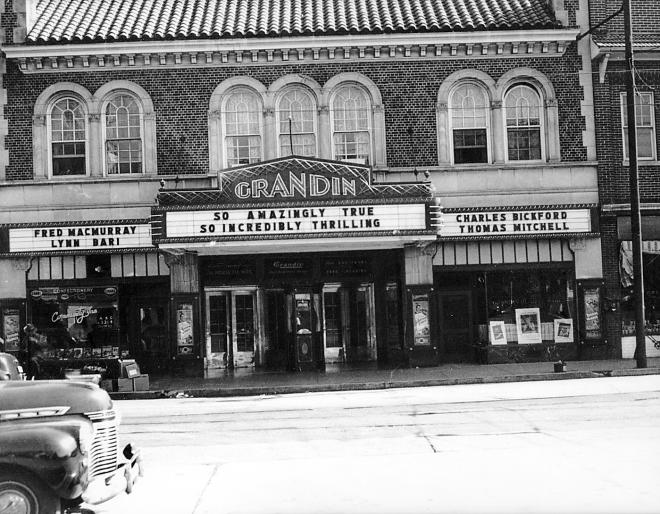 The area now known as Grandin Village was previously known by the surrounding neighborhoods of Virginia Heights and Raleigh Court. The community had its own one-room elementary school by 1907 and entry into downtown Roanoke via the streetcars of the Roanoke Street Railway Company by 1911 (some sources say 1915). Access across the Roanoke River and into downtown by a faster mode of transportation was a boon for the community and it soon became a bustling center for shopping and industry.
Very quickly public services came to the neighborhoods with the establishment of #7 Roanoke City Fire Station in 1922 and the Roanoke City Public Library in 1927. The library moved into a quaint Tudor style building in 1931 and occupied it for 25 years. While the fire station is still a fire station, the 1931 library location is now a cool spot for visitors and residents with a sweet tooth. Pop's Ice Cream & Soda Bar opened in 2006 and has the nostalgic, retro soda fountain vibe we know you're hoping for. Cane syrup sodas, floats, shakes, sundaes…Oh yeah! It's all that and more. 
>> Must See Main Street: Historic Grandin Village

History of Grandin Theatre
One of the prizes to come out of the fast growth of Virginia Heights/Raleigh Court was the Community Theater, now known as Grandin Theatre. Designed in an eclectic mix of Spanish Colonial, Colonial Revival, Italian Renaissance, and Classical Revival styles by Eubank & Caldwell and built in 1931, the "suburban movie house" opened in 1932 with a showing of "Arrowsmith" starring Roland Colman and Helen Caldwell. Tickets were a mere 25 cents for an adult and 10 cents for a child. Those were the days, huh?
As a movie house, the Grandin Theatre has closed a few times. The first was in 1976 but Mill Mountain Playhouse (now Mill Mountain Theatre) made it a home for their stage productions. In 1983 the Theatre changed ownership and once again screened films and hosted concerts by the likes of Ray Charles and John Lee Hooker. Unfortunately, that period was short lived; the Grandin of '83 closed in '85 due to financial issues.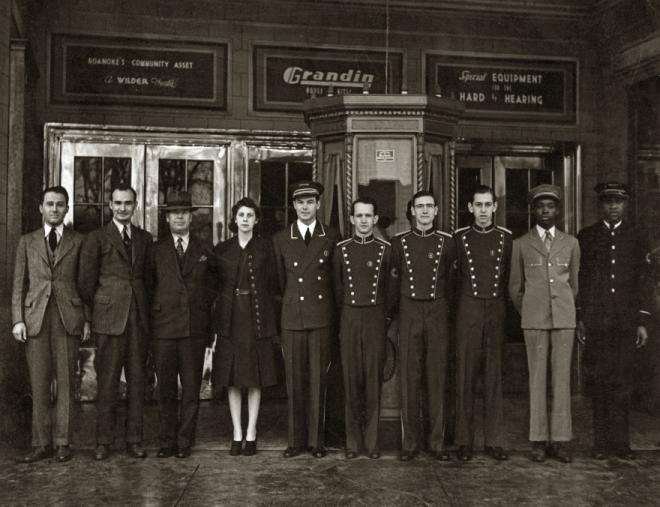 In 1986 a new owner tried again and landed some big-name help to boost interest and dollars. Scenes from Dudley Moore's "Crazy People" were set at Grandin in 1989. In 1990 Bill Murray took a quick hiatus from filming "What About Bob?" at Smith Mountain Lake to host a benefit for the struggling theater. The peaks of both interest and money were short and sharp.
In October 2001 the Grandin Theatre Foundation was formed. In less than a month the theater shuttered its doors on November 11, 2001. The title of the flick that night was fitting of the occasion…"The Last Picture Show." With a goal of purchasing and revitalizing the iconic building, the Grandin Theatre Foundation dug deep to surface capital. Successful in their endeavors, the doors opened once more on October 20, 2002 with the French film "Mostly Martha." Soon after, the Grandin Road Commercial Historic District was added to the National Register of Historic Places. 
Grandin Theatre is Roanoke's only historic movie theatre still in operation, and it was the first to offer "talking movies." Today Grandin Theatre offers new releases, a Classic Film Series, a Community Picks Film Series, and a Midnight Movies Series (see their calendar!), as well as art exhibits. They also serve some of the most delicious popcorn in Virginia's Blue Ridge! 
>> 10 Best Streets for a Stroll in Virginia's Blue Ridge

While You're in Grandin Village
Grandin Village is a revitalized destination with a distinct flair that both locals and visitors love. Make the rounds to these establishments while you're across the bridge:
Imagination Station
New to Me
Urban Gypsy
---
Find more to love in Roanoke and Virginia's Blue Ridge when you subscribe to receive our latest newsletter. Remember to add #BlueRidgeDay to your social pics as you travel!
Historic photos provided courtesy of the Grandin Theatre Foundation.