Virginia's Blue Ridge is fortunate to have fantastic art in a variety of places. Our galleries and museums are no-brainers for those seeking art, but we enjoy a bit of surprise and delight with public art in outdoor spaces, as well. In fact, many are iconic. 
Have a bit of hide-and-seek fun with us as you locate some of our favorite public art pieces.
1. NEON LIGHTS | Roanoke
If you love neon (who doesn't?), we have historic neon art in the form of our classic 1950s bottle cap Dr Pepper and the adjacent famous H&C Coffee sign on Williamson Road. "H&C" stands for Harold and Clarence, brothers who started a coffee business in the 1920s. The sign was erected in 1946. Both signs are National Historic Landmarks.
The most renowned and symbolic for Roanoke, of course, is the Roanoke Star. Erected in 1949, 2,000 feet of neon tubing bring this 88.5-foot landmark to life each night. There isn't another like it in the world.
2. LOVE | Smith Mountain Lake
Everyone knows Virginia is for Lovers, and Smith Mountain Lake has captured the essence of lake life in the LOVE artwork. Fashioned to include water skis, a golf ball, fishing lures, and a life preserver, those who selfie or photograph loved ones with the art are encouraged to share it socially and tag it #LOVEVA. Find it at Westlake Towne Center in Hardy.
Photo by JollyJenPhotography Studio.
3. TROJAN DOG | Roanoke
The Memorial Avenue Fire Station in the Historic Grandin Village is home to the Trojan Dog, a 300-pound sculpture created in 2008 as part of a city-wide public art initiative.
4. CITY MARKET MOSAICS | Roanoke
Many are aware of the historical significance of the Roanoke City Market as a community center for those seeking produce, meats, and cheeses, but the mosaics of the City Market Building are equally significant. At each entrance is a tile mosaic conveying moments of the city's history. Five hundred pounds of chipped porcelain were used by artist Cheryl Foster to create these public art pieces.
In Century Park Plaza you'll find a series of columns, each differently colored to represent Roanoke's seven sister cities: Florianopólis, Brazil; Kisumu, Kenya; Lijiang, China; Opole, Poland; Pskov, Russia; Saint-Lô, France; and Wonju, South Korea. The sister cities program connects Roanoke to reciprocally share the arts, business, medicine, and general culture with communities in seven countries and on four continents.
6. MAIN STREET BRIDGE MURAL | Roanoke
The Wasena Bridge dates to 1938 and carries Main Street across Wasena Park and the Roanoke River. Below, a "Beautiful View" awaits: the double mural by artist Jared Bader of Philadelphia. Along each side of Winchester Avenue, the murals greet you as you pass beneath the bridge.
Cast in bronze, the seven-foot-tall likeness of Dr. Martin Luther King, Jr. stands at the Martin Luther King, Jr. Bridge, renamed and dedicated in 2008. The bridge connects downtown with the once segregated community of Gainsboro, a neighborhood that once welcomed popular jazz musicians Louis Armstrong, Duke Ellington, and Count Basie.
8. "THE WORLD IS A VILLAGE" MURAL | Roanoke
In Grandin Village, the artist known as "Toobz" left his mark on the neighborhood with this creative mural. The graffitist called his piece "The World is a Village," as it features faces of diversity within Roanoke. This isn't the only work you'll find by Toobz. For extra points, find "Humanists" and "Orange You Coming In?"
9. DALE AVENUE COMMUNITY MURAL | Roanoke
One more Toobz-designed mural is the community mural along Dale Avenue in Southeast Roanoke. At 300-feet long and 10-feet high, the now beautified concrete wall uplifts neighbors, who are represented by leaves: each unique and each hand-painted by residents.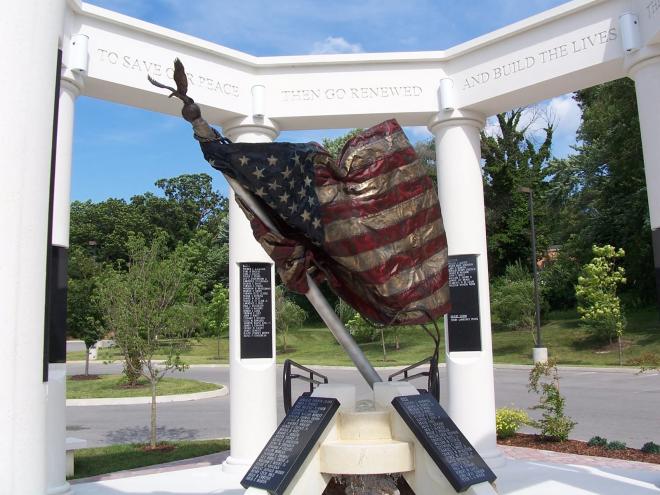 A bronze American flag is the centerpiece of the High Ground Veterans Monument in Vinton. Constructed at the Vinton War Memorial, the monument recognizes and honors residents of Vinton and Roanoke County service members. The name "High Ground" comes from a Vietnam War veteran who said, "A soldier always looks for high ground."
BONUS - 9/11 MEMORIAL | Salem
Located in front of Fire Station No. 1 in the City of Salem, the 9/11 Memorial features two steel beams from the north tower of the World Trade Center. The beams stand as a powerful reminder of that fateful day in 2001 and serve as a memorial to the first responders, which is also part of the reason the city chose to place the memorial in a location that also recognizes our local firefighters and others who watch over the city.
---
UPDATE - Since the publishing of this initial post, there have also been new sculptures added to the Art Walk in Elmwood Park in Downtown Roanoke. Learn more in this post: New Art Sculptures in Elmwood Park. There is also a new LOVE sign at the Peaks of Otter Winery and in the Town of Vinton in front of the Vinton War Memorial.
---
Discover more of Virginia's Blue Ridge art at our galleries and new exhibits.