"Honestly, shopping beats therapy anytime. It costs the same and you get a dress out of it," says an internet image attributed to Sophie Kinsella. I kinda think she might be on to something, especially if she gets a glimpse of the trendy dresses waiting for her in downtown Roanoke in Virginia's Blue Ridge.
"Wait," you say, "I'm not wearing a dress." "That's okay," I say, "because there's more to our independently owned shops than fashion." Here's a peak of who has what and why you should stop in. 
Come shop downtown Roanoke!
Outdoorsy Things
Orvis Roanoke Retail | 19 Campbell Avenue SE
Known for its world-class fly-fishing gear, the pros at Orvis will get you prepared for a fishing adventure on the many lakes, rivers and streams in the region. They also offer a great selection of outdoor apparel and comfy dog beds!
Walkabout Outfitter | 301 Market Street
Everything you need to get going in the outdoors can be acquired at Walkabout. Sturdy shoes, water shoes, the go-to brands for gear and bags … they have it! Check here for all of your hiking, backpacking, and even camping needs.
Threads and Things
310 Rosemont | 312 Market Street
A boutique for men and women, 310 Rosemont offer casual contemporary styles with special attention to fine denim.
La De Da, Inc. | 102 Church Avenue SE
Casual, comfortable women's clothing and shoes can be found at Le De Da. Gals headed to a festival will easily find something soft, flowy, and care-free here, but there are also really great jeans, shoes, and boots, too.
Davidsons | 412 S. Jefferson Street
Men are ready for the runway after a visit to Davidsons. This men's fine clothing store specializes in custom-tailored suits, tuxedos, jackets, pants and shirts and can help you put together a first-class wardrobe.
She's International | 108 Market Street
For the world traveler or the gal who wishes she were, She's International is the place to shop. Find fashions from Amsterdam, Milan, Rome, and more, like those aforementioned trendy dresses and some sweet-fittin' jeans, too.
Shades of Color | 210 Market Street
Lovely ladies accessories and clothing in bright pops of color help you see how this shop received its name. You'll find purses, jewelry, and scarves at Shades of Color as well.
The Bird Cage | 21 Franklin Road SW
Every lady needs the basic staples in her closet. Shop The Bird Cage for a selection of timeless classics for any woman of any age, as well as statement jewelry pieces and monograms.
Things for the Home
Ladles & Linens Kitchen Shoppe | 302 Market Street
Outfit your kitchen with towels, aprons, knives, bowls, and of course dishes. Ladles & Linens is a fun place to discover all of the kitchen necessities you didn't know you needed. Peelers, stirrers, and strainers? Find 'em here!
Pretty Papers, Gifts, and Things
chocolatepaper | 308-3 Market Square
Yes, there is both chocolate and paper at chocolatepaper. Come on in to find sweet delights from around the world as well as beautiful cards and stationery.
Fret Mill Music Co. | 21 Salem Avenue SE
Find the perfect tune at Fret Mill Music Co., a local music shop that specializes in new, used, and vintage instruments, including a huge selection of acoustic and electric guitars.
Milan Tobacconists | 309 S Jefferson Street
For over 100 years, Milan Tobacconists has provided Downtown Roanoke with one of the most unique cigar and tobacco shops in Virginia. The store features a wide range of cigars, pipes, tobacco, lighters and other accessories.
The Gift Niche | 101 Market Square
When you want to celebrate a birthday or a "just because I love you" moment, The Gift Niche will likely have something fun and creative for you to give. Souvenirs of the Star City can be found here as well.
Artsy Things
Calhoun and Kipp | 216 Market Street
Art from around the world (and Virginia) lands at Calhoun and Kipp for shoppers like you to appreciate and take home. From hand-blown glass vases and metal art to ornaments and drinkware, this is where you can score something unique to show off in your home.
LinDor Arts | 306 First Street
A variety of paintings, sculptures, and jewelry created by regional artisans are on hand at LinDor Arts, a gallery that has carefully curated a robust collection over 40 years.
The Market Gallery | 23 Salem Avenue
The contemporary fine art of 26 regional artists are displayed and available for purchase at The Market Gallery. Choose from paintings, photography, collage, and pottery.
WILSON HUGHES gallery | 117 Campbell Avenue SW
Contemporary art and furnishings, including paintings, sculpture, and photography stand out at Wilson Hughes, a gallery of two artists – sculptor John Wilson and painter and photographer Suzun Hughes.
Tasty Things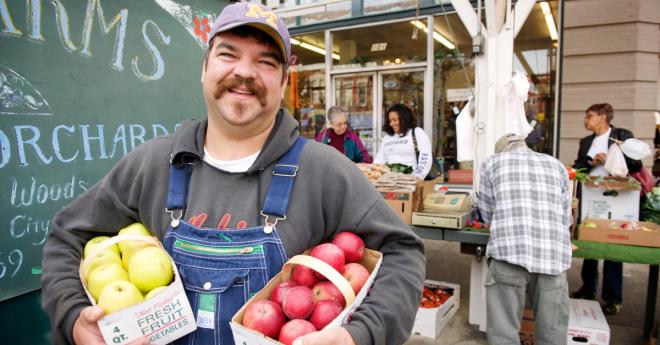 Historic Roanoke City Market | Market Street
As Virginia's oldest continuously operating open-air farmers market, the Historic Roanoke City Market is rich with history and full of vendors who offer unique local products, including an impressive selection of fresh produce, meat, baked goods and other interesting items.
Roanoke Natural Foods Co-Op | 1 Market Square SE
The Roanoke Natural Foods Co-Op showcases the passionate community in Virginia's Blue Ridge that supports local, sustainable products and the concept of a cooperatively owned grocery store. The shop in Downtown Roanoke features some fun grocery store staples, as well as easy grab-and-go items that are perfect for munching while you walk around downtown.
The Candy Store | 1 Market Square SE
I hate to tell you this, but The Candy Store sells candy. Really. The huge, oversized gummy bears are a real treat, as are the rows of vintage candies. It's worth a stop for your sweet tooth.
---
Map of Locations
---
Discover more great shopping in downtown and in Virginia's Blue Ridge when you look to our Shopping Directory. May the retail therapy bring you the joy you seek!