Waterfalls are a favorite draw for most anyone, outdoor explorer or not. They seem to make us happy, some by their relaxing sounds and others by their sheer beauty.
In literature, water is symbolic of life. Scientifically, water crashing into water emits negative ions into the air, and when we absorb those ions our bodies create more serotonin, the hormone known for calm, happiness, and stability. 
Dr. Pierce J. Howard suggests, "the best ratios of negative to positive ions are associated with waterfalls and the time before, during, and after storms." 
In short, waterfalls make us happy.
Come on, get happy when you embark upon a waterfall weekend in Virginia's Blue Ridge.
---
Before You Go: Familiarize yourself with The Leave No Trace 7 Principles. These guidelines are a great way recreate responsibly and help protect nature when you spend time outside.
---
Natural Bridge to Eagle Rock – Lace Falls, Roaring Run Falls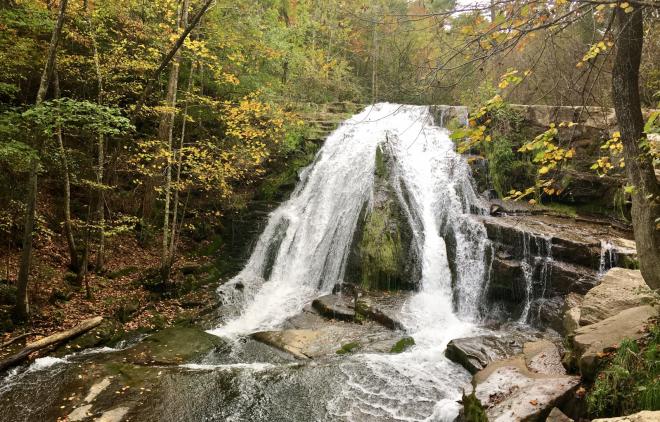 In the northern reaches of Virginia's Blue Ridge lies Natural Bridge State Park. Its namesake is an enormous limestone arch, but following Cedar Creek Trail beneath and beyond the arch, you'll eventually arrive at Lace Falls. They are some hundred feet from the end of the trail, and they're a rather short, 50-foot, multi-tiered cascade, but the beauty and sound of water rushing over rock and spilling into the creek below is refreshing. Natural Bridge State Park Trail Guide >
After seeing the iconic Natural Bridge and its other geologic wonders, head south on Route 11 to enjoy lunch at Foot of the Mountain Café. Their burgers are grand and you'll be surprised by the diversity of the menu. Should you feel the need to walk off lunch, Buchanan is a great place to do it. Just a few miles south of Foot of the Mountain is the Buchanan Swinging Bridge. Park at whichever end you choose and venture across the James River. We like to stop midway and let our senses react to all the things.
Next up is Roaring Run Falls (pictured above) in Eagle Rock, about a 35-minute drive from Buchanan by way of Route 43. The trailhead is about 1.5 miles from the falls, but before you even get there you'll encounter the old iron ore furnace. Roaring Run is a popular trail for families because it's not difficult and the water access allows for easy fishing, as well as a fun natural waterslide that makes for an unforgettable opportunity to cool down! Roaring Run Loop Trail Map >
Wrap up your day at Blue Ridge Vineyard, a stunning place to relax with a glass of wine and stunning sunsets.
Total Miles: 47
BONUS: For an extra waterfall adventure, head north from Roaring Run and set your sights on Falling Spring Falls, an 80-foot waterfall located just off U.S. 220 in the Alleghany Highlands.
---
Buchanan to Bedford – Apple Orchard Falls, Fallingwater Cascades
Tucked into the George Washington & Jefferson National Forests and near the Sunset Field Overlook near milepost 78 on the Blue Ridge Parkway is Apple Orchard Falls. Cascading 200 feet, the falls (pictured above) are best observed from the trail bridge. Climbing out onto the rocks is not advised, as moss and algae create a slippery surface. From the Parkway trailhead, pick up the Apple Orchard Falls Trail, a gradual descent that gets steeper around 1.2 miles in. All said, it's about 1.5 miles to a view of the falls and then you can go back the way you came. Apple Orchard Falls Trail Map >
Lunch at Beale's Brewery in Bedford is a feast of barbecue and craft beer. It's a family-friendly spot with a pet-friendly patio and games. 
After your fill-up, hunt for Fallingwater Cascades, the highlight of the Fallingwater Cascades Trail from milepost 83 on the Blue Ridge Parkway. The moderately difficult 1.7 mile loop trail is part of the Peaks of Otter Trail System maintained by the National Park Service and leads to the 100-foot waterfall. Rock hopping is part of the deal on this trek, and the terrain to the base of the falls is steep. 
Now you're Vinton-bound by way of the Blue Ridge Parkway. Hop off at milepost 136 toward Vinton where the destination is a farm-to-table burger joint called FarmBurguesa, and it's anything but typical. Some burgers boast a Colombian-inspired flair, some are veggie, some Italian, some extra cheesy, and others – like the Quad Challenge – are over-the-top American. Add onion rings, waffle fries, or tostones to complete the meal. 
Close out the day with a craft beer at Twin Creeks Brewing Company. It'd be fitting to try a Gose-n-Over the Falls sour as a toast to your waterfall adventure.
Total Miles: 62
---
Shawsville to Bent Mountain – Stiles Falls, Bottom Creek Gorge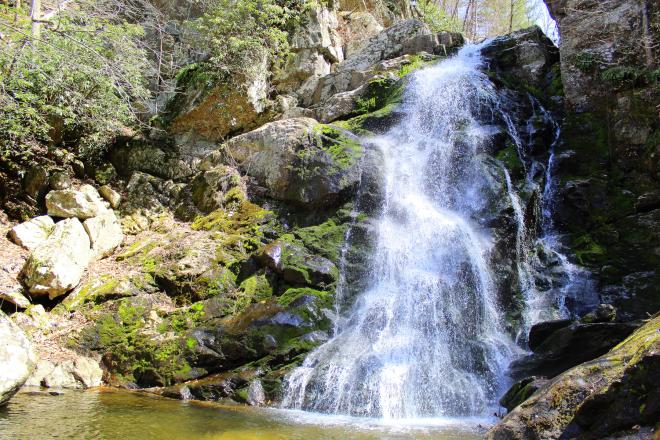 A white blazed trail at Camp Alta Mons near Shawsville leads to the 40-foot Stiles Falls (pictured above). Creek crossing is common and required, and there are a couple of inclines to note. Park at the front of Camp Alta Mons and follow the signs to the trailhead. Leashed dogs are welcome; please stay on the trail and clean up after yourself. The trail is closed during severe weather and if a summer camp is in session.
Wood-fired brick oven pizza, salads, pit-smoked barbecue, and other home cooked delights sourced from local farms are waiting at Bent Mountain Bistro. It's the only place to find heritage breed barbecue in Virginia's Blue Ridge; a rare treat for barbecue connoisseurs. Protein up and set out for Bottom Creek Gorge, about five miles away.
Virginia's second highest waterfall (Bent Mountain Falls) is the stream that courses over a 200-foot series of kettles into Bottom Creek, the headwaters of the South Fork of the Roanoke River. Bottom Creek Gorge Nature Preserve is home to rive rare species of fish (orangefin madtom, bigeye jumprock, riverweed darter, and Roanoke darter), and offers beautiful scenery of mature timber and wildflowers. Fishing and dogs are prohibited.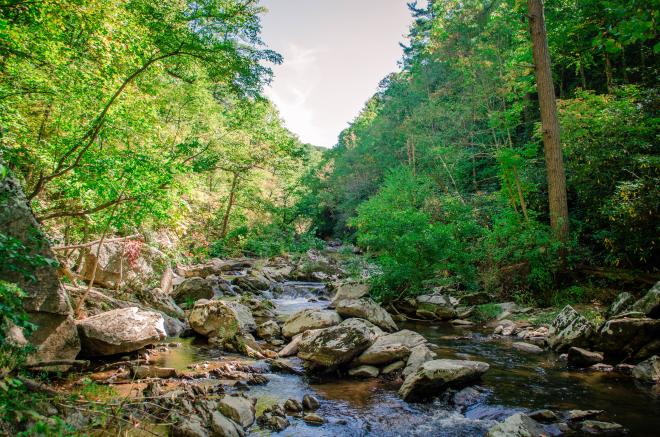 Approach Bottom Creek Gorge from Route 637. Park and pick up the trail head to walk the entrance road .8 mile to the Johnston Trail. In another .8 mile you will reach the falls overlook. Backtrack to your vehicle or pick up the Duval Trail (1.4 miles) or the Knight Trail (1.5 miles) for an added loop. Bottom Creek Gorge Trail Map >
AmRhein's Wine Cellars is a mere seven miles away, and beneath the arbor is one of our favorite places to enjoy a glass of wine. Try the Aglianico, a 2019 Governor's Cup silver medal winner.
Total Miles: 50
---
Elliston to Blacksburg – Falls Ridge, Cascade Falls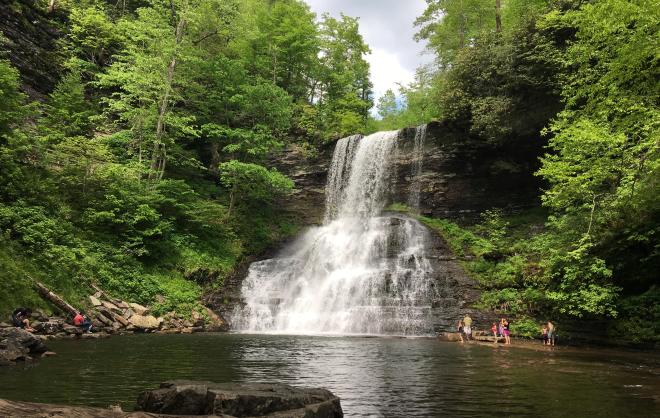 One of the most underrated (and likely under the radar) waterfalls in Virginia is Falls Ridge inside Falls Ridge Nature Preserve just south of Ironto on Route 603. From 80 feet above, water chooses its own path of least resistance, spreading over ledges of exposed travertine and vegetation, creating multiple streams of water rather than one primary, gushing flow. In a word, it's magical. The falls are a tributary to the North Fork of the Roanoke River. 
Reach the trailhead from Route 603 and Falls Ridge Road. Park and hike the Chamberlain Trail (red) until you reach the Bradley Trail (blue) spur. There are two observation points on the Bradley Trail and it loops back onto the Chamberlain Trail. Falls Ridge Trail Map >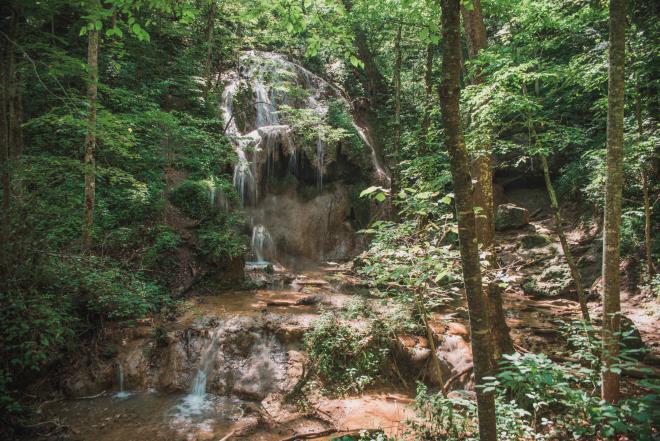 For post falls refreshment, drive to Blacksburg, the home of Virginia Tech, Virginia's second largest university. In downtown you'll find plenty of dining options to choose from. In a college town like Blacksburg, food is not hard to find.
After you've browsed windows and enjoyed the people watching, it's time to head for one of the best-known waterfalls in Virginia: Cascade Falls. It's splendid and totally worthy of a magazine cover in every season. Hike the four-mile loop trail that leads alongside the creek to the falls.
At 69 feet tall, Cascade Falls (pictured above) is sourced from Little Stony Creek and a variety of other small tributaries. As the water courses over the top ledge it spills onto another ledge below, which disperses the water into a wide fan over many more ledges and into a wading pool. Cascade is a popular swimming hole in summer and a photographer's dream in fall and winter. If you've ever wanted to see a frozen waterfall, come back for this one in January or February.
Due to large crowds, we recommend trying to plan your visit to Cascade Falls during off times. Admission to the Cascades Day Use Area is $3 per vehicle, which is collected via a drop box so payment via cash is preferred.
It's so hard to say goodbye, but you must. Sunset sips at Beliveau Farm Winery are waiting. Find a place to relax with a cheese plate and a glass of wine or craft beer, or explore the winery trails and lavender fields. The outside patio is dog-friendly and it's the perfect spot to soak in the amazing views and fresh mountain air.
Total Miles: 55
---
Pay no mind to what TLC told you. Go on and chase those waterfalls. They're good for the soul, excellent backdrops for important moments, and they're worth every effort to reach and preserve.
Please enjoy our special places responsibly, recognizing them as the treasures they are.
We can't wait to see your photos on social, so don't forget to tag us (@VisitVBR)!
---
Map of Locations