One of Virginia's natural wonders is the Natural Bridge. Standing in its presence either leaves one speechless or filled with words we often overuse, like amazing, awesome, and impressive. Truly, the sight of the 215-foot tall natural limestone arch is an incredible geologic feature to behold. 
As much as we'd like to fill in the adjectives for the breadth of awe the Natural Bridge induces, they are insufficient. The Natural Bridge demands to be felt and experienced on a personal level. Come…
History of Natural Bridge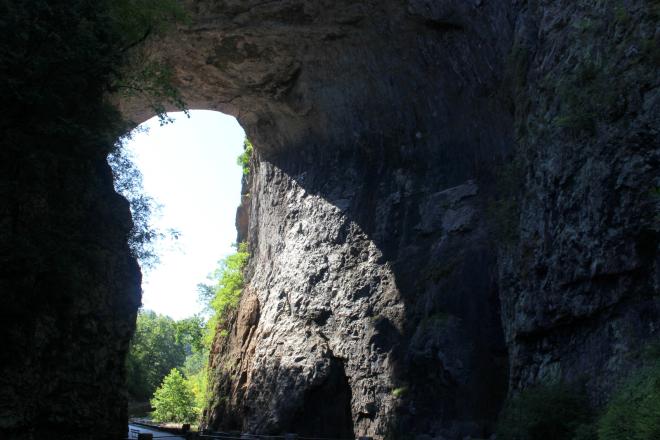 Possibly carved over time by a larger version of Cedar Creek, which runs beneath it, there is also a thought that Natural Bridge is the remnant of a collapsed cave ceiling. Perhaps both are true. A hypothesis by Edgar W. Spencer suggests Cedar Creek was once a larger underground version of what you see now (much like the Lost River that visitors can see beyond the Natural Bridge) and the roof above it eventually collapsed as the creek continued to carve the gorge deeper. 
Regardless of how it came to be, the Natural Bridge has been a safe-haven for Native Americans, a survey site for George Washington, a prized early retreat of Thomas Jefferson, a resource for the South during the Civil War, the bearer of transportation on Route 11 (The Great Wagon Road), and a tourist destination for travelers from around the world who would visit the bridge via horseback and horse-drawn carriage. The bridge is even referenced in the classic story of Moby-Dick by Herman Melville.
Becoming Natural Bridge State Park
In 2016 the acreage that includes the Natural Bridge became Natural Bridge State Park. Previously it was privately owned but publicly accessible as a ticketed attraction. While it is still ticketed, the cost is lower than ever, and the Virginia Department of Conservation and Recreation has expanded and enhanced the guest experience.
Activities at Natural Bridge State Park include Ranger-led hikes and programs that examine the geological history of the area as well as native plants and animals. Visitors are welcome to explore on their own, as in any Virginia State Park. There are hiking trails throughout the park, but the most popular is the Cedar Creek Trail, which runs beneath the Natural Bridge and leads past various points of interest, like the Monacan Indian Village.
See a map of Natural Bridge State Park >
Monacan Indian Village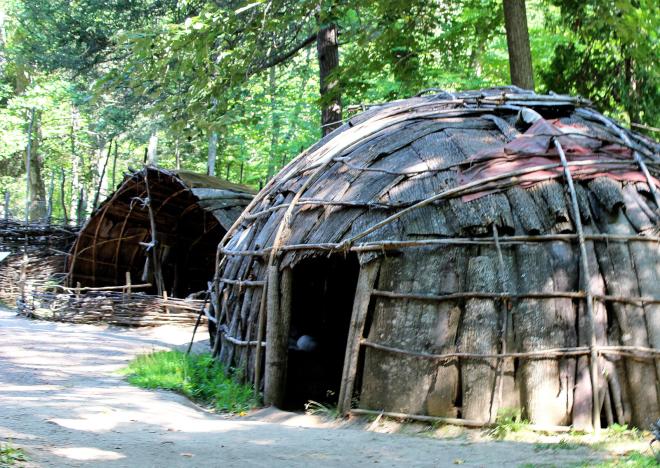 The Monacan Indian Village is a recreation of a 1700s village. It is believed that Monacan tribes sought a hideaway beyond the Natural Bridge, and this recreation puts that into perspective for guests. The palisaded village features several oblong structures with Monacan interpreters teaching a variety of skills, like weaving, tanning, and cooking, all passed down over hundreds of years.
Related Reading: "Preparing Natural Bridge State Park's Monacan village for new season a labor of love" - The Roanoke Times
Hiking Trails & Places of Interest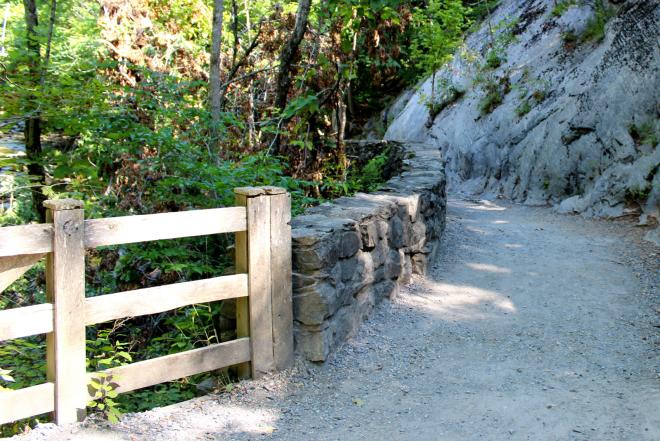 Those who venture beyond the Monacan Indian Village on the Cedar Creek Trail will encounter Salt Peter Cave. While it's not a cave you can spelunk, you can certainly sneak a peek and read the plaque about the South's efforts to mine the salt peter for the manufacturing of ammunition during the Civil War.
Continuing, you'll likely hear the Lost River before you spot it. An opening in the hillside offers a glance of an actual underwater stream than occasionally overflows. This is the example Edgar W. Spencer's hypothesis of the formation of Natural Bridge is based upon. Further down the trail – at the end, actually – is Lace Falls. It's a 30-foot cascade of water and a lovely backdrop for photos. 
Upcoming Events
Though there is not camping or lodging at Natural Bridge State Park, there are occasional opportunities to pitch a tent and stay the night. In June the Great American Campout is such an opportunity. Tote in your own water and get cozy under the stars. An evening ranger program will discuss nocturnal animals and how they are equipped for nighttime living. 
This summer & fall, there are a variety of astronomy and stargazing activities planned; keep an eye peeled and check the calendar on the Natural Bridge State Park website for more information.
Natural Bridge State Park – Nearby Things to Do & Places to Stay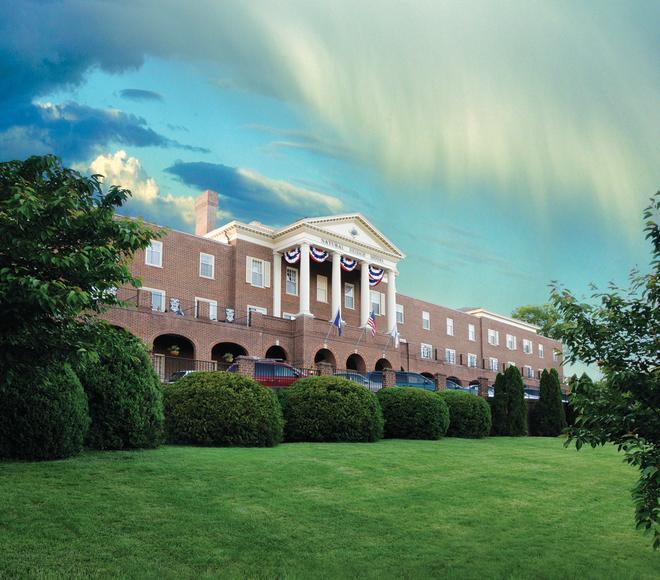 Nearby accommodations include Natural Bridge Historic Hotel & Conference Center and Natural Bridge/Lexington KOA Campground. Natural Bridge Hotel offers special packages that include tickets to Natural Bridge State Park, as well as on-site dining at The Colonial Dining Room and the Red Fox Tavern.
For additional fun, check out the Caverns at Natural Bridge, the deepest caverns on the East Coast. There you can build a bat house or mine in the outdoor sluice. Hiking Devil's Marbleyard is also a memorable way to spend the day. The gigantic boulders (not an overstatement; some are as big as buses) are fascinating and make an excellent perch for sunning with friends. Be sure to wear sturdy shoes. Wrap up your adventure with a big juicy burger at Foot of the Mountain Café in Buchanan. If that sounds too heavy, their salads are big and filling.
---
Location
Natural Bridge State Park
6477 S. Lee Highway
Natural Bridge, VA 24578
Phone: (540) 291-1326
Visit Website
---
Be at #Trailsetter when you explore Natural Bridge State Park and other state parks of Virginia's Blue Ridge. We'll be watching for your social media pics. Get our attention with #Trailsetter and use the #VAStateParks hashtag. See you out there!