Like full-service filling stations, soda fountains, and drive-in movie theaters, there are remnants of the past that make you smile. Swinging bridges are one of those things, and in sweet Buchanan, Virginia, a swinging bridge is front and center for passersby to enjoy.
With the large stone abutment of the current bridge dating back to 1851, the 366-foot long Buchanan Swinging Bridge has had facelifts and name changes over the years. Safely walk this National Historic Landmark (there's nothing terrifying about it) or admire it from afar; it's a witness to history and a treasured piece of Virginia architecture.
"Get out of the car and take a walk across the swinging bridge. The views are spectacular and well worth the time to look." – ncstateva via TripAdvisor

Construction of the Bridge
The swinging bridge you see today is the transformation of what was originally a covered bridge. Built in 1851 to be the Buchanan Turnpike Company's Toll Bridge, those who wished to pass were charged five cents per head (including oxen, mules, and horses), plus five cents per wagon.
Hunter's Raid
On June 13, 1864, Union General David Hunter and his troops arrived in Buchanan to lay claim to the James River Bridge. But they were late. Confederate General John McCausland, Jr. set the covered bridge aflame with hay and oil to slow Hunter from crossing, which unfortunately ignited the town of Buchanan and destroyed nearly 30 buildings. McCausland retreated across the Blue Ridge Mountains by what is now Route 43 and headed to Lynchburg; Hunter followed. 

Re-Building a Bridge
After the Civil War, the James River Bridge was rebuilt only to have an 1877 flood wash it away. Next came a toll-free covered bridge constructed by the R&A Railroad Company, which was replaced in 1897 by a steel truss bridge.
The steel bridge lasted until 1938 when the Buchanan Swinging Bridge you see today was constructed. It is adjacent to present-day Route 11 and was dedicated alongside its brand new, concrete, auto-friendly partner on July 4, 1938.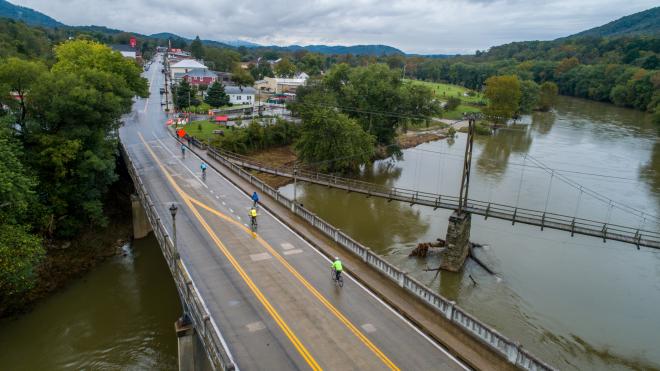 Buchanan Swinging Bridge - Location Information
19908 Main Street
Buchanan, VA 24066
Town of Buchanan Website
---
Nearby Fun
After you enjoy the view from the Buchanan Swinging Bridge, explore Buchanan or get on the James River with Twin River Outfitters. They'll equip you with kayaks, canoes, or tubes for a day of fun on the water.
In downtown on Main Street Buchanan you can't miss the Buchanan Fountain & Grille for a great lunch. Stay the night and see what's showing at the Buchanan Theatre. From there, retrace the route of Civil War soldiers as you climb Route 43 to the Blue Ridge Parkway. The Peaks of Otter await you at the top.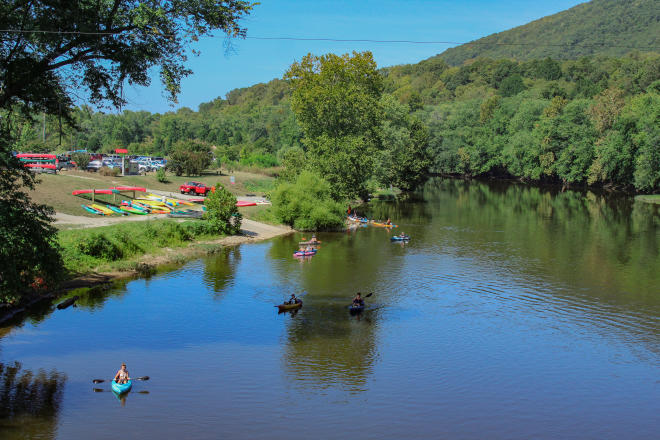 ---
Discover more of Virginia's Swinging Bridges and share your adventures with the hashtag #BlueRidgeDay.