Tucked away in Stuart, Virginia and just off the Blue Ridge Parkway is Fairy Stone State Park, a wooded escape known for legendary cross-shaped stones called fairy stones. The shimmering 168-acre lake is the centerpiece of the park, reflecting the foliage that surrounds it while drawing in boaters and fishermen.
The largest of the six original Virginia State Parks, Fairy Stone was established on 4,741 acres in 1936. Much of what the Civilian Conservation Corps created when developing the park is still evident today, like the cabins, bathhouse, and trails. Discover Fairy Stone State Park for yourself.
What is a Fairy Stone?
As legend has it, fairies inhabited the foothills of the Blue Ridge Mountains. "One day, the fairies were playing in a sunny glade when an elfin messenger arrived from a far away city bearing the sad news of Christ's death. When they heard the terrible details of the crucifixion, they wept. As their tears fell to the earth, they crystalized into little stones," explains a blog post by Virginia State Parks.
And while the legend is simply that, the fairy stones do exist. They're naturally occurring in Fairy Stone State Park and can still be found by those with a keen eye. The geology of the fairy stone shows its iron, aluminum, and silicate - a mineral compound of crystals called staurolite. 
The aforementioned VSP blog explains, "Single crystals are hexagonal, or six-sided, and singles often intersect at right angles to form the Roman or Maltese shape. In other instances, the singles intersect at forty-five-degree angles to form St. Andrews crosses." Wow.
To find a fairy stone one must have a keen eye and search in the right place. There's a designated hunt site at the park, but any that are found are for personal treasures only. Ranger-led fairy stone hunts are also part of regular park programming.
Camping, Cabins & Lodging at Fairy Stone State Park
Pull in your camper, drive in your RV, pop your tent, or unpack a bag at a cabin, yurt, or in the group-sized bunkhouse. There's also the option of Fairy Stone Lodge, which can nearly host a family reunion (up to 16 people allowed). It's climate-controlled, includes linens, has an equipped kitchen, and offers plenty of bedrooms and baths.
For just you and yours, consider one of the 25 cabins, nine of which are original CCC era cabins. Some feature screened porches (cabins 10-25) and others have a bit of a lake view. All offer a fireplace, bathroom, grill, and picnic table.
Couples can cozy up in one-room log efficiencies or a one-bedroom log cabin with a water view. Other cabins are two-bedroom and offer sets of bunks for kids and friends. A yurt is another option, though there is no bathroom, electricity, or running water.
The bunkhouse is a camping lodge available for up to 14 people who don't mind bringing along a sleeping bag and using the bathhouse. It's like camping but with a solid roof over your head and in a climate-controlled space. Cook and eat outside and while away the evening on the covered porch. Memories are made at the bunkhouse.
Book Your Spot: Fairy Stone State Park Reservations >
Bring a Horse to Fairy Stone
Fairy Stone is one of the horse-friendly Virginia state parks. Located 1.25 miles away from the main park and group campground area, the Equestrian Camp offers electric and water sites to accommodate trailers up to 50 feet long. A common picnic and campfire area include table and fire rings. 
Four of the 11 park trails (nearly eight miles' worth) are open for horseback riding. The longest is the Little Mountain Falls Trail (orange blaze) at 3.29 miles. The shortest is the Lake Shore Trail (yellow blaze) at .81-mile). 
Download: Fairy Stone State Park Trail Guide & Map >

Hiking and Biking at Fairy Stone
More than 15 miles of trails loop through Fairy Stone State Park and feature overlooks, lake-side views, and even a waterfall. Pack snacks and water to make it to Little Mountain Falls. At more than three miles and ascending more than 670 feet, it is a difficult hike with a big reward, provided you're hiking during a wet season. The waterfall is quite dependent on a good rain shower to show off. 
Featured Hike: Little Mountain Falls at Fairy Stone State Park >>
Water Sports at Fairy Stone
Swimmers and sunbathers are welcome enjoy the Fairy Stone Lake beach between Memorial Day and Labor Day with conveniences like a lifeguard, concessions, and bathhouse. Off-season swimming is at your own risk. Beach swimming is the only swimming allowed at Fairy Stone State Park.
Those who wish to get out on the lake but don't have a vessel are in luck. Boats, paddleboards, kayaks, and canoes are available for rent between Memorial Day and Labor Day as well. Self-equipped on-the-water enthusiasts can take to the 168-acre lake year 'round. Gas-powered boats are prohibited at Fairy Stone, so be sure to add an electric trolling motor to your boat before arrival.
Fishermen with the most desirable lure pull in nice largemouth bass, bluegill, crappie, catfish, and trout. A valid Virginia fishing license is required and can be obtained online now or at the park office.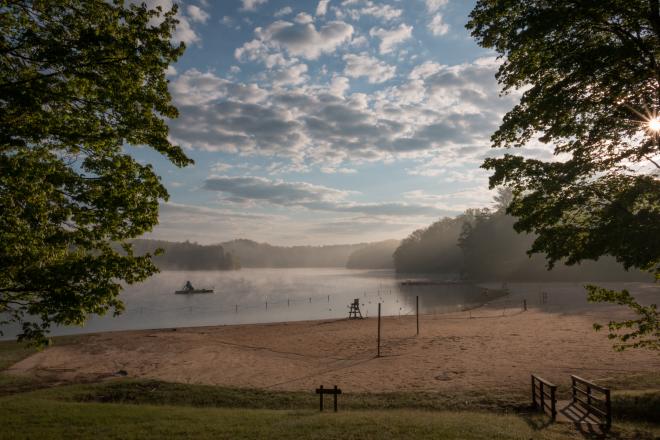 Hunting at Fairy Stone
Fairy Stone offers designated hunting areas and is bordered by the 5,321-acre Fairystone Farms Wildlife Management Area, a deer management area in Patrick and Henry Counties and also yields turkey, squirrels, and raccoons. Antler restrictions are to be considered within the Wildlife Management Area and an Access Permit is required. Only a buck with four points or more and at least one-inch long on one side of the rack may be legally harvested.
Fairy Stone State Park - Location Info
967 Fairystone Lake Dr.
Stuart, VA 24171
(276) 930-2424
Website