Water destinations are ideal for warm seasons for obvious reasons, but they're also wonderful in shoulder seasons. We classify our lake state parks as ideal water destinations. 
Swim at the beaches, fish, paddleboard, kayak, boat, or just enjoy the beautiful reflections and breeze that comes across the water.
Claytor Lake State Park in Dublin is one of the best fishing and boating state parks Virginia has to offer. The lake was formed after Appalachian Power Company built a hydroelectric dam on the New River. 
The park opened around the lake in 1949 under the tutelage of the Radford Chamber of Commerce. In 1951 the park was officially under state park management.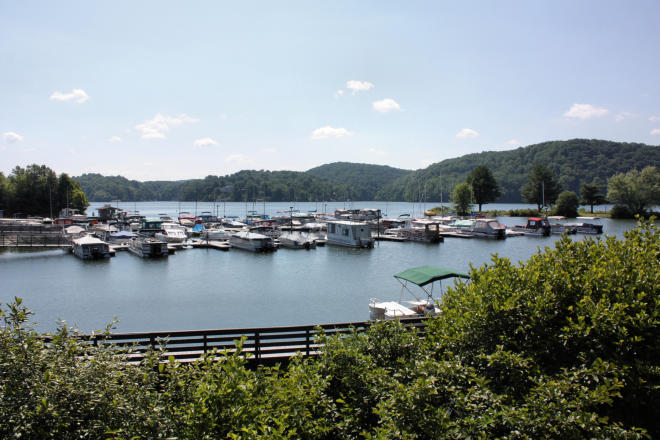 Water Activities - Boating, Fishing, Swimming, Paddling 
A boat launch and marina make accomplishing your on-the-water lake fun easy-breezy. To rent a boat, canoe, kayak, or paddleboard, connect with Claytor Lake Water Sports or Mountain 2 Island Paddleboard Company. Yep, motorboatin' or paddlin' is definitely in your future.
Cast a line in this sport fishing lake. Known species within Claytor Lake include catfish, muskie, bass, and walleye, and we're convinced the fish attractors may make the hunt a little easier.
Where to Cast: Claytor Lake Fish Map > 
If you feel like adventuring beyond the lake and onto the New, New River Adventure can hook you up with trips and supplies. The New River is considered one of the best fishing rivers on the East Coast and has become a destination for paddling and tubing as well.
About swimmin' and beachin'…Claytor Lake boasts an excellent, clean beach with a bathhouse and concession stand (available during the peak summer season through Labor Day). 
It's also a beautiful place to take photos. Experience this part of the lake at various times of day and seasons to see how the sun plays with the view.
Learn More: Recreation at Claytor Lake State Park >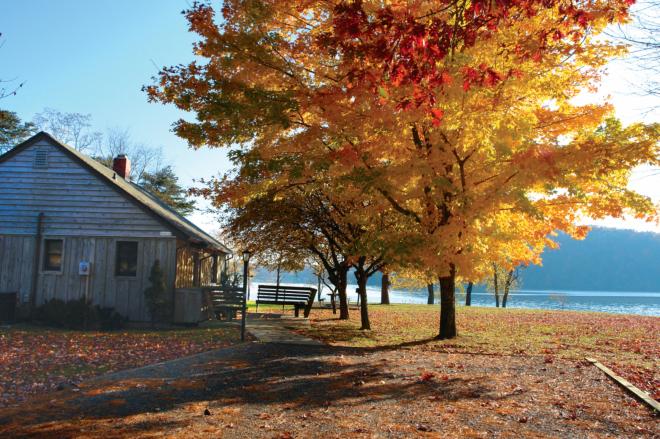 Historic Howe House & Visitor Center
You'd be remiss to skip the Historic Howe House & Visitor Center at Claytor Lake State Park. The Howe House was built between 1876 and 1879 by Civil War veteran, Virginia Legislature delegate, Freemason, and environmentalist Haven Howe.
Howe led the charge to prohibit the dumping of mine trailings into the New River. He served as a state's witness in the case that ultimately banned the dumping of iron ore mud into the New as of January 1, 1912. 
The Howe House now serves as the park offices and visitor center. Stop by to learn more about the park and lake through special exhibits, as well as admire the architecture of the home. For example, alternating poplar and walnut hardwood creates a striped floor.
It and the curved walnut staircase are highlights of the home. When you depart, head toward the water where a gazebo is perched on the peninsula. It's a beautiful scenic photo opportunity.
Download: Guide to the Historic Howe House >
Trails - Hiking & Biking
Hit the trails – about seven miles' worth – for easy hiking and biking through the park. The near-mile Lakeview Trail is blazed yellow and handicap accessible. It parallels the primary lakefront road, Ben H. Bolen Drive. 
If you're up for cross-country running, there's a 5K trail compliments of Boy Scout Troop 244. [Download the 5K Trail Map >] 
Kids along? Be sure to make your way to the Shady Ridge Trail for TRACK Trail Adventures. 
To challenge yourself with more aggressive mountain biking trails, travel northwest to the Pandapas Pond Day Use Area in George Washington & Jefferson National Forest. The Poverty Creek Trail System is 17 miles of looping blazes from which you can create your own adventure. Black diamond trails include the Trillium Trail, Skullcap Trail, Prickly Pear Trail, Snake Root Trail, and Jacobs Ladder Trail.
Download: Claytor Lake State Park Trail Guide >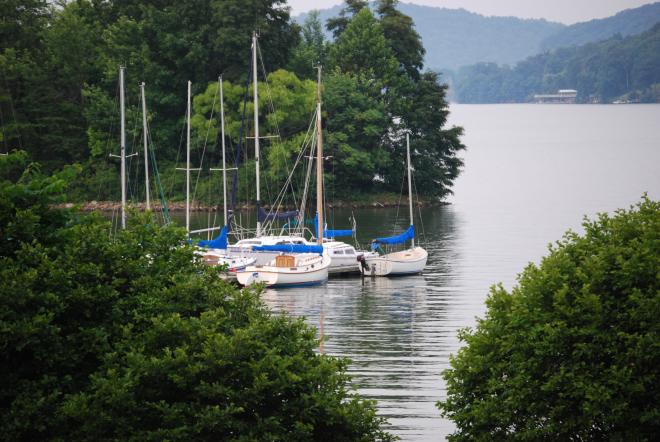 Overnight Lodging – Cabins, Camping, Lodges
Plan to stay a while to take advantage of all the ways you can love Claytor Lake State Park and its surroundings. 
More than 100 campsites are available at the park, each equipped with a fire ring and a metal grill. Some offer electric and water hook-up; some accommodate RVs up to 40 feet in length. 
Group camping for up to 10 tents and 35 people is also available with two grills and six picnic tables.
For non-campers, cabins, yurts, and lodges offer a cozy overnight option. The cabins are two- and three-bedroom units with a water view, and three of them are universally accessible. Two cabins sleep up to six and the rest offer bedding for four. 
They're climate-controlled and feature rustic furniture. You'll want to bring the necessities, but the kitchen is equipped with cooking appliances. Linens are provided. You'll love the porches complete with rocking chairs and a view of the lake. The six-bedroom lodges offer the same amenities.
Four yurts are located within one of the campgrounds and do not include linens. They are not climate controlled, nor do they offer electricity or water. 
Consider them an upscale tenting experience. Glamping, if you will. Rocking chairs, grill, fire ring with a cooking grate, and picnic tables are outside while a couch, chair, and dining set are provided inside. 
For larger groups, the bunkhouse is the way to go. It's a camping lodge with both a porch and deck. Bring up to 13 of your closest friends to crash in the two-room climate-controlled space. 
There are seven sets of bunk beds, refrigerator, and microwave. Plan to bring your own linens and to use the bathhouse for showering.
Book Your Stay: Cabin & Camping Reservations for Claytor Lake State Park >

Nearby Fun
Venture outside of Claytor Lake State Park for more fun, like Sinkland Farms, which features a great fall pumpkin festival. About 30 minutes east is Floyd Country Store, a can't-miss music heritage destination along The Crooked Road. A real country store complete with bulk candy and ice cream, it's also the venue for jam sessions and plenty of clogging and flat-footing.
As football season approaches, accommodations for Virginia Tech games begin to fill. Claytor Lake State Park is about 30 minutes south of Lane Stadium and well outside of the hustle and bustle of home game weekends. A few nights at the park make for a wonderful mini vacation with a hype game in the middle.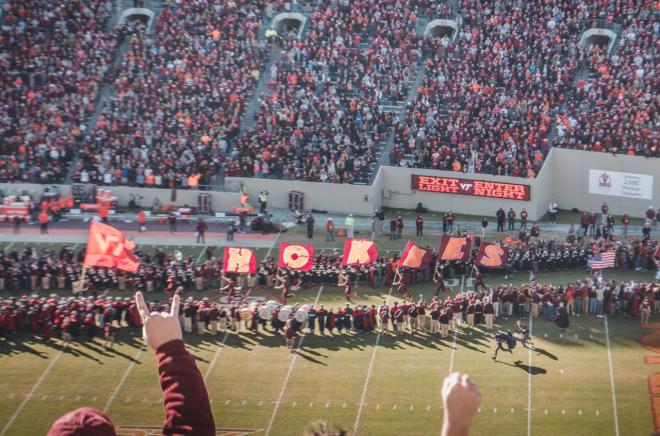 ---
Location
Claytor Lake State Park
6620 Ben H Bolen Drive
Dublin, VA 24084
---
As much as we love Claytor Lake State Park, it's but one of our shining Virginia State Parks. Get to know the others and be a #trailsetter for #BlueRidgeDay adventures.