As the oldest settlement in the Roanoke Valley in Virginia's Blue Ridge, Salem holds a special place in history. The Tutelo tribe made it their village (Shamokin), James Simpson made it an economic engine along the Wilderness Road, and the Virginia General Assembly made it a town.
While Salem has grown to city status, its charm, values, and traditions have not been lost. Enjoy the slower pace Salem affords and discover its unique Main Street experience when you visit Virginia's Blue Ridge.
The 22-point walking tour is an at-your-own-pace leisurely stroll around the city to see the places that have shaped Salem. Included are spots like the 1845 Williams-Brown House, which has seen life as a home, a store, a post office, and even a Roanoke College fraternity house. It was the first property in Salem to be placed on the National Register of Historic Places and today serves as the home of the Salem Historical Society and the Salem Museum. The Williams-Brown House is a fine place to begin your tour, and it's free to tour as well.
See the Ducks at Lake Spring Park
One of Salem's most popular outdoor spaces is Lake Spring Park, a haven for ducks and occasional geese. The park received something of a facelift in early 2016, including a new iron fence around the water and duck feeders. Drop a coin in to receive food and then feed the ducks to your heart's delight. Are you visiting with children? Ages 12 and younger may fish for free.
Salem's liberal arts college is a beautiful place. So lovely, in fact, that The Princeton Review named Roanoke College one of the top 20 most beautiful college and university campuses in the United States. If you have a teenager in tow, check out the lay of the land with a self-guided walking tour. It might feel like home.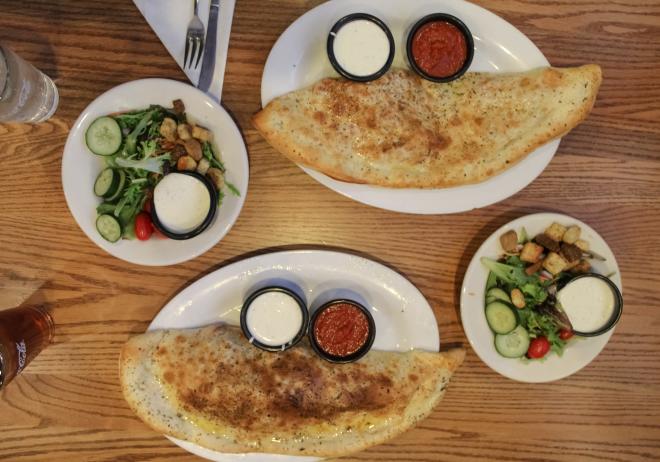 Ask any local where to have breakfast, lunch, or dinner and they're likely to tell you Mac and Bob's. It's a casual restaurant and annual award winner in all of the area "Best Of" vote-offs. Dine in or out in the courtyard. Try a seat by the fire when it's cold or one of the bars when you want a beer and sports. There are more than 40 craft beers to choose from, including Virginia brews. Mac and Bob's is a hometown delight you'll be glad to have experienced. 
Though it's only been "official" since 1992, the Salem Farmers Market is a long-standing opportunity for local farmers to share their bounty with eager neighbors and visitors. Today, you're likely to hear the market before you see it as bluegrass jams are pretty much a regular occurrence. The Market is open Monday through Saturday from 7 a.m. to 4 p.m. between April and December. Come see what's fresh!
Advanced Class "A" Minor League Baseball is right at home in the sports-centered city of Salem. The experience is like no other in Virginia with a jaw-dropping view of the Blue Ridge Mountains. Sunsets here are truly spectacular. Special nights give you more reasons to enjoy an evening at the ball park, Bark in the Park, Nine Innings of Winning, Military Appreciation Night, and fireworks.
From the annual events like the Salem Fair, Virginia Vintage Comic Book Show, and Stagg Bowl to a variety of expositions and concerts, the Salem Civic Center typically has a little something for everyone. Expos include gun and knife shows, home shows, and gem and mineral shows. Concerts range from the Roanoke Symphony Orchestra to hard rock and from country to hip hop.
Antique & Boutique Shopping
Salem has fine stores any shopper with a keen eye will appreciate. Mix antiques in with the boutique shops of Main Street, and you have a day trip for pure shopping pleasure. Antiques by the Market is a must, followed by Grandma's Attic across the street. Squeeze in a stroll through Charlotte's Web Antiques Mall before a casual lunch at Macado's. Have time for more? Consider the consignment shops or The Bird Cage to round out the day.
---
---
Don't miss other great Main Streets of Virginia's Blue Ridge: Fincastle | Historic Grandin Village | Buchanan
You can also learn more about what's happening in the region by subscribing to our e-newsletter!