Summertime is the time to be on the water, and in Virginia's Blue Ridge, we have several blueways to explore. Head to our rivers for kayaking, fishing, tubing, and relaxation with friends, family, or on your own.
These four river destinations account for more than 150 miles of scenery and splashing good times. Plan your weekend escape for H2O today.
Sixty-four miles of river (54 on the James River and 10 on the Maury River) create the Upper James River Water Trail. Fifty-nine of those miles – the headwaters to Glasgow - are designated Virginia Scenic River, meaning, you'd be hard-pressed to find a better stretch of water for great fishing and floating. While there are Class I-II rapids here and there along the way, the water is mostly flat. Come spend the day on this Chesapeake Bay Gateway featured by Travel + Leisure and dubbed one of the "21 Best Lazy Rivers to Float this Summer" by Travel Channel.
Upper James River Water Trail Map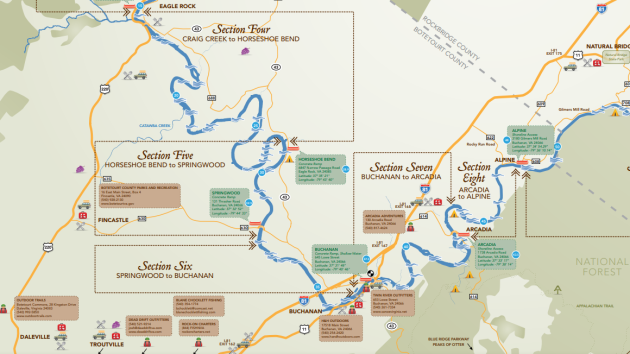 >> For an outfitter to make the most of your day, contact Twin River Outfitters in Buchanan, which even offers multi-day paddling & camping trip options, or Dead Drift Outfitters for guided fishing trips.
Post-Float Food & Drink Options: Buchanan Fountain & Grille | Foot of the Mountain Cafe | North Star Restaurant
The paddle-friendly Roanoke River Blueway is 45 miles from the South Fork of the Roanoke River in Montgomery County to the boating access for Smith Mountain Lake at Hardy Road in Bedford County. The river courses through towns and cities and along greenways offering ample opportunities to come ashore. In fact, you can launch a kayak from downtown Roanoke's development at The Bridges, as well as four other locations within the City of Roanoke and 11 more east and west of Roanoke.
Another popular launch spot is Rutrough Point in Roanoke County's Explore Park, which also now features camping space! 
Note that Brown and Rainbow Trout are stocked in certain sections of the Roanoke River, and there are also areas that are Delayed Harvest. Interactive Trout Waters Map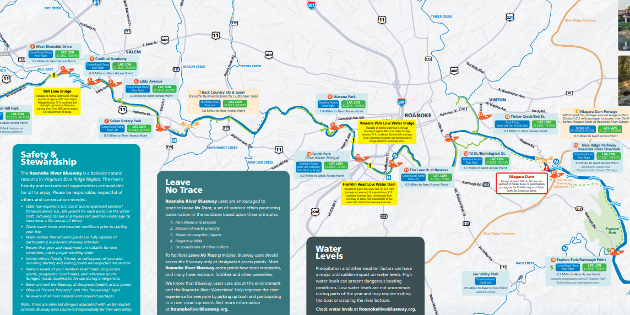 >> Check out the brand new Roanoke River Blueway Guide
>> Contact Roanoke Mountain Adventures for kayak, tube, & paddleboard rentals, guided trips, and other outfitting needs
Post-Float Food & Drink Options: Starr Hill Pilot Brewery & Side Stage | Wasena City Tap Room | River Rock Restaurant | Twin Creeks Brewing Company
A Smith Mountain Lake tributary, the Blackwater River headwaters begin on Cahas Mountain and run 35 miles to flow into the "Jewel of the Blue Ridge." You'll want to check the water gauges on this one before you head out. When there's great rain and run-off, there will be great depths for floating and possibly even tackling the Class II rapids that await at US Route 220 and Farm Ford Road.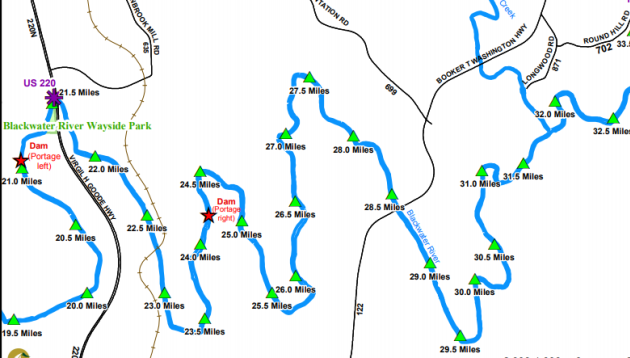 >> For a day-trip option, consider the eight-mile float from Brubaker Park to the intersection of Jamestown and Blue Bend Roads.
Post-Float Food & Drink Options: Chaos Mountain Brewing | Ruth's Place
Eight miles of farm and woods are the backdrop for your Pigg River adventure through Franklin County from Waid Recreation Area to Lynch Riverside Park. This is another float that's best planned for when the water levels are optimal. If that's spur-of-the-moment, then #CrushFriday and get after it! Fishermen, the Pigg is stocked with Rainbow and Brown Trout; see if you can get a bite.
During the summer months, Franklin County Parks & Recreation offers family tube rentals on Saturdays and Sundays in Waid Recreation Area.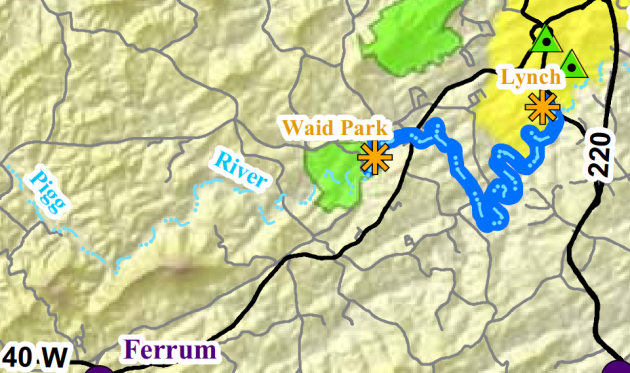 >> Plan ahead for the Pigg River Ramble, an annual river fest occurring each May.
Post-Float Food & Drink Options: Buddy's BBQ | Rocky Mount Burger Co. | Twin Creeks Distillery
---
Fishermen require a valid Virginia Fishing License, which is conveniently available online. Please also reference the Trout Fishing Guide prior to fishing trout waters.
Discover more water sports opportunities in Virginia's Blue Ridge and be a #Trailsetter.