Sightseeing is a great way to spend time in Virginia's Blue Ridge. We love long, beautiful drives to our favorite destinations, and we look forward to delicious stops along the way. There's no way we could keep these gems to ourselves!
Here are the views you have to see during your next getaway to the Blue Ridge Mountains.
Overlook on Mill Mountain | Roanoke
Sweeping views of the Roanoke Valley in front of you and the world's largest neon star at your back? You must be on Mill Mountain at the overlook. If there's one thing every visitor to Virginia's Blue Ridge must do, it's to stand in this space and take in the breadth of the valley below. It's also a magical spot for proposals, and a selfie bucket list item.
If you've ever longed for a Leonardo DiCaprio "King of the World" moment without stepping onto a boat, we have just the place, but you'll have to work for the experience. McAfee Knob has risen to fame as one of the most iconic stops along the entire Appalachian Trail. 
The hike out and back from Route 311 at the top of Catawba Mountain is about eight miles. It's not the easiest adventure, but the payoff is incredible.
>> Check out the Scenic Drive that goes along with McAfee Knob!
Hales Ford Bridge at Bridgewater Plaza | Moneta
Hales Ford Bridge crosses Smith Mountain Lake and gives a great view of the Parrot Bay and Hales Ford area. There are no sidewalks and traffic moves at 45 miles per hour, so walking on the bridge is not advised.
Rather, park your car at Bridgewater Plaza and enjoy the shops and dining with a waterfront view. This is where you'll also find the crazy carp who love to nibble your fingers and toes!
Blue Ridge Parkway Overlooks
Known as "America's Favorite Drive," the Blue Ridge Parkway runs through Virginia's Blue Ridge, oddly enough. *smile* What's the fuss about this drive? Why is it a favorite? The first reason is obvious: THE VIEWS. There are numerous overlooks in our region, including these seven iconic spots that are absolutely worth a stop. 
The second reason? We'd venture a guess that it's an excellent alternative route for those who aren't in a 70 mph hurry.
Downtown Roanoke Rooftops
While there are plenty of interesting things to look up and see while you're spending time in downtown Roanoke, we'd argue that some of the most awesome views come from the publicly accessible rooftops. Two fun ones come to mind: Center in the Square and the Taubman Museum of Art. 
At Center in the Square, the roof features a koi pond and butterfly garden. Sunset weddings and receptions are often held here.
The third-floor balcony at the Taubman Museum of Art is called "Top of the Taubman" and was originally not available to the public. These days, selfies on the balcony are pretty much expected. From this angle you can see downtown's iconic neon signs.
The quaint town of Buchanan has sweet little shops and restaurants, comfortable B&Bs, and a historic theatre. However, one could argue the treasure of town is the swinging bridge over the James River. At 366 feet long, it tests the muster of any soul who decides to take a walk across it. It's sturdy and reliable, mind you, as it is evaluated by the Virginia Department of Transportation every so often. It's also one of our favorite "I dare you" selfie spots.
Little Stony Creek creates a big splash down a 69-foot wall of rock to create one amazing swimming hole. The area is gorgeous in any season, but requires a little bit of a hike to get to. The four-mile loop offers a variety of angles to see the falls, but the best is to approach from the lower loop. Pack a picnic, because you'll want to spend the day here.
Roanoke River Gorge | Roanoke
The Roanoke River is a hot spot for those who love to paddle fast waters, and a stop on the Blue Ridge Parkway bridge above the gorge is a great place to see them do their thing. Park at the overlook near Milepost 115 and walk to the bridge. There is a small sidewalk, but there is also not an exorbitant amount of traffic. Use caution and enjoy the view!
Abbott Lake & Peaks of Otter | Bedford
The Peaks of Otter are three adjacent mountains with shimmering Abbott Lake at the bottom. Along the Blue Ridge Parkway at milepost 86, Sharp Top Mountain was once believed to be the highest point in Virginia. Not only was that incorrect, but Sharp Top isn't even the highest of the three peaks! 
Hike, walk around the lake, or have a meal at the lodge. This view deserves some time to be taken in.
Once called one of the "Seven Natural Wonders of the World," the Natural Bridge is a soaring 215-foot tall limestone arch that commands attention. Carved by it and running below it is Cedar Creek, now a not-so-intimidating stream that boasts a short waterfall and plenty of wildlife.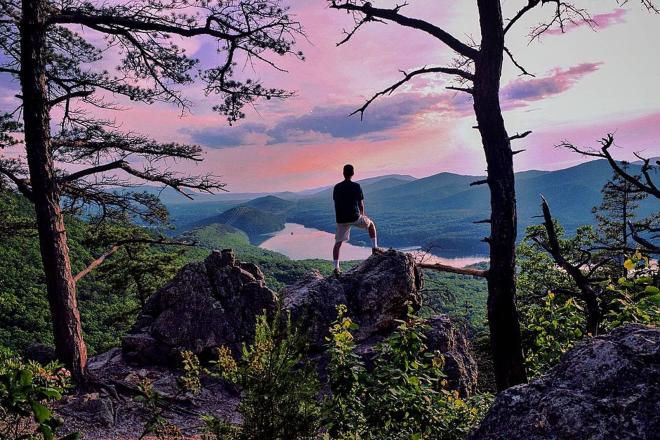 Like many overlooks that have come before it, Hay Rock requires a hike before it delivers the view. And what a view it is. Carvins Cove glistens like a pool of gemstones below while surrounding mountains rise up as a protectors. The out-and-back hike on Tinker Mountain is about eight miles total.
---
Map of Locations
---
Whether you're driving or willing to hike a bit, Virginia's Blue Ridge is one beautiful scene after another. Share your adventures using #BlueRidgeDay on social media so that we and the rest of the world can see your discoveries.
See More