Often, we don't need a real excuse to hit the road and simply enjoy a peaceful drive with someone special (or even alone). However, we have 10 really great country stores in Virginia's Blue Ridge that are totally worth the drive and are actually destinations unto themselves. 
Give them a try. You can thank us later.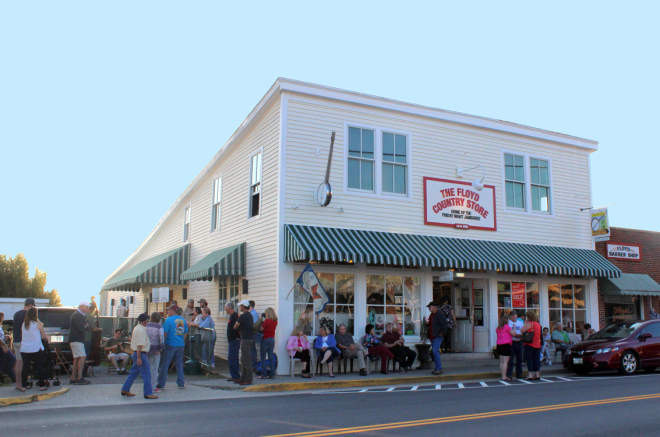 Old fashioned candy, ice cream, bottled soda … everything about Floyd Country Store is nostalgic. To add to the charm, it's quite the hangout for impromptu jam sessions on the porch. Not doing anything on the weekend? Come on in for an evening jamboree where nearly every visitor gives flat-footin' "a good college try."
This gem of a place has the local honey, fresh in-season vegetables and fruit, farm eggs, meats and cheese from Ohio's Amish country, and the signature made-from-scratch bread. Quilt lovers will want to check out their selection of handmade beauties. Crafts and other treasures await as well.
Have you ever eaten bison? Paint Bank General Store is the place to find it in Virginia's Blue Ridge. Plenty of nifty wares are available in the old tin-ceiling store, but around the corner and up the stairs there's plethora gifts, ornaments, jewelry, needful things, and a real, indoor swinging bridge. In the far corner is a woodland display of mounted wildlife and a real stream of water. Back downstairs is a great meal and big comfortable couches in front of a fire. This is a place you could enjoy for a while.
More quilts, you say? The General Store at SML is another fantastic find with plenty of fabric to choose from as well. In fact, locals enjoy the quilting classes. Candles, gifts, and décor make this an extra special stop for a vacation keepsake, too.
The goods rolling out of this place get around! Milk, buttermilk, and that oh-so-awesome eggnog are sold in glass bottles and jars and distributed around Virginia and beyond. You've maybe never had any better. And the ice cream? Girl…
"Farm fresh" is truly the way of Homestead Creamery. Take home old fashioned butter, apple butter, jams, jellies, breads, meats, cheeses, and produce. All of it is a treat! If you're hungry right in the moment, the deli will hook you up with a great sandwich and side. Oh, there are plenty of gifts, too.
Apples, peaches, and produce have been available from Ikenberry Orchards for almost 100 years. People visit just about year 'round as there seems to be a near-constant harvest occurring. Many enjoy a good rock on the porch while others find delightful local gifts to stash away for a holiday. Locally-made lotions and soaps are top sellers, but keep an eye out for handmade baskets, candles, bee products, flour sack towels, and a lot more. 
Fresh, free range, and local. That's what you'll find at Heritage Family Market. Snacks, pies, breads, produce, canned goods, and true Southern treats like scrapple are readily at hand for your visit. Oh, and candy. Lots of candy.
Locals love the flowers at Country Corner, but the pumpkins, gourds, and fresh produce keep them coming back. Take home jams, jellies, pickled goods, old-fashioned sodas in glass bottles, bulk candy, garden flags, and more. You'll love this place, too!
We couldn't very well talk about country stores and leave out America's Interstate favorite, could we? Known for an expansive front porch with a multitude of rocking chairs, Cracker Barrel is a gift shop chock-full of gifts, scents, clothes, and toys, and a restaurant serving some of the best country breakfast…all. day. long. On a cold day, a seat near the fireplace is a must. Try the chicken 'n dumplins. It's my favorite.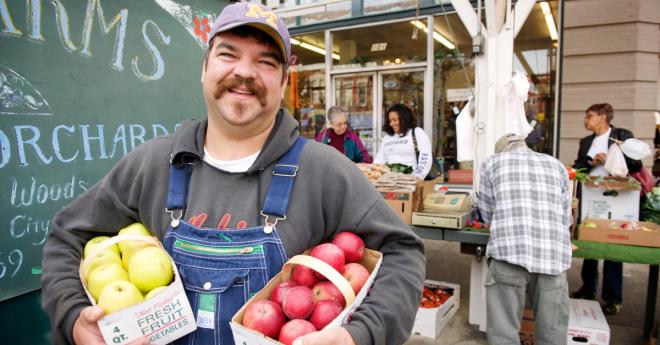 It's not the traditional country store, but you can find all kinds of unique local produce, fresh baked goods, and hand-made items at the various farmers markets throughout Virginia's Blue Ridge! It's the perfect place to experience the local culture of the region while selecting from an assortment of treasures, both tasty and artsy.
---
Map of Country Stores in Virginia's Blue Ridge
---
Share your backroad adventures! Show off what you find by snapping a pic and sharing it on social media with the hashtag #BlueRidgeDay.