People are becoming more familiar with the outdoor recreation destination called Carvins Cove Natural Reserve in Roanoke. Its mountain biking trails are among the finest in Virginia's Blue Ridge, indeed, the Commonwealth of Virginia and the East Coast of the United States.
While we enjoy touting such, it's not without merit. 
In 2018, the International Mountain Biking Association selected Virginia's Blue Ridge as a Silver-Level Ride Center, making it the highest rated ride center on the East Coast, and Carvins Cove is one of the most valuable spokes in our wheel of biking opportunities.
However, the Carvins Cove of today is not the Carvins Cove that has always been.
A bit of history…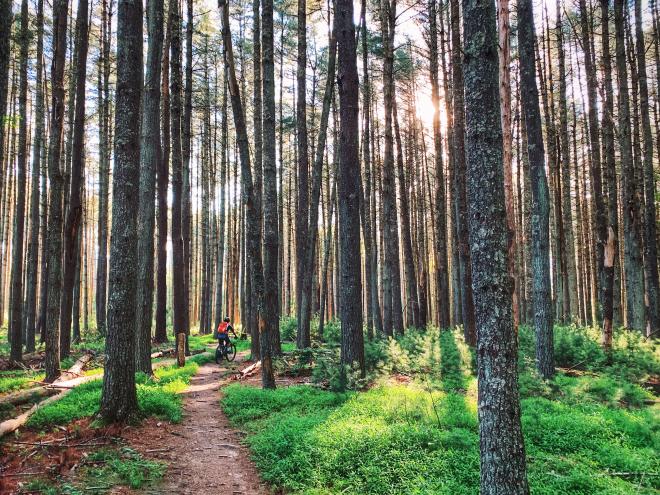 William Carvin, Happy Valley, and Hollins University
William Carvin was a Welsh settler who received a land grant in 1746. A portion of the land became a community known as Happy Valley while another portion became the campus of what is now Hollins University. 
Happy Valley was once the home of 59 families and was located where the reservoir is today. Some of the trails around the reservoir are named after those families, like Jacob's Drop, which was named after Dr. Jacob Kern, father of Senator John W. Kern, who was also a summer resident of Happy Valley.
Carvin Residence Hall at Hollins was built on the site of William Carvin's log homestead in 1889 and today houses "students interested in sharing and learning a global perspective." 
Millstones from Carvin's Creek and other gristmills can be seen on the front quad of the University, and there's grown-over history on campus as well. A pre-1800s limestone spring house was part of William Carvin's homestead.
The Roanoker Magazine has an interesting feature on the history of the Cove: The Lost Community of Carvins Cove >
To dig deeper, purchase Places Near the Mountains by Helen R. Prillaman.

Creating Carvins Cove
It all started with an 80-foot high dam at the Falls of Carvins Creek in 1928, built by The Virginia Company to create a six-billion-gallon impound. The land changed hands and bits of national history play a part in the creation of the impound. For example, German POWs held in Salem were put to work clearing the land for the cove in the spring of 1945.
Carvins Cove reached full pond on May 17, 1946. Less than a year later, a water filtration plant opened. It was later expanded to increase capacity in 1954 and again in 1994. Mountain tunnels to tap local Tinker Creek and Catawba Creek as tributaries were established in 1966 and 1974, but not without a great deal of money and effort exerted. 
>> Learn More from the Western Virginia Water Authority

Today's Carvins Cove
Carvins Cove is protected by a conservation easement totaling 11,363 acres. It is the largest publicly held easement in Virginia and the second largest municipally owned park in the United States. More than 60 miles of trails meander, climb, and rip through the park and are accessible to hikers, bikers, runners, and equestrian riders. Currently, the world's longest flow trail is being built at Carvins Cove. It will be seven miles in length.
Additionally, Carvins Cove is now connected to the Roanoke Valley Greenway network, making it accessible from the City of Salem and Roanoke County via the Hinchee Trail.
In fact, the Cove has been named one of the best places to ride in the Southeast by the pros at Singletracks.com.  
In 1997, today's Carvins Cove was a dream. In 2019, it's a shining example of recreation and resource management working in tandem to increase the quality of life of its residents while also luring visitors who love the great outdoors.
For additional history about how the Cove became one of the best trail networks and spots for outdoor recreation in Virginia, read this piece for Blue Ridge Outdoors Magazine by local outdoor enthusiast Dick Howard - How Carvins Cove Became a Recreation Mecca >

Plan Your Next Adventure at Carvins Cove
The following resources feature helpful information and guidelines for outdoor recreation, including hiking, mountain biking, paddling, and boating at Carvins Cove.
Nearby Restaurants & Breweries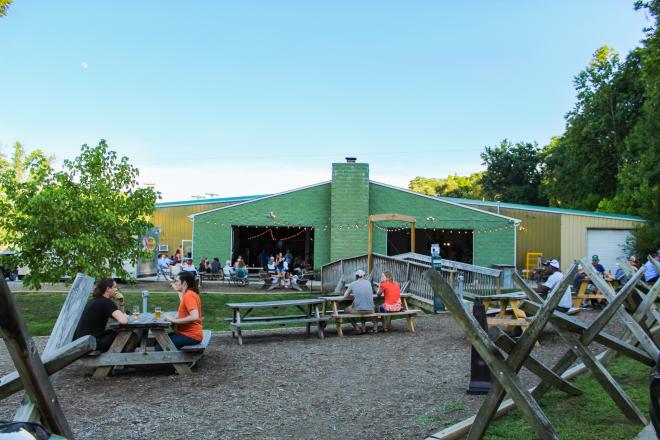 If you're returning from the Bennett Springs and Timberview parking areas, head to the City of Salem for post-ride drinks at Parkway Brewing Company (pictured above) and Olde Salem Brewing Company. You'll also find great food in Downtown Salem at popular local spots like Mac and Bob's Restaurant and El Jefe Taqueria.
From the Boat Dock Parking Area, delicious nearby dining options include Hollywood's Restaurant & Bakery, Veranda Bistro, and Lews Restaurant.
Map of Locations Mentioned