Spring is on its way to the Roanoke Region in Virginia's Blue Ridge Mountains and it's an exciting time of year with many upcoming events!
You'll find lots of fun St. Patrick's Day celebrations, as well as numerous opportunities to enjoy wonderful live music, sports, craft beer and more.
Special Feature: 2023 St. Patrick's Day Parade & Shamrock Festival Guide >
Plan a spring break getaway to Virginia's Blue Ridge for a metro mountain adventure and mark your calendar with these great events. Here's a preview of what's happening this month.
---
NOTE: All info is subject to change. Please check event websites and social media pages for the most updated information.
---
1. Roanoke Arts Pop! | March 3-5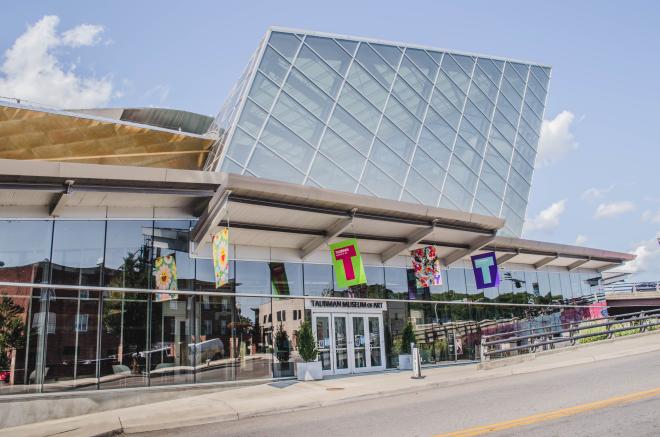 Taubman Museum of Art
Roanoke Arts POP is a 3-day celebration of the incredible arts & culture in Virginia's Blue Ridge, featuring more than 25 arts & cultural organizations that will offer pop-up performances, demos, talks, and hands-on activities throughout this free, family-friendly weekend at the Taubman Museum of Art.
Roanoke Arts Pop Information >
2. Beer, BBQ, and Boobs! | March 4
Twin Creeks Brewing Company
Twin Creeks Brewing Company will host its annual Beer, BBQ, and Boobs charity event at its Vinton Taproom on March 4. Proceeds go to benefit breast cancer research, education, and care, and it's a fun celebration of great craft beer, live music, and delicious BBQ.
Beer, BBQ, and Boobs Facebook Event >
3. Justin Moore | March 4
Berglund Center
Country music artist Justin Moore will take the stage at Roanoke's Berglund Center, where fans can expect to hear his popular hits like "You, Me, and Whiskey," "We Didn't Have Much," "With a Woman You Love," and many more. The concert will be opened by local Roanoke artist Corey Hunley.
Justin Moore Tickets >
4. Echoes | Through March 5
Showtimers Community Theatre
Echoes is the latest production by Showtimers Community Theatre in Roanoke County and it's a story about a young man & woman who build a paradise of happiness together within an asylum, only to have it shattered by the outside world.
Showtimers Community Theatre >
5. Lyle Lovett | March 7
Jefferson Center
NOTE: This show is sold out.
Legendary artist and musician Lyle Lovett will perform with his Acoustic Group at the Jefferson Center on March 7. Lovett has infused elements of country, swing, jazz, folk, gospel, and blues in a decorated 30+ year career that has earned him numerous Grammy Awards and many other recognitions.
Lyle Lovett Concert >
Historic Grandin Theatre
March is Women's History Month and the historic Grandin Theatre in Roanoke is celebrating with a series of free screenings of films that showcase powerful and inspiring stories of women. The following showings are part of the series:
North Country - March 7
Maiden - March 14
Jeanne Dielman - March 21
Obvious Child - March 28
Grandin Theatre Women's History Month Celebration >
7. Po' Ramblin' Boys Bluegrass Concert | March 8
Parkway Brewing Company
Enjoy a fantastic night of bluegrass music by the Po' Ramblin' Boys from the Smoky Mountains of East Tennessee, paired with delicious craft beer and a great atmosphere at Salem's Parkway Brewing Company.
Po' Ramblin' Boys Tickets >
8. Branford Marsalis | March 9
Jefferson Center
Branford Marsalis is one of the most innovative jazz saxophonists in the world, and he rose to prominence in the 1980s performing alongside his brother, trumpeter Wynton Marsalis. His original works and performances have earned him multiple Grammy Awards, and he's also collaborated with many other iconic names in the music industry, including Sting, Bela Fleck, and Bruce Hornsby.
Branford Marsalis Tickets > 
9. The Wood Brothers | March 9
Harvester Performance Center
NOTE: This show is sold out.
Described as the "masters of soulful folk," The Wood Brothers have earned a reputation of being one of the best groups in the Americana genre. The group received a Grammy Award nomination in 2018 for Best Americana Album for the release of its "One Drop of Truth" album.
The Wood Brothers Concert >
10. NCAA Division III Wrestling National Championships | March 10-11
Berglund Center
The best NCAA Division III wrestling teams and individual wrestlers from around the country will make their way to Virginia's Blue Ridge to compete at the national championships on March 11-12. The event is hosted by Ferrum College and will take place at the Berglund Center in Roanoke.
NCAA Division III Wrestling Championships Information >
11. Freedom First St. Patrick's Day Parade & Shamrock Festival | March 11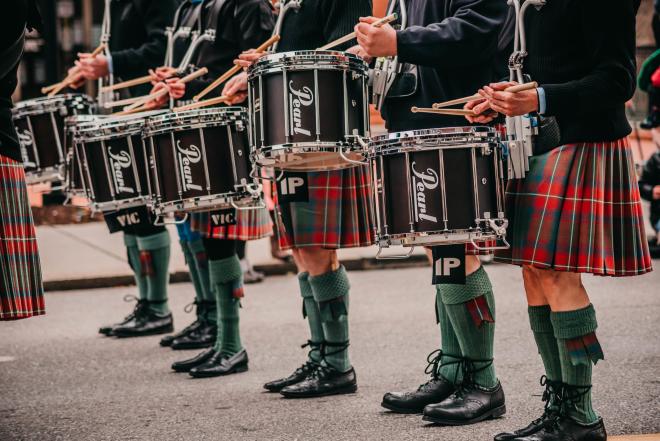 Downtown Roanoke
The annual St. Patrick's Day Parade and Shamrock Festival in Downtown Roanoke is one of the signature events of the year in Virginia's Blue Ridge and an unofficial start to the spring season! Take part in this festive celebration of Celtic heritage and culture and enjoy the parade festivities, as well as live music, great food & drink, and more.
St. Patrick's Day Parade & Shamrock Festival >
12. 15th Annual Montvale Trail Races | March 11
Montvale Park
The 15th annual Montvale Trail Races feature 8.4 mile and 5 mile trail running options through Bedford's beautiful Montvale Park trail system. The event is part of the RNUTS (Roanoke Non Ultra Trail Series) hosted by Mountain Junkies, which showcases many of the excellent opportunities for trail running in the region.
Montvale Trail Races Information >
13. Harlem Globetrotters World Tour | March 14
Berglund Center
The world-famous Harlem Globetrotters will bring their mesmerizing, family-friendly show to the Berglund Center in Roanoke on March 14! It'll be a night of ankle-breaking moves, jaw-dropping swag, and rim-rattling dunks that will have the entire crowd entertained.
Harlem Globetrotters Tickets >
14. Jersey Boys | March 15 - April 8
Mill Mountain Theatre
Mill Mountain Theatre will present the captivating story of Jersey Boys, featuring four blue-collar kids who become one of the greatest successes in the history of pop music. Get your tickets now for this exciting show and look forward to amazing music, memorable characters, and great storytelling.
Jersey Boys Tickets >
15. AMA Arenacross Championship | March 17
Salem Civic Center
The AMA Arenacross Championship is the nation's top indoor motorcycle race series and it provides an action-packed night of racing and entertainment for the entire family. Many of the top riders from around the country will compete against each other in exciting races that showcase massive air, high bank turns, and incredible technical skills.
AMA Arenacross Championships Information >
16. St. Patrick's Day Celebration | March 17
Living Proof Beer Co.
Put on your festive St. Patrick's Day attire and head to Living Proof Beer Co. for its St. Patrick's Day Celebration, which will include green beer and brewery games throughout the day, Buddy's BBQ serving traditional Irish fare like corned beef and bangers & mash, and live music by the Harwell Grice Band.
Living Proof Beer Company >
17. Riders in the Sky | March 17
Harvester Performance Center
Following the St. Patrick's Day Celebration at Living Proof Beer Co., make the short walk down the hill to the Harvester Performance Center in Downtown Rocky Mount for a performance by the legendary Riders in the Sky. The group has celebrated Western music and cowboy culture for over 40 years, performing for millions of fans around the world and being featured by CBS, Disney, and the Grand Ole Opry.
Riders in the Sky Tickets > 
18. Shamrock Volleyball Festival | March 18-19
Various Locations
The annual Shamrock Volleyball Festival is a fantastic showcase for many of the top youth volleyball players in the Mid-Atlantic and throughout the East Coast, as 175 teams will be competing at various venues in Roanoke over the course of the 2-day tournament.
2023 Shamrock Volleyball Festival >
19. SPRING Home Show 2023 | March 24-26
Salem Civic Center
This year marks the 51st anniversary of the SPRING Home Show & Better Living Expo - the longest running home show in the Roanoke Valley. Meet with experts, vendors, and find all kinds of great ideas for home design and improvement projects.
2023 SPRING Home Show Information > 
20. Quilt Show | March 24-25
Berglund Center
The Star Quilters Guild will host the largest quilt show in Southwest Virginia on March 24-25 at the Berglund Center. Stars Over Blue Ridge is a judged show that will feature over 150 quilts on display, as well as unique items for sale and quilting demonstrations.
Quilt Show Information >
21. 2023 CIAA Women's Bowling Championship | March 25-26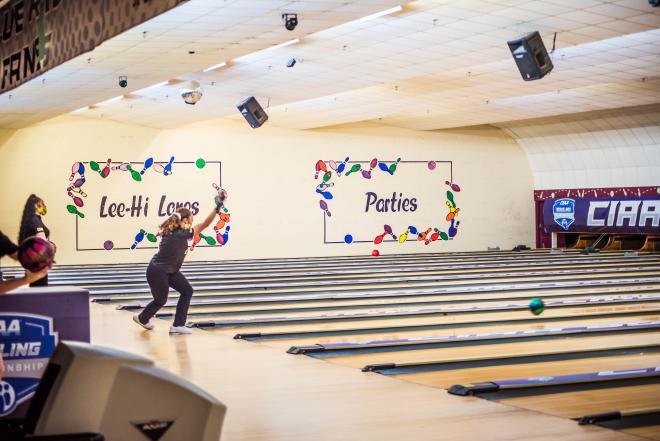 Lee-Hi Lanes
We are excited to welcome the bowling teams from the Central Intercollegiate Athletic Association to Virginia's Blue Ridge this month to compete in the 2023 CIAA Women's Bowling Championship at Lee-Hi Lanes in the City of Salem! Fans are encouraged to come out to cheer on the bowlers and watch champions be crowned in Virginia's Championship City.
CIAA Women's Bowling >
22. Chili Cook-Off | March 25
Twisted Track Brewpub
Chow down on delicious chili and pair it with tasty craft beer at the Twisted Track Brewpub Chili Cook-Off! The competition will be judged by local chefs and influencers from the Roanoke food scene and it's free to taste the different entries in the competition.
Chili Cook Off Facebook Event > 
23. Alicia Olatuja | March 25
Jefferson Center
Described by The New York Times as, "a singer with a strong and luscious tone," Alicia Olatuja is a talented vocalist, composer, and arranger. In her 2019 album, Intuition: Songs from the Minds of Women, Olatuja celebrates the artistic creations of noted female composers.
Alicia Olatuja Tickets >
24. Jurassic Quest | March 31 - April 2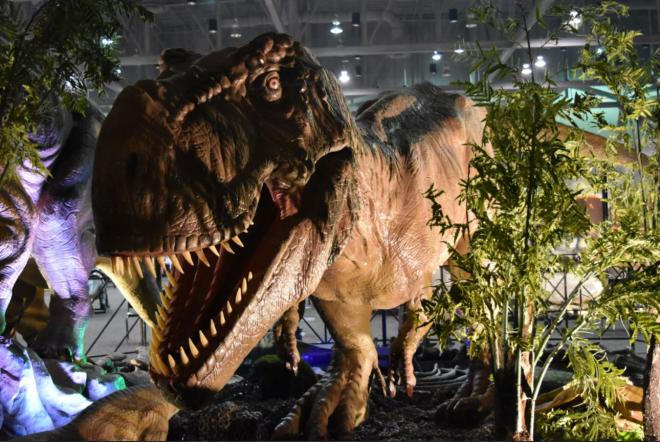 Berglund Center
Jurassic Quest is a national tour of the country's largest and most realistic dinosaur exhibit. You can walk through various eras and interact with life-size dinosaurs in this three-day event at the Berglund Center.
Jurassic Quest Tickets >
Berglund Center
The season is winding down for the Roanoke Rail Yard Dawgs hockey team, which has four home games in March - March 24, 25, 26, and 31. There are also fun promotional activities & themes planned for each of the games, including:
March 24 - First Responder Night
March 25 - Top Gun Night
March 26 - Bring Your Dawg to the Game
March 31 - Baseball Night
​Roanoke Rail Yard Dawgs Website >
---
Save the Dates for April
Chance Crawford Softball Tournament - April 14-16
Blue Ridge Kite Festival - April 15
2023 Blue Ridge Marathon - April 22
Open Studios Tour Roanoke 2023 - April 29-30
---
Visit our Calendar of Events to learn more about what's going in Virginia's Blue Ridge. You can also subscribe to our newsletter and follow us on social media to keep up with what's happening in the region.