The holiday season is packed with fun festivals and special events in the Roanoke Valley in Virginia's Blue Ridge Mountains.
Throughout the month of December, you can take part in local holiday celebrations, including festive parades, historic home tours, tree & light displays, and numerous performances & concerts. For a complete guide to holiday-themed events in the region, check out our Holiday Events page >
There are also special seasonal activities to enjoy, such as ice skating in the park at Elmwood on Ice, or cheering on the Roanoke Rail Yard Dawgs hockey team.
For more December fun, here's a guide to 25 special events happening this month in Virginia's Blue Ridge! 
1. Fashions for Evergreens
The Hotel Roanoke & Conference Center | Through January 1
See more than 30 beautifully designed trees on display at the historic Hotel Roanoke & Conference Center and vote for your favorites! The trees make for great backgrounds for your holiday pics with friends & family.
Fashions for Evergreens Website >
2. Illuminights
Explore Park | Through January 1 - Select Dates
This exciting new event at Roanoke County's Explore Park is a magical walk along a half-mile wooded path through an incredible display of over 500,000 lights, featuring beautiful holiday scenes. After your walk, enjoy marshmallow roasting and more holiday fun at the Explore Park Christmas Market.
Illuminights Tickets & Dates >
3. The Sound of Music
Mill Mountain Theatre | December 4-22
The hills come alive with the beautiful sounds of this Rodgers & Hammerstein classic, which makes for a great story for the entire family to enjoy during the holiday season.
Sound of Music Tickets >
4. Is He Dead?
Showtimers Community Theatre | December 5-15 - Thursday through Sunday
Originally written by Mark Twain, Is He Dead? is the humorous story of an artist struggling with the inability to sell his work and mounting debts who attempts to solve his problems by faking his own death.
Showtimers Community Theatre Tickets >
5. Miracle on 34th Street
Attic Productions | December 5-14 - Thursday through Saturday
Attic Productions in Botetourt County brings the classic story of Miracle on 34th Street to life this holiday season as Kris Kringle works to ensure children continue to experience the joy and magic of Christmas.
Attic Productions Tickets >
6. Holiday Candlelight Tours
Thomas Jefferson's Poplar Forest | December 5-21 - Thursday through Saturday
Take a guided tour through this historic home as you learn how Thomas Jefferson and his enslaved workers would spend the holidays, which are told through the sharing of stories documented from Jefferson's own writings.
Holiday Candlelight Tour Tickets >
7. Come Home to a Franklin County Christmas
Downtown Rocky Mount | December 6
The 11th annual Come Home to a Franklin County Christmas begins with the "Biggest Little Parade" in Franklin County and then downtown Rocky Mount transforms into a holiday festival, featuring special performances, local vendors, live music, and horse-drawn carriage rides.
Come Home to a Franklin County Christmas Website >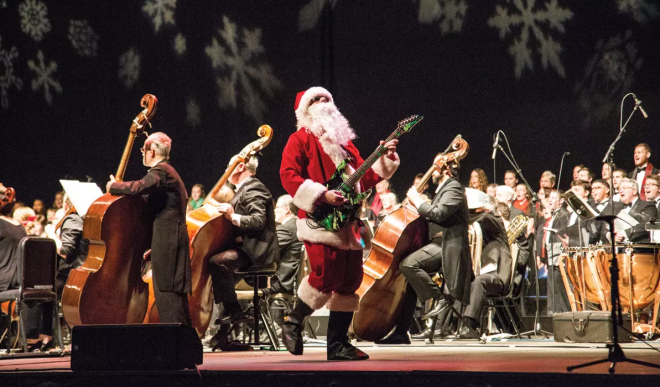 8. Roanoke Symphony Orchestra's Holiday Pops Spectacular
Salem Civic Center - December 6 | Moss Arts Center - December 7
The Roanoke Symphony Orchestra, in collaboration with the Roanoke Symphony Orchestra Chorus, Virginia Tech Chorus, and Roanoke Valley Children's Choir, presents many of your favorite holiday tunes with two unforgettable concerts - December 6 at the Salem Civic Center and December 7 at the Moss Arts Center at Virginia Tech.
Concert Tickets: Salem Civic Center > | Moss Arts Center > (SOLD OUT)
9. Dickens of a Christmas
Downtown Roanoke | December 6, 13, 20
Celebrating its 37th anniversary this year, The Roanoke Times Dickens of a Christmas celebration has become one of the premier holiday festivals in the Southeast. Held the first three Fridays of December, Dickens of a Christmas is full of holiday traditions and activities, including the Christmas tree lighting on December 6, Christmas parade on December 13 (UPDATE: the parade has been cancelled due to inclement weather), and pet costume contest on December 20.
Dickens of a Christmas Schedule & Activities >
10. An Old Virginia Christmas
Booker T. Washington National Monument | December 7
This special event at the Booker T. Washington National Monument is how the park staff presents the scenes Booker T. Washington described in his memories of Christmas as a child in a 1907 article titled "Christmas Days in Old Virginia," where he writes about how Christmas was a particularly special time for enslaved people throughout the South.
An Old Virginia Christmas Event Website >
11. Roanoke Valley Comicon
Tanglewood Mall | December 7
Put on your best superhero outfit and take part in the Costume Contest, and browse among impressive collections of comic books, action figures, collectible cards & magazines, and more at this fun Comicon event at Tanglewood Mall.
Roanoke Valley Comicon Website >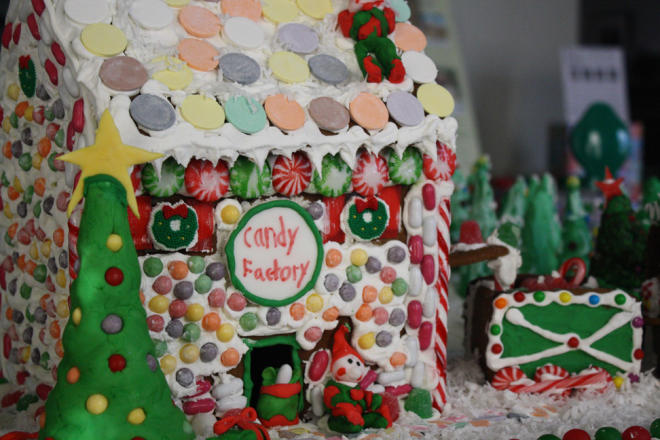 12. Gingerbread Festival
Salem Public Library | December 7
The Gingerbread House Competition provides fantastic photo opportunities, as well as inspirational ideas for how to decorate your own gingerbread house during the holiday season, and the festival also includes hot apple cider, marshmallow roasting, roasted chestnuts, pics with Santa, and other activities.
Gingerbread Festival Facebook Event >
13. Candy Cane Express
Virginia Museum of Transportation | December 7-8
Take pictures with Santa, create some fun holiday crafts, sing along to holiday music, and hop aboard the Candy Cane Express with train rides operated by the Roanoke National Railway Historical Society.
Candy Cane Express Website >
14. Ten-Minute Play Festival
Hollins University | December 7-9
The Ten-Minute Play Festival is a free event that features the amazing work of the Hollins Playwright's Lab with student-directed short plays that showcase their creative abilities and talents.
Hollins University Theatre > 
15. Holiday Lights Tour Bicycle Ride
Grandin Village | December 11
Presented and organized by Ride Solutions, the Holiday Lights Tour is a fun, relaxed, group bicycle ride along streets with homes offering some of the best light displays in Roanoke's Grandin Village neighborhood. In need of a bike to participate? The ride begins & ends at a Zagster bike share station, providing easy access for a bicycle rental.
Holiday Lights Tour Facebook Event >
16. The Illusionists: Magic of the Holidays
Salem Civic Center | December 12
The Illusionists have captivated audiences around the world with shows on Broadway, London's West End, and international tours. This month, they bring their jaw-dropping illusions and magic to Virginia's Blue Ridge with a family-friendly holiday show at the Salem Civic Center.
The Illusionists Event Website >
17. Roanoke Ballet Theatre - The Nutcracker
Jefferson Center | December 13-14
Be swept away by the Roanoke Ballet Theatre as you join Clara on her magical journey that includes scurrying mice, sugar plum fairies, dancing snowflakes, and the enchanting music of Tchaikovsky.
Roanoke Ballet Theatre's The Nutcracker Tickets >
18. Historic Fincastle Holiday Home Tour & Marketplace
Town of Fincastle | December 14
Take a tour through five historic homes decorated for the holidays and then pick up some unique local items and gifts from over 40 local artisans and craftspeople at the popular Fincastle Marketplace.
Historic Fincastle Website >
19. Dry Hollow Holler - A Short Track Mountain Bike Race
Camp Roanoke | December 14
The inaugural Dry Hollow Holler at Camp Roanoke offers a short track format that's intended to be a way for mountain bikers of all skill levels to participate in the race. Track conditions are expected to include mud, rocks, roots, and open fields.
Register for the Dry Hollow Holler >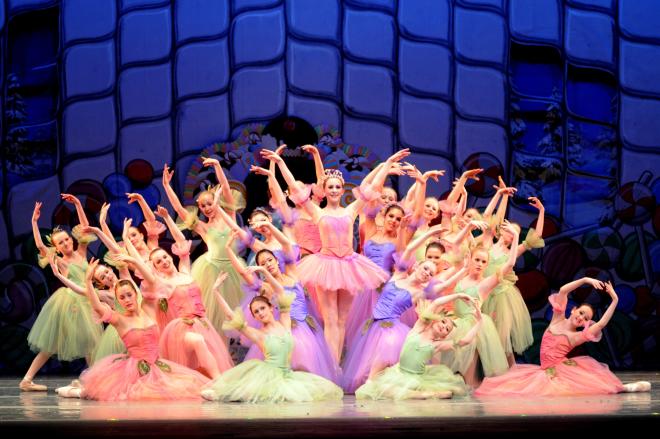 20. Southwest Virginia Ballet - The Nutcracker
Berglund Center | December 14-15
With its 27th production of The Nutcracker, the Southwest Virginia Ballet and its cast of 150 performers presents one of our favorite annual holiday performances in Virginia's Blue Ridge with three shows at Roanoke's Berglund Center.
Tickets to Southwest Virginia Ballet's The Nutcracker >
21. Holiday Lights Run/Walk Tour
Grandin Village | December 18
Put on your most festive lights and attire and take part in this group run & walk with RunAbout Sports that will include up to three miles of winding through the streets of Grandin Village, showing off all kinds of fun holiday lights and decorations.
Holiday Lights Run/Walk Tour Facebook Event >
22. Matilda
Roanoke Children's Theatre | December 19-22
Based on the book by Roald Dahl, Matilda is the story of a little girl full of creativity and courage who beats the odds by learning she can do anything she puts her mind to.
Tickets to Matilda >
23. Buchanan Christmas Eve Luminaries
Main Street Buchanan | December 24
The Town of Buchanan glows with love on Christmas Eve as its charming Main Street is lined with luminaries made from one-gallon plastic jugs. The jugs represent a key moment in the town's history, when volunteers donated jugs of water to the town when it was left with no potable water following the devastating flood of 1985. Now, the community commemorates the love shared with them during that time with the annual lighting of the luminaries on Christmas Eve.
Christmas Eve Luminary Website >
24. 5 Points Holiday Ball
5 Points Music Sanctuary | December 28
The Holiday Ball is a way for 5 Points Music Sanctuary to say "Thank You" to its community partners, supports, and fans. They'll celebrate the special moments of the past year and get down with music by the Sway Katz Big Band.
5 Points Holiday Ball Tickets >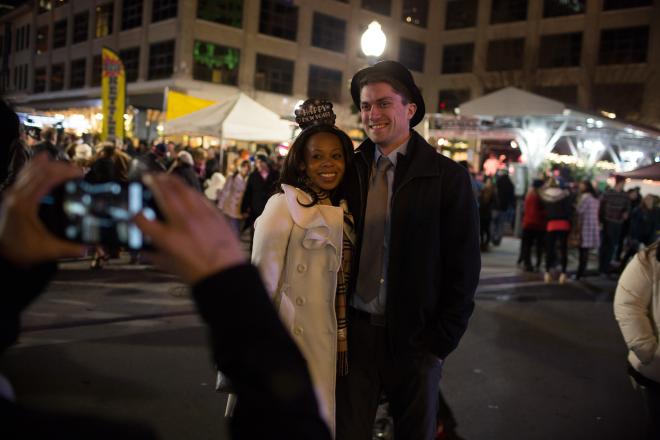 25. Big Lick Downtown Countdown
Market Square - Downtown Roanoke | December 31
Ring in the new year with the 7th annual Big Lick Downtown Countdown on Market Square in Downtown Roanoke! This fun New Year's Eve party will include live music, games, craft beer, food, and a special Roanoke Star rise at midnight.
Big Lick Downtown Countdown Tickets >
---
Remember to visit our Holiday Events page for a guide to holiday-themed events happening this month. You can also take a look at the Calendar of Events for a complete list of upcoming events, as well as sign up to receive our free e-newsletter and follow us on social media.
Happy Holidays!