The holiday season is packed with fun festivals and special events in Virginia's Blue Ridge
Throughout the month of December, you can take part in local holiday celebrations, including festive parades, historic home tours, tree & light displays, and numerous performances & concerts.
For a complete guide to holiday-themed events in the region, check out our Holiday Events page >
We also have guides for where to see Christmas Lights & Holiday Decorations, as well as local options for Christmas & Holiday Shopping >
There are also special seasonal activities to enjoy, such as ice skating in the park at Elmwood on Ice, or cheering on the Roanoke Rail Yard Dawgs hockey team.
For more December fun, here's a guide to 25 special events happening this month in Virginia's Blue Ridge!
---
NOTE: All info is subject to change. Please check event websites and social media pages for the most updated information.
---
Kerr Stadium - Roanoke College
The best NCAA Division III Men's & Women's Soccer teams from around the country will come to Virginia's Blue Ridge to compete for the national championships in the City of Salem - Virginia's Championship City.
The matches will be held at Roanoke College's Kerr Stadium, with the semifinals on December 1-2, followed by the championship games on December 3-4.
NCAA Division III Soccer Championship Info >
Downtown Roanoke
Held the first three Fridays in December, The Roanoke Times Dickens of a Christmas is one of the signature events of the holiday season and has been recognized as one of the best holiday festivals in the Southeast. Downtown Roanoke is decorated for the holiday season and the festival includes a variety of local vendors and special activities, including:
City of Roanoke Christmas Tree Lighting - December 2
City of Roanoke Christmas Parade - December 9
Pet Costume Contest - December 16
Dickens of a Christmas Website >
3. Come Home to a Franklin County Christmas | December 2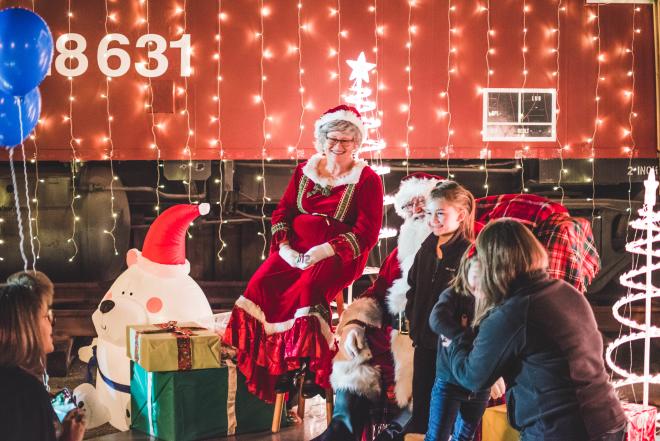 Rocky Mount
The Town of Rocky Mount in Franklin County transforms into The North Pole for its popular annual Come Home to a Franklin County Christmas celebration, with shops and businesses draped in "White Lights" and holiday decorations.
The event also features live music, dancers, and lots of local food & craft vendors.
Come Home to a Franklin County Christmas Details >
4. Roanoke Symphony Orchestra - Holiday POPS! | December 2
Salem Civic Center
The Roanoke Symphony Orchestra will present its popular annual Holiday POPS Spectacular show at the Salem Civic Center, featuring over 250 performers on stage, including the RSO Chorus, Virginia Tech Chorus, and the Roanoke Valley Children's Choir, as well as special guest soloists.
5. An Ideal Husband | December 2-11
Showtimers Community Theatre
Showtimers Community Theatre in Roanoke County presents Oscar Wilde's comedic tale of "An Ideal Husband." The story is about Texas representative Robert Chiltern and his attempt to protect his political career and personal life from the threat of blackmail.
6. First Bank Fincastle Tinsel Trail | December 2 - January 1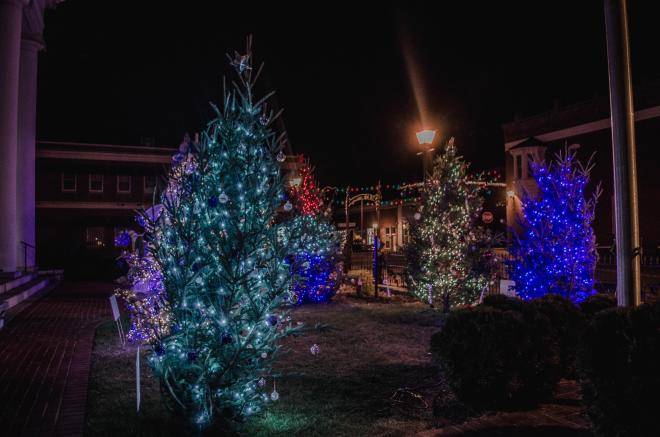 Historic Fincastle
Friday, December 2 is Opening Night for the 3rd Annual First Bank Tinsel Trail in Historic Fincastle in Botetourt County.
Experience the fun of beautiful holiday trees decorated by local businesses and organizations in the heart of Historic Downtown Fincastle as part of a festive celebration.
The opening night event will include a lighting of the Christmas trees in front of the courthouse at 5:30 p.m., music by the Lord Botetourt High School Chorus, shopping with holiday vendors at the Kyle House, and delicious food, cocktails, and a unique view of the trees at 1772 Rooftop on Main.
There will also be a holiday open house at the Botetourt County Historical Museum, where you can view exhibits, enjoy homemade mulled cider, hot chocolate, and snacks.
The Tinsel Trail will be on display throughout December so be sure to stop by and vote for your favorite trees.
7. Gingerbread Festival | December 3
Salem Museum & Longwood Park
The Gingerbread Festival is a great Salem Holiday Tradition! Longwood Park will be full of holiday fun and a variety of great entertainment, local vendors, smores, caricatures, petting zoo, visits with Santa, and more.
The gingerbread houses will be on display in the Salem Museum, and visitors can also stop by the museum before the festival.
Gingerbread Festival Website >
8. Christmas Belles | December 8-18
Attic Productions
Attic Productions is joining the holiday spirit with its presentation of Christmas Belles, a Southern Fried Yuletide Comedy by Jessie Jones, Nicholas Hope, and Jamie Wooten. You'll love the story of the Futrelle sisters as they attempt to manage the stress and chaos of the holiday season.
Town of Buchanan
Saturday, December 10 is a great opportunity to experience the holiday fun, festivities, and small town charm of the Town of Buchanan in Virginia's Blue Ridge.
The town will host its annual Community Christmas Market from 9:00 a.m. to 3:00 p.m., followed by the Buchanan Christmas Parade along Main Street at 4:00 p.m. You can also see the lights on display for the Festival of Lights in the nearby Buchanan Town Park and enjoy a movie at the historic Buchanan Theatre at 7:30 p.m.
Buchanan Christmas Market & Parade >
10. Salem Holiday Market | December 10-11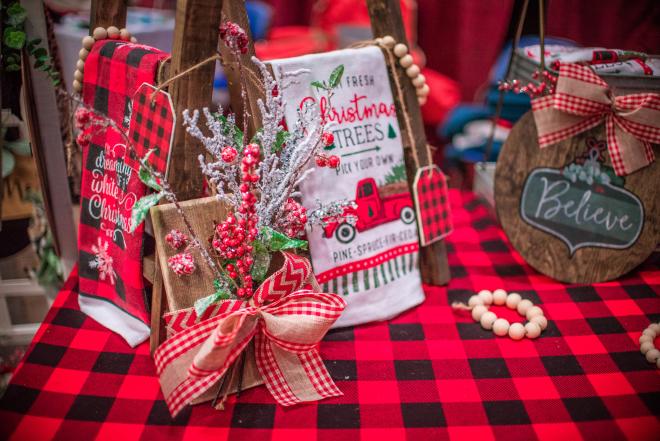 Salem Civic Center
More than 70 regional sellers will be participating in this year's Salem Holiday Market at the Salem Civic Center, offering a variety of homemade crafts and delicacies that make for perfect holiday gifts.
Salem Holiday Market Details >
11. 2022 Holiday Lights Tour | December 14
Cardinal Bicycle - Grandin
Ride Solutions presents the 6th annual Holiday Lights Tour, a group bicycle ride to enjoy the beautiful holiday lights and decorations along the quaint streets of Roanoke's Grandin Village neighborhood.
The ride begins and ends at Cardinal Bicycle in Grandin and participants are encouraged to dress up in their most festive holiday gear. The event is free but a $5 donation is encouraged, if you're able to contribute.
Holiday Lights Tour Registration >
If you'd prefer to see the lights on two feet instead of two wheels, you can also join the RunAbout Sports Holiday Lights Extravaganza event in Grandin Village on December 19.
12. Christmas at the Farm | December 16
Blue Ridge Institute & Museum
Experience a traditional Christmas in Virginia's Blue Ridge at the 1800s farm museum of the Blue Ridge Institute & Museum in Franklin County. There will be cookies, cider, and a variety of vendors selling holiday gifts, as well as festive decorations and the farm lit with lanterns.
Christmas at the Farm Details >
13. Fantasyland | December 17
History Museum of Western Virginia
The History Museum of Western Virginia and O. Winston Link Museum turns into a Fantasyland for children as the museum hosts a story-telling, guitar playing Santa. This event has served as a holiday tradition for many Roanoke children and families over the years.
Historical Society of Western Virginia >
14. Mark Chesnutt | December 17
Harvester Performance Center
Through a career that has now spanned five decades, Mark Chesnutt is one of the most decorated and accomplished stars in the history of country music. With numerous No. 1 hits, four platinum albums, and five gold records, Chesnutt is a classic country singer who has served to influence an entire generation of young artists.
15. Holiday Inn | Through December 23
Mill Mountain Theatre
Based on the 1942 movie, Irving Berlin's Holiday Inn features the story of Jim, who leaves his job in showbusiness to settle in a farmhouse in Connecticut. He meets a talented local schoolteacher named Linda and they team up to turn the farmhouse into an inn that hosts dazzling performances to celebrate the holidays.
Town of Buchanan
The lighting of the luminaries on Christmas Eve along Main Street in Buchanan is a treasured annual holiday tradition in Virginia's Blue Ridge. The 1 gallon plastic jugs that are used as the luminaries have special meaning to the town, which received donations of water and recycled the jugs following the flood of 1985, when the town was left without potable water.
17. Christmas Eve & Christmas Day Buffet | December 24-25
The Hotel Roanoke & Conference Center
The Regency Room Restaurant at The Hotel Roanoke & Conference Center is the place to be for a holiday feast, with its Christmas Eve and Christmas Day buffet service. You're encouraged to make reservations ASAP as seating times will likely fill up.
18. Land of Lights | Through December 25
Franklin County Recreation Park
Land of Lights is an amazing drive-thru light experience at the Franklin County Recreation Park. You can drive the 1/2 mile loop and enjoy over 50,000 Christmas lights and unique displays with your entire family.
The event is free to attend, but cash donations are accepted.
19. Illuminights | Through December 30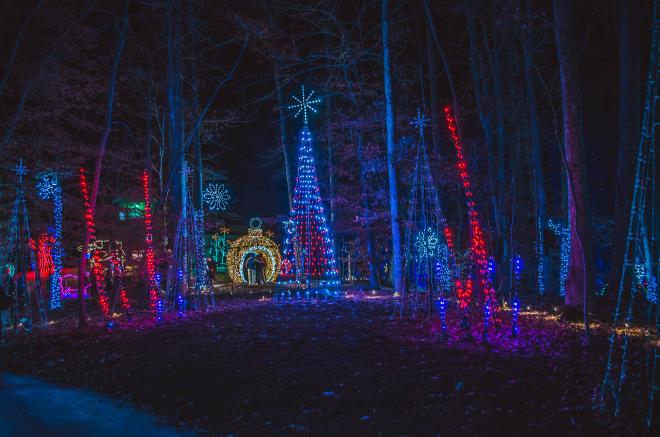 Explore Park
Over 500,000 lights and unique displays along the ½ mile walking path through the woods will provide unforgettable holiday memories at Roanoke County's Explore Park! The event will also feature a special Christmas market, campfires, and materials for roasting marshmallows.
Note: Tickets must be purchased in advance and are available on the Illuminights website >
20. Hometown Gingerbread Trail | Through December 31
Various Locations
See the beautiful gingerbread cottages and villages on display throughout local businesses in Roanoke County and Salem as part of the Hometown Gingerbread Trail, organized by the Salem-Roanoke County Chamber of Commerce.
There will also be a special Gingerbread Passport you can pick up for a map of participating locations and information about special discounts, prizes and gifts.
Hometown Gingerbread Trail Website >
21. ValleyStar Big Lick Downtown Countdown | December 31
Center in the Square
Take part in the 10th annual Big Lick Downtown Countdown on Market Square in Downtown Roanoke! The festivities will include live music by Low Low Chariot, Vinyl Nation, Macklyn, and multiple DJs. 
There will also be gaming fun at Center in the Square along with cocktails, craft beer, food and the signature Roanoke Star Rise at midnight!
Big Lick Downtown Countdown Details & Tickets >
22. Fashions for Evergreens | Through January 1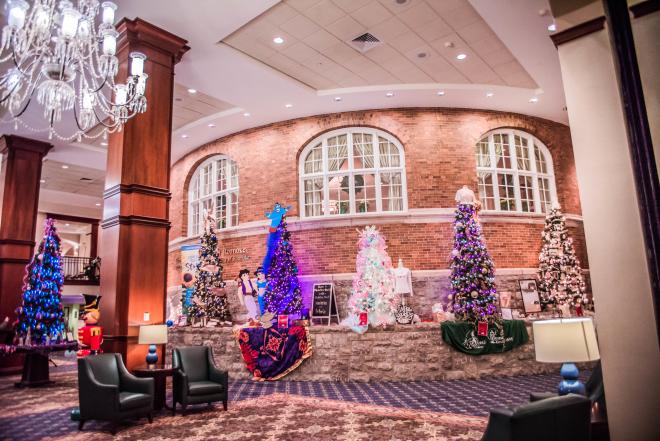 The Hotel Roanoke & Conference Center
Fashions for Evergreens at The Hotel Roanoke & Conference Center is a wonderful holiday tradition, presented in partnership with the United Way of the Roanoke Valley. The event showcases over 25 beautifully decorated trees throughout the hotel & conference center.
It's a great setting for family holiday photos and you can vote for your favorite trees, which helps raise money for the local chapter of the United Way. The trees are sponsored and decorated by local businesses and organizations.
Fashions for Evergreens Details >
23. Parade of Christmas Trees | Through January 2
Vinton War Memorial
Located on the lawn of the Vinton War Memorial in the Town of Vinton, the first ever Parade of Christmas Trees will showcase trees that are donated and decorated by local businesses. There will also be a special appearance by Santa on select dates: December 6, December 10, December 17, and December 22.
Elmwood Park
Elmwood on Ice is a great activity for the entire family to enjoy during the holiday & winter season in Virginia's Blue Ridge.
Located in the heart of Elmwood Park in Downtown Roanoke, the ice rink is open until January 30 and has space for 75 to 100 skaters at a time.
Berglund Center
The Roanoke Rail Yard Dawgs professional ice hockey team will host six home games at the Berglund Center in the month of December.
There are some great promotional nights and special activities planned, including:
Teddy Bear Toss Night - Saturday, December 10
Christmas Eve's Eve - Friday, December 23
Big Lick Bootleggers Night - Friday, December 30
---
Remember to visit our Holiday Events page for a guide to holiday-themed events happening this month.
You can also take a look at the Calendar of Events for a complete list of upcoming events, as well as sign up to receive our free e-newsletter and follow us on social media.
Happy Holidays!