The holiday season is packed with fun festivals and special events in Virginia's Blue Ridge
Throughout the month of December, you can take part in local holiday celebrations, including festive parades, historic home tours, tree & light displays, and numerous performances & concerts.
For a complete guide to holiday-themed events in the region, check out our Holiday Events page >
We also have guides for where to see Christmas Lights & Holiday Decorations, as well as local options for Christmas & Holiday Shopping >
There are also special seasonal activities to enjoy, such as ice skating in the park at Elmwood on Ice, or cheering on the Roanoke Rail Yard Dawgs hockey team.
For more December fun, here's a guide to 25 special events happening this month in Virginia's Blue Ridge!
---
NOTE: All info is subject to change. Please check event websites and social media pages for the most updated information.
---
1. A Christmas Story - December 1-19
Mill Mountain Theatre
Mill Mountain Theatre presents "A Christmas Story," based on the beloved holiday film in which all young Ralphie Parker wants for Christmas is "an official Red Ryder, carbine action, two-hundred shot range model air rifle!"
Let's just hope he doesn't shoot his eye out.
2. Buchanan Festival of Lights - Through December 27
Buchanan Town Park
The Buchanan Town Park features a beautiful holiday experience for the town's Festival of Lights. It'll be open nightly with thousands of lights on display, with week nights (Monday - Thursday) offering a walk-thru experience and weekends (Friday - Sunday) being for drive-thru visitors.
Buchanan Festival of Lights Details > 
3. Illuminights - Through December 30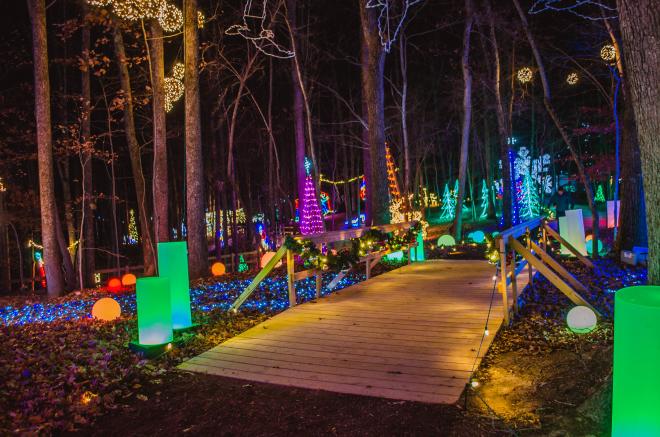 Explore Park
Illuminights is one of the most magical events of the holiday season in Virginia's Blue Ridge! Located at Roanoke County's Explore Park, it's an incredible scene of over 600,000 lights and unique displays along a half-mile wooded path through the park.
In addition to the trail, there are also artisan crafts, marshmallow roasting around the campfire, and other family-friendly activities.
4. Land of Lights - Through December 31
Franklin County Recreation Park
Land of Lights (pictured at the top of this page) is an amazing drive-thru light experience at the Franklin County Recreation Park. You can drive the 1/2 mile loop and enjoy over 50,000 Christmas lights and unique displays with your entire family.
The event is free to attend, but cash donations are accepted.
5. Welcome to Mitford - December 2-11
Attic Productions
Attic Productions in Botetourt County is excited to announce its return with the celebration of its 25th season, which will begin with a production of Welcome to Mitford by Robert Inman. The story focuses on an Episcopal priest living in a small North Carolina town and two people who change his life.
Attic Productions Ticket Info >   
6. Holiday Candlelight Tours - December 2-17
Thomas Jefferson's Poplar Forest
Experience Christmas past at Thomas Jefferson's Poplar Forest, which will host hour-long candlelight tours that showcase the way the Jefferson family and their enslaved workers spent the holiday season.
Poplar Forest Holiday Candlelight Tours Details >
7. Holiday POPS Spectacular - December 3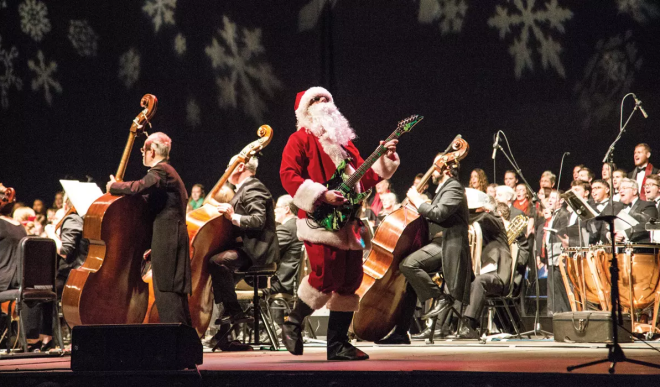 Salem Civic Center
The Roanoke Symphony Orchestra will present its popular annual Holiday POPS Spectacular show at the Salem Civic Center, featuring over 250 performers on stage, including the RSO Chorus, Virginia Tech Chorus, and the Roanoke Valley Children's Choir, as well as special guest soloists.
Holiday POPS Spectacular Details >
8. Come Home to a Franklin County Christmas - December 3
Downtown Rocky Mount
Downtown Rocky Mount will transform into the North Pole, with local shops & businesses draped in white lights and holiday decorations, and a variety of activities, such as live music, dance performances, and local food & craft vendors.
Come Home to a Franklin County Christmas Details >
9. Flames of Memory - December 3-5
National D-Day Memorial
The National D-Day Memorial will honor the 4,415 men killed on D-Day by arranging thousands of luminaries that will shine throughout the memorial's grounds. These luminaries will shine in recognition of the fallen and as a tribute to the ultimate sacrifice that each one of them paid.
This event is free to attend, but donations are welcome.
10. Rodgers & Hammerstein's Cinderella - December 3-5
Jefferson Center
The Virginia Children's Theatre will present the classic story of Cinderella with a weekend of performances at the Jefferson Center. It'll be a magical production for anyone who has ever had a dream.
Virginia Children's Theatre Tickets >
11. Festive Fridays - December 3,10,17
Downtown Rocky Mount
Stroll around downtown Rocky Mount and enjoy the holiday cheer as the town hosts its special Festive Fridays event during the first three Fridays in December. It's a great opportunity to support local businesses and take part in Rocky Mount's Shift the Spend Campaign.
Festive Fridays will also feature special themed nights where visitors are encouraged to participate:
December 3: Flannel Friday
December 10: Ugly Christmas Sweaters
December 17: Christmas Characters
Festive Fridays Facebook Event >
Downtown Roanoke
A beloved holiday tradition for many, The Roanoke Times Dickens of a Christmas is a three-weekend event that's held the first three Fridays in December.
It begins with the Christmas Tree Lighting on December 3, features the Christmas Parade on December 10 and culminates with the beloved RVSPCA Pet Costume Contest on December 17.
Dickens of a Christmas Details >
13. First Bank Tinsel Trail - December 3 - January 1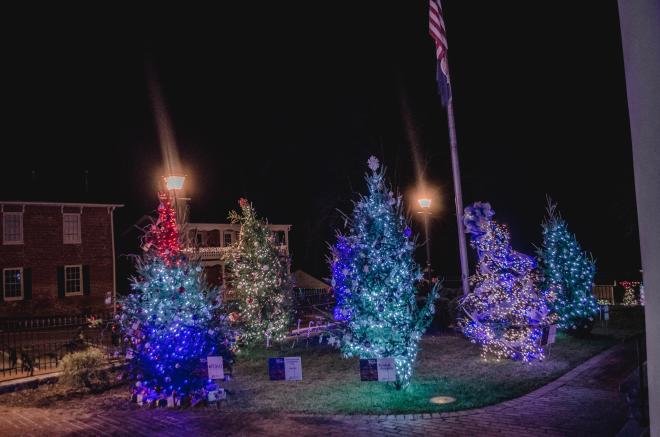 Historic Fincastle
Historic Fincastle will serve as a beautiful setting for the 2021 First Bank Tinsel Trail, which is brought to you by the Botetourt Chamber of Commerce in partnership with First Bank. Get your camera ready to take pictures of the many Christmas trees decorated by community businesses and organizations in Fincastle and take a leisurely stroll through this charming downtown of Virginia's Blue Ridge.
There will also be a variety of other activities & events taking place in conjunction with the trail. View Calendar of Tinsel Trail Events >
14. An Old Virginia Christmas - December 4
Booker T. Washington National Monument
The Booker T. Washington National Monument in Franklin County will celebrate "An Old Virginia Christmas," featuring the sights, sounds, and fragrances of what life was like for Dr. Booker T. Washington as a child, which he described in a 1907 article titled "Christmas Days in Old Virginia."
The event will include guided tours of the farm where Washington spent the first 9 years of his life with his family as enslaved people.
An Old Virginia Christmas Event Details > 
15. Salem Gingerbread Festival - December 4
Salem Museum & Longwood Park
The Gingerbread Festival is a great Salem Holiday Tradition! Longwood Park will be full of holiday fun and a variety of great entertainment, local vendors, smores, caricatures, petting zoo, visits with Santa, and more.
The gingerbread houses will be on display in the Salem Museum, and visitors can also stop by the museum before the festival (November 27 & 30, December 1-3) to check out the houses and avoid the crowds.
Gingerbread Festival Details > 
16. Holiday Lights Tour - December 8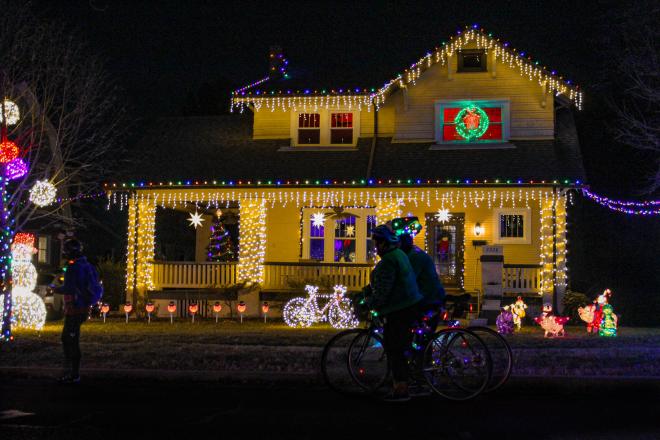 Grandin Village
Join the fun of the 2021 Holiday Lights Tour bicycle ride on December 8! Hosted by RIDE Solutions, this family-friendly ride features the beautiful holiday lights and decorations of Roanoke's Grandin Village, and it will also include post-ride hot chocolate & smores at Cardinal Bicycle Grandin, courtesy of the Roanoke Co+op.
It's free to participate, but a $5 donation is appreciated, which will help support other RIDE Solutions initiatives.
Holiday Lights Tour Registration >
17. It's a Wonderful Life: A Live Radio Play - December 9-19
Showtimers Community Theatre
Showtimers Community Theatre will bring this beloved American holiday classic to life as a live 1940s radio broadcast. A small ensemble will present the story of George Bailey as he considers ending his life on one fateful Christmas Eve.
It's a Wonderful Life Tickets >
18. American Aquarium - December 10
Harvester Performance Center
Drawing on influence from bands like Drive-By Truckers and Whiskeytown, American Aquarium is known for a style that has been described as a blend of alt-country and alt-rock. The current tour features songs from the band's most recent album, Lamentations, which was released in 2020.
19. Luminary Nights at Natural Bridge - December 10-19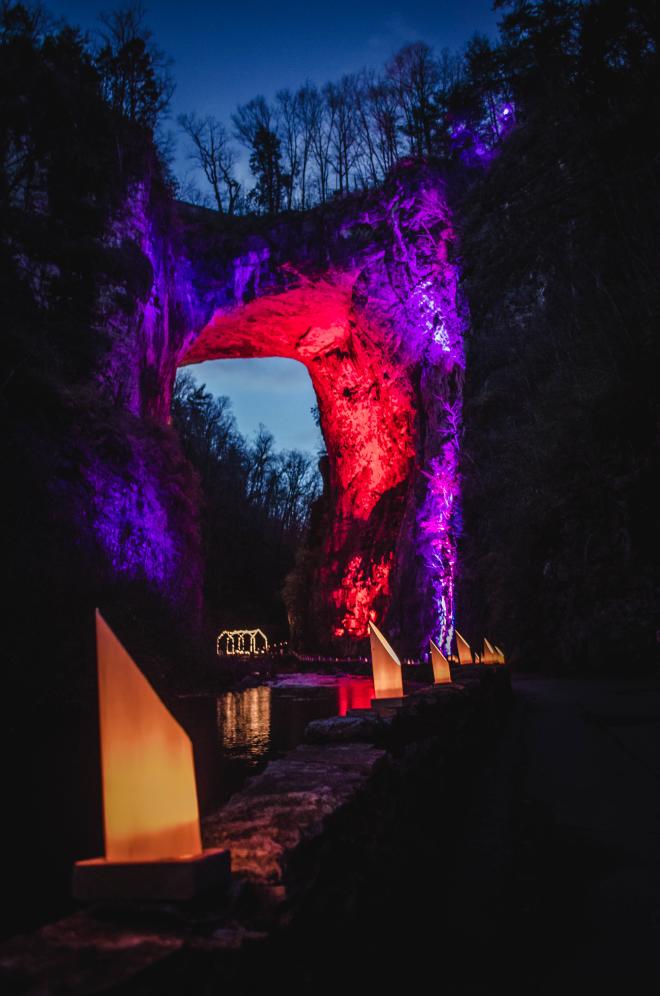 Natural Bridge State Park
Luminary Nights will be held at Natural Bridge State Park the weekends of December 10-12 and 17-19 and it's an amazing opportunity to see the bridge and the Cedar Creek Trail with beautiful festive lights.
On Sunday evenings, the park will also offer visitors the opportunity to purchase tickets to enjoy carriage rides along the luminary lined banks of Cedar Creek.
20. Salem Holiday Market - December 11-12
Salem Civic Center
More than 70 regional sellers will be participating in this year's Salem Holiday Market at the Salem Civic Center, offering a variety of homemade crafts and delicacies that make for perfect holiday gifts.
Salem Holiday Market Details >
21. Broadway in Roanoke: Hairspray - December 16
Berglund Center
As part of its popular Broadway in Roanoke series, the Berglund Center will host Hairspray, the Tony-Award winning musical comedy that also inspired a blockbuster film and live television event. Don't miss the story of Tracy Turnblad in 1960s Baltimore as she sheets out to dance her way onto TV's most popular show!
22. Home Alive in '45: A WWII Christmas Celebration - December 18
Salem Museum
In celebration of the 76th anniversary of the end of World War II, the Salem Museum will host a display of military and homefront artifacts from the 1940s, showcasing what life was like during the holiday season after the war ended in 1945, as well as a glimpse of how Christmas was celebrated during wartime.
23. Sowder, Craver, Shay/La Sopa - December 19
The Spot on Kirk
Sowder, Craver, and Shay is a new trio out of Roanoke who play jazz, funk, fusion and everything in between. This group of younger musicians has lived and gigged in the area for most of their lives with separate bands, but this trio combines their separate styles to add a fresh band to the local music scene.
La Sopa is a Latin-based jazz and R&B group from Blacksburg bringing original music of various cultures and styles.
Sowder, Craver, Shay / La Sopa Concert Details >
24. Christmas Eve Luminary Display - December 24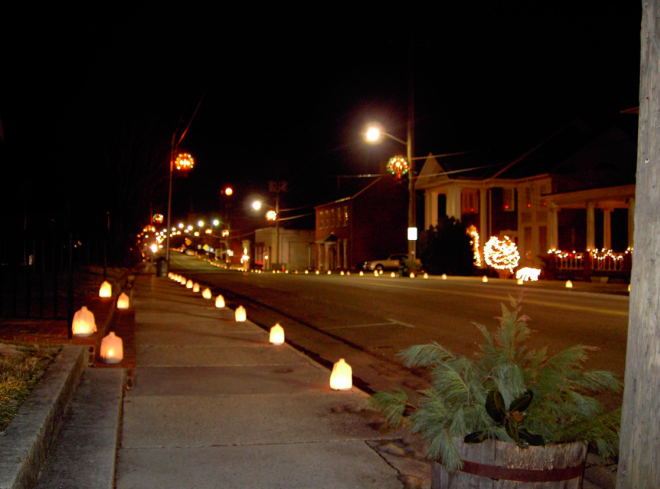 Town of Buchanan
The Town of Buchanan glows with love on Christmas Eve as its charming Main Street is lined with luminaries made from one-gallon plastic jugs. 
The jugs represent a key moment in the town's history, when volunteers donated jugs of water to the town when it was left with no potable water following the devastating flood of 1985. 
Now, the community commemorates the love shared with them during that time with the annual lighting of the luminaries on Christmas Eve.
25. Perceptor Omicron's New Year's Eve Gala Celebration - December 31
The Hotel Roanoke & Conference Center
Ring in the New Year at Perceptor Omicron's 42nd annual New Year's Party at The Hotel Roanoke & Conference Center! Tickets include a buffet dinner for two, live music by The Kings & The Uptown Trio, and a champagne toast & balloon drop at midnight.
---
Remember to visit our Holiday Events page for a guide to holiday-themed events happening this month.
You can also take a look at the Calendar of Events for a complete list of upcoming events, as well as sign up to receive our free e-newsletter and follow us on social media.
Happy Holidays!
Header photo of Land of Lights at Franklin County Recreation Park, courtesy of Matt Ross - Franklin County Parks & Recreation.